Rev. Busshō Lahn is a Zen monk, spiritual director, and the guiding teacher of Flying Cloud Zen spiritual practice community. Bussho's teaching focuses on contemplative spirituality, 12-Step work, interfaith dialogue, mystical Christianity, and marrying spirituality with both Western and Buddhist psychology. You can learn more about Busshō at www.flyingcloudzen.org.
Please tell us a bit about your background and what led you to help guide others in their journey?
Sure! I'm from the Twin Cities and have lived in Minnesota most of my life. I was raised Catholic and discovered traditional Zen Buddhism in my early twenties. I've been practicing Zen ever since, choosing the formal path of initiation, ordination, and training. I was empowered to carry the lineage almost a decade ago now and have been working with students and spiritual directees for almost 20 years. I'm a senior staff priest at MN Zen Center in Minneapolis, and the Guiding teacher of Flying Cloud Zen community.
My recent decision to begin publishing teaching in book form came after many requests and lots of help. Singing and Dancing Are the Voice of the Law, my first book on Zen practice, is coming out in early January 2023 from Monkfish Publishing, and I'm very excited about it. They did a beautiful job with the book and it's intentionally written in such a way as to be as accessible to spiritual aspirants of all traditions, not just Zen, which was really important to me as I, too, have always been a person of multiple religious belongings.
How would you describe Spiritual Direction?
What we now call spiritual direction or spiritual companionship in our culture comes primarily from the Catholic tradition, although every spiritual tradition has some expression of spiritual elders companioning aspirants. My favorite line from James Thurber describes it perfectly:
"All people should try to learn before they die
what they are running from, what they are running to, and why."
In my experience, the spiritual journey is often a lonely path, especially in difficult or trying times. A sacred companion, like a spiritual director or friend, can guide and reflect back to us loving presence in our life and the world—awakening new possibilities, connections, and deeper meaning.
In our busy and stressful society, many people are searching for meaning, truth, and a deeper connection to themselves through their spiritual life. As people look for answers and for depth, they inevitably find it helpful to have someone journeying with them. Spiritual direction (or spiritual companioning) is a process of asking meaningful questions and listening with the help of another who invites focus and presence. Any aspect of our lives can be brought into a spiritual direction relationship.
Richard Rohr says, "If you do not have someone to guide you, to hold onto you during the times of not knowing, you will normally stay at your present level of growth," and thus the core mission of spiritual companionship is helping others grow by recalling their true essence, however they might perceive it. And although it can be described as a journey of discovery in some ways, it is more of a process of unveiling and revealing what has always been there.
"There is an end to suffering." -the Buddha
A spiritual director is one who is prepared through training, experience, and extensive spiritual formation to help another in his or her spiritual life. Although not a counselor or therapist, a director is a listener and guide who can help a person notice, discern, and respond to his or her chosen path's invitation to awakening, truth, gratitude, growth, change and simplicity, freedom and love, wholeness, and trust.
Some possible goals of Spiritual Direction include identifying and trusting your experience of the sacred, integrating your spirituality into daily life, discerning and making difficult choices, sharing hopes, struggles and losses, developing sensitivity and compassion for others and yourself, living the essence of your faith with greater integrity, identifying obstacles that may prevent you from connecting with others, increasing openness to others and to your own inner movements, letting go of the need to control, embracing and transforming your shadow side, cultivating forgiveness and learning to receive love and acceptance.
It is not you who shapes God, it is God who shapes you.
Let your clay be moist, lest you grow hard and lose the imprint of God's fingers."
-Irenaeus
Spirituality is the practice of staying consciously connected with what makes us alive. Within each of us lies the desire to find meaning beyond the mundane, to discover our true selves and to grow closer to our Source and to one another. A spiritual director can help you satisfy that longing.
It is important to choose a director with whom you feel comfortable and safe. A director does not necessarily need to be from your chosen religious tradition; in fact, it is often better if he or she is not. Most people can tell if they have found a good match in just a few sessions.
"Humans are amphibians…half spirit and half animal…as spirits they belong to the eternal world, but as animals they inhabit time. This means that while their spirit can be directed to an eternal object, their bodies, passions, and imaginations are in continual change, for to be in time, means to change. Their nearest approach to constancy, therefore, is undulation–the repeated return to a level from which they repeatedly fall back, a series of troughs and peaks."
― C.S. Lewis
We have a sacred impulse to return to the space of our own making in order to reconcile ourselves to something that can feel dangerously real. We seem to have an invisible intuition that demands that we reconcile our own opposites, that we shine our falsehoods with the light of our truths, that we become large enough to contain all our contradictions and divisions with the wide arms of wisdom's understanding, love's forgiveness, and compassion's reconciliation. We desire to hold all of our time-bound brokenness with our eternal wholeness, our earthliness with our transcendence, our humanity with our divinity. Choosing to return to, explore, and feel the truths that we hold in the felt sense of memory in our clay body and emotions is like a salmon choosing to swim back upstream to find its original home; its spawning grounds. This upstream journey is arduous, and everything can seem to be fighting against that sacred homing impulse. Yet we persevere, understanding that to find the truth of our origins is to find the truth of our now… just as to find the truth of our now is to find the truth of our origins. Truth isn't bound by time. And so, we can see the golden thread of truth that runs through all our days, regardless of how distant we may feel from it. We are drawn by the irresistible force of ourselves, the truth of our being, the love that we have always been.
In your opinion, what is one of the biggest things that holds people back from living a fulfilling life?
Buddhism teaches that the origin of suffering is simply wishing things were different than they are. That desire usually manifests as what we call the Three Poisons: greed, hate, and delusion. But the one I work with the most often with my students and clients is our universal fear of feeling shame. That's the biggie; that's the one that most needs our care.
Do you have any spiritual or self-care practices that you regularly follow or would recommend?
Sure. Meditation (called "zazen" in the Zen tradition) is the first step, as it's an expression of our vow to be a wise and compassionate presence to our human life. So, learn to sit properly, and do it as an engagement, not an escape. Decide you care enough to be with whatever arises in your Mind (body, emotions, and thoughts). Be still and keep your seat. What an offering that is!
Lastly, any advice to share for someone to learn how to be more mindful and serene in their everyday life?
The more closely we grow to know our suffering, its nature, and its roots, the closer we get to ourselves, to the root of our precious lives. We can come to learn that our deep contentment in life doesn't come when suffering leaves; it's found right in the center of our challenging human lives. Talking about mindfulness is easy and teaching it as a stress-avoidant tactic is easy enough, too. But to actually practice the spirit of mindfulness- compassion- is a rare thing indeed and takes a lifetime of practice.
So, my advice? Make a decision that you care enough for your life to be in intimate relationship with it, then express that intention in practice. Learn to sit. Find a group, a spiritual director, a teacher. Decide that you actually believe the famous De Chardin quote, "We're spiritual beings having a human experience," and make a choice to fall in love with your humanity. Because at the end of the day, only love changes things.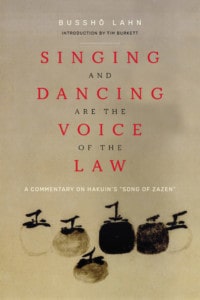 Singing and Dancing Are the Voice of the Law is available now for pre-order on Amazon.