In this interview we heard from Crystal Clear Psychics, the UK's most trusted psychics. For the last 13 years their psychic team has been helping people with their careers, relationships, family and personal issues as well as inspiring and motivating them, helping people to choose the right path or make the best possible decision.
Please share the story of Crystal Clear Psychics: Where did it start and how has it evolved since then?
Launched in 2012, Crystal Clear Psychics has its roots back 50 years when its founder Barney Battles, was brought up by his White Wicca great aunt called "Ruby". Barney was taught divination by Ruby using tea leaves, Egyptian Tarot and Palmistry. Ruby always told Barney that his spiritual life and business world would join together at some point.
In 2008 Barney joined StarTemple.com as CEO working alongside respected sharman Christopher Odle. Having successfully sold Star Temple in 2012, Crystal Clear Psychics was born to offer authentic, truly gifted readings at affordable prices. Over the next 10 years, CCP has expanded into the USA, Canada, Australia, South Africa and New Zealand. We remain the most respected psychic circle in the UK with a reputation for integrity and accuracy.
What types of services do you offer?
Crystal Clear Psychics offers services such as Psychic Readings via telephone, SMS or email which can cover anything from relationship advice and twin flames to life coaching or past lives. Our psychics are renowned for being authentic and genuine and pride themselves on helping others with the utmost support.

Is there any difference in connecting with people through online readings compared to a face-to-face reading?
I don't think there is much of a difference. A face-to-face reading may feel more authentic but ultimately it is the energy that the readers pick up on which can be felt both through the phone/online and face to face.
Some may say that phone readings are almost 'better' as you don't see the person you are speaking with and so readers aren't able to make prejudgments, the reader solely relies on their spirit guides or whatever psychic gift/tools are being used.
What are some of the most important considerations when selecting a reader?
All psychics work differently so doing a small amount of research doesn't hurt. At Crystal Clear Psychics, all our readers have their own profile which lists their skills and abilities and their areas of speciality. If you are wanting a reader that works with cards or works purely on spirit connection, then it is always helpful to ask the person on reception if there are any readers available that are able to do what you ask.
Any tips to share for people to get the most out of spiritual guidance?
Being open minded to what the reader is saying and keeping in mind that readers can only tell you what they see/hear/feel and sometimes this may not be what we want to hear but more what we NEED to hear.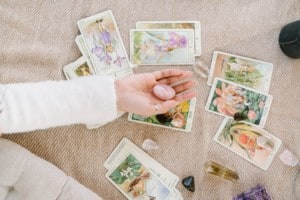 Lastly, in your opinion what is the most common issue that prevents people from living a fulfilling life?
I would say the most common issue is Fear. If you take the F away, you get 'ear', so listen to your intuition and don't let anyone distract you. Far too often people live in the past or put restrictions on themselves due to parental influence or perhaps surroundings or even upbringings. Remember what is right for one person may not be right for you to live your life without fear.
Remember those people in your life that mind, don't matter and the ones that matter don't mind. Anyone who doesn't accept the whole live you should have no place in your vibration.
To learn more about Crystal Clear Psychics visit their website www.crystalclearpsychics.co.uk