Emily Baker is an aromatherapist, reflexologist, spiritual medium, and psychic artist, she is also the creator of Perceptionary Cards used for psychic readings and personal development. In this interview Emily tells MysticMag about her spiritual awakening, how she integrates her complementary therapies as a spiritual medium and insights into her self-care routines.
Could you share the story of spiritual awakening in your own life? How did you really get started on this path?
My spiritual awakening – consciously for me was later on in life. Looking back I had always "known" things, had dreams that came true and just knew. I grew up in India went to a catholic school, on Sundays I went to the Christian Church and the rest of the time I was taught about Hinduism. When I was about 7 I became fascinated by ghosts, wanting to see them as well as to find all the stories I could. I really loved that thought that we can come back again.
In my teen years, I decided that religion was not for me as they could not even keep to their own principles. So I really didn't go to church or followed anything like that. But I was still very much into the afterlife and into the unexplained.
In my late teens my family started to tell me that I was psychic, and my reply was OK, what do I do next? They were not able to answer. Then in my 20's it was my grandparents (both died when I was 3-4 years old), they sat with me and talked to me. At this point I still didn't think anything of it, it was more the case when my father died in 1999 it was then that it really changed for me. Once again everything got heightened, I could see more, and would hear and knew more, and it was then that I went to a spiritualist church in Derby. It was there that I started to go to their services, and development groups, and my consciousness of being on this path started.
Psychic Art, please tell us more about this mediumship and how you experience this?
My psychic art is very much a development of my mediumship. I was working on the platform, and I had seen a psychic artist doing a demonstration which I found fascinating. I then went to a workshop which was held by the artist that I saw giving a demonstration. For me now the way that I work has changed. I used to see the face on the paper, as I am not an artist and find drawing difficult, but now spirit don't put the face on the paper or in my head. Spirit do however tell me if the hair is wrong, or there was something wrong with a feature of the face.
I give the message that I get at the same time as drawing, so I am not always sure who I am drawing; – the communicator or another link. Either way I always feel that the artwork is something tangible for the one receiving the message. It is important to say that I work to the side of the art, so my perspective of the face with very much the help of spirit has much improved. It is spirit who guides me with drawing as well as the message as that is just as important.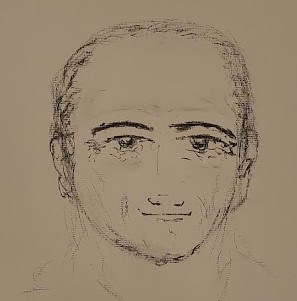 As a Complementary Therapist, how does this integrate with your role as a Spiritual Medium?
When training as a Complementary Therapist I was very conscious in keeping the two separate. Which was great while I was going through my degree. But now it has changed, and I do at times combine, but in a healing way, which maybe selecting an oil or what areas need to be worked on. Also it can be that I just "know" what has been going on for the client through their feet or hands. But I don't give messages again the intention is to help the client through their healing and wellbeing, allowing spirit to guide me and help with the intentions for the client and myself.
Are there any self-care practices you use personally to maintain your wellbeing?
To maintain my wellbeing, I am always monitoring my emotions, as I am aware that as a medium I may pick up other peoples, so I do keep them in check. I listen closely to my body, going to sleep at a good time when I can. I have joined groups with different ways to meditate, but I know that a support network is important. I love early morning walks with my dog, and again I use that to help ground myself, and there are times too when I connect with spirit. Another couple of wellbeing techniques that I do is to go to the gym and watch what I eat. I have found that being on this path, that alcohol does not suit me so have given it up, as well reducing sugar.
Do you have a personal favourite go-to essential oil?
My favourite go to essential oils do change with the seasons. At the moment I love Ylang Ylang, the fragrance transports me to lands far away, and I find it supports my heart emotionally. Frankincense is another I love as it gives me a clear head for working. There is also Caraway which is complex, a hint of spice, and floral at the same time. There is also Rose, Geranium, May Chang (this one smells like lemon sherbet). All great for the summer. There are so many more and it really depends on my mood and time of the year too, but these would be some of my favourite.