Rev. John R. Mabry, PhD is the author of more than forty books, including Growing into God: A Beginner's Guide to Christian Mysticism and his new novel, Ash Wednesday. He is a spiritual director and spiritual direction supervisor with a vibrant interfaith practice.

Please tell us a bit about your background and what led you to help guide others in their life challenges?
I was raised in a moderate Southern Baptist home, but when I was in high school well joined a church that swung hard fundamentalist, and ended up being profoundly abusive, spiritually. When I finished college, I formed a Fundamentalists Anonymous group—mostly because I desperately needed it—but also to help others in their recovery.
Soon after, I felt a call to ministry, and was ordained an Old Catholic priest. (Old Catholics separated from Rome about 300 years ago, and in the US are similar to Episcopalians in that there is a wide diversity of belief, clergy can marry, women are ordained, and there is full inclusion of LGBTQ+ folks, even in the clergy.) I continued my healing journey by doing a PhD in World Religions as a predominately Hindu school (The California Institute of Integral Studies, founded on the philosophy of Sri Aurobindo).
My day job for the first fifteen years of my career was as a managing editor at Matthew Fox's Creation Spirituality magazine, and later at the Pacific Church News (the magazine of the Episcopal Diocese of California). When I was hired as editor of Presence: An International Journal of Spiritual Direction, I was required to train as a spiritual director. That opened up a whole new world of ministry for me!
After my tenure at Presence ended, I was contacted by Gina Rose Halpern, founder of the Chaplaincy Institute, an interfaith seminary in Berkeley, CA. She asked me if I would be open to designing an interfaith spiritual direction certificate program for them. I jumped at the chance and partnered up with Sr. Pamela Falkowski to design and run the new program. Pamela was transferred by her order to Canada, at which point I became the sole director of the program, which I am still doing 19 years later!
Although the particulars of my journey are my own, I don't think my motivation is unusual. People usually go into helping professions because they are wounded themselves. People who are psychologically wounded often go into psychology, people who are spiritually wounded often go into ministry. We are driven to heal ourselves, but the good news is that along the way we offer healing to so many others as well.
How would you describe Spiritual Direction?
In spiritual direction, two or more seekers enter sacred space to dream, explore, and discern a path toward personal wholeness and deeper intimacy with the Divine. Usually this journey is a one-to-one, face-to-face meeting, with one seeker acting in service to the other. Sometimes it's on the phone or over zoom. Often, they speak. Often, they don't.
Along the way, they talk about just about everything that happens in life—work, play, relationships, personal struggles—but always the question comes back to a central question: how is the Divine wooing us, calling us into deeper and deeper intimacy?
As we go deeper, more questions emerge: What is the Divine "up to" in all of our daily ups and downs? How is the Divine moving and nudging and forming us, through both our triumphs and our defeats? How do we resist the Divine call? How does the Divine's desire for intimacy threaten us and push us beyond our comfort zones? What does this intimacy require of us? What is it calling us to? In what ways are we out of congruence with the deepest truth of our souls—with this Divine calling—and how does this imprison us and limit us? How can we move into deep places of interior freedom that are transformative and healing and liberating, not only for us, but for the world?
Those are Big Questions. Spiritual direction is often the only place in our lives that many of us have to deeply explore such questions, witnessed by another soul, without judgment or condescension. It is the place where we can be encouraged and challenged to open ourselves more deeply than we ever thought was possible. This is deeply healing work.
One metaphor that I like is that of the spiritual director as couple's counselor. The couple, of course, is you and the Divine. Both of you want deeper intimacy, but how do you get there? Intimacy is scary, and often the things that get in our way aren't even conscious. The spiritual director is there to hold the space, to speak what she notices, and to help guide you and the Divine into the kind of deep and meaningful connection that you both desire.
Spiritual direction is also a place to work through big decisions in our lives, where we can consider which choices are most in congruence with our soul, with our deepest longings, and with the sacred covenants we have made.
What can people do to get the most out of spiritual guidance?
Understanding what spiritual direction is for is a big part of it. Spiritual direction is not therapy and understanding which issues one brings to therapy and which one brings to spiritual direction can really help you zero in on your spiritual life and get to work. You will also save your spiritual director a lot of frustration! Of course there is a lot of overlap between the two disciplines—you may bring similar issues going on in your life, but what you do with them will be different. In spiritual direction, the question is often, "What is the Divine up to in this situation? What is it inviting me to? What is it trying to teach me? How am I resisting that invitation?"
You can also get more out of your sessions by working with your spiritual director, rather than against him or her. Instead of being frustrated when he or she points out resistance, welcome that feedback and be curious about it. Your spiritual director is on your side, and we are really good at fooling ourselves. Intimacy is scary, and we often unconsciously undermine it.
You can also have better sessions by being prepared for them. Throughout the month, keep a running list on your phone of spiritual questions that arise for you, challenges you are wrestling with, discernments you need to make. If you do that, you will have no trouble filling your monthly spiritual direction hour and making it powerful and productive time.
Do you have any resources that you can recommend for people who are interested in pursuing their own spiritual journey?
I wrote a short book specifically for people who are interested in trying spiritual direction. It's called Starting Spiritual Direction: A Guide to Getting Ready, Feeling Safe, and Getting the Most Out of Your Sessions [https://books2read.com/startingSD]. A lot of spiritual directors order them in bulk and give them to their new clients, because the book is so helpful in helping people understand and get "into the flow" of this powerful spiritual practice.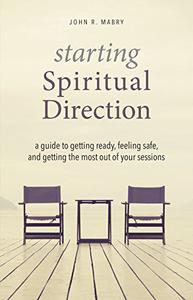 Do you have any spiritual or self-care practices that you regularly follow or would recommend?
Discipline is important in the spiritual life. People are naturally drawn to prayer, meditation, or other contemplative practices. But after the initial honeymoon period, all spiritual practices bog down. When that happens, people are often tempted to trade their practice for another, more exciting or novel practice. This is a mistake, because it's exactly when a practice becomes hard that the most important inner work is getting done.
Spiritual direction itself is an important discipline that can help us with our other spiritual practices, because it helps us stay focused. Your spiritual director can also help you be accountable—he or she won't let you get lazy! They can provide a good reality check, and provide much needed support and advice when you hit those rough patches
In my own spiritual life, I use shamanic techniques (similar to Jung's active imagination) to meet with Jesus in his carpentry workshop. Every morning we sit together on a rough stone bench in front of a fire and cuddle. He asks me what is on my heart, and I share with him what I hope for, what I am afraid of, what I need help with. Sometimes he says profound and helpful things that I never would have thought of. But doesn't fix anything, he mostly just listens.
Prayer isn't about asking the Divine for things, it's about intimacy. If you come home and your partner says, "How was your day?" it's easy and helpful to vent. But you don't want your partner to fix things for you, you just want them to hear how you feel. That's intimacy. It's what the Divine most desperately desires from us, and deep down, it's what we most want as well.
Find out more, ask a question, or schedule a session at https://www.johnrmabry.com/sd