Kathryn Hulland from Equispirit Healing is a Reiki Master, specialising in horse healing and is passionate about helping people deepen their bond and understanding of their equine friends. In addition to energy healing Kathryn runs workshops in nature in North Devon and co-hosts the Mid Devon Women's Circle and Mid Devon Reiki & Meditation Group.
Could you tell us a bit about your journey into energy healing and what inspired you to pursue this professionally?
I have lived with chronic health conditions most of my life, I suffered severe burns at 18 months old and then an autoimmune condition through childhood and into adulthood. At around the age of 22, I begrudgingly agreed to have my spleen removed as I was advised this would cure the autoimmune condition, needless to say, it didn't and left me worse off. I was diagnosed with ME & Fibromyalgia and the autoimmune condition would flare from time to time, this often requires hospital treatment including blood transfusions.
I led a full life despite this, I helped run a pony rescue centre, worked full time and was even in the Police Special Constabulary but one particular occurrence of the autoimmune condition left me with massive fatigue, I had to give up my ponies and anything I did out of work. I was lucky to have understanding bosses who gave me time off fully paid as I was struggling to work full time and couldn't get out of bed on many occasions. I was in the depth of depression having lost the life I loved, my ponies were the world to me and I simply couldn't look after them. I was referred to a mindfulness course and was reading the Tao of Equus by Linda Kohanov whilst participating, between them they led me to a horse spiritual healing workshop and I never looked back – that was in 2012. Since then I have gone on to train as a horse healer, practice reiki, animal healing (specialising in horses), crystal healing, Moonology, shamanic practices and more.
In January 2020 I was diagnosed with breast cancer which was devastating, especially as I had a 2 year old daughter. I drew on all my spiritual knowledge and experience and it really saw me through to getting the all clear by September 2020. It took me some time to heal from this experience but my spiritual practices, and business has come back stronger than ever before!
Reiki and the other forms of energy healing I work with have helped me through so much, they have kept me strong, healed and lifted me. I want to be there for others who also wish to take that step, and to help people and animals as best I can with the knowledge I have gained & life experience.
What healing modalities do you offer, and do you have a personal preference?
I have what I call Equispirit Reiki! I work with Reiki but also incorporate other techniques I have learned such as crystals and a bit of sound. It's what most of my clients choose and it works really well. It never ceases to amaze me how what's needed always comes through for clients, sometimes the healings focus on the physical, sometimes emotions and sometimes purely spiritual, I just do what I am guided!
I do also love a good drum healing and working in nature doing energy work.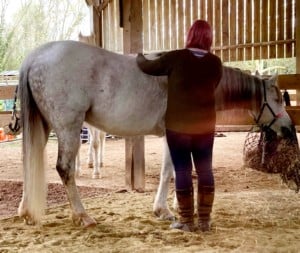 What are some of the more common aspects people approach you with and how can energy healing be beneficial?
I find most people who are drawn to me also live with chronic illness, they know that I have some understanding of what living with this is like and that energy healing has helped me regain by life. I don't hide the fact that I still live with illness, I am in pain every day and fatigue can be a struggle but because I work with energy healing, meditation and mindfulness I have found a way to live with it, accept it and create from it. I think this appeals to others living with such conditions.
Being an Energy Healer and having to consistently heal and help others, are there any non-negotiable practices you use personally to maintain your self-care?
I have to get out in nature regularly, meditate and see my own healers when I feel it is needed. It is vital I keep on top of my own self care, if I don't my health will soon deteriorate and I would no longer be able to give the best to my clients. I also find giving healing helps me, the energy is flowing through me too, I'm connecting with my guides and in a meditative state, more often than not I feel energised myself after giving healing.
Lastly, any tips to share with our readers on finding balance and maintaining a positive energy?
A good gratitude practice helps me a lot and I recommend it to everyone. I find journaling very useful and within this you can incorporate writing something you are grateful for each night before bed. A good mindfulness practice is also a great way to bring some balance, it can take time to get to grips with it but it is worth persevering with. Surround yourself with people who are on your side, find your tribe! Be authentic and true to yourself, you will then draw the same to you and this is invaluable in supporting your own practice and keeping up a good positive energy. Have balance too, looking at the shadow side was a revelation to me, embrace that as well as the light.