Together with Mystic Mag, get ready to embark on an awe-inspiring journey of self-transformation and holistic well-being as we dive into the world of one exceptional individual. Today, we have the privilege of introducing Rachel Claire Farnsworth, a true powerhouse in the realm of personal growth and wellness. With a remarkable track record as a Multi Award Winning Transformational Coach & Wellness Therapist and the author of an international bestselling book, Rachel has touched the lives of countless individuals, guiding them towards a path of profound transformation. So, prepare to be captivated by Rachel's incredible insights and wisdom as we explore the secrets to unlocking our true potential and achieving a state of holistic wellness.
As a multi-award-winning transformational coach and wellness therapist, what initially drew you to this field, and what drives your passion for helping others in their personal transformations?
My daughter, Emily, had been diagnosed with Juvenile Idiopathic Arthritis when she was a year old, which is arthritis in children with no known cause and we were told it's "incurable". When we finally got a diagnosis we were eager to receive the help we needed and move on with our lives.
Only that isn't what happened. We were told there was no known cure and that left her in a cycle of pain and symptoms for the next 14 years. Emily, now 14, had been in drug induced remission for 2 years. She had been self injecting methotrexate during this time and that meant she was violently sick at the weekends. We had forgotten what normal life was like! We were existing as a family and not living.
The doctors were hopeful that she may have outgrown the disease, so she was told to come off the drugs and see what happened. She was symptom free for just 8 weeks.
During that time we discovered what normal life was like. We were able to go out on the weekends and Emily seemed to be coming back to life, getting more personality, not just existing. Just 8 weeks after not taking the drugs, Emily began to have swollen joints again and the doctors said she needed to go back on the drugs again. Neither she nor I could face that again because we had a taste of what we had been missing for so long!
Coincidentally, (I don't believe in coincidences anymore but that the universe aligns with what we need) I had just qualified in advanced hypnotherapy a few months earlier. Emily and I decided to have a session together, expecting to do weekly sessions for a long time, hoping that some relief may be gained. However, we were able to get to her personal root cause of why the pain and symptoms were there and she was able to release her personal root cause which was "I need to have pain to be like my brother and cousins" because at the time she was diagnosed, they had all got pain and symptoms of their own.It's important to point out here that this was a deep rooted subconscious belief and not something she was consciously aware of at all. Our subconscious minds aren't logical, but emotional. They are hard wired for us to have connections and avoid rejection.
In the session, Emily could also understand that she didn't need to believe that because even if they weren't well now, her pain wasn't helping anyone, especially herself. She was able to release it all in that single session! I'm delighted to tell you that she has been pain and symptom-free, and medication-free since that session, which is almost 5 years ago!
That session empowered Emily of course, but it also made me believe that I had to get the message out there that the body always tells the truth. It speaks to us in pain and symptoms and once they are understood and resolved the symptoms disappear. I started by hiring a room in a local wellness center and started seeing clients.
I helped clients release psoriasis, PTSD, and lung issues in single sessions. This gave me more motivation and determination to help more people and share the powerful message that we all have the power to heal ourselves.
I now help clients around the world and it has become a real passion of mine.
Can you describe a particularly transformative experience or breakthrough moment you've had with a client that exemplifies the power of your coaching and therapy methods?
These are stunning photos of a client with psoriasis. These results are from just one session! He was also probably the most skeptical person I've worked with. These images show how powerful our minds are. The root cause was mainly about feeling angry as a child, but was unable to express how he was feeling.
The results are from me talking to his subconscious mind, to uncover the root cause lying behind the physical symptoms.
95% of everything we do and think is because of our subconscious minds. The power to heal ourselves lies within each of us.
BEFORE photos on the left.
AFTER photos on the right (taken just two weeks apart) – both of the same area of the body.
And as an additional "side effect" his confidence is higher, he believes in himself more, trusts himself and is ready to really start living.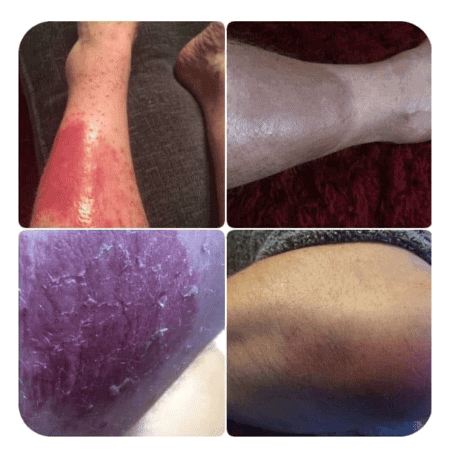 What type of services do you offer?
I use advanced hypnotherapy, which is simply a natural state of relaxation which allows the client's subconscious mind to be more in focus. The subconscious mind is our emotional mind and where memories are stored too. It is the automatic functioning of our mind, so we aren't even aware of what is going on. It's the hard drive if you like, that runs all our programs. Together we are able to get to the root cause by speaking directly to the subconscious. It really does hold all the answers. It knows how, when, where and why these issues began. Once we understand it, they can be released- without countless sessions.
Could you share some key principles or methodologies that you incorporate into your coaching and therapy practice to facilitate transformative experiences for your clients?
As I shared earlier I use advanced hypnotherapy. Once the client is relaxed I take them back to an event where it (the issue they want to resolve) all began. The client then starts to 'daydream' or see the event in their mind. This isn't reliving it but reviewing it so it can be understood. It isn't the event that affects us so much as the emotions that we attach to the event at the time. It's the emotions that trigger us as it is the language of the subconscious mind. Together we piece together how the event impacted them and then we free them of those old emotions, even really traumatic events such as sexual abuse.
I was raped at 19 and have written a co-author book 'Me Too But Never Again' where I share my story. I felt all alone when I went through it so I wanted to share my story so others don't feel alone. Even something as traumatic as this can be healed. This feels like it happened to someone else now because I have released all the emotions that made me feel powerless, a victim, shame, guilty etc. I can talk about it now without being emotional. That is true healing. This is what I am able to help my clients achieve too.
Are there any specific areas of focus or expertise within the realm of personal transformation and wellness that you find particularly fulfilling or rewarding to work on with your clients?
I love helping my clients release physical conditions, such as autoimmune disease. I understand that the body is the link between the subconscious and conscious minds. Pain and symptoms are simply messages asking us to go within and release the suppressed emotions lying behind the presenting symptoms. It is impossible to separate the mind and body. The body tells a deeper story depending on where the pain and symptoms are. For example, anything to do with our legs is about not being able to move forward from something, our arms and hands are about holding on to things we need to be letting go of. Anything on the right side of our body is about something that is affecting us in the current/present moment (right now) see how literal our bodies are. Anything on our left is something in the past. Working with the subconscious mind allows me to always reach the client's personal root cause without countless sessions.
In your opinion, what are the key ingredients for long-lasting and profound personal transformation? What advice or insights would you give to individuals who are embarking on their own transformative journey?
I would advise them to heal at the root cause. It is like weeding a garden that way, when you remove the weed by the root the weed doesn't grow back.
What have you planned for the future?
I am currently writing a book Decoding The Body's Messages – Unlocking Your Body's Wisdom
I work with past, present and future life and will soon be launching Future Vision Coaching
I am also excited to be collaborating with Laura Shofroth who is an accomplished, Certified Herbalist, Holistic Health Consultant and Life Coach. Together we are creating a group program 'Wholistic Health Acceleration' where we will be helping clients release physical and other health issues so that they can have true health transformation, where they can feel exhilaration, freedom and a whole new sense of wholeness.
https://linktr.ee/wellnesswithrachelfarnsworth