Claire Himsworth is the owner & therapist of Toe to Soul Holistics with particular interest functional medicine, energy medicine and essential oils. In this interview, Claire shares insights to managing health naturally.
Could you tell us about your journey and what inspired you to follow this path professionally?
I've always had a passion and interest for being the best you can 'naturally'. In terms of energetic energy ,it's something I've always been exposed to and around. My nana and mother were what may be considered 'psychic' and so exploring other realms, energy medicine and 'alternative therapies', has never felt strange to me.
I trained as a registered nurse in 2004 and whilst I loved the job, I always felt sad that we often never got to the root cause of issues. After years of feeling that there was so much more we could do for people and feeling frustrated – I decided to retrain in complementary medicines and setup Toe To Soul Holistics in 2016.
What treatments do you offer?
I offer foot and facial reflexology, Zone Face Lift, Indian head massage, all types of energy work including Reiki, spiritual counselling & crystal therapy, emotional aromatherapy, menopause focussed support and general wellbeing/health coaching.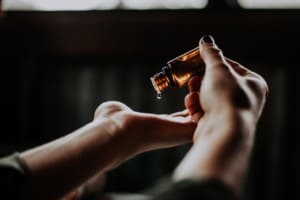 Do you have a personal preference or speciality area?
Not particularly, I love to work with people energetically because it is often the moment that people have a profound healing experience however I get just as much satisfaction from being able to relax and rebalance someone via reflexology. My speciality would be to help people realise their true potential however that looks!
Traditionally when people feel unwell, it is a visit to the doctors' rooms and very often treatment is through medication. What are your thoughts on this and the importance of turning to self-healing in a holistic sense?
My first response would be prevention and proactivity is FAR better than cure and chronic management. I believe that modern medicine offers some amazing and fantastic health benefits. However in western society we are more concerned with symptom management than root cause. 'A pill for an ill' is a large part of our model of care even when things aren't necessarily working and a lot of people readily accept this. We have to be responsible for our own health and wellbeing and the choices we make with regards to this. Often if people can make small changes to the way they live, they find their health improves immensely both physically and mentally and that is what I promote.
Do you have any personal routines that you regularly practice for self-care and wellness?
I promote a healthy, active lifestyle and try to be as close to this as I can! I exercise 3-4 times a week, eat consciously (with treats!), spend as much time in nature as I can and live mindfully. Mindful relationships with ourselves , others and the environment around us leads to a balanced lifestyle.
Where can we get in touch with you?
Visit my website at www.toetosoulholistics.com