Tracy Pierce
specializes in communicating with animals, connecting people to the deeper wisdom of their animal friends. Although Tracy is based in Colorado she conducts most sessions virtually with clients all around the world. In this interview she discusses her inspiring work and journey in working with animals.
Could you tell us a bit about your background and how you started your journey in working with animals?
I've had animal companions of one kind or another my whole life. Often I've had special relationships with animals. I have worked professionally with animals in one way or another since 2002 (Animal Control and pet/house sitting primarily).
My study in animal communication began in 2014 when one of my cats became quite ill. After many, many sessions with other Animal Communicators and several basic Animal Communication courses, I set out to practice, practice, practice my own Animal Communication skills.
A friend who was also a student of Animal Communication and I decided to practice together. We spent hours and hours communicating with our own animal companions as well as other pets and even wild animals over the course of a year and a half.
It was a fun project for us, one that brought us immense joy. Over those many months, the animals taught us all kinds of different lessons – about them, about ourselves, about each other, about humans and life. We only had to ask the questions and they would answer. It was a place where our childlike curiosity could run wild.
More than 250 hours of Animal Communication practices after my friend and I first started, my animal friends encouraged me to offer my skills as an Animal Communicator to the world.
I was surprised at their request – being an Animal Communicator was never part of my life plan. But something about it felt true and right, and I'm glad I followed their guidance.
For anyone who has had a close relationship with an animal it would be clear that animals have recognition, memory, decision-making abilities, intelligence, and a wide range of emotions. Could you tell us a bit about your own experience of this and how you connect with animals?
When I began to learn Animal Communication I had a lot of memories flood back from when I was a kid and I talked to animals all the time. Over time, I seemed to disconnect with that ability, but I was still certain that animals could think and feel far more than most humans gave them credit for.
When I connect with animals, I communicate with them telepathically. This is animals' first language and it's one of the ways they communicate with each other as well. One thing that's unique about animals' language is that it's not just about words. The messages that the animals send to me often contain visual images, feelings, sensations, smells, tastes – far more than we can convey with just words. When I connect with the animals, I need to be open to receiving the messages from any of the senses. Animal lovers may have experienced this for themselves already but not really recognized it for what it is.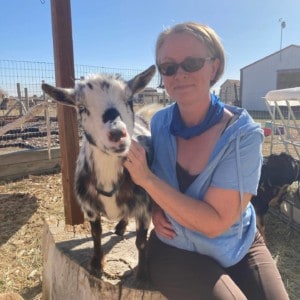 What are the more popular aspects that your clients seek guidance on?
The two biggest reasons people seek me out are behavioral issues or issues around the terminal illness or death of an animal companion. During the first two years I studied Animal Communication, three of our cats passed away. It was an incredible study in the death process of an animal and what they go through and try to teach us along the way. Behavioral issues are usually very interesting to me as well because often the animal is trying to get messages to their human friends through what might be labeled "bad behavior".
Are there any times when it is difficult or impossible to communicate or connect with an animal?
There is one particular time window where it can be very difficult to communicate with an animal, and that time is immediately after they pass away. Although some animals are able to communicate right after their physical deaths, it's generally easier for me to get a reading from an animal if we wait at least seven days after this passing. Other than that, we can connect with just about any animal from any incarnation they may have experienced – it's their higher self or eternal spirit part of them that we are connecting to, and there aren't many limitations on that.
I have had some other experiences of animals not wanting to talk to me – they have their own lives too, and some of those times it was because they were "busy doing something else" or they just didn't want to be bothered. I don't take this personally though, not all humans want to talk to me either! Luckily this hasn't yet happened with client sessions, but there are some animals who need to be more gently approached with communication than others.
Is there anything that you would tell pet owners not to do when communicating with their pet?
Don't expect that your animal friends are going to understand your words alone. They may be able to learn some of your voice commands, but often what animals are responding to has more to do with your energy than the actual words you're using.
Also, if you're trying to communicate with an animal simply to get them to do something (aka to control or dominate them), it's highly unlikely they will want to connect with you on any meaningful level. Don't approach your communications from the standpoint of control, this won't produce the results you are probably looking for.
Lastly, what has been the most inspiring or memorable moment for you in your profession?
There have been so many that it's hard to narrow it down to just one. I never expected to teach Animal Communication, so it's been very memorable that all the classes I've held so far have been filled – I feel the support from the animals for this work and bringing it into the world and credit them with filling my classes. What I find most inspiring is when I see the relationships between humans and their animal friends shift. When pet owners or students have an "ah-ha" moment about something their animal friend was trying to tell them – sometimes that's all that's needed to have a major shift. Animal Communication has the power to illuminate areas of our lives that can lead to real and substantial changes, and that's one of the most inspiring things for me and my animal friends.