Everclear positions itself as a revolutionary site that goes the extra mile to ensure that its customers have the best possible psychic reading experience, but can they really live up to their promises?
I've taken the bias out of the equation and done extensive research on Everclear's reliability so that you can feel confident in your decision to sign up and connect with a psychic.
Is Everclear Trustworthy?
Amongst its competitors, Everclear is a fairly new platform. Nonetheless, this doesn't stop the site from diligently ensure its customers' utmost comfort when using its services.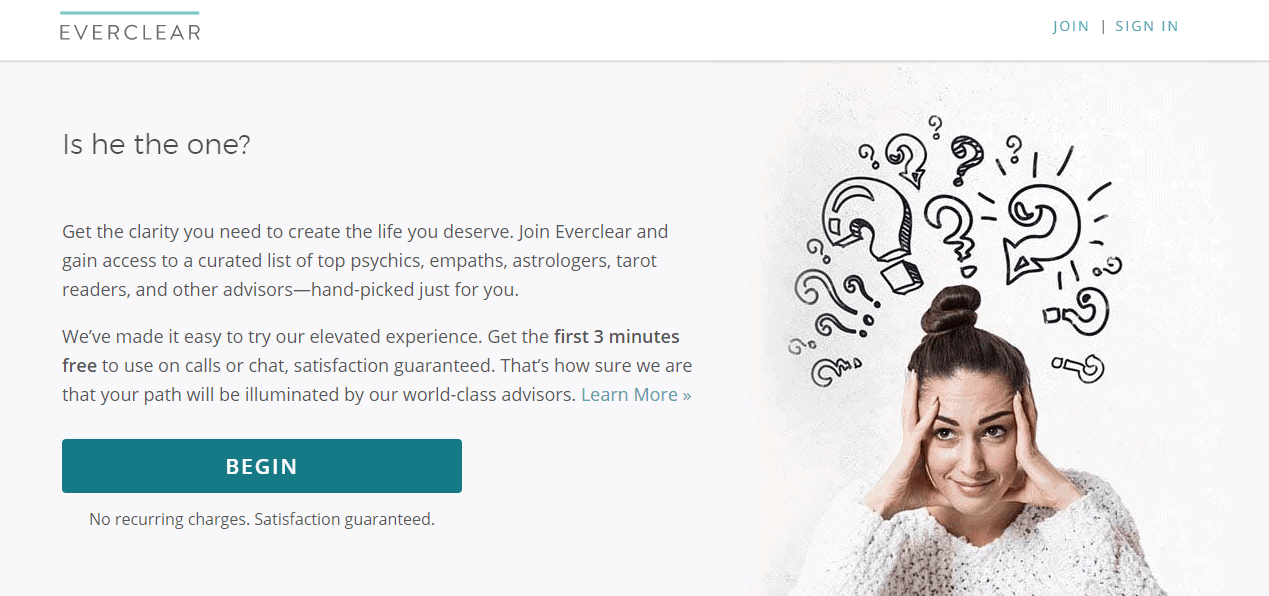 To start, you will find them advertising an NBC California Live interview with Arianna Eversol, an Everclear psychic, on the homepage of the site. After watching this video, I already felt more confident in the site's credibility.
Then there are the psychic profiles. Every profile includes a description of the psychic's experience, tools, and abilities. You can also read through their most recent customer reviews, which I use to help me decide whether a psychic is right for me.
Claim Your Free Minutes on Everclear
Everclear Psychic Reading Refund Policy
Everclear offers a satisfaction guarantee, which forms part of its refund policy. If you aren't happy with your psychic reading, you need to reach out to customer support within 72 hours.
After reviewing your request, Everclear can either approve or reject the refund. If your refund is granted, your account will either be partially or fully credited up to an amount of $25, depending on the merit of your claim. You'll be able to use this credit for further purchases on the site. You can make use of this satisfaction guarantee a maximum of once per month.
Everclear Psychic Screening Process
Everclear has a rigorous screening process in place to ensure its customers receive the best service possible.
Aspiring advisors will need to submit their resumes to Everclear and they are only contacted if they meet the eligibility requirements. The recruitment team then evaluates candidates twice across seven hiring criteria. If they are successful, the advisor is allowed to create an Everclear account where their interactions with clients are closely monitored by the team for a further 10 days.
This process is Everclear's way of showing its commitment to high-quality service provided by competent advisors to ensure that its customers are completely happy.
Create a Free Everclear Account
Bottom Line
It's evident that Everclear goes above and beyond to turn its customers into lifelong satisfied clients. The site has a variety of psychics to choose from who have all passed Everclear's tough screening criteria. Plus, new customers receive free minutes that they can use to try the site out for themselves.
What's more, if you're unhappy with your reading, it helps to know that you can cash in on the satisfaction guarantee and request a refund.