Keen Psychics is one of the best-known sites for online psychic readings. I wanted to find out if it's a safe site to use though. I looked into Keen's history, screening process, psychics, reviews, privacy policy, and satisfaction guarantee.
After lots of research, I'm confident that Keen Psychics is a safe, trustworthy, and reliable site for psychic readings.
Let me take you through the specifics and put your mind at ease.
Keen's History – A Brief Overview
Keen Psychics psychics has been online since 1999 and has facilitated more than 35 million conversations for hundreds of thousands of people seeking answers from psychics in its impressive 20+ year history.
As one of the oldest and most reputable sites in the business, Keen Psychics psychics is certainly off to a good start in terms of trustworthiness.
However, time online doesn't mean the site can be trusted, so I took a deeper look.
How Keen Psychics Screens Psychics
Although Keen Psychics psychics claims that it has thousands of psychics in its network, it doesn't actually offer any information about how it chooses psychics for the site. When I took a deep dive through Keen's website to look for more information, the most I found was a line on the FAQ page that said it could be months before applications from potential readers would be reviewed.

Admittedly, this is not a full and detailed explanation of the site's vetting procedure. However, I was reassured to read that at least Keen Psychics does review applications, implying that there is some kind of verification process before people are allowed to become Keen Psychics.
Is Keen Psychics Trustworthy?
Keen's Psychics Profiles
Keen Psychics has hundreds of psychics who offer readings on everything from love and relationships to life paths and pets that have passed. Each psychic has a profile that lists their specialties, skills and methods, and the languages they speak. It also shows their price, how long they've been working with Keen Psychics, how many readings they've performed, their star rating, and how many reviews their rating is based on.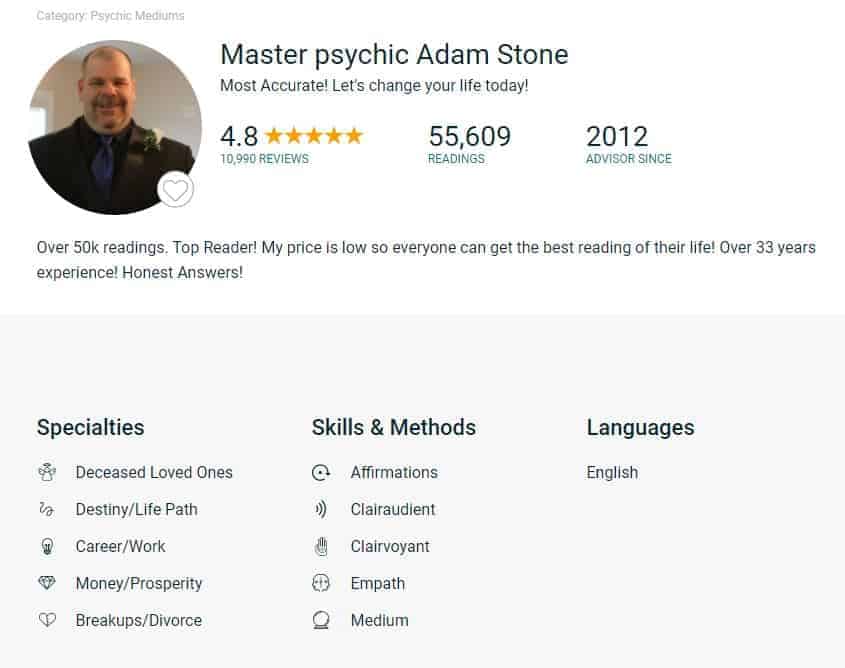 I found that these detailed profiles really helped me trust Keen's psychic advisors. I could get a really clear picture of my advisor before I even scheduled a call or chat session. This really reassured me and helped me feel confident that Keen psychics is a safe site to use.
Explore Psychic Profiles on Keen Psychics
User Reviews
It's hard to trust someone you've never met in person. It's even harder to believe that a psychic reading site is really safe if you've never used it before.
That's why I think Keen's attitude towards reviews is so important. The site publishes every review that a customer writes – even the negative one-star reviews. I definitely felt safer knowing that the site is honest with its clients and shares all the reviews people leave.
Privacy
In Keen's "About" section, the site claims that customer safety is their first priority. The site acts as a secure barrier between you and its advisors, helping to ensure that your phone number, email address, and payment details are held securely. This prevents your information from being exposed or misused in any way. All transactions on the site are anonymous, so none of the psychics you speak to will have access to your personal or payment information.
This is backed up by Keen's incredibly detailed Privacy Policy, which is available on the website. The policy outlines all the different types of data Keen Psychics might collect about you and where this data comes from. It also details how it uses your information. I think this openness shows that Keen Psychics is trustworthy.
Satisfaction Guarantee
Keen Psychics has a 100% satisfaction guarantee which promises to refund you if you're unhappy with your experience. Although there are certain restrictions in place (you have to request a refund within 72 hours of receiving an unsatisfactory reading, can only be refunded once in 30 days, and can receive up to $25 in site credits towards a future reading), the site does honor its guarantee.
I think money-back guarantees are a really important way to show trustworthiness. It means that Keen Psychics really values your user experience and wants to make sure you're completely happy with the readings you get from psychics on the site.
Bottom Line
It's almost impossible to know for sure if a service you find online is actually safe and trustworthy, and that's all the more true with psychic sites. Not only do you need to trust that the psychics you speak to are truly gifted advisors who can help you, you also need to know that your personal and payment information is in safe hands and that you'll be able to get your money back if something goes wrong.
I read and reviewed everything I could find about Keen's satisfaction guarantee, privacy policy, user reviews, and site history. The site publishes all the reviews users leave, ensures that your private data doesn't go further than your account, and guarantees a refund if you're not happy with your reading. I think that Keen Psychics really is a safe site for psychic readings.