I'd heard really great things about PathForward, but I wanted to be sure the site was safe before I handed over my hard-earned money for a psychic reading.
I researched PathForward's history, psychic screening process, refund policy, and psychic profiles and reviews. After carefully investigating how PathForward works, I'm convinced that it's a safe and reliable site for accurate psychic readings.
Here's everything I learned about PathForward, and why I think you should trust it, too.
PathForward's History – A Brief Overview
PathForward hasn't always been called PathForward. Until very recently, the site was known as Hollywood Psychics, a veteran psychic reading site that had been online for 15 years. It was updated with a bright, fresh new look and rebranded with a focus on helping women find their next steps in life.
The site says that some things get better with age, and in my experience, this is true. Older psychic reading sites tend to be staffed by experienced psychics who have really mastered their gifts. I think PathForward offers the best of both worlds: a beautiful, contemporary interface, as well as years of wisdom and experience.
A site's age isn't the only indication of its trustworthiness, but it does show that people trust PathForward's readers enough to keep the site in business for so long.
How PathForward Screens Psychics
Many sites are incredibly light on details when it comes to sharing how they hire their psychics. It's usually really hard to find any information about how they verify their readers are legitimate and trustworthy.
PathForward is different, though. When I was researching the site's safety, I found an open job application. It detailed the whole application process, including the position requirements.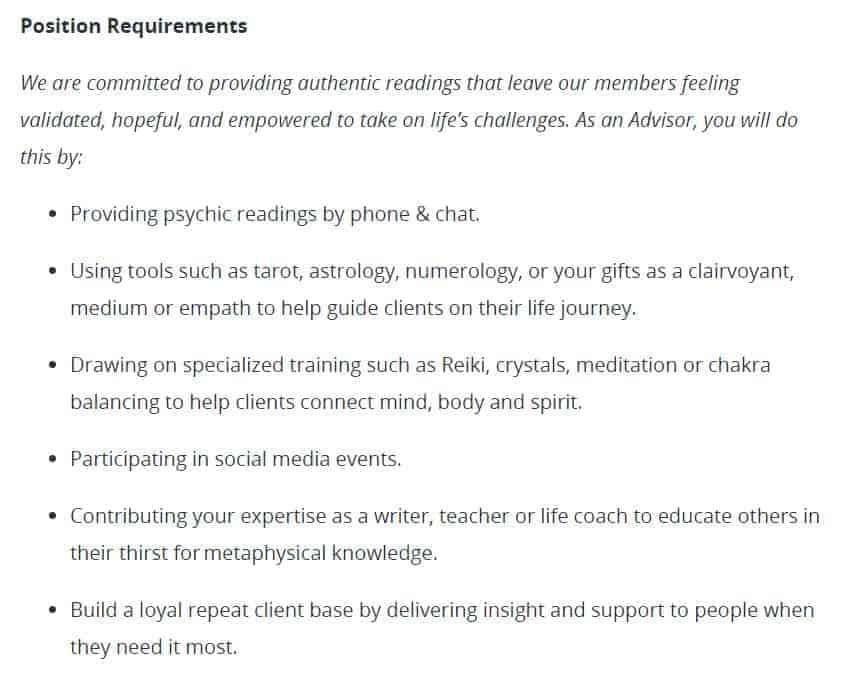 The application form was built into the job ad, so I could see exactly what candidates have to tell PathForward about themselves. As well as standard questions like personal data, education level, and background and criminal information, applicants have to list their psychic gifts, explain how they discovered them, and share their reading style.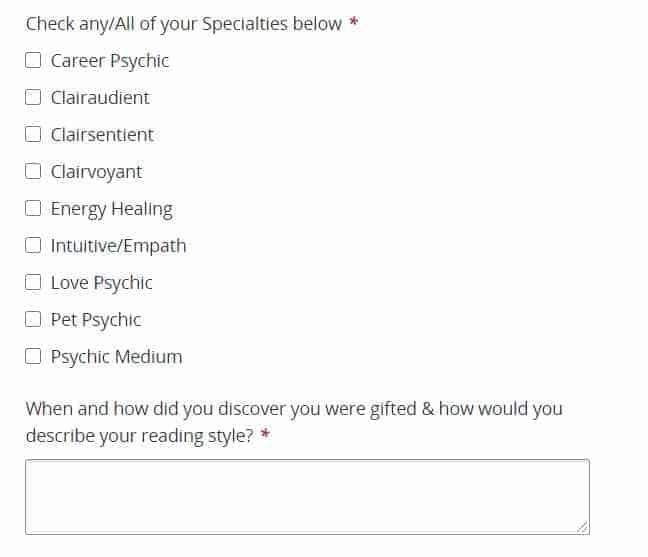 These questions are compulsory and are followed by a check box that confirms all the information given is true. In other words, only people who are both gifted and honest can apply to be a reader with PathForward. In fact, the site claims that it only accepts around 5% of the people who apply as advisors. This is a really good sign that the site is safe to use.
The job opening explains that successful applicants will need to complete a video interview from home as part of the screening process. It also says that applicants have to commit to at least 12 hours per week and honor the schedule they create, and be open to receiving training. I think this clearly shows that PathForward cares about delivering reliable and trustworthy readings to their customers.
Is PathForward Trustworthy?
It's important that those you seek guidance from are truly reliable. I've examined PathForward's psychic readers, its privacy agreement, and its refund policy to ensure that it is worthy of your confidence.
Code of Ethics
I was really impressed to see that PathForward has a Code of Ethics that it enforces. This absolutely made me feel like the site had my best interests in mind. The Code of Ethics covers five areas. In short, they are:
Professionalism. Psychics have to treat customers with respect and compassion, and cannot push their own beliefs on you.
Privacy. PathForward ensures that psychics cannot share your private information, and readers cannot ask for personally identifying information.
Confidentiality. Psychics are obligated to protect your privacy at all costs, unless you are in immediate danger.
Security. To keep you safe, all interactions with psychics have to take place through PathForward's platform.
Integrity. The length of your session is up to you, and PathForward won't influence what your psychic reader says to you.
I think that PathForward's Code of Ethics is an excellent way for the site to show that it really is trustworthy. Both the readers and the site itself are committed to delivering personal, professional service and protecting your identity.
Privacy and Transparency
PathForward's privacy policy is easy to find and understand. It clearly states the types of data the site collects about its users, and details what that data is used for. The privacy policy even outlines the type of encryption used to process your data, proving that the site really tries to keep your private information safe. It also guarantees that everything you say to your advisor during readings remains completely confidential.
The site is also completely transparent about its pricing, so you won't find yourself dealing with hidden costs.
Peace of Mind Satisfaction Guarantee
PathForward's Peace of Mind Promise stands as the website's commitment of ensuring a 100% satisfaction guarantee. If you find yourself dissatisfied with your reading, the platform will offer a refund or the option to consult with a different reader.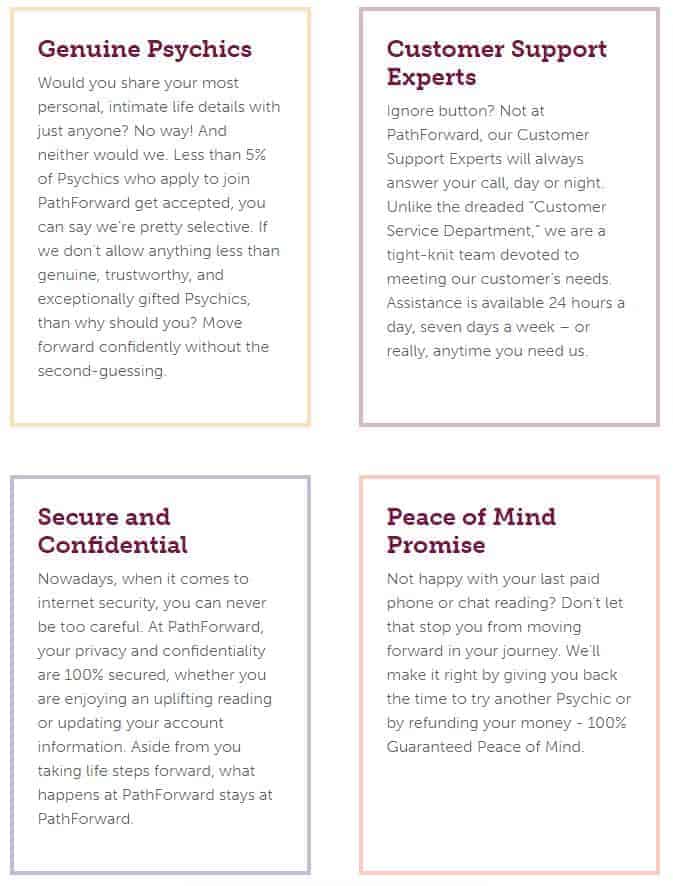 When seeking a refund, it's important to make the request within a day of the reading you're dissatisfied with, and usually, you'll receive site credit rather than cash. Nevertheless, I believe that a transparent satisfaction guarantee is a wonderful approach for the platform to demonstrate its confidence in its psychics and ensure a safe experience for you.
Browse Psychics on PathForward
Psychic Profiles and Reviews
I think it's really important for you to have a good idea of who you're going to be talking to if you want to feel safe online. PathForward's psychics create detailed profiles which include Quick Facts like their specialist subjects, tools, and communication style, as well as answers to questions about their experience and beliefs. Psychics can even record an introductory message, so you can hear their voice and decide if they sound like someone you'll be comfortable with.

You can also read the reviews written by previous customers—and the site even publishes one-star ratings and negative reviews. I think this level of honesty reflects really well on PathForward's commitment to transparency and honesty. It definitely made me feel like I could trust the site.
Bottom Line
After carefully researching PathForward's history, psychic screening process, satisfaction guarantee, privacy policy, Code of Ethics, and psychic profiles, I'm confident that PathForward is a safe site for psychic readings and that you should take advantage of their introductory offer.
The site is open about how it collects and uses your data, and ensures that no-one – including the psychic you're speaking to – can access or even ask for your personal information. There's plenty of information available about all the site's advisors, so you can get a clear picture of who you're going to be speaking to or chatting with. Finally, PathForward's satisfaction guarantee, Code of Ethics, and transparent screening system definitely made me feel like I could trust the site.