It's no secret that Kasamba and California Psychics are home to some of the top psychics on the planet, with both sites offering an impressive selection of reading types too.
However, that still doesn't answer the question about where you should spend your money.
In this review, I look at the features and capabilities of each site so that you can decide which one is a better fit for you.
If you are ready to sign up and take advantage of each site's introductory offer, you can get a reading for as little as $1 on California Psychics and on Kasamba you get 3 minutes free with the first 3 psychics you try.
Want to explore your options first? Let's get into the specifics of each site.
Quick Summary of Winner in Each Category
💲 Starting price:
California Psychics ($

1

per Minute)

🔮 Types of reading:
Kasamba (

45

+ Choices)

🤝 Trustworthiness:
Kasamba (

100% Satisfaction Guarantee

)

🎉 Added extras:
California Psychics (Rewards Program)
🙋 Customer Support:
Kasamba (Live Chat Support)
Kasamba vs. California Psychics: Types of Readings
Kasamba
If you're looking for a psychic site with a wide variety of reading options, you can't go wrong with Kasamba. In addition to all the standard types of readings, Kasamba has some unique readings available too.

Graphology: There are only 9 psychics on Kasamba that specialize in graphology readings, but they all have 5-star ratings. By submitting a sample of your handwriting to them, they'll provide you with a detailed reading based on what they see.
Past Life Readings: Kasamba has over 60 advisors that specialize in past life readings, and many of them also have a 5-star rating. You can find a reader who works with or without tools to consult with.
Numerology: There are over 50 top-rated psychics specializing in numerology. All you need for the reading is your date, time, and place of birth.
Remote Viewing: Looking to find a lost object? Kasamba has over 20 psychics that specialize in remote viewing.
California Psychics
Like Kasamba, California Psychics has a respectable selection of reading types including all the standard topics. However, it does have fewer unique reading topics than Kasamba. On the plus side, the site does have far more advanced filtering capabilities than Kasamba does. Users can search for a psychic based on reading topic, or according to ability, tools, reading style, and rating.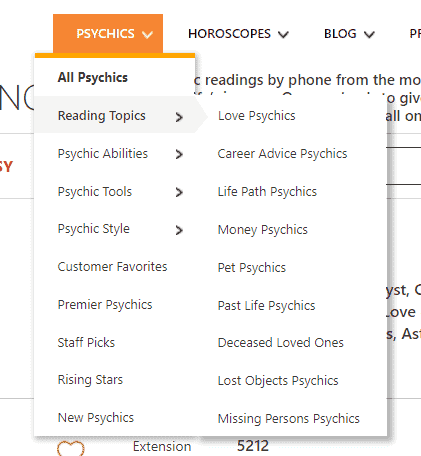 Channeling: California Psychics has over 90 psychics specializing in channeling, helping you communicate with your deceased loved ones.
Remote Viewing: Similar to Kasamba, California Psychics also offers over 50 remote viewing psychics for you to connect with.
Past Life Psychics: Interested to find out more about any of your past lives? Over 60 readers specialize in past life readings on California Psychics.
Automatic Writing: While California Psychics doesn't have graphology psychics like Kasamba, they do have more than 15 psychics who have automatic writing abilities.
Winner: Kasamba for a wider selection of reading types.
Kasamba vs. California Psychics: Pricing
Kasamba
It's no secret that Kasamba is one of the most expensive psychic reading websites out there. While the site is home to some of the top readers in the whole world, they generally come with a sizable price tag. Kasamba offers readings via chat or call, and prices range from $1.99 to $30 per minute.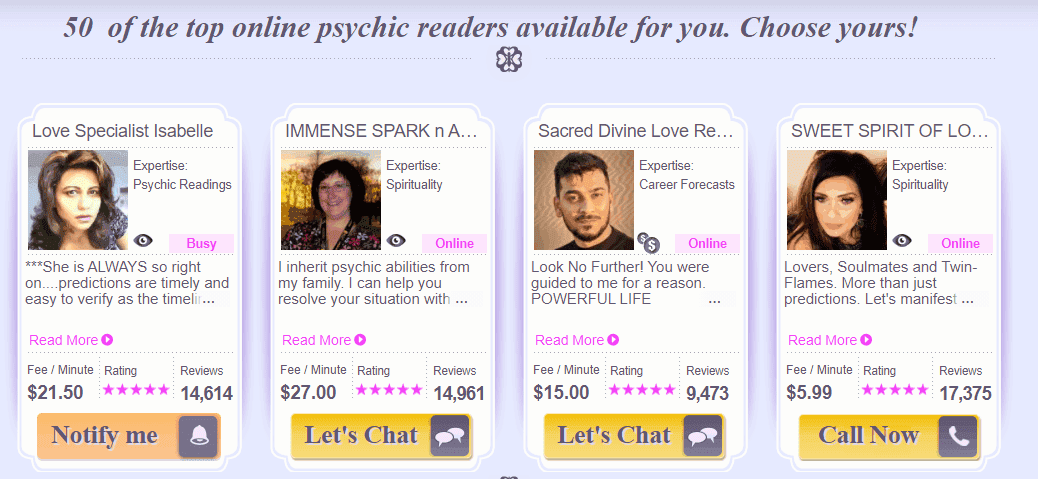 Kasamba does have an introductory offer that includes 3 free minutes with 3 new psychics. In fact, any time you meet with a new advisor for the first time, the first 3 minutes are free, giving you a fair chance to determine whether a reader is right for you.
The median price of psychics on Kasamba falls between about $4 and $15 per minute. Objectively speaking, this is still quite expensive. There's no getting around it— Kasamba's services come at a high price.
California Psychics
California Psychics is certainly not a "cheap" psychic reading website, but it's also not nearly as expensive as Kasamba. Their initial pricing structure is also a little more complicated than most.
When you first sign up with California Psychics and want to begin a session with a reader, you must prepay for 20 minutes. The psychics on this site are divided into 3 tiers: popular, preferred, and premium. Because you're a new member, each of these group prices are discounted. Their rates are $1, $2, and $4 per minute, respectively. So when you first sign up and pay for your 20 minutes, depending on the package you choose, you'll either pay $20, $40, or $80.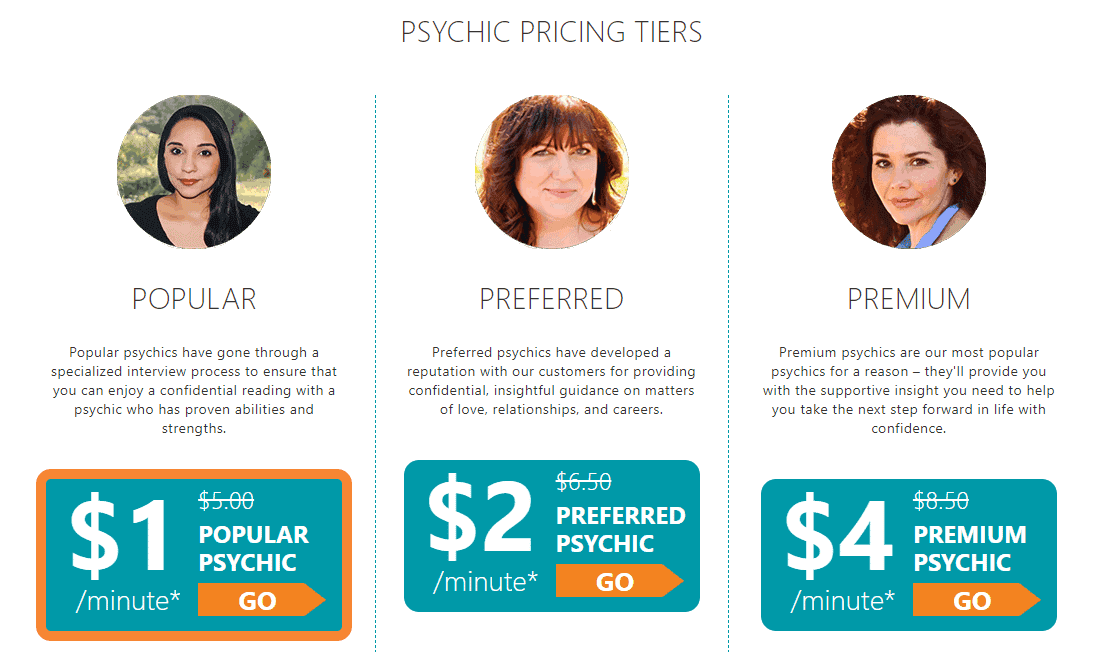 After you've used up these first 20 minutes, you can top up your account with as much money as you'd like, and pay whatever rate your chosen psychic charges. Psychic rates range from $4 to $15 per minute, with the highest rate per minute still being 2x lower than that of many Kasamba psychics.
Winner: California Psychics for their competitive rates.
Kasamba vs. California Psychics: Website Usability
Kasamba
Overall, Kasamba's website offers a pleasant user experience. The navigation bar at the top makes it easy to search for a psychic based on the type of reading you're interested in. You can also filter results based on rating and price.
Signing up for an account with Kasamba is quick and easy. All you need is an email address. However, if you want to take advantage of your free 3 minutes with an advisor, you must add a payment method to your account. Once you begin a reading and those 3 minutes pass, your card will be charged. All psychics offer readings via chat, and a good portion of them also offer readings via phone.
It's easy to find out more about the psychics on Kasamba, with their bios offering detailed information about their experiences and expertise, as well as client reviews. Their site also offers some helpful articles, a tarot guide, and horoscopes. Last but not least, you can also schedule a reading on-the-go by downloading Kasamba's mobile app and logging in with your account.
California Psychics
As I mentioned before, California Psychics has slightly better search options than Kasamba. Not only can browse psychics based on reading topics, but also according to ability, reading style, and preferred tools. You can then filter these results based on price, and rating. Best of all, you can select multiple criteria simultaneously to narrow down your search right away.

While California Psychics has better filtering options than Kasamba, one place it lags behind is the signup process. With Kasamba you can create an account without having to enter any payment information. With California Psychics, this is not the case. When you sign up for an account, you must also choose one of the pricing plans explained above, and enter your payment info to be charged accordingly.
Similar to Kasamba, California Psychics also has a mobile app, which means you can connect with your psychics on-the-go.
Winner: Kasamba for their simple sign up process that doesn't require a credit card.
Kasamba vs. California Psychics: Trustworthiness
Kasamba
Kasamba has been in operation since 1999 and has assisted more than 3 million individuals in finding guidance on a broad range of matters. In my opinion, it's a good indicator when a platform has a durable reputation. The reality that it has been functioning for twenty years implies that people have derived satisfaction from its services.
Kasamba also offers its users a satisfaction guarantee when they sign up. This guarantee applies to a user's first reading on the site. If you're not happy with your experience, you can request a refund of up to $50 within 7 days of the reading. This guarantee is much more generous than some other sites'. Most other psychic reading platforms offer refunds up to $20, and you must submit your complaint for review within 24 to 48 hours after the reading. Kasamba's policy offers more and is more flexible.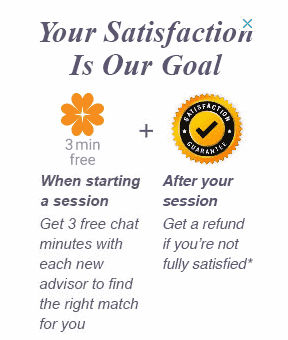 Lastly, Kasamba gives users the ability to read countless reviews on its psychics. That being said, you'd be hard pressed to find a psychic on the site with bad reviews. This doesn't necessarily raise red flags for me though. Instead, it shows me that readers who are underperforming are quickly removed from the site, which means whoever you choose will more than likely have good experience. Psychics who want to join Kasamba must submit an application and be vetted by the site before being allowed to join.
Overall, Kasamba's reputation, psychic reviews, and satisfaction guarantee make it a very trustworthy platform.
California Psychics
California Psychics is a veteran site like Kasamba, having been established in 1995. Their website indicates they have helped over 6 million people find guidance since the site first launched. They also describe a rigorous psychic vetting process, with less than 2% of applicants being accepted on their site.
Just like Kasamba, you have plenty of client reviews to read through for each psychic, with very few psychics having low ratings. They also offer a satisfaction guarantee, but it's a bit less flexible than Kasamba's. If you're not happy with a reading, you must submit your complaint within 24 hours. If the platform agrees that your complaint warrants a refund, you will receive credits that can be used for future readings. The platform does not provide any cash refunds. You can only receive credits to the value of 15 minutes or less.

While Kasamba's guarantee only applies to your first reading, California Psychics lets you submit one claim per month, but never more than one for the same reader.
Winner: Kasamba for their flexible refund policy.
Kasamba vs. California Psychics: Added Extras
Kasamba
After some deep digging, I discovered a unique feature on Kasamba that many of its competitors don't have. While Kasamba has some of the highest rates out there, it also gives you the ability to send psychics a message free of charge. When you send this message, you can specify the price you'd be willing to pay, independent of what the psychic's asking price is on their bio.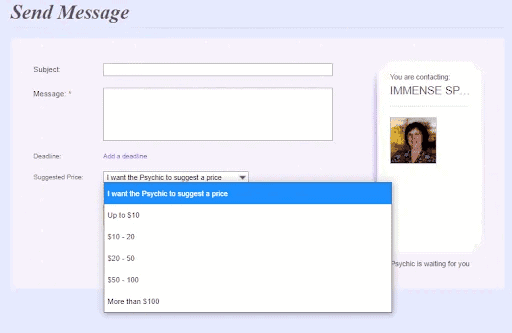 For me, this feature is a saving grace for Kasamba, as it gives you the chance to speak with a psychic, even if you thought they were initially out of your price range. So if you find a psychic you'd really like to connect with, let them know. Best case scenario, you can come to an agreement on price. Either way, you have nothing to lose!
California Psychics
California Psychics has something called "Karma Rewards" on their site, which rewards users every time they use the site. Right from the beginning you have the ability to earn 2x points for every purchase you make. As you accumulate reading minutes on your account, you move to higher reward tiers which offer more points per purchase, as well as anniversary gifts and more.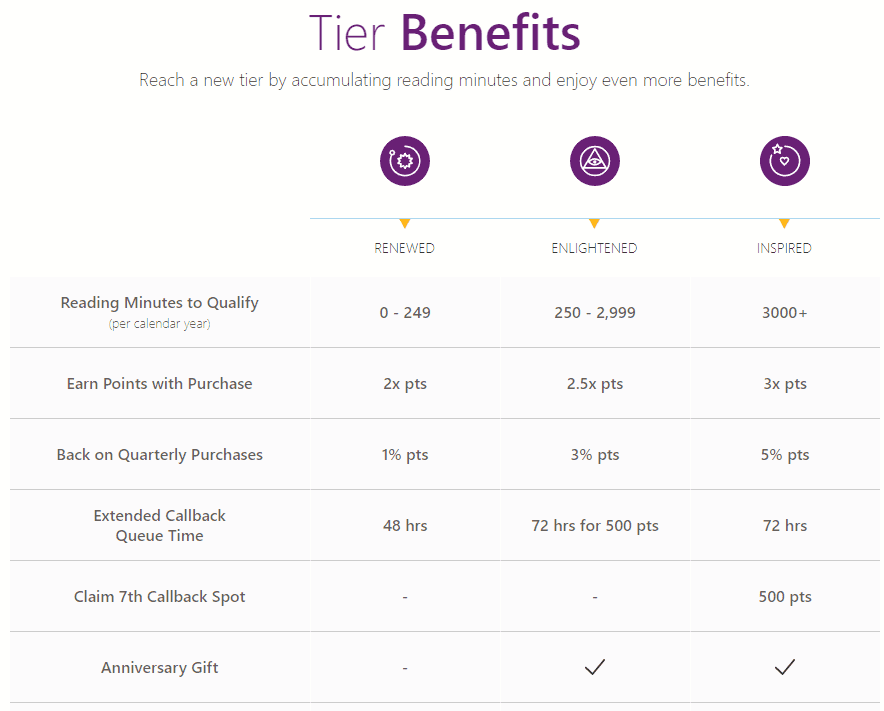 When you sign up you also receive a free birth chart, a birthday gift, and exclusive event notifications and offers. Many of these benefits and rewards are far more generous than what other competitors offer. And this makes sense, since the site requires you to purchase a package of minutes when signing up. So while creating your account isn't free, you do get a lot of extra benefits.
Winner: California Psychics for their attractive rewards program.
The Bottom Line on Kasamba vs. California Psychics
If you've made it this far, then you know that we're dealing with two very respectable, well-established psychic reading sites that feature an impressive amount of talented readers. By a slim margin, I have to say that Kasamba takes the crown as the better platform. Here's why:
It offers a more extensive list of reading types
It has the most flexible refund policy
It doesn't require payment information to create a free account
In these 3 areas, Kasamba excels over California Psychics.
That being said, California Psychics also has areas where it stands out:
Better website usability and filtering options
Karma rewards that benefit frequent users
No matter which platform you choose, you can't go wrong. Both Kasamba and California Psychics have incredibly talented readers, and are trustworthy websites.
Overall Winner: Kasamba