Kasamba and Keen Psychics are two of the best-known psychic sites. Each site is home to a broad selection of experienced readers, has a range of pricing options, and is highly trustworthy.
With both sites having a similar offering, it's hard to know which site to choose. I compared Kasamba and Keen Psychics to make it easier for you to choose the right one for you.
As an added bonus, each site offers the first 3 minutes for free. You can access this introductory offer on Kasamba here and Keen Psychics here.
Let's get into the details of each site.
Quick Summary of Winner in Each Category
💲 Starting price:
Kasamba ($

1.99

per Minute)

🔮 Types of reading:
Kasamba (

45

+ Choices)

🤝 Trustworthiness:
Kasamba (

100% Satisfaction Guarantee

)

🎉 Added extras:
Keen (Psychic Matching Tool)
🙋 Customer Support:
Keen (Phone & Email Support)
Kasamba vs. Keen Psychics: Types of Readings
Kasamba
Kasamba offers 22 primary reading categories, with at least 24 subcategories. For example, there are Love and Relationships readers who specialize in everything from divorces and dating to parent and child relationships.
Kasamba has approximately 300 psychic advisors. Its most popular types of readings are:
Psychic readings – aura readings, crystal readings, pet psychics, psychic mediums, remote viewing, and rune casting.
Love and relationships – break up and divorce, cheating and affairs, LGBT-friendly, marital life, parents and children, single and dating, and soulmate connections.
Tarot readings – angels card reading and cartomancy.
Fortune telling.
Dream analysis.
Astrology readings – Chinese astrology and Vedic astrology.
Career forecasts.
It also offers palm reading, numerology, occult, Kabbalah, Eastern philosophy, graphology, paranormal, past life readings, picture readings, new age spirituality, universal laws, intimacy, financial outlook, and religion readings.

Once you decide on a category, you have the ability to apply filters, ensuring you can easily narrow down your search for a psychic. Some of the filters include highest price, lowest price, and highest rank.
I also appreciated the fact that each reading category included a brief explanation. This is helpful for users who are new to psychic readings or anyone who has never heard of a particular reading type.
Keen Psychics
Keen's 1,700 psychics also offer an impressive range of readings. The site's top categories are:
Psychic readings – pet psychics, psychic mediums.
Financial outlook.
Love and relationships.
Life questions.
Tarot readings – cartomancy and angel readings.
Spiritual readings.
Astrology readings – Chinese astrology, Mayan astrology, and Vedic astrology.
It also offers dream interpretation, Feng Shui, numerology, aura cleansing, otherworld connections, and chakra cleansing.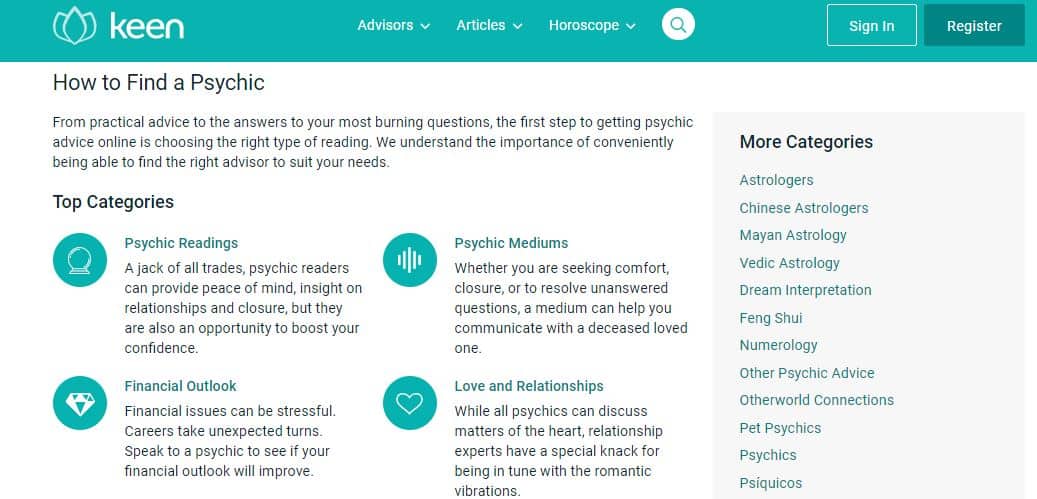 Keen Psychics also offers several filtering options to help users narrow down their searches, including star rating, availability, and price.
Winner: Kasamba for a wider range of reading types.
Explore Readings on Keen psychics
Kasamba vs. Keen Psychics: Pricing
Kasamba
Psychics on Kasamba set their own per-minute rates. Generally, readings are priced between $1.99 and $30 per minute.
Kasamba gives you the first three chat minutes with each new psychic you try for free. That gives you plenty of time to find the right psychic for your needs without paying much, if anything at all. Additionally, new users are entitled to 70% off of their first session up to a value of $50.
Users have the option to pay using a credit card or they can simply transfer funds via PayPal. You won't be charged anything until after you select and start a session with a psychic.
Keen Psychics
Psychics on Keen Psychics also charge by the minute. Similar to Kasamba, prices start from $1.99 per minute and can extend beyond $30/minute. Fortunately, I found that very few of these psychics charge rates over $30 per minute.
New users can enjoy the first 3 minutes of their reading for free, which is helpful for finding a psychic you feel a connection with. Unfortunately, Keen Psychics doesn't offer any additional introductory offers over and above the free minutes.
Winner: Kasamba for their generous introductory offers.
Kasamba vs. Keen Psychics: Website Usability
Kasamba
Kasamba makes it really easy to find the kind of psychic you want to connect with. Once you choose a category, you're taken to a page filled with mini profiles, which show you prices, ratings, and reviews.
You can also choose between chat and phone consultations. If your chosen psychic isn't available, you have the option to receive a notification when they're available again.
Each psychic profile is detailed enough to help you make an informed decision. You can even add psychics to a Favorites List, making it easier to narrow down your search and make a final choice.
The sign-up process is also easy. All you need is an email address. You'll be asked to create a username and password, and can add your payment information whenever you're ready to get your first reading.
As an added bonus, Kasamba's mobile app is simple and intuitive to use, making it easy to get psychic readings on the go.
Keen Psychics
Signing up as a Keen Psychics user is simple. You just need to enter your email address, create a password, and indicate where you found out about the site. You can add money to your balance using a range of payment methods and only need to do so once you are ready to consult with a psychic.
I really like the site's clean interface, simple navigation, and detailed psychic profiles. Once you filter down to a range of psychics you are interested in, each mini profile displays the psychic's name, star rating, per-minute rate, and number of readings performed.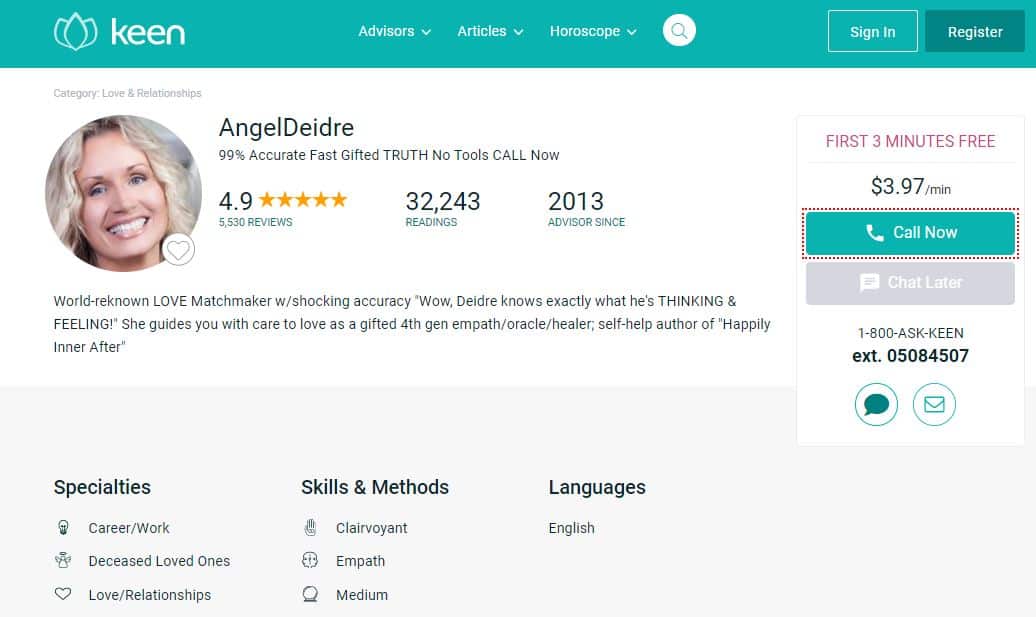 Once you click through to a psychic's profile, you can read through in-depth details on their abilities, reading style, and see what past clients have to say. If a psychic isn't available, it is possible to schedule a reading or even send them a direct message.
Keen Psychics also offers a mobile app which is as easy and instinctive to use as the main site.
Winner: Keen Psychics for ease of use.
Both sites win extra points for having functional apps.
Explore Psychic Profiles on Keen Psychics
Kasamba vs. Keen Psychics: Trustworthiness
Kasamba
Kasamba is transparent about how it screens its readers. Candidates have to provide resumes and references, and complete an interview before being accepted as an advisor. Rigorous screening processes such as this always instill confidence.
The site also offers a satisfaction guarantee. You can receive up to $50 if you're unhappy with your first conversation with a psychic, proving they are confident in their psychics.
Kasamba claims a 93% satisfaction rate and has a surprisingly high number of four- or five-star rated psychics. These high standards show that Kasamba is trustworthy: only the best psychic readers are allowed to serve as advisors.
Kasamba has been around since 1999, so it's a reputable site that has stood the test of time.
Keen Psychics
Keen Psychics has a 100% satisfaction guarantee: if you're not happy with your reading, you can claim a refund. You're likely to be happy, though: Keen Psychics customers seem to leave glowing reviews.
The site doesn't offer much information about how they choose and screens readers, which is disappointing. You'll need to rely on reviews and ratings to make sure the person you're speaking to is actually trustworthy and legit.
On the plus side, Keen Psychics has been providing psychic advice for 20 years. Its longevity shows that people trust the brand.
Winner: Kasamba for more transparency.
Kasamba vs. Keen psychics: Added Extras
Kasamba
To start with, Kasamba has a blog that is filled with useful articles. Along with advice about spirituality, love, and relationships, there are also posts specific to the different types of readings on offer. Users can also read through daily and weekly horoscopes.
There is also a Love Compatibility Wizard tool which analyzes your chances at a successful relationship based on your star signs.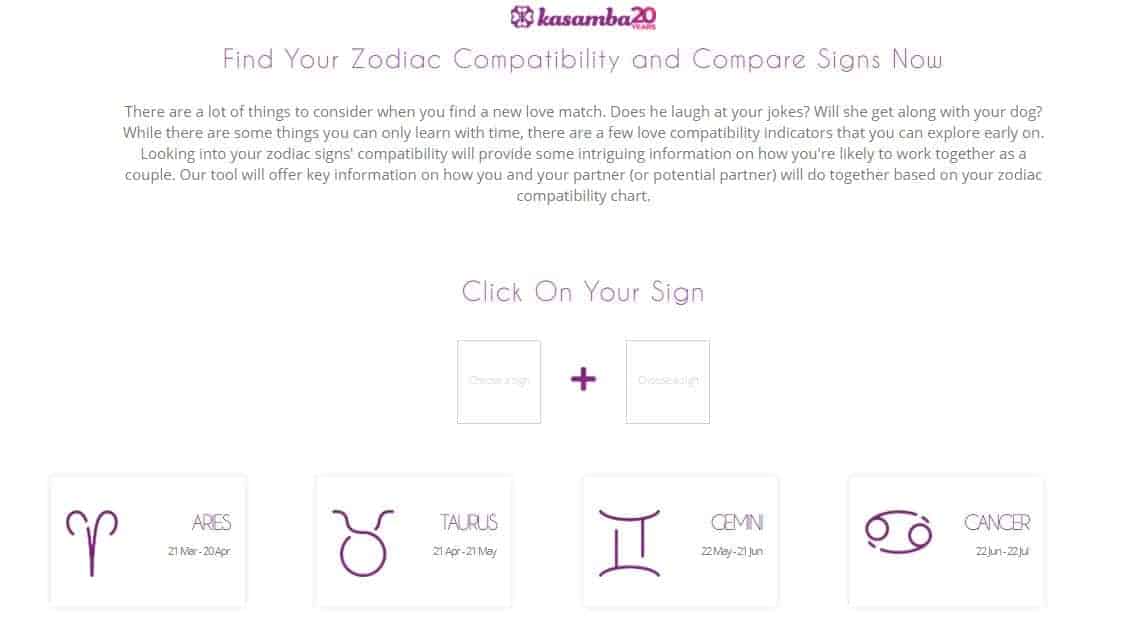 Keen Psychics
Keen Psychics also has an article and horoscope section, touching on everything from current issues to the types of readings on offer.
One feature I really enjoy is their instant tarot card reading tool. Users can select three cards from a digital deck for a quick reading and explanation.
There's also a page called "Readings 101" which includes video tips from featured psychics. It explains the different types of reading on offer and what you can expect from your reading. You'll find this page especially useful if you're new to psychic readings and want to learn more about how they work.
Keen's Find a Psychic tool is also really useful. It uses your mood, interests, and preferred delivery style to match you with readers who will be able to help you.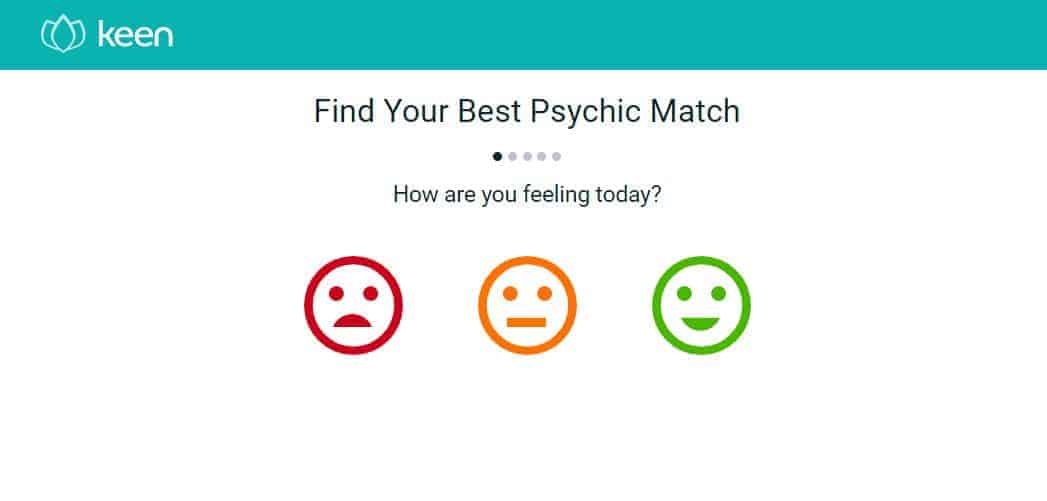 Winner: Keen Psychics for a wide selection of added features and tools.
Bottom Line on Kasamba vs. Keen Psychics
Kasamba and Keen Psychics are both great psychic reading sites. They each offer a wide variety of readings and have lots of highly-rated advisors waiting to help you. They also offer similar pricing and usability.
It's a tough choice between these two psychic reading sites, but overall, Kasamba is the winner. It offers a bigger range of reading topics with more carefully vetted psychics. Its pricing structure lets you try out as many readers as you want without paying anything.
Kasamba is my winner for most people, but ultimately, the best site is down to your personal needs. If you're looking for the biggest range of reading topics, want to shop around for the perfect psychic, or are interested in taking a deep dive into articles about psychic readings, Kasamba is probably the best site for you. If you want more information about individual readers and helpful tips and tools, choose Keen Psychics.
Overall Winner: Kasamba