Oranum vs. Kasamba: An Overview
Oranum and Kasamba are two of the most well known, reputable psychic reading sites out there. That being said, they couldn't be more different from each other. Everything from searching for a reader to psychic profiles and prices vary wildly between these two sites. So which one is most worth your time? This tell-all review will help you decide.
Oranum vs. Kasamba: Types of Readings
Oranum
The first thing that stands out about Oranum is the sheer volume of reading categories. I'm willing to bet Oranum has a category for any type of reading you are interested in, plus more you've never even heard of. Lenormand cards, karmic astrology, Tik Pan San Sou— Oranum's got it all.

This site also has an uncountable number of psychics, and I mean that literally. I tried to count how many different psychics there are, and I stopped after I reached 1,000. The site even offers psychic readings in 8 different languages, which is a unique feature on its own.
Oranum offers readings via chat, phone, or video. Keep in mind for video readings, while you can turn your camera on for a reader to see you, the audio only works one way. Your reader can speak to you, but you can only communicate via chat. I found this a bit odd and time-consuming, but I suppose it works for those who value privacy.
Kasamba
While Oranum's selection of reading categories is substantial, Kasamba still gives users a number of categories to choose from. Kasamba offers over 35 types of readings, including rare types like Kabbalah, graphology, and Vedic astrology.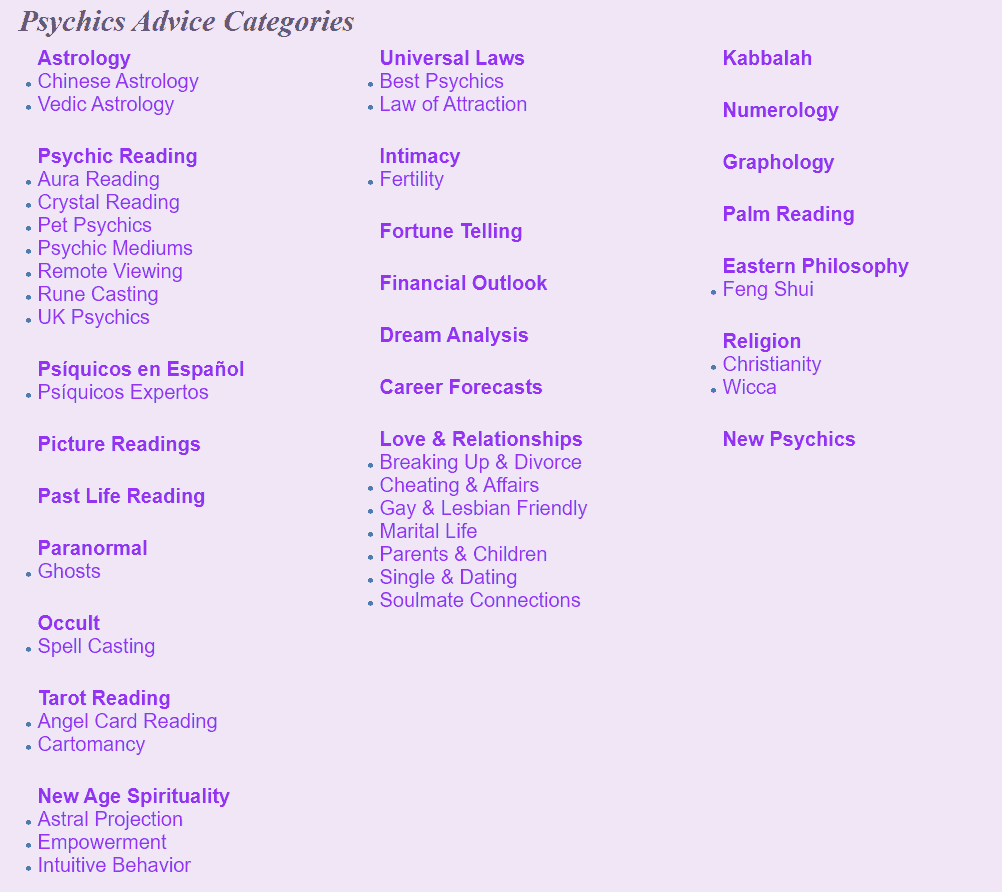 The site can connect you to over 300 psychics over phone or chat. Unfortunately, Kasamba does not offer video readings.
Winner: Oranum for its vast selection of psychic reading categories.
Discover More Readings on Oranum
Oranum vs. Kasamba: Pricing
Oranum
Oranum is not the cheapest site out there, but it's definitely not the priciest either. (Kasamba takes the cake there). When you sign up with Oranum, you receive $9.99 worth of free credits just for validating your credit card. I always appreciate sites that give you a little something extra as a new user.
From there you can purchase one of their packages, each of which has a different number of credits. With each purchase of a package, you also receive additional free credits.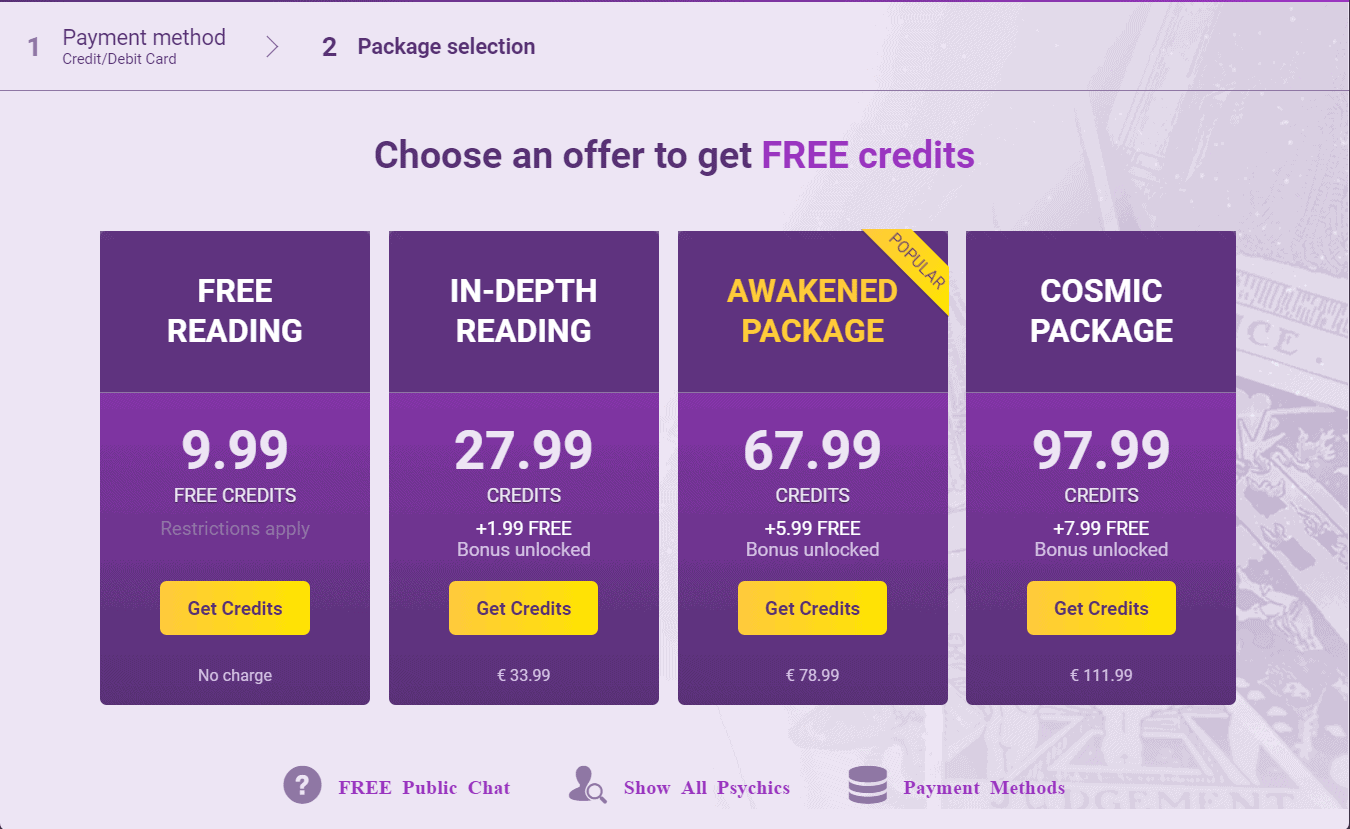 Psychics on Oranum set their own rates which range from $0.39 to $9.99 per minute. The site caps its readers at $9.99 per minute, which seems more than fair to me. So while I don't like the rigidity of the packages, I do like the fact that you really don't have to pay a high per minute rate if it doesn't fit your budget.
Kasamba
I won't lie— some of Kasamba's psychics charge more than I'd ever be willing to pay for a reading. Rates range from $1.99 to $30 per minute. That being said, Kasamba is known to have some of the highest-quality psychics in the world. So what's important here is to do your research, send a free message or two, and take your time when choosing a reader.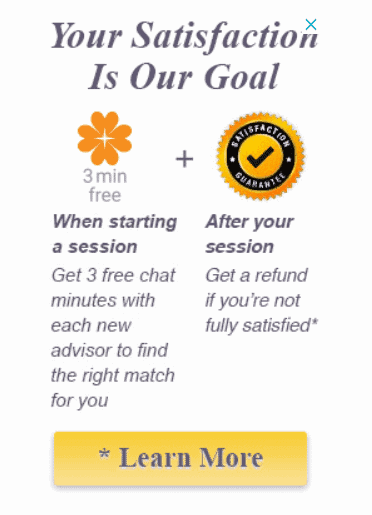 One redeeming quality of the site's pricing is that it offers you 3 free minutes of chat time with any reader you speak to for the first time.
Winner: Oranum for its free credits and more affordable rates.
Claim Your Free Credits on Oranum
Oranum vs. Kasamba: Website Usability
Oranum
Oranum's vast array of choices do come at a cost. The site's usability definitely suffers as a result of its endless reading categories and massive amount of psychics.
I also found the psychic profiles to be quite overwhelming. Each reader has the freedom to add reviews, images, videos, and other free content to their wall. All of this creates a chaotic mess in some instances. And for all this noise, some basic elements are also lacking on many profiles, including the psychic's active years, number of readings, and total number of reviews.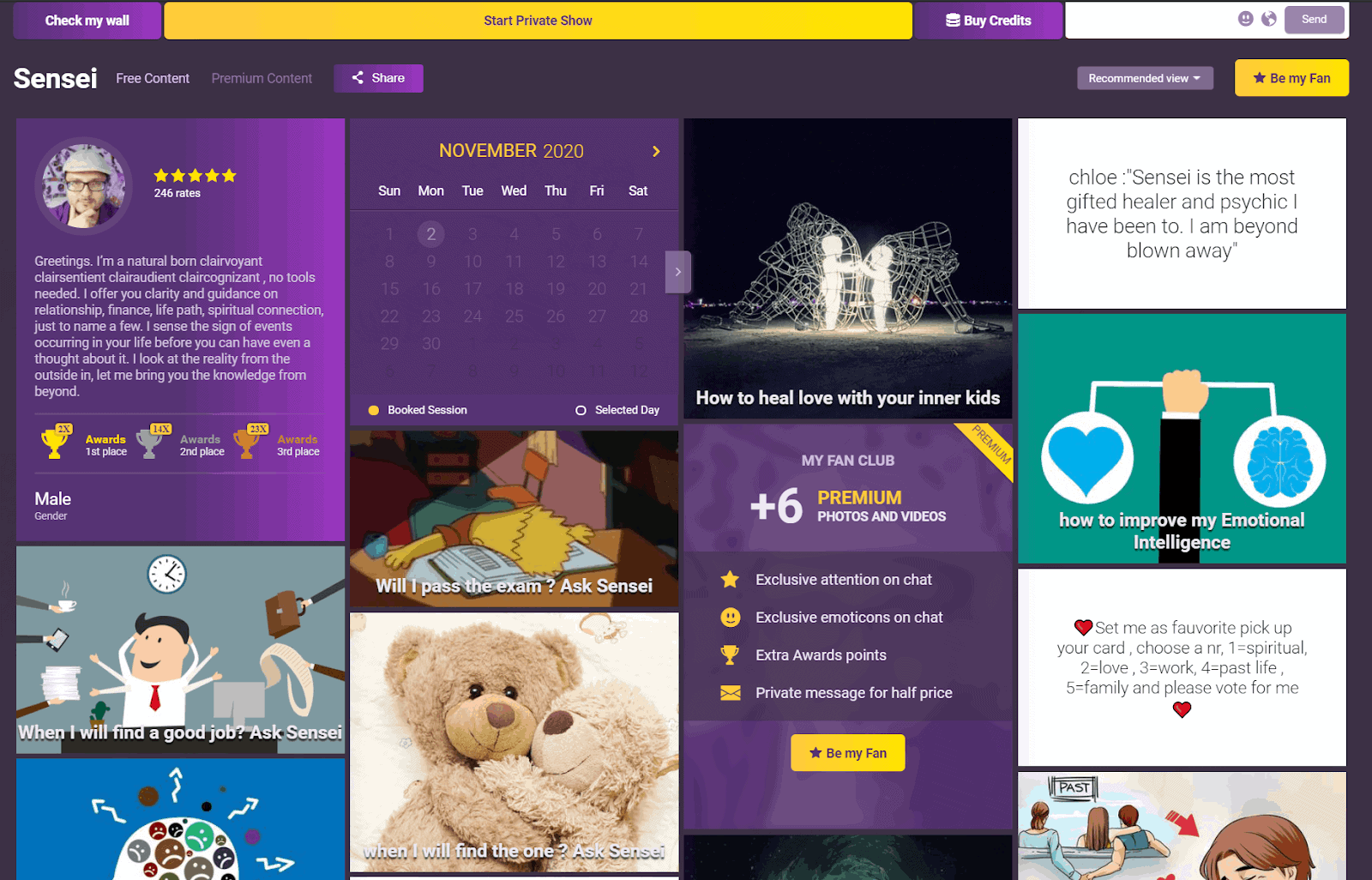 Another big drawback of these disorganized profiles is that there's no dedicated section for user reviews. While you can see the reader's star rating, the only reviews you can read are the ones that the psychic has chosen to feature on their wall. And as you can imagine, they're only positive reviews.
Creating your actual account on Oranum is straightforward. All you need to do is enter your email, and create a username and password. While some other sites require you to enter a payment method in order to create your account, this is not the case with Oranum.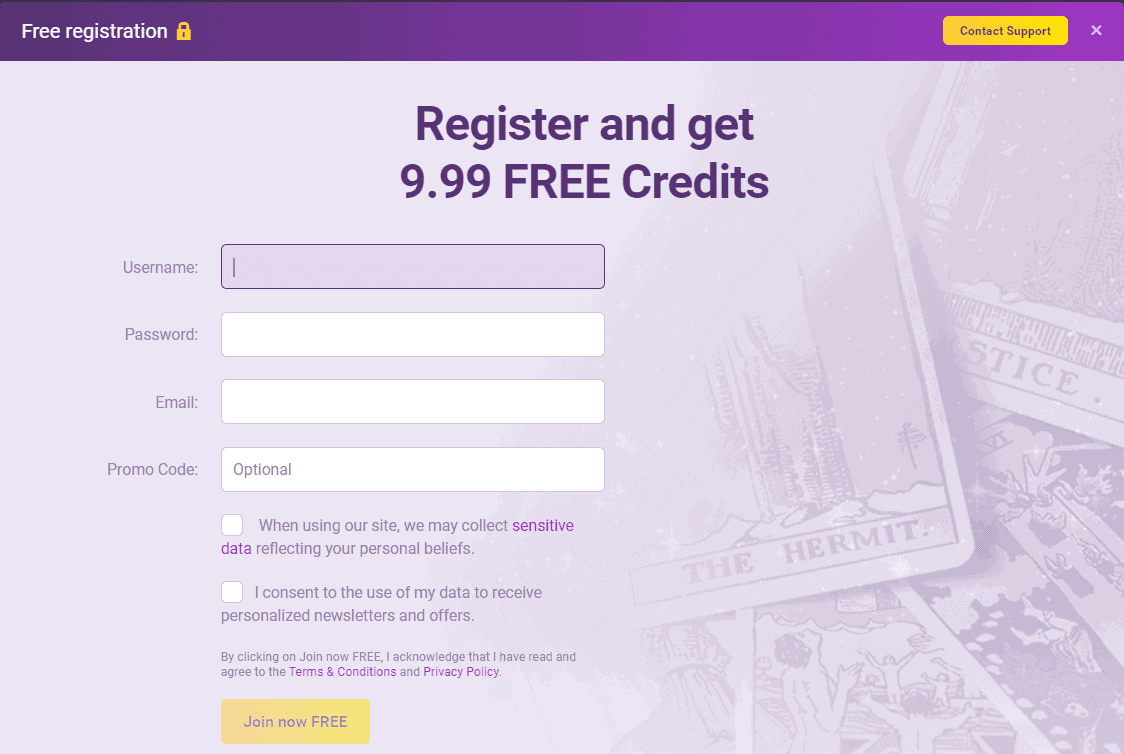 Entering a reading with a psychic is also easy. To purchase credits you simply hit the "Get Credits" button and select a package. When your psychic is online you simply head to their page and click "Start Private Show".
While Oranum does have a mobile app, I recommend sticking to the desktop version of the site. The app is not very user friendly and doesn't allow you to view psychic profiles.
Kasamba
Kasamba's website usability far exceeds that of Oranum for a number of reasons. First off, the site is just better organized than Oranum. Navigating the various reading categories is much clearer and you can view all available options at a glance. A nice touch is that the site has taken the time to write a brief description of each reading type. It may not seem like much, but if you are new to psychic readings and want to explore without the help of Google, this makes a difference.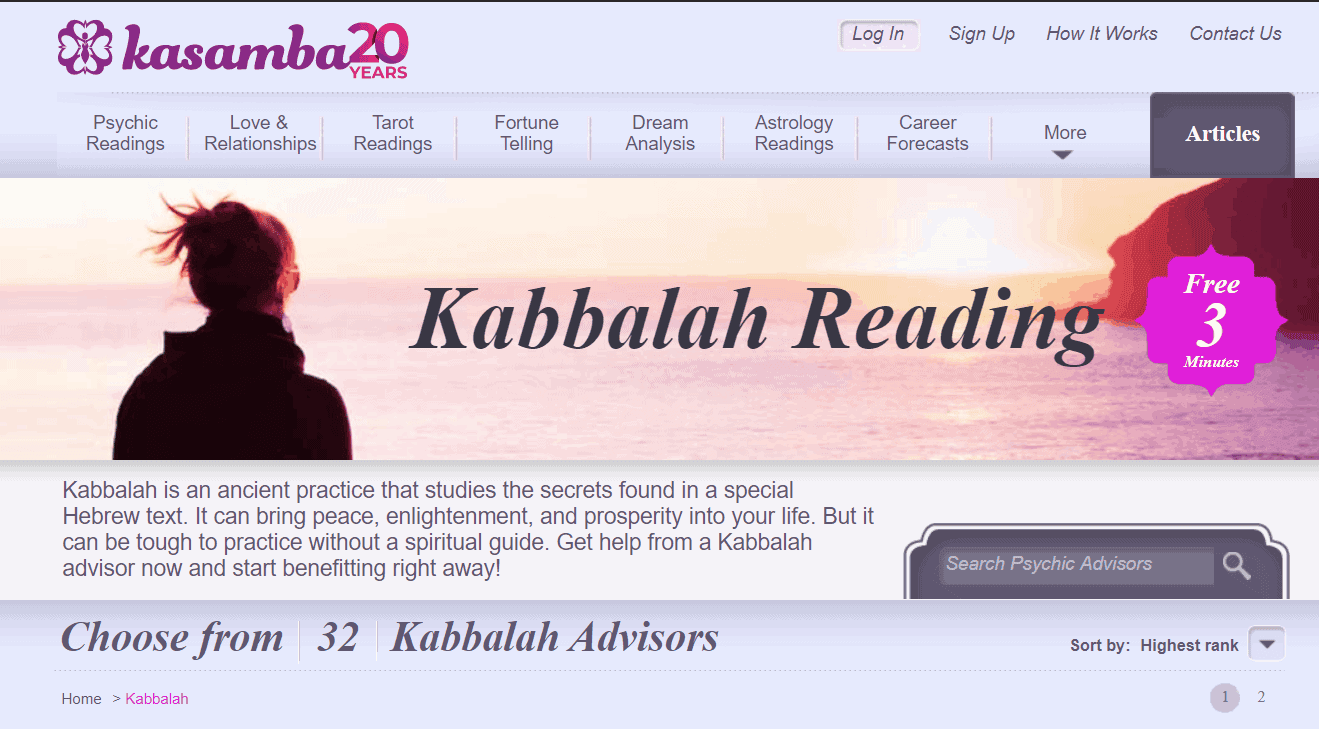 Kasamba's psychic profiles are also much clearer and informative than those on Oranum. Each psychic has the same three informative sections on their page, which allows for easy comparisons: About My Services, Experience and Qualifications, and Other. It also includes the number of reviews the psychic has received and their overall star rating. And as far as I can tell, these psychics are not able to cherry-pick their reviews.
While you can't read all reviews for one psychic, the reviews that show up are the most recent. That means that on any given profile, you're likely to read a review from as recently as a few hours ago.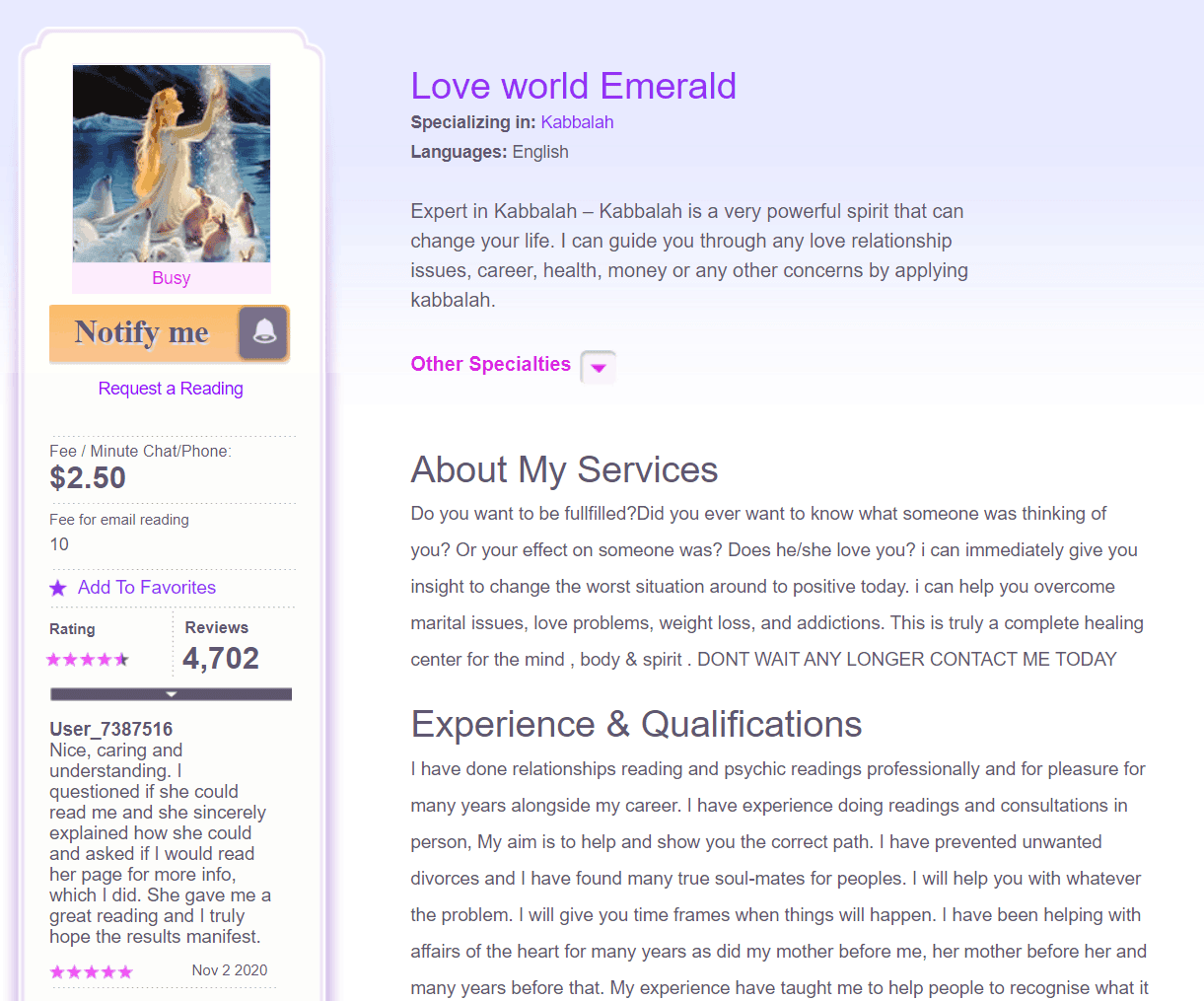 If you would prefer to read as many reviews on a psychic as possible, I recommend downloading the mobile app. Just like the site, it is easy to use and actually allows you to read far more reviews than the desktop version.
Similar to Oranum, Kasamba does not require a payment method for you to create an account. You just sign up with your email and you are ready to browse psychics and send them messages.
Winner: Kasamba for ease of use on both desktop and mobile.
Oranum vs. Kasamba: Trustworthiness
Oranum
When it comes to trusting Oranum, I would be cautious. The site has been around for over 8 years, but there are some red flags.
First off, Oranum does not offer any money-back guarantee. Their customer support agents are responsive and fast, but you shouldn't assume you'll always get a refund for a reading gone wrong.
Secondly, it's concerning that detailed psychic reviews can't be accessed. The only reviews you can read are the ones each psychic has chosen to display themselves.
Lastly, while the site advertises that they screen their applicants, you have to wonder how thorough it is when the site has over 1,000 readers.
So, does all this mean that you should dismiss Oranum as a viable option? No. Could the site do more to increase trust? Definitely.
Fortunately, there are ways to separate the legit readers from the fake ones. Read on to discover how Oranum's extra features help you do just that.
Kasamba
Kasamba has been around longer than Oranum – the site dates back to 1999. They also claim to have helped over 3 million people and have a 93% satisfaction rate. Unlike Oranum, the site does offer a money-back guarantee of up to $50 if you're unhappy with your reading.
The site doesn't offer much information about their psychic screening process, but they do state that registration costs $50. In my opinion, this is a good sign, and something I haven't seen on many other sites. $50 might be a steep price to pay, but it likely deters scammers from joining the site. Only people who are confident in their abilities would pay this because they know they'll earn it back quickly.
On the downside, it always raises a red flag for me when I see that almost no readers have negative reviews. This is the case on Kasamba, but my best guess would be that the site quickly removes readers who don't perform well in order to preserve their status and high quality readings.
Winner: Kasamba for its money-back guarantee and high satisfaction rate.
Oranum vs. Kasamba: Added Extras
Oranum
The best thing about Oranum is their free live reading sessions. This feature is something I haven't seen on any other major psychic reading site.
Oranum requires each of its psychics to host free live sessions every week where anyone can join, even if you haven't created an account yet. During these live sessions, readers have their cameras on and talk to viewers and respond to questions. While none of the viewers have their cameras on, they can communicate with the reader using live chat.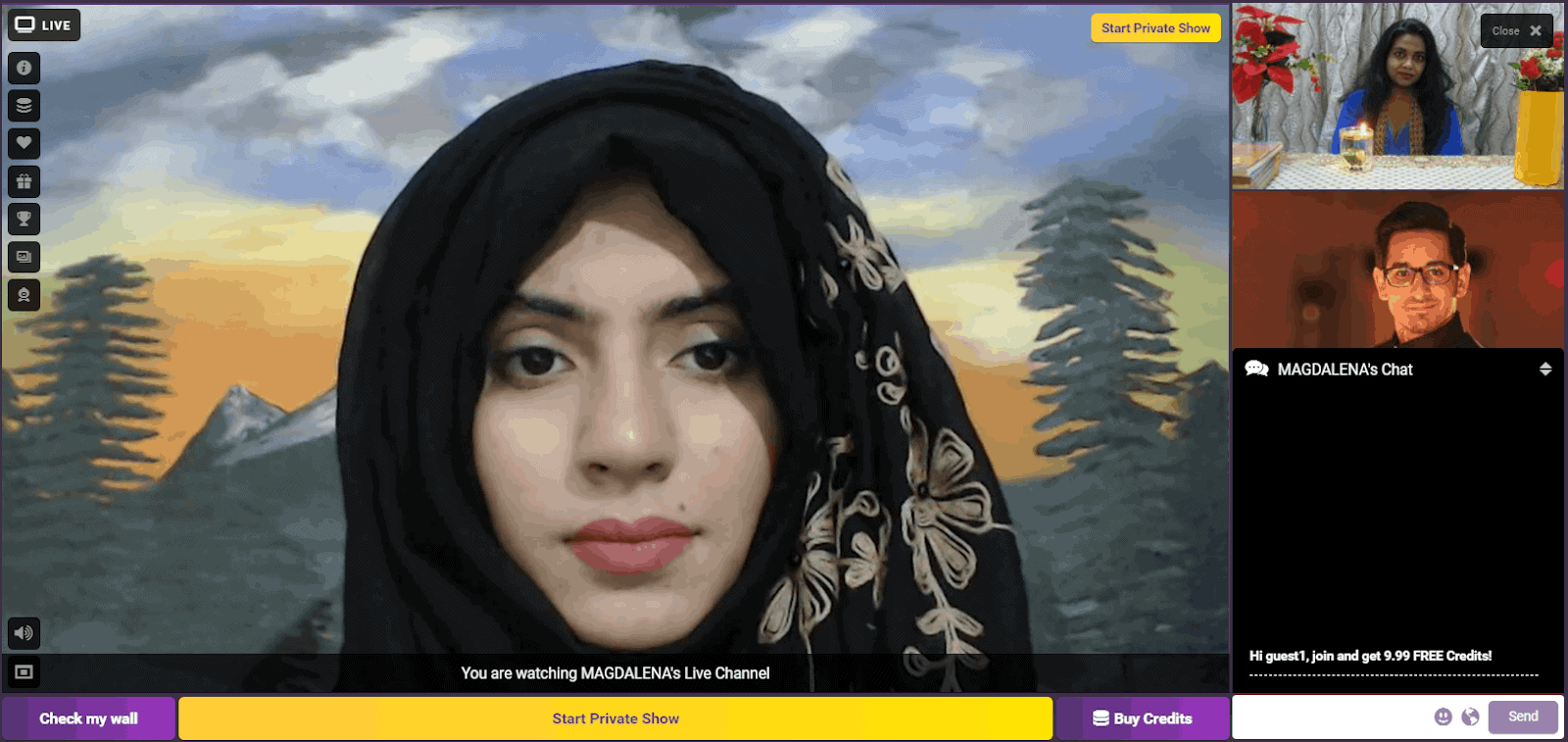 These live sessions are an excellent opportunity to get to know a reader before entering into a paid session with them. For example, some readers pull tarot cards during these live sessions for viewers, or show off their other abilities, giving you the chance to see them in action before you pay anything. If a psychic feels comfortable demonstrating their abilities live, and is willing to address any of your concerns, then you've likely found a real, trustworthy reader. On the other hand, if they are only pushing people to join a paid session, then you know you should move on to another reader.
Kasamba
Kasamba may not have all the bells and whistles that Oranum does, but it does have one interesting feature that I don't often see on other sites. If you don't want to immediately enter a paid session with a psychic, you can first send them a free message.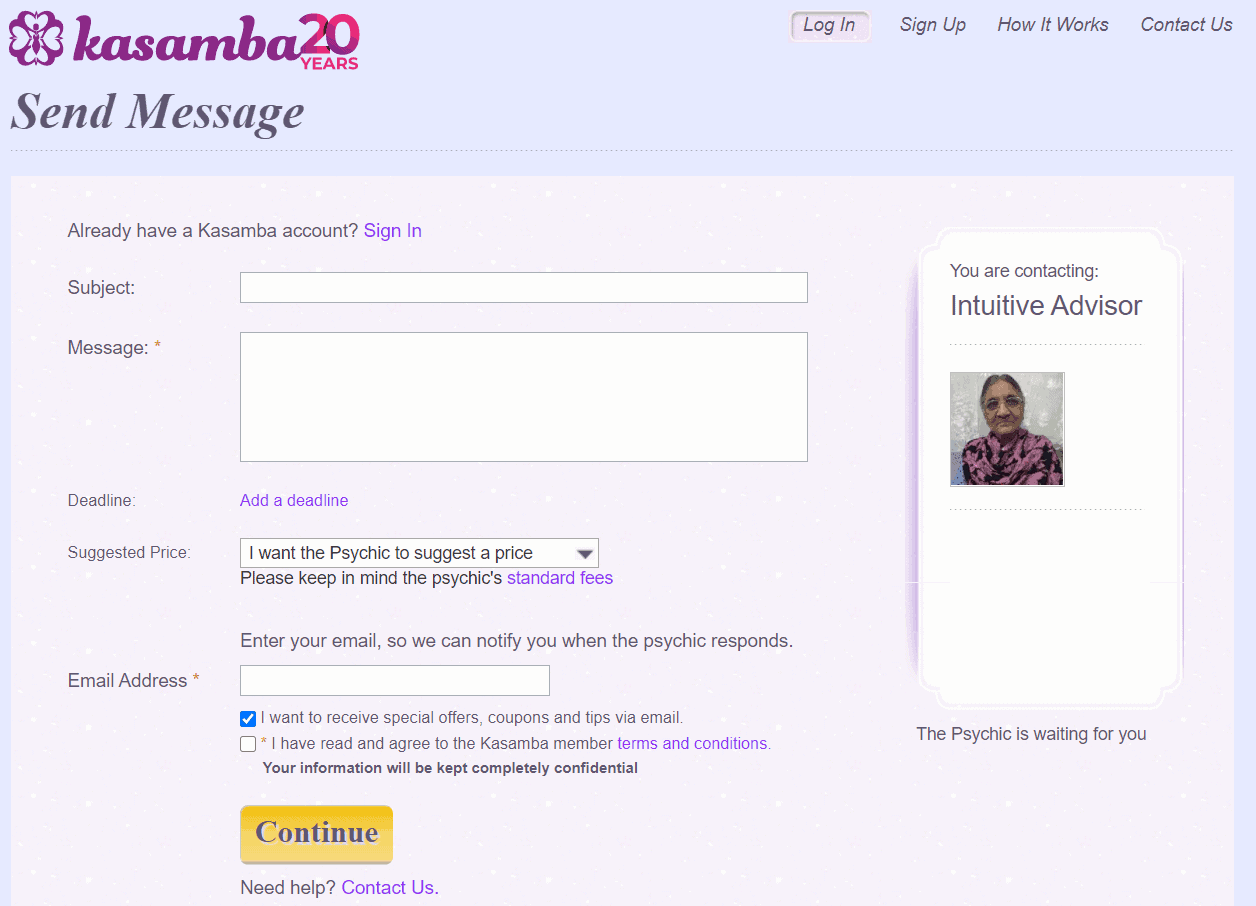 This is pretty standard for most sites, but what makes it unique is the Suggested Price field. You can actually select a price you are able to afford, regardless of what a psychic's asking price is. To me, this is a redeeming quality for the site seeing as it has some of the most expensive rates out there. This feature gives you the chance to consult with a psychic even if they are out of your price range. Essentially, you can explain your situation, and leave the decision up to them.
Winner: Oranum for its free live reading sessions, giving users the opportunity to try a psychic before they pay.
Join a Free Live Session on Oranum
The Bottom Line on Oranum vs. Kasamba
Choosing a winner between these two psychic reading giants is a really close call. On the one hand, Oranum has the largest selection of psychics you could ever imagine, while Kasamba offers a much better experience overall.
Oranum offers free live sessions for anyone to join, while Kasamba has the reputation of hosting the best psychics in the world. Oranum has more competitive prices, while Kasamba offers you the chance to negotiate with your reader. So who comes out on top?
For me, I have to go with Kasamba. While Oranum's live sessions are an incredibly appealing feature, it lacks other fundamentals that I look for in a site. With its endless number of psychics, I can't help but wonder how qualified the average reader is. It took me a long time to find someone I wanted to enter a reading with. And with no money-back guarantee, I wasn't able to safely try out several different readers.
Kasamba offers a more secure, reliable, and organized experience. The 3-free minutes plus its money-back guarantee made me feel like I was free to explore different readers, risk-free. But if there's one thing you should take away from this review, it's that both of these sites are worth your time, and are totally worth exploring.
Overall Winner: Kasamba