You couldn't find two psychic reading sites more different than Kasamba vs Oranum.
Or could you? On the face of it, these two psychic reading services online look, feel and offer completely different things to customers.
Or do they? I've reviewed over 10 psychic reading websites, and here's what I thought about Kasamba vs Oranum.
Quick Overview: Kasamba vs Oranum
| | | |
| --- | --- | --- |
| | Kasamba | Oranum |
| Calls starting from | From $3.99 and up | 2.99 credits, depending on the psychic |
| Consulting type | Phone and chat | Phone and video call |
| Psychic specialisms | Palm reading, paranormal, numerology, occult, universal laws, past life readings, intimacy, picture readings, financial outlook, fortune-telling, tarot readings – and more. | Love, Rituals, Sound Healing, Eastern – 60+ to choose from |
On the face of it, Kasamba vs Oranum couldn't be more different: Kasamba has been online for decades, and advertises itself as one of the biggest psychic reading networks online.
Oranum, on the other hand, is a completely modern psychic reading online service: it makes use of live-streaming, and social media-style wall posts.
There are some similarities, for example in the way that customers absolutely rave about both sites' psychics. But which site is better for you?
Here's what I discovered.
Kasamba vs Oranum: Pricing
Kasamba and Oranum could not be more different when it comes to pricing onsite. For one thing, their pricing structures are nothing alike, and neither are the prices that psychics charge per minute.
Kasamba has a nice little introductory offer, where you'll receive your first 3 minutes free when you sign up. It's not enough for a full reading, but it is something, and I appreciated it.
Otherwise, Kasamba has psychics starting from $2.99-$3.99 a minute, and I saw some of the more popular psychics go up to as much as $30 a minute. I think if you have that kind of cash to splash, then I'd be happy to offer you my psychics reading services too!
On the other end of the spectrum completely, Oranum offers its' psychic' services by way of credits. You have to buy packages of these (and each credit is worth roughly $2) with psychics telling you how many credits they change a minute; most of them start from around 2.99 credits per minute, which works out to about $2 per minute.
That's actually pretty affordable, especially for the psychic reading market, and new users at Oranum can receive up to 8 credits free when buying an 100 credit package. There's also a free 9.99 in credits for new users.
Winner: Kasamba, for its more straightforward system
Oranum for its cheaper pricing structure
Kasamba vs Oranum: Psychic Specialisms and Services
Both Kasamba and Oranum really impressed me when it came to their ranges of psychic specialisms:
At Kasamba, here's what customers have to look forward to:
Love and relationships readings
Tarot readings
Fortune telling
Dream analysis
Astrology readings
Career forecasts
Palm readings
Paranormal
Universal laws
Numerology
Eastern philosophy
Past life readings
Intimacy
Occult
Graphology
Picture readings
Financial outlook
Kabbalah
New age spirituality
Religion
There's a lot in there, with some awesome 'out-there' specialisms (intimacy? occult) that even I haven't really experienced.
Or so I thought. Because actually, Oranum somehow manages to top that list, with a massive range of 60+ (sometimes weird-looking) specialisms of its own: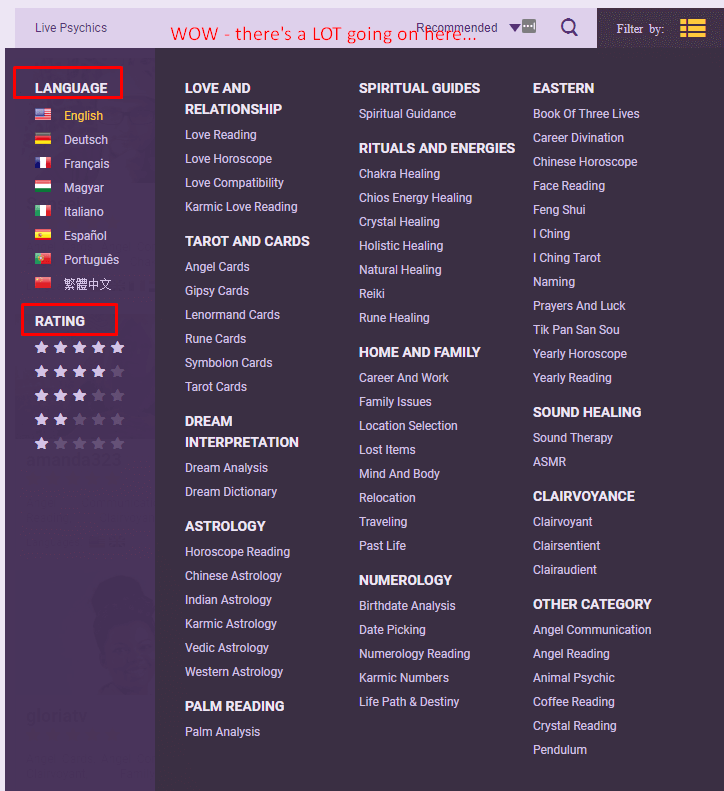 The language filter was pretty cool (and again, not really a given at most online psychic reading services I've seen), and with 60+ specialisms, there's definitely something for everyone.
The only thing I worry about is whether or not there's too much on offer; I know for myself that if I were a newbie to the world of online psychic reading, I'd see the above list and be a tad overwhelmed.
But – and it's a big 'but' – for those more experienced with the world of psychic reading service sites, this range of options could definitely provide whole new avenues of psychic readings to try.
So all in all, I'm going to call this one a tie.
Winner: Kasamba for the solid – but not overwhelming – range of specialisms on offer
Oranum for the huge range of specialisms
Kasamba vs Oranum: Are They Trustworthy?
I think that both Kasamba and Oranum are trustworthy psychic reading websites, and I've come to this conclusion after I put a lot of research into their practices for recruiting psychics, their satisfaction guarantee and by looking at what their customers have to say about each of the sites.
Here's what I've discovered.
Psychic screening process
In what I'm coming to realize is pretty standard for the online psychic reading world, neither Kasamba nor Oranum have a stringent psychic application process.
Other sites insist that their psychic applicants undergo a background check, a lengthy interview process or even a live reading, but neither Kasamba nor Oranum do this. While I guess the court of public opinion will ensure any dud psychics are pretty quickly weeded out with bad feedback, this is still a little shocking.
All wannabe psychics need to do in order to appear on either Oranum or Kasamba is create a login for the site, submit a short bio, and they will be ready to receive paying customers.
Obviously it will take a while for any psychic to build up a good reputation on either site, but this is still something to keep in mind.
Customer ratings and reviews
Luckily, you can pretty much tell what type of psychics you'll be speaking with (and how other customers have got on) bia their reviews and ratings.
I always find these a fascinating read: it allows me to see which psychics get it right (most of the time), and which have a history of last-minute canceling on customers (or so they say).
While Kasamba had a lot of regular feedback, I noticed that it all seems to be in very short, one-sentence lines. I also couldn't really find any negative comments. Still, the feedback was posted regularly, meaning it all seemed to be genuine.
Over at Oranum, the site actively uses customer feedback on each of its psychics' bios. While psychics are live streaming from their page, you'll see thousands and thousands of customer feedback – in fact, it can easily get a little overwhelming:
My only bugbear would be at Oranum, where there's just so much user feedback – and it's pretty central to the site's psychic bios – that it can get just a little overwhelming to look at: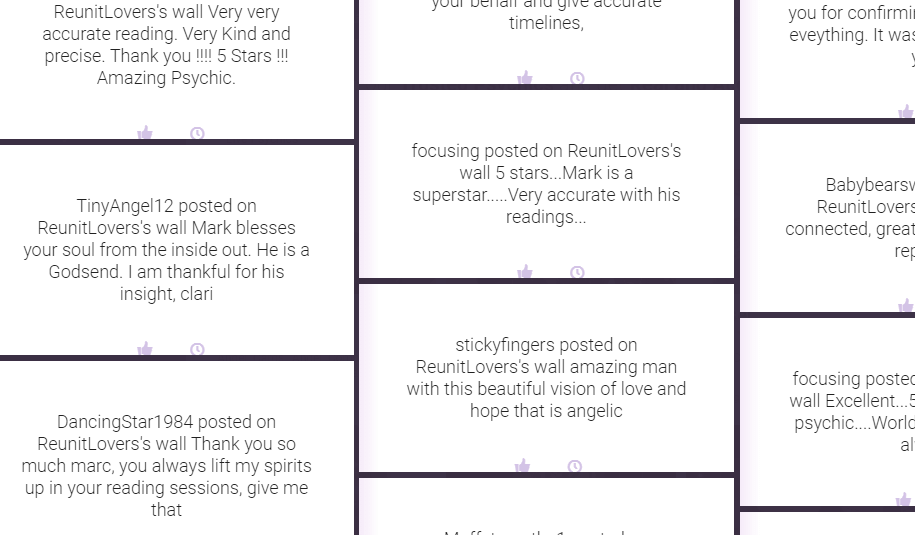 …keep scrolling down and you'll see hundreds of these types of adoring posts.
Money-back guarantee
Weirdly, boh Kasamba and Oranum have pretty good satisfaction guarantees, but choose to keep these very, very hidden.
It's especially strange as most other psychic reading websites scream about their satisfaction guarantees, loud and proud. But other sites choose to keep their satisfaction guarantees hidden in their Terms and Conditions.
Over at Kasamba, if you're dissatisfied with a reading, you'll have up to 72 hours to register your complaint, and you'll be awarded credits relative to what you paid to use on another Kasamba psychic call.
At Oranum you have up to 24 hours to make a complaint, and then you'll have your money returned on a per second basis.
These are pretty similar satisfaction guarantees – Oranum has a shorter timeframe in which to report an issue, but all in all, the 'per second' basis at Oranum and the 'relative time credit' at Kasamba are offering the same thing.
All in all, both sites are clearly trustworthy, if the above information is anything to go by. It's a tie from me.
Winner: Kasamba for its longer satisfaction guarantee time-period
Oranum for its intensive customer feedback
Kasamba vs Oranum: Customer Support
Unfortunately, both Kasamba and Oranum kind of disappointed me with their customer support.
Over at Kasamba, I could only find a contact form, which is really disappointing for a site claiming to be the biggest online psychic reading service. I felt that there could have been at least one way to directly get in touch with customer support.
At Oranum, there are ways to get in touch directly…there's a US landline but it's not toll-free (which I found a little stingy). The only thing that I really liked about Oranum''s customer service was that it had a live chat option, which was really useful and I spent a good 5 minutes on it.
In this case, Oranum's direct methods of getting in touch is a clear win over Kasamba's 'don't contact us, we'll contact you' form.
Winner: Oranum
Kasamba vs Oranum: The Verdict
While these two sites are just different from one another, you might think it's impossible to compare them.
I see it differently – I think both Kasamba and Ornaum are amazing sites in their own right, but that they appeal to very different target markets.
Oranum is the cool, modern psychic reading site, with its live-streams and wall posts and hundreds of highly specific psychic specialisms on offer. Kasamba is the older, more experienced classic psychic reading site, that defined what a psychic reading site should be.
For this reason, I think Kasamba vs Oranum is a tie.
Winner: Oranum for a younger, cooler and more modern approach to psychic reading
Kasamba for a more experienced, classic psychics reading online experience