Oranum and Kasamba are two of the most well-known psychic reading sites. However, their delivery methods, psychic rosters, and introductory offers differ wildly, which can make it hard to choose between them. To help you make the right decision, I've taken the time to test each site individually and see what stands out.
Kasamba is the overall winner, in my opinion, due to its strict recruitment process and transparent rating system for psychics. This means you can easily connect with an expert advisor who understands your needs. Additionally, the site has a mobile app that lets you get readings on the go.
On the other hand, Oranum enables you to speak with a psychic via video. This can help you connect with your psychic on a deeper level and express yourself more clearly to them. But ultimately, choosing between Kasamba and Oranum comes down to your personal preferences and what you need.
Comparison: Oranum vs Kasamba
| | | |
| --- | --- | --- |
| Features | Oranum | Kasamba |
| Introductory offer | Discounted rates — buy 17.99 credits for $33.99 | Free minutes — The first 3 minutes with your first 3 psychics are free |
| Satisfaction guarantee | Yes | Yes |
| Mobile app | No | Yes |
| Number of readings offered | 6 categories | 6 categories |
| Delivery methods | Live chat, phone call, and video | Live chat and phone call |
| Supported languages | English, German, Spanish, French, and Italian | English only |
Reading Themes & Psychics
Oranum and Kasamba offer an extensive range of reading themes, providing a diverse selection for users. On Oranum, you have access to over 1000+ advisors who specialize in popular themes such as love, career, and family. Each advisor has their own unique approach and expertise, which you can explore in detail on their individual profiles.
This makes it easy for you to connect with a psychic who can offer you a personalized session. In addition to their natural gifts, the site's psychics also use specialized tools to provide you with an accurate reading.
As for Kasamba, you get access to 5 different themes, each with unique niches. For example, general psychic readings include aura readings, remote viewings, rune casting, and even pet psychic readings.
Reading sessions are delivered by the more than 400+ psychics available on Kasamba. They also use psychic tools such as cartomancy, numerology, and palm readings, to name a few.
Site
Themes
Tools
Oranum

Love

Career

Family

Money

Pets

Dreams

Western & Vedic astrology

Tarot cards

Clairvoyance

Crystals and crystal balls

Numerology

Runes

Energy work

Kasamba

General psychic readings

Love

Fortune telling

Dream analysis

Career forecasts

Chinese, Western, & Vedic astrology

Angel Cards

Tarot Cards

Kabbalah

Picture readings

Numerology

Palm readings

Graphology (Handwriting Analysis)
Verdict: Kasamba is the superior choice here as it has a higher degree of specialization compared to Oranum, i.e., more sub-categories for readings. Additionally, its psychics use more tools that can give you further insights.
Trustworthiness
Both platforms boast commendable credibility. Oranum, established in 2013, has maintained an untarnished reputation, signifying its authenticity and reliability.
However, I noticed that its psychic profiles aren't very detailed. This makes it difficult to understand a psychic's skills, qualifications, and specializations. While some psychics on other platforms provide detailed bios, this is not the case for Oranum.
Furthermore, the platform doesn't clarify if it screens its psychics. Given the extensive list of psychics available, this poses a significant concern, as it becomes challenging to ascertain the authenticity of an advisor.
The good news is that the platform compensates for this by offering free live-stream sessions with their psychics. During these sessions, you can interact with them via live chat and get to know them better. If you find your psychic a good match, you can take the next step and schedule a private reading.
Another concern is how the site doesn't let you view detailed reviews from past clients. You can only see how many ratings the advisor has received, with not much else for context. I found this quite troubling as it does not provide sufficient information to evaluate my chosen advisor.
Additionally, Oranum reviews all refunds on a case-by-case basis and reserves the right to reject requests. So while the site does have a refund policy, keep in mind that there is no guarantee that you'll get your money back.
Kasamba was founded in 1999 and has been in business for over 20 years. Since it's more than 10 years older than Oranum, I feel more inclined to trust it.
Another feature that boosts the platform's trustworthiness is that Kasamba provides detailed psychic profiles that you can refer to. This includes info like their qualifications, experience, and personal statement. With this information at your fingertips, you can book an insightful session with added confidence.
I also liked how the site lets you see ratings and comments left by a psychic's previous clients. You can then see what other clients say about an advisor, i.e., their approach, accuracy, and quality of readings. And from here, you can use this info to decide whether you'd like to book a reading.
Another interesting fact is that it has a quality assurance team that screens potential psychic advisors. While the platform doesn't state what criteria are examined or how its psychics are screened, it shows me that there is some control over who is recruited. This minimizes the risk of you connecting with a fraudulent psychic.
Like Oranum, Kasamba has a refund policy. However, I believe it does a better job of it with clearer terms. For example, it clearly states that you can request a refund if you are dissatisfied with the service you received, whereas Oranum's policy is somewhat ambiguous.
To ask for a refund, you must submit a request within 72 hours from the end of your session and include the session's date, psychic's name, and session fee. This is a good sign as it shows me that they are confident in the ability of their psychics. But do keep in mind that all refund requests are approved/rejected on a case-by-case basis.
Verdict: Kasamba is the more trustworthy choice with its detailed psychic profiles, transparent rating system, advisor screening process, and clearer refund policy. While you can participate in Oranum's free live sessions, the site's lack of transparency in its review system lets it down.
Usability
In terms of usability, Oranum and Kasamba are somewhat similar, with each site having a unique interface.
Oranum's website runs smoothly and is easy to navigate, even with many psychics to choose from. It has a good information hierarchy, and reading categories are clearly shown on the site. You can easily browse through the list of available psychics and filter them by topics, experience, price range, and even language.
You'll find a list of available psychics on Oranum's homepage, which you can refer to. When you click on the profile of an available psychic, you're taken to a page where you can watch a live stream of said psychic and interact with them via live chat. You can also check out the top experts category for highly-rated psychics featured by Oranum.
To help you sort through the many psychics available, Oranum has a filtering system that lets you sort through advisors based on several criteria. These included category, topics, years of experience, price, session type, language, and even region, which makes it easy to find a psychic who suits your specific needs.
Another excellent feature offered by Oranum is the option to favorite chosen psychics and view your reading history. With it, you can easily view past psychics and bookmark the ones you like the most. So that way, you can immediately connect with your favorite psychic with just a click during your next session.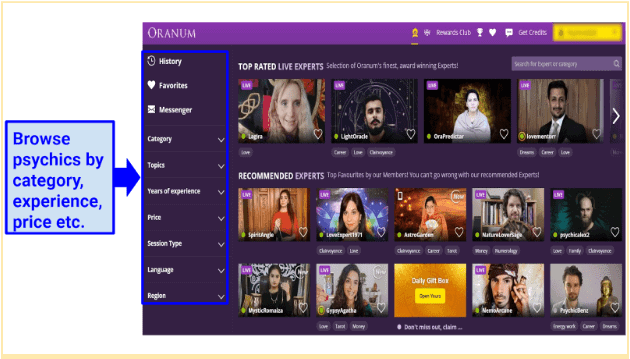 Unfortunately, Oranum does not have a mobile app available. When I contacted their customer service team, the agent informed me that Oranum wanted to "provide the best possible service a streaming platform can". And as the mobile app couldn't support streaming features, they had to take it down.
Kasamba's website looks slightly dated compared to Oranum, but the user interface still feels great. The reading topics covered on the site are clearly displayed. Hovering your cursor over the title shows the list of available subcategories, making it easy to find specialized psychic advisors.
The site has a basic filtering system where you can sort through psychics by rank, price, and experience. While it isn't as sophisticated as Oranum, it gets the job done when you're trying to find a suitable psychic. There is also the option to look at your psychic consultation history, but no feature to favorite them.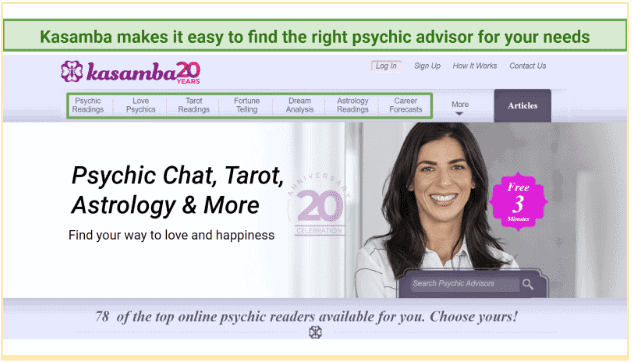 Unlike Oranum, Kasamba has a mobile app that is available for both iOS and Android devices. From what I saw on the Apple app store and Google Play, the app has an average rating of 4-stars which is a good indicator of its quality.
I downloaded the app on iPhone and an Android tablet to try it out for myself. After logging in, I was granted access to the app's landing page. All psychic reading categories are clearly displayed, and you can also use a filtering system to connect with an advisor. I found that finding a psychic and booking a reading is easier on the app.
Kasamba's app also has a horoscope section where you can read your daily, weekly, and monthly horoscopes. And if you need additional guidance, you can also refer to the site's talented astrologers for advice.
Verdict: Kasamba stands out as the better choice regarding usability. While its desktop website is dated, it makes up for it with its excellent mobile app, making it easy to schedule sessions even when you're moving.
Booking a Reading
Booking a reading on either Kasamba or Oranum is a quick and easy process, even though both sites require you to make an account first.
Creating an Oranum account is free and lets you browse its roster of psychics. From there, you can filter through them based on specific criteria. When you're on Oranum's homepage, click on the "Join Now for FREE" button, fill in your details, and click the "JOIN NOW FOR FREE" button. All you need to provide is a username and working email address.
After successfully creating your account, it'll take you to the payments page. Here you can choose the right credits package and make your purchase. You can book a session by opening a psychic's profile and clicking the "START A PRIVATE SESSION" button. You'll only see this if they are currently available.
With Kasamba, you can create an account from scratch or link a third-party profile from Google, Facebook, or Apple. Creating an unliked account is better for privacy, but keeping a linked account is faster and more convenient.
Once you've created an account, you can check out all the available psychics and make your choice. When you've decided to book a reading with a psychic, you only need to click on the "Let's chat" button to initiate the reading. From here, you'll be taken to the payments page to finalize your purchase.
Alternatively, you can click on the "Request a Reading" button to get in touch with your psychic beforehand. This feature lets you send a message to the psychic in advance so you can get a feel for them or request a reading session in the future.
Verdict: Kasamba is the superior choice for me as it makes it easier to book a reading with your favorite psychic. There are fewer steps to take, and Oranum's credit system can be tricky to get to grips with if you're new to the site.
Pricing
The prices charged by Oranum and Kasamba are quite different.
Oranum uses a credits-based system, with $1 being worth about 0.55 credits. To book a reading, you must first purchase credits from the website via credit card, pay by phone, Paysafecard, Bitcoin, and online gift cards. Readings cost around 2.00 ($3.64) to 9.99 ($18.19) credits per minute.
Kasamba only accepts payment in USD. Readings are charged by the minute, with rates varying significantly from psychic to psychic. Prices on Kasamba can range from $1.99 per minute to $30.00 per minute. After choosing your psychic, you're taken to a payments page where you can complete the transaction with a credit card, PayPal, or Google Pay.
Additionally, both platforms have special introductory offers and discounts. If you're a new customer, Oranum will reward you with a special one-time discounted rate and provide free credits when you validate your credit card. Meanwhile, Kasamba gives you 3 free minutes with up to 3 new psychics that you try.
To reward long-time users, Oranum has a special rewards program. It works like a cashback and rewards you with extra credits whenever you make a purchase on the site. This gives it an advantage over Kasamba which doesn't have a rewards program.
| | | |
| --- | --- | --- |
| Details | Oranum | Kasamba |
| Price | 2.00 credits ($3.64) to 9.99 credits ($18.19) per minute | $1.99 to $30.00 per minute |
| Introductory Offers | Free credits and discounted rates | Free minutes, and discounted rates |
| Reward programs | Extra credits with each purchase | None |
Verdict: Oranum comes out on top in this comparison. Its generous discounts, lower rates, and rewards program allow it to deliver more value than Kasamba.
Customer Support
You can seek assistance from Oranum and Kasamba's customer service team in many ways. Both sites have extensive FAQ sections that answer the most common issues. So that way, help for basic issues is never far away.
Oranum has a live chat system that is available 24/7. The system is easy-to-use and is accessible from Oranum's main page. I tried using it myself and got a reply within a few seconds. The response I received was polite and detailed. But do keep in mind that this service is only available in English.
You can also contact Oranum's customer service team through the site's web ticketing system. You must include your name, email address, and the issue you're seeking help with. And as an added plus, you can get a response in 1 of 9 languages, including English, Swedish, Russian, French, and Italian.
Alternatively, there is an option to send an email directly to Oranum by clicking on the "Contact Us" button, which is located under the "Help & Support" column at the bottom of the page. When you choose this, you must log in to your Google, Outlook, Office 365, Yahoo!, or iCloud account.
The platform provides direct billing support through a special telephone number. This number is manned 24/7, and the operators on duty will help you with your billing issues. Keep in mind this number is only for billing inquiries, and only English is supported.
On the other hand, the only way to contact Kasamba is through its web ticketing system. You just need to fill in your email address and explain what you need help with. However, the service is reliable, and you can expect to get a response from the site in less than 24 hours.
Verdict: Oranum is the clear winner in this area. The wider range of customer support features and 24/7 live chat makes it much easier to get help when you need it quickly.
Other Features
To help you have a more fulfilling experience, Oranum and Kasamba offer a number of extra features.
Oranum lets you participate in free video live-streaming sessions with its psychics. Video psychic readings are pretty rare as is, which is what makes Oranum an interesting choice.
As part of their contract, the psychics featured on Oranum are required to host these sessions at least once a week. You can watch the advisors on camera and ask them questions via live chat. Keep in mind that these are not psychic readings but a demonstration of their abilities.
The good thing is that you can use these sessions to get to know your chosen psychic better. For example, you can ask them questions and get a feel for their vibe. And if a psychic is comfortable displaying their abilities to an audience, it usually means they are the real deal.
Kasamba lets you send a free message to any psychic on the site before you commit to a paid session. In your message, you can ask the psychic a number of simple questions and include a deadline for when you'd like to receive an answer.
What makes this feature unique is the "Suggested Price" field. You can use this to make an offer to the psychic based on your budget or get them to suggest a price for you. This is a nice touch, given that the psychics on Kasamba are pretty pricey.
Verdict: Oranum wins this time with its live free reading sessions. While Kasamba lets you send 3 free messages beforehand, a live video reading makes it much easier to see whether a psychic would be a good fit for you.
FAQ on Oranum & Kasamba
1. Is Oranum or Kasamba better for general psychic readings?
I recommend you choose Kasamba for general psychic readings because it has a special section dedicated to advisors who offer general psychic readings. And if you're on the move, you can make use of Kasamba's excellent mobile app. It is well-designed with a great UI that makes it easy to find the right psychic.
Kasamba's Psychics also use tools such as astrology, cartomancy, and graphology to help you gain insight. This ensures that you can get an in-depth reading and proper guidance from dedicated psychics with the skill and experience needed to help you.
While Oranum doesn't have a specific section for general psychic readings, its advisors are skilled in the art of astrology, card reading, numerology, and crystal ball readings.
This means Oranum's psychics can tap into your inner energy and give you a general life reading. And with more than 1,000+ psychics to choose from, you can easily find a compatible life advisor.
2. Should I choose Oranum or Kasamba for love and relationship readings?
Both sites are great choices for getting love and relationship readings, so it largely depends on your budget and current situation. Oranum has a more extensive roster of love psychics and more affordable rates, whereas Kasamba's transparent review system allows you to view ratings and comments left by previous clients on each psychic's profile.
My suggestion is to first identify your needs before making your decision. This can be the style of a psychic or the type of support you need help with. That way, you're more likely to receive a satisfying reading that provides clarity and is relevant to your situation.
3. Which site offers the best delivery methods for psychic readings — Oranum or Kasamba?
I would choose Oranum as it provides a more diverse offering of communication methods, including video readings. So that way, you have the freedom to connect with your chosen psychic in whatever way you see fit. This helps Oranum stand out from other psychic sites, as most only provide live chat and phone readings.
I find the added flexibility to be highly invaluable when I'm looking to consult with a psychic advisor, as I can choose a method that matches the mood I'm in. This can go a long way to helping you experience a fulfilling psychic reading session.
Bottom Line
Choosing between Oranum and Kasamba comes down to your personal preferences. Oranum has lower rates and great features like free live video sessions, but there is a lack of transparency when it comes to the quality of its advisors. Kasamba, on the other hand, has stricter recruitment processes, but its experienced psychics can be pretty expensive.
Out of the 2, my favorite is Kasamba. Its rigorous psychic screening process and transparent review system help you connect with a genuine psychic. And thanks to its satisfaction guarantee, you can delve deeper into relevant topics without any risk.