Keen vs. California Psychics: An Overview
Keen and California Psychics are two modern, very trustworthy psychic reading sites full of highly rated advisors. But is one better than the other?
The competition between these sites is incredibly tight, but when it comes down to important qualities like pricing, satisfaction guarantees, and rewards programs, there are important differences between the two. One of these platforms features psychics that charge up to $50 per minute. And only one of them lets you create an account completely free. Read on to discover which one is which, and ultimately the best site for you.
Quick Summary of Winner in Each Category
Keen vs. California Psychics: Types of Readings
Keen
When you land on Keen's homepage you'll see that the site has 5 main reading categories: psychic readings, love and relationships, life questions, tarot, and spiritual readings. But if you hover over "advisors" and click on all readings, you'll find that the site has additional categories that are much more unique, such as Mayan and Vedic astrology, aura cleansing, cartomancy, and more.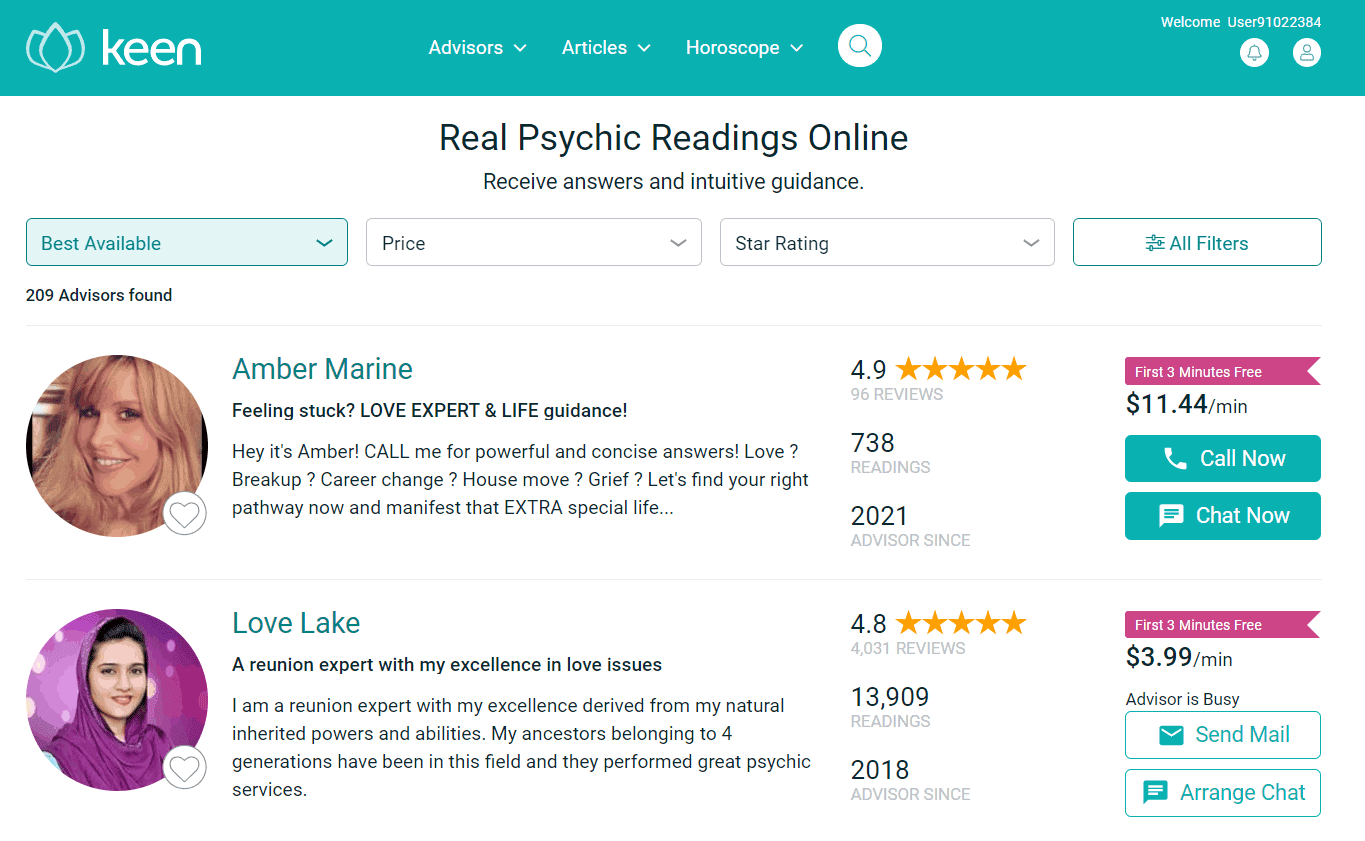 Overall, Keen is home to over 400 psychics across all these categories. While such a large number of readers may lead you to question how legit these featured psychics are, the site has over 150 readers with a 4.5-star rating or higher. And many of these ratings are based on thousands of client reviews. You can even find 5-star psychics who have delivered a massive number of readings on Keen.
California Psychics
California Psychics features over 400 psychics on their site across 9 main reading topics: love, career, life path, money, pets, past lives, deceased loved ones, lost objects, and missing persons. The site also organizes psychics based on ability, tool, and reading style. You'll find readers that specialize in everything from remote viewing and dream analysis, to oracle cards and crystals.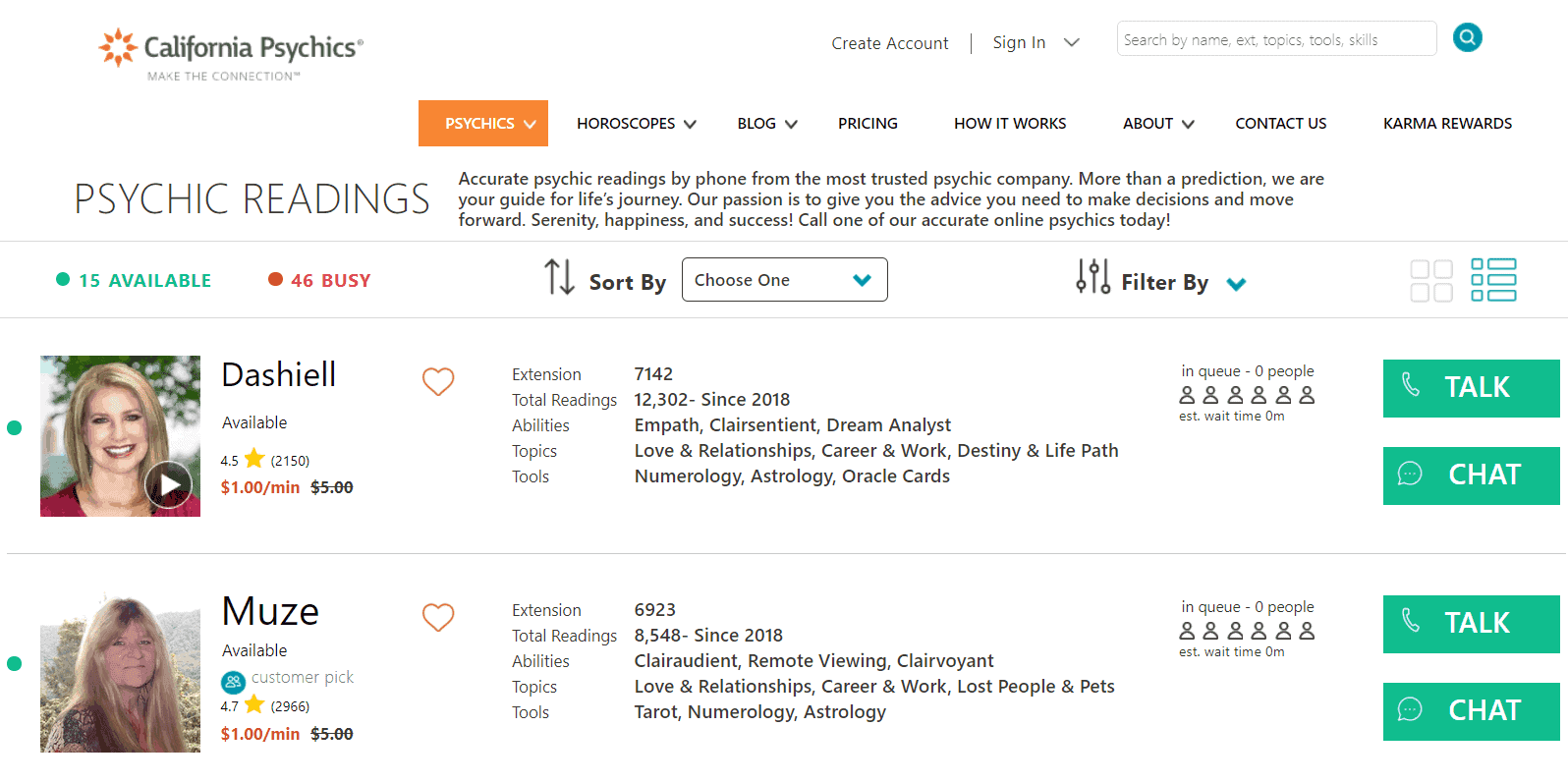 Similar to Keen, many of the psychics you'll find have a 4.5-star rating or higher based on thousands of reviews. California Psychics even takes it one step further by specifying "Staff Picks", which are psychics the site has put into a category of their own due to their impressively accurate readings. With so many great readers to choose from, you're bound to find the perfect one for you.
Winner: Keen for their niche reading categories.
Keen vs. California Psychics: Pricing
Keen
The reality is that on Keen, you'll find a huge range of per-minute prices. The cheapest standard rate you'll find is $1.99 per minute. The highest rate I've come across is $50 per minute. Overall, most psychic prices range between $4-$15 per minute.
When you first get started with Keen you'll be able to take advantage of their introductory offer and get your first 3 minutes free. But this isn't the only introductory package that Keen offers. There's a second option where you can purchase 10 minutes for $1.99.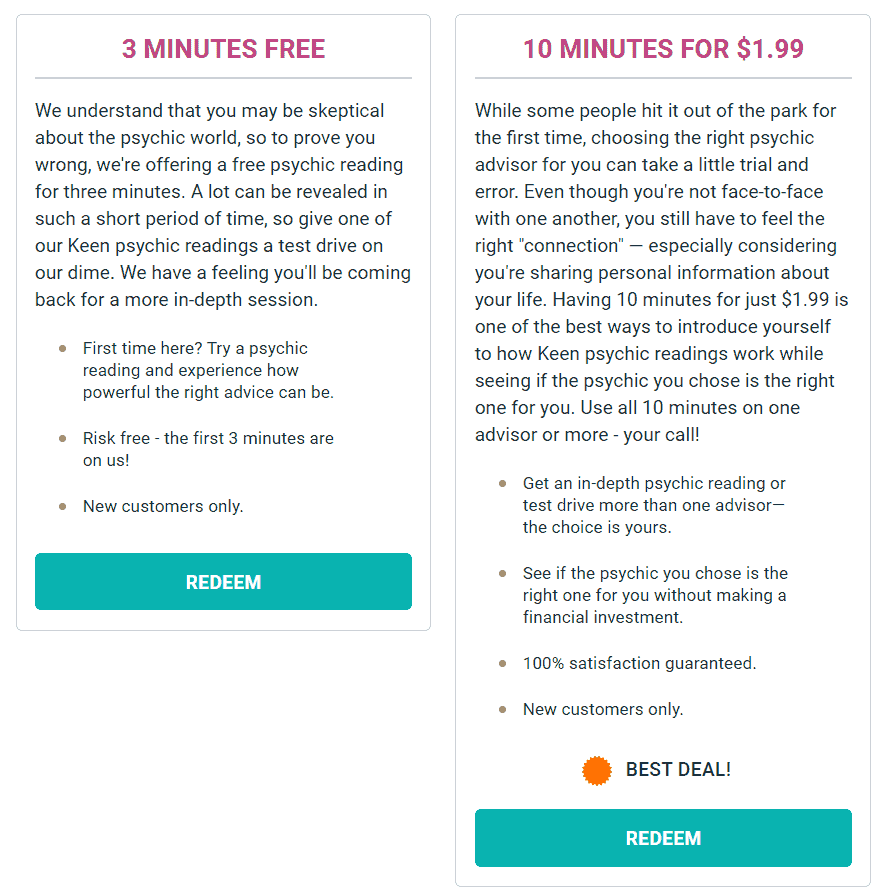 I recommend choosing this package over the 3 free minutes because while you do have to pay the $1.99, it's worth having a full 10 minutes with an advisor. Keep in mind that since these are intro minutes, you may not be able to use them towards the site's premium psychics, just their regular ones.
California Psychics
California Psychics' pricing model is a bit more complicated than other sites because they've organized their psychics into three tiers: popular, preferred, and premium. When you purchase minutes on this site, you pay a different rate for them depending on which psychics you'd like access to. Premier psychics are the highest rated, and therefore the most expensive readers, while popular psychics are the most affordable.
New users have the option to purchase either popular, preferred, or premium minutes at a discounted rate: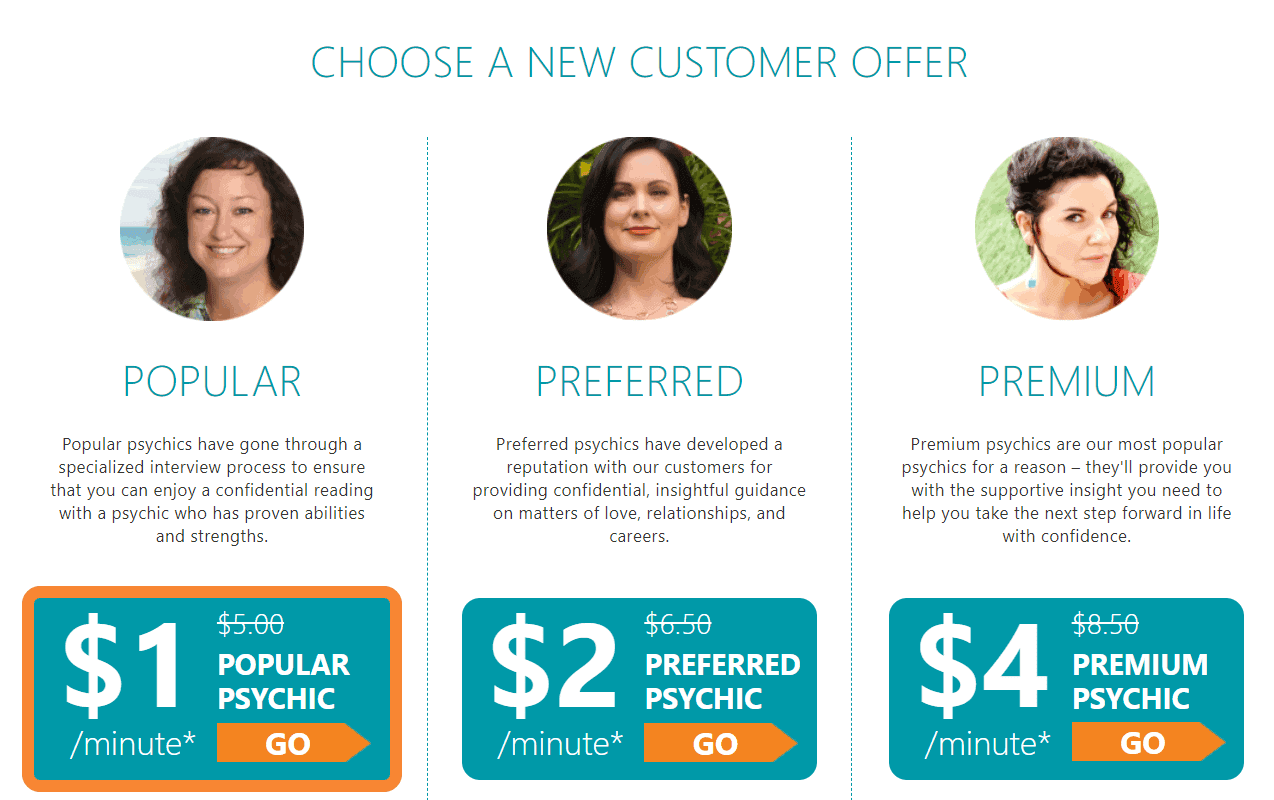 Each introductory package is for 20 minutes, which means they cost $20, $40, and $80, respectively. After you've used up these introductory minutes, psychic rates range from $4 to $15 per minute. While this is still expensive, I believe it's a more reasonable rate than Keen. On Keen, it's not uncommon for top-level psychics to charge well over $15 a minute, while on California Psychics you can meet with premier readers for as low as $8.50 per minute.
Winner: California Psychics for their affordable premium psychics.
Claim Your Discount on California Psychics
Keen vs. California Psychics: Website Usability
Keen
Right off the bat, Keen's site is really easy to use, with plenty of psychics to choose from, as well as some additional free content. Finding the right psychic is an easy process because the site lets you select all the filters you're interested in. Some sites that let you choose a reading topic, tool, and gift don't actually show you results that meet all your criteria. Thankfully, this isn't the case with Keen. Their filters really do work the way they're supposed to.
Keen also offers a pain-free account creation process. All you need to enter is your email and a password.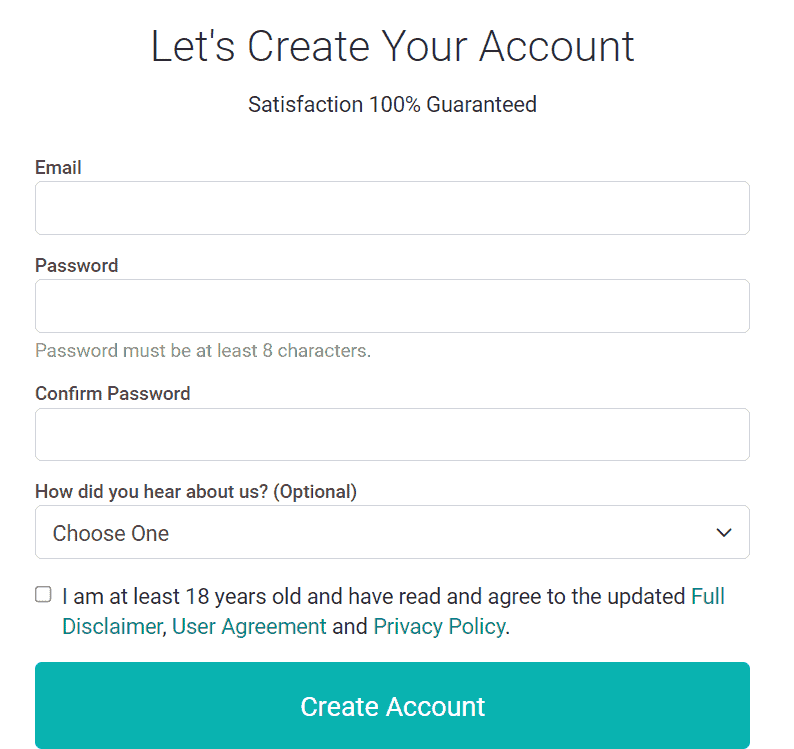 Once you've created your account, you can continue your search for an advisor, adding the ones you like to your favorites as you go. You'll find plenty of information about readers on their profiles, which are well-organized and easy to skim.
When you're ready to enter a paid psychic reading, adding your card to your account is also a quick and painless process. You also have the option to pay with PayPal. Keep in mind that when you add funds to your account, the minimum you can add is $10.
And if you want a reading on the go, you can download Keen's mobile app.
One stand-out feature of Keen is that you can access your chat transcriptions, allowing you to reference back to your paid readings at a later date. Another is that you can join a waitlist if your chosen psychic isn't available right away.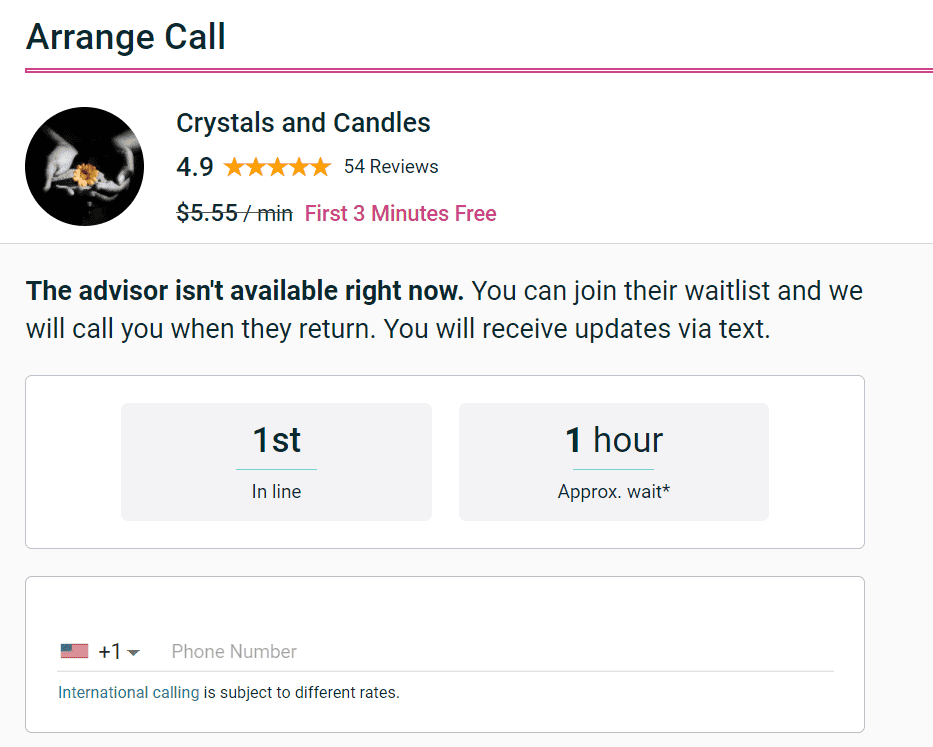 Overall, Keen offers users a really great experience in both finding and meeting with their chosen advisors.
California Psychics
California Psychics' website is definitely on par with Keen's. This site also makes it easy to find the right reader with their extensive filters. And just like Keen's site, you can select a topic, tool, and gift, and see results that meet all of your requirements.

You'll also find that psychic profiles are well-organized and full of detailed information about the reader's experience and abilities, as well as plenty of user reviews. California Psychics also lets you arrange callbacks with readers who aren't currently available to talk. And just like Keen, the platform also has a mobile app that lets you meet with readers on the go.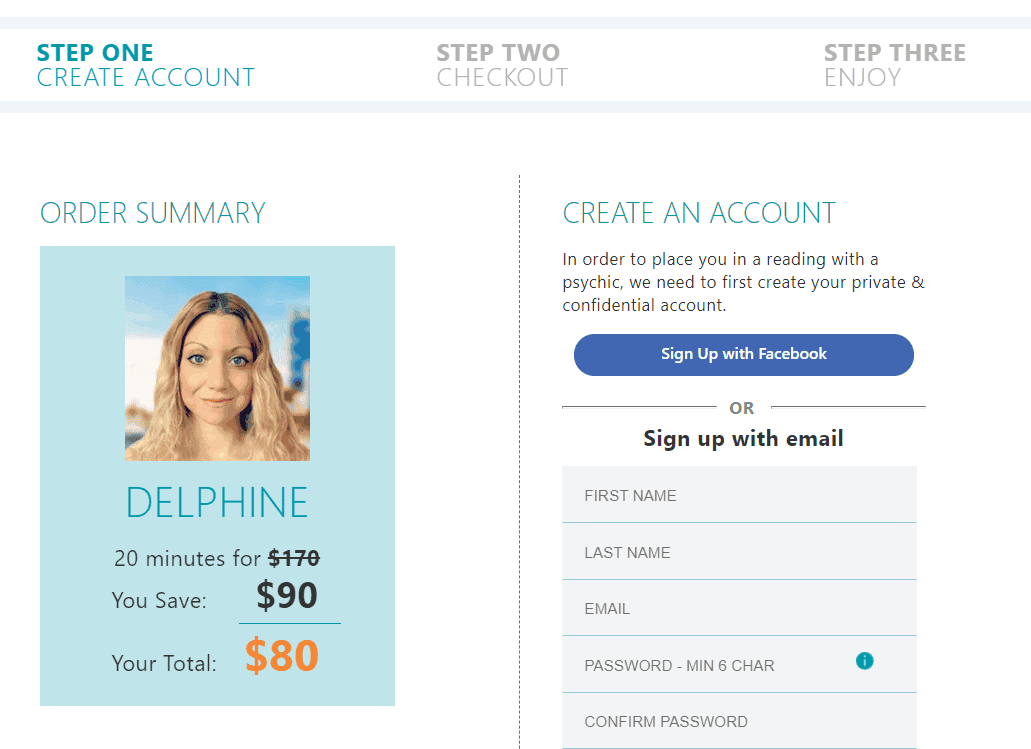 Where these two sites differ slightly is the account creation process. Unfortunately, California Psychics does not let you create an account without making a purchase. In order to sign up, you must also select and pay for one of their three introductory packages, the cheapest of which costs $20. I'm not a fan of psychic reading sites that don't let me create an account for free, which is why Keen is ultimately the winner in this category.
Winner: Keen for their credit-card-free sign-up process.
Create Your Free Account on Keen
Keen vs. California Psychics: Trustworthiness
Keen
You can tell that Keen is really invested in building trust with their customers because they prominently advertise their satisfaction guarantee. This guarantee states that customers are allowed to file one report for an unsatisfactory reading every 30 days (some sites only let you file one in total). You must submit your claim within 72 hours of the unsatisfactory reading, and the team will review it and refund up to $25 worth of credit to your account.
Another reassuring sign is that Keen hasn't hidden the request form on some random page of their site. Instead, it's really easy to access and fill out, which highlights their dedication to a positive user experience. While the site doesn't offer many specifics about how they screen psychics, they do make it really easy to read customer reviews, which are arguably much more valuable.
Lastly, the site has also been around for over 20 years and has thousands of positive customer reviews, which makes me feel all the more confident in the quality of their services.
California Psychics
According to California Psychics' About Us page, only 2% of applicants that apply to become a reader on the site are accepted, implying that the platform has a rigorous screening process.
Similar to Keen, California Psychics also has a satisfaction guarantee, but it's a bit stricter. The site's guarantee allows you to submit a refund request up to 24 hours after the unsatisfactory reading occurred. However, you cannot make more than one request for the same reader. If the team finds your complaint to be valid, they will credit your account with up to $15 to be used towards future readings. Similar to Keen, the site does not give any cash refunds.
Winner: Keen for their generous satisfaction guarantee.
Keen vs. California Psychics: Added Extras
Keen: Extra Features
One of Keen's best features is their "get matched" function which helps you find the perfect psychic based on your answers to a few questions. The feature will ask you what your mood is, what topic you'd like guidance on, and what reading style you prefer. You'll then be provided with a list of readers who would be a good fit for you.

Keen also offers a bunch of free resources on their site including love, psychic, and tarot articles. You'll also find free daily and monthly horoscopes.
California Psychics: Extra Features
One of the perks of being a paying customer on California Psychics is their Karma Rewards program.

When you enroll in the program you'll get $20 worth of credits and you'll earn points with every purchase you make. You'll also get a free birth chart, access to exclusive events and offers, and a birthday gift.
Winner: California Psychics for their generous rewards program.
The Bottom Line on Keen vs. California Psychics
When it comes to comparing Keen and California Psychics, the competition couldn't be any closer. Both sites have great selections of talented psychics, offer a positive user experience, and have satisfaction guarantees.
There are some points where they differ, though. While Keen lets you create an account completely free, California Psychics requires you to purchase one of their introductory packages to get started. On the other hand, Keen's top rated psychics are much more expensive than California Psychics'.
So while Keen wins out over California Psychics with a score of 3 – 2, both of these sites are well worth your time. In fact, the competition is so close that you'd be remiss to not check them both out and ultimately decide which one is best for you.
Overall Winner: Keen