Mandy Peterson is a psychic visionary, empathic intuitive, and EFT (Emotional Freedom Technique) Practitioner. Mandy writes on the topics of connecting spirituality with a care for nature and the environment and is also is the author of various oracle decks for use with EFT or healing work, or for giving love or other types of readings. In this interview Mandy shares insights into EFT, the benefits of this technique and more about her published book "I Am the Lotus, Not the Muddy Pond".
Can you please explain what your intuitive gifts as an empathic healer and reader entail?
I specialize in empathic readings, helping those who seek a reading to understand emotional or other dynamics occurring with a relationship. I don't promote myself as a fortune-teller. Instead, I try to help those who approach me for a reading to discern where they stand with a love interest. I tend to attract clients who feel stuck in a relationship or situation that they don't know whether to move forward or wait. I primarily use empathy and divination to read such situations. With EFT, I seem to attract people who are looking for help with pain issues (physical or emotional) or with letting go of obsessing over a love interest.
When did you first realize you have a psychic gift and what inspired you to continue this path professionally?
I have been empathically sensitive ever since I can remember. However, I began giving my friends readings (for kicks) after my sister bought me a tarot deck. Then, these friends began referring their friends to get paid readings with me. Around 2008, through meeting other amazing and supportive psychics, I was introduced to psychic radio and started writing articles for online spiritual magazines. I've been so lucky to have met other psychics who encouraged me. I was quite shy, so they offered the push I needed to continue this path and risk becoming more visible.
You are also an Emotional Freedom Technique (EFT) Practitioner. Could you tell us a bit more about this and what that means and how it works?
EFT is a form of healing that works with the meridian system through activating acupressure points. It also uses setup statements that affirm ones love and accepts themselves despite whatever issue they feel confronted with. Muscle testing or other divination methods can be employed to detect what blocks a person possesses with clearing a problem, which then one can use EFT to clear those blocks.
Who can benefit from this therapy?
Anyone can benefit from practicing EFT. I predominantly use it to help people with obsession and attachment issues, such as those who feel stuck with releasing a lost love or who want to feel less obsessive in their relationship. Other clients contact me when experiencing headaches, migraines, or acute emotional pain. I've also had many clients who find it helps with empathic issues (feeling heavy, energetically drained, or ungrounded).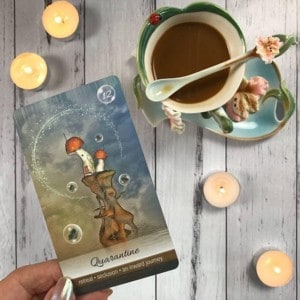 *Photo Credit @shuffletarot
What can people do to raise their vibration to get the most out of spiritual guidance and healing?
I don't actually focus on raising vibration. As a believer in yin and yang, I find raising vibration makes the energy too yang (leading to sleeplessness, hyperactivity, anger, anxiety, emotional outbursts, exhaustion, and other yang issues). Instead, I try to focus on what a person hopes to achieve through "increasing vibration.". For instance, does a person want to achieve peace, compassion, altruism, or enlightenment? I also like to focus on helping others find balance so that their chakras or energy, in general, are not over-activated, overstimulated, overwhelmed, or depressed. I think, for me, I find the idea of higher frequency confusing, though I do understand this term generally denotes enlightenment. However, something within me makes me want to ask why don't we want to resonate with Mother Nature's Schumann Resonance of 7.83.Hz? What is preventing us from wanting to live in harmony with nature? I tend to believe that when we can live in harmony with nature, this will provide evidence that we are advancing along our path toward enlightenment.

In healing you mention using Karmic Unweaving as an approach. Could you tell us a bit more about what that means?
I originally called this approach "using the Law of Attraction backward" until a friend I knew said it would sound better if I called it karmic unweaving (LOL). But it is basically about using a manifestation-to-thought process to understand manifestation rather than focusing on moving from thought-to-manifestation.
As an empath, I like to help people figure out why they are attracting specific outcomes and what is underneath patterns they are exhibiting. What unconscious belief or mindset caused them to attract a particular situation or love interest? Or what unconscious intention is sabotaging a conscious one? So, karmic unweaving is a term for moving backward from an unproductive outcome they created to understanding why they created it. What type of thinking lead to it? What lesson are they learning? What type of web are they weaving with their thinking and beliefs? Is there anything they can change to create something more desirable?
How did your book "I Am the Lotus, Not the Muddy Pond" come about?
In 2011, I was asked to be part of a New Years' Eve radio show where psychics were giving readings for 2011. I had never tried to read this way before. As I attempted to read the general energy for 2011, I received warnings of "consequences" coming and that humanity had a "false sense of security." There were also messages regarding man's materialism, greed, and the need to "protect water." The messages troubled me to the point I declined to follow through with giving a reading on air.
After the radio show, I was invited to take part in a meditation event/exercise. I used it to meditate for four days straight to see what came up. The messages revolved around the Law of Attraction and how we were only seeing a smaller picture of how it operates. We were using it to fulfill personal desires without seeing the "fruits" we were creating at a collective level. We weren't questioning our definitions and beliefs, nor the norms we obeyed and followed.
While I originally sat on the message, not sure what to do with it, after Fukushima happened, I took the message seriously. Other psychics I knew encouraged me to speak and write about it. It was this that led to a series of articles and the book that I self-published in 2012.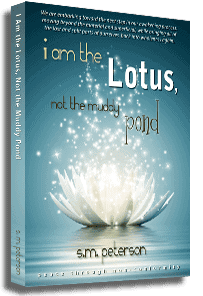 What message did you hope to get across through your writing?
The message I hoped would come across was to challenge our mindsets and why we believe things the way we do. I used the symbol of the lotus and the muddy pond to explain how we are not our culture or the energies we take on (aspects of the muddy pond). We are not our societal definitions or mindsets, which when we accept them without question, we lose a part of ourselves. All of this is evident through what is happening to nature because we are doing to her what we do to ourselves. So, I hoped that the book would be thought provoking, encouraging others to do their own exploration.