Merci Collective designs pet accessories to give animals the emotional stability they deserve – in style. We caught up with Chani Ronez, Founder of Merci Collective to learn more about crystal healing for pets, how they protect against disease and negative energies and the solutions they have created that are designed to heal.
Please share the story behind Merci Collective. What sparked the idea and how has it evolved so far?
My name is Chani Ronez and I am the founder of Merci Collective. I am originally from Paris, France with a background in fashion and tech and a passion for helping pets live their fullest lives – in style. I noticed a little while back that my pup (and best friend) Benzo @benzo_thedog was suffering from extreme anxiety. He has always been the most loving and kind companion, but I started to notice that he was not equipped to handle us being apart. He was experiencing severe separation anxiety.
As soon as I would start getting ready to leave the house, he would start jumping on me in panic crying and barking hysterically. It was incredibly heartbreaking to watch him suffer like that, so I started reaching out for professional help.
After being recommended to give him all sorts of pills including Xanax (which was not an option for me), I started researching natural solutions that could help Benzo relax as I did not want him to be medicated on a daily basis. One day, as I was at a flea market shopping for healing crystals, which is one of my favorite things to do on a nice Sunday afternoon, I suddenly thought to myself, "Hmm… If crystals have the power to lighten up my day and help create so much balance in my life, why wouldn't they have the same effect on my little Benzo?"
That day at the flea sparked the concept of integrating crystals into everyday pet accessories and put Benzo and myself on this amazing journey we are on with Merci Collective.
I reached out to some of my French contacts in the fashion industry, as well as known experts in the field of crystal healing who have helped me execute the vision of what Merci Collective is today and it is amazing to get to do this with Benzo by my side.
The purpose for Merci Collective is to re-invent the pet industry to bring meaningful and purposeful products that will help pets overcome their emotional ailment – in style.
As of today we are offering a full line of crystal infused bottles for on-the-go adventures, we are soon launching our accessories collection that includes leashes, crystal embedded collars and harnesses.
We are also working on launching other products, stay tuned for new releases on our website.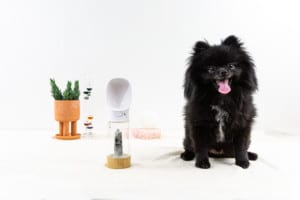 What is Crystal Healing and how does it work?
Crystal healing is a term that applies to a certain type of therapy which involves placing gemstones on your body or in nearby places to help draw out negative energies and replace them with positive energies. Crystals have existed on earth for millions of years. Crystal therapy has been used as a form of medicine in places for centuries. Crystals are used as tools which work with your energy field to absorb, focus, and direct energies.
All healing crystals have different healing properties that benefit both animals and people. Different healing crystals and stones can help heal or improve the physical, emotional, mental, and spiritual state of an animal.
Have you ever wondered:
How do cats know when an earthquake is coming?
Or dogs know how to align themselves north to south when doing their business?
Animals are instinctively sensitive to Earth's electromagnetic field and can feel energies given off by their surroundings. Including energy balance given off by crystals.
As pet owners, we know that our pets experience stress, anxiety, and depression. At Merci Collective we wanted to find an intuitive and natural way to help improve pets' lives, and we have done so by placing healing crystals and stones onto our accessories.
Tell us a bit more about your products.
Our products have been designed to integrate crystal healing. Our crystal-infused water bottle allows the water to infuse with the selected crystal and provides pets with a crystal-packed elixir.
Our products include leashes, collars, and harnesses, which will be embedded with a healing crystal chosen specifically to treat a targeted ailment to stay with your beloved friend constantly.
We put a lot of thought and care in our accessories collection made of vegan leather. This leather is made of cactus and is natural, organic and biodegradable.
Here at Merci Collective, we are very serious about our animals and our world. We strive to create high-quality dog and cat products with exquisite style and design but also aspire to uphold high environmental ethics. We are very cautious about what we do when it comes to the environment and the emission of greenhouse gases.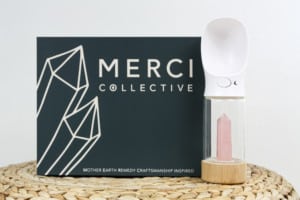 What kind of behavioral issues do these target?
The primary target of all our products is helping dogs and cats with their anxiety. More specifically, our selection of our stones targets some of the following ailments: Excessive Barking & Yapping, Separation Anxiety, Past Abuse & Trauma, Aggressive Behavior, Lack of Confidence, Excessive Meowing & Yowling.
Apart from emotional healing are there any physical ailments that crystals may be of benefit to?
That's a great question. Most people are not aware of healing crystals' ability to be transformative in addressing physical ailments. Healing crystals can help with respiratory, circulatory, and digestive conditions; aggression, fear, and anxiety; hormonal and compulsive behavior issues and even heal wounds and inflammation.
With such a variety of options available, how would someone know which Urban Bottle would be best suited to their pet's needs?
Good that you ask. It isn't always easy to determine which ailment to target and what your pet really needs. We have conducted extensive research to be able to develop a tool to help people figure their needs. Our tool is perfect for anyone who is having difficulty deciding which crystal to get. We have created an interactive quiz that is based on a set of answers to figure out the pets' most acute ailments and ideal remedies. Once our customers take our quiz, they will be recommended a specific stone as well as a specific set of articles with tips and tricks to help their pets live their life to the fullest.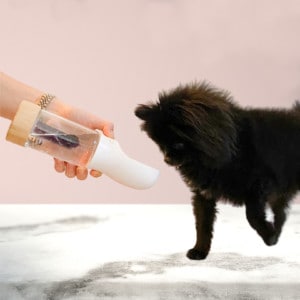 Do you have a personal favorite to recommend as an all-around healer?
That is a difficult question to answer because each stone has its unique qualities and abilities. However, if I had to narrow it down to just one I would choose Clear Quartz. The Clear Quartz is used by many dog and cat parents during training as it increases both focus and communication. For example, your dogs will be sharper during training thus being able to pick up tricks at a faster rate. They will also be able to communicate and understand you better while being more social and confident. Overall, the Clear Quartz is tremendous at balancing and revitalizing the physical, mental, emotional, and spiritual state of your beloved dog or cat. The perfect solution is not always generic so we always recommend taking our quiz and making sure you are approaching each ailment with the right tools and methods.