Overview
Psychic readings – whether they're your guilty pleasure every now and then, or a fundamental part of your day, there's no reason to pay exorbitant rates.
Luckily, you don't have to spend hours sifting through hundreds of sites. I've laid out my top 4 picks of the most affordable psychic reading sites. Read on to discover which one is best for your needs and your budget.
In a rush? Here are my top picks for most affordable psychic sites:
Let's take a closer look at the specifics of each of these sites.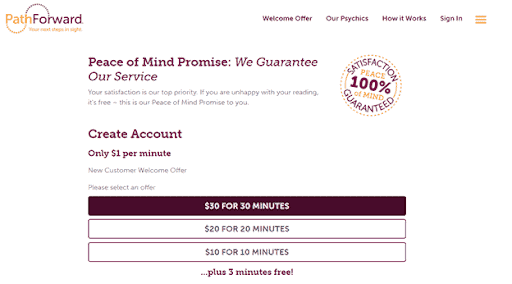 PathForward is known for its user-friendliness and its attractive introductory offer for first-time users. When you sign up with PathForward, you get access to their introductory offer of $1 per minute, which can be used on a $10, $20, or $30 package. You'll also receive an extra 3 minutes for free with the purchase of any package.
If you do sign up with PathForward, I'd advise you to verify your email address within the first 24 hours as this results in an additional $5 in reward dollars.
Even after you've used up your introductory offer, PathForward's prices still remain very competitive. Every reader on the site has a flat fee of $5.

Psychic Source offers chat, phone, and video readings. This site has an introductory offer of $0.66 per minute up to $30, plus 3 free minutes for new customers. Keep in mind that chat and phone readings follow the $1 per minute rate, while video calls have an introductory rate of $3 per minute, (which is still super affordable!)
When creating your account, you also have the option to access the free Membership Rewards program. By checking this box, you'll receive an additional $5 worth of bonus credits.
What stands out about Psychic Source is that if you are unhappy with your last reading, you get it for free. This says a lot about their credibility and the abilities of their psychics.

Psychic Power Network may not be as fancy as some of its competitors, but its offering is unique in more ways than one.
Since the site was established in 2002, they have never raised their prices. Every reader on the site has always charged a flat rate of $1.99 per minute.
The site also claims that they automatically give away thousands of free minutes to their customers every day.
Lastly, if a first-time user deposits $1.95 into their account, they receive 10 minutes worth of free credits. That's a rate of less than 20 cents per minute! A deal like this definitely makes the site worth checking out.
Find an Advisor on Psychic Power Network

AskNow has an introductory rate of 30 minutes for $30, or 20 minutes for $20. There are also three levels of psychics on the site, each with their own corresponding rate.
Top-rated advisors charge between $3.99 and $9.99 per minute, elite advisors charge between $10 and 12.99 per minute, and master advisors charge $13 and up per minute.
When compared to other sites like Kasamba, AskNow's rates for experienced psychics are far more affordable.
To ensure you can try before you buy, new users also get 5 free minutes with an elite advisor. So if you're looking for the chance to speak with a top psychic without having to pay top dollar, AskNow gives you the opportunity to do so.
Can Cheaper Psychic Sites Be Trusted?
When you come across a site providing readings at a price that's significantly more affordable than other platforms, it's only natural to ponder if this could be a cause for concern. Honestly, the lower price tag might not have any relation to the quality of what the site offers.
Some smaller sites may offer lower prices if they are new or looking to attract more loyal customers. This means that you can benefit from great quality readings at a bargain since most of these sites will have introductory offers for first-timers.
It's important with any psychic reading website, big or small, to research the psychic you are considering. Most sites will have a profile page for each psychic, where you can view valuable information such as the psychic's experience, ratings, and rates.
Looking into customer reviews serves as an excellent method for evaluating the quality of experiences others have had with the selected medium. It provides reassurance that, regardless of the cost, you'll receive valuable insights.
The next time a website presents you with a chance for free minutes or an appealing sign-up bonus, feel free to click on that button without hesitation and commence your journey. You might find yourself pleasantly surprised.
Bottom Line
We all need some guidance from an experienced psychic from time to time. Luckily, you don't have to pay top dollar for a positive experience with an online reader. If you're someone who likes to consult with an online reader frequently, then I recommend using Psychic Source. However, if you're looking for the chance to consult with a master reader for free, then I recommend taking advantage of AskNow's introductory offer.