Both Mysticsense and Keen Psychics have solid reputations and hundreds of psychics to choose from but this doesn't mean their features are one and the same.
The good news is you don't have to look into a crystal ball to determine which site you should choose for a reading.
I took the time to review each site in detail to help make your decision easier.
By the time you're ready to make your decision, you can choose from Keen's introductory offer of 3 free minutes or Mysticsense's offer of 5 free minutes.
Quick Summary of Winner in Each Category
💲 Starting price:
Mysticsense ($

1.99

per Minute)

🔮 Types of reading:
Keen (

20

+ Choices)

🤝 Trustworthiness:
Keen (

100% Satisfaction Guarantee

)

🎉 Added extras:
Keen (Psychic Matching Tool)
🙋 Customer Support:
Mysticsense (24/7 Support)
Mysticsense vs Keen Psychics: Types of Readings
Mysticsense
Mysticsense has a wide selection of psychics across a number of categories. You can even filter psychics according to their specialties, tools, and reading style.
Some of the reading categories you can expect to find on Mysticsense include:
Love: If you are looking for love or want to improve your current relationship, there's no shortage of psychics who specialize in all matters of the heart.
Mediumship: Want to connect with a loved one who has crossed over? Mysticsense has a category dedicated to mediums.
Career and Money: A search for psychics in the career and money category will give you dozens of top-rated psychics to choose from.
Energy Healing: About two-thirds of all the psychics in Mysticsense's network specialize in energy healing. You'll find some who have extensive experience (over 100 ratings) but most of them are newer psychics.
Readings are available via phone, chat, and video, giving you the option to meet with a psychic face-to-face if need be.
Keen Psychics
Keen Psychics also has an impressive selection of psychics to choose from. And even though their search results only display 100 psychics at a time, they're all highly-rated with tens of thousands of reviews.
Some of the primary reading categories on Keen Psychics, include:
Psychic Readings: If you have a general question about life, you have hundreds of psychics to choose from.
Love & Relationships: There are a number of psychics who specialize in love and relationship readings on Keen Psychics. You won't find as many as on Mysticsense, but you'll find higher numbers of 4.5 to 5-star rated psychics.
Life Questions: Expect to find several top-rated psychics who specialize in shining a light on life's mysteries. You'll find a good mix of all levels of expertise.
Tarot Readings: If it's a tarot reading you're after, you'll be glad to know that most of Keen's psychics use tarot cards as a tool during readings.
Readings are only available via phone and chat on Keen Psychics.
Winner: Keen Psychics for their deep pool of talented and experienced psychics.
Explore Readings on Keen psychics
Mysticsense vs Keen Psychics: Pricing
Mysticsense
Mysticsense offers flexible, affordable pricing. Calls start at $1.25 per minute, which is lower than Keen's starting rates. Most psychics don't charge more than $5 per minute for readings, which is still low when compared to other major sites, Keen included. New users also receive 5 free minutes to use on their first reading or they can purchase 10 minutes for just $1.99 during sign up.
Keen Psychics
Keen's pricing is also flexible, but readings in general cost slightly more – this is most likely due to how experienced their pool of psychics is. Calls start at $1.99 per minute but some psychics charge well over $10 per minute for readings. On the plus side, new users get the first 5 minutes for $1. In Keen's case, you would need to weigh up a psychic's experience with your budget to decide whether it's right for you.
Winner: Mysticsense for their lower per-minute rates and free minutes.
Claim Your Free Minutes on Mysticsense
Mysticsense vs. Keen Psychics: Website Usability
Mysticsense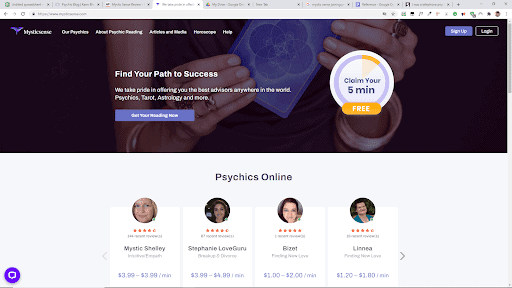 I found the Mysticsense website app to be clean, modern, and easy enough to use. A big plus is that they have live chat support.
The signup process is simple – fill out a short form with your personal information, wait for the confirmation email, set up a payment method, top up your account, and search for a psychic. You can add a new payment method at any time. Mysticsense accepts debit cards, credit cards, and PayPal payments.
I also found it really easy to find a psychic that met my specific requirements. The filters let me search for a psychic according to specialty, tools, reading style, or a combination of all of these. There is also the option to search according to price.
Each psychic profile includes reviews, a calendar, and information about the psychic's gifts and experience. The video introductions on the psychic profiles pages are a nice personal touch and a good way to get to know a psychic before paying for a reading. Unfortunately, I did come across a few psychics with incomplete profiles, which was disappointing.
Once you find a psychic you feel connected to, you simply click on the phone, message, or video icon for a reading. If the icon is greyed out, that reading option isn't available.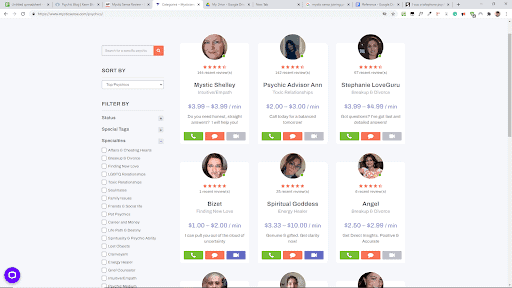 Keen Psychics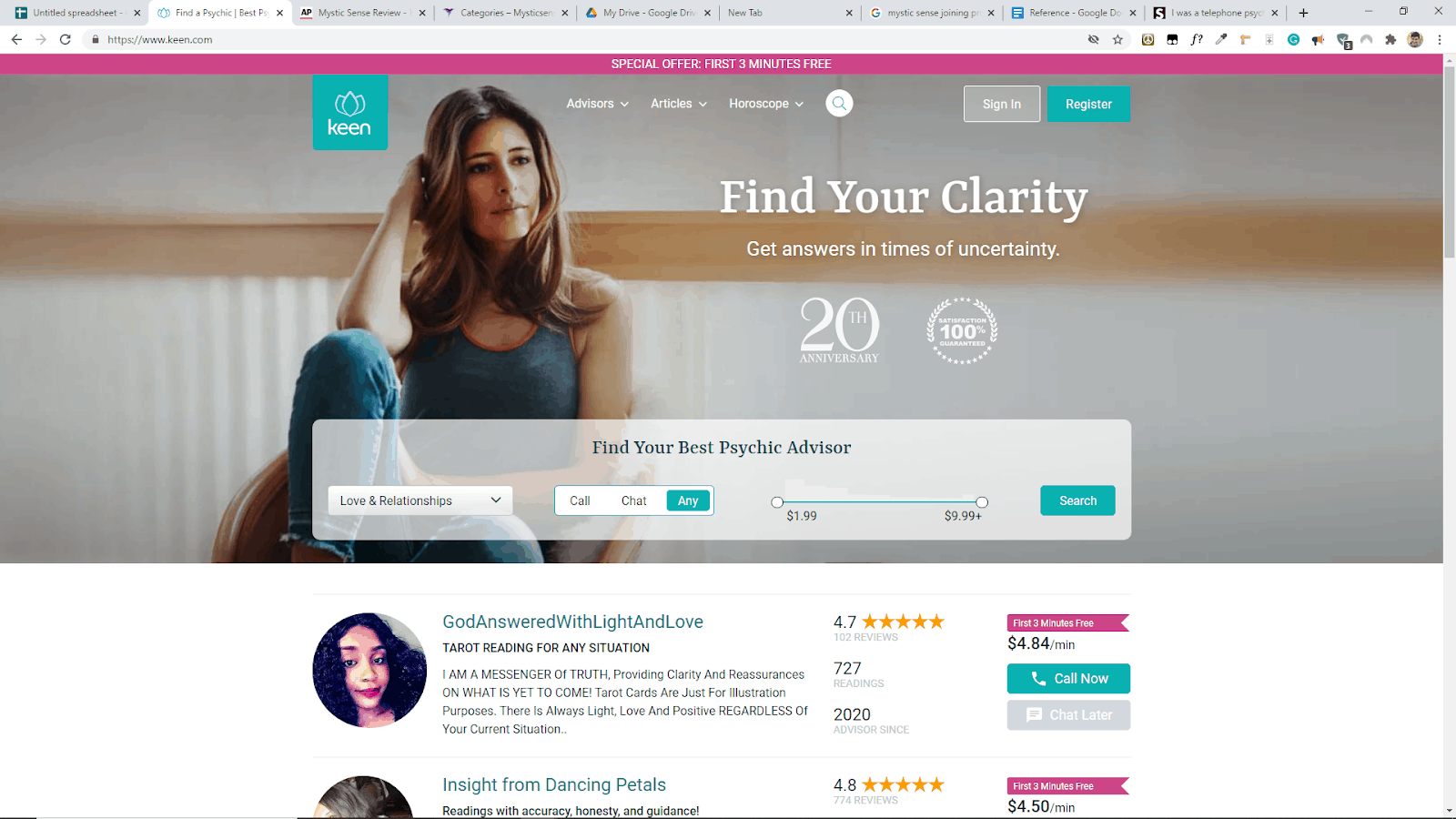 Keen's sign-up process is just as easy and intuitive. The website also has a clean, modern design, which makes searching for a psychic really simple. The only major difference in terms of functionality is that there is no live chat support.
One thing I did find is that Keen Psychics loads faster than Mysticsense, especially when applying new search filters. The categories are also laid out in a more logical, useful way. I particularly like the price and the rating sliders.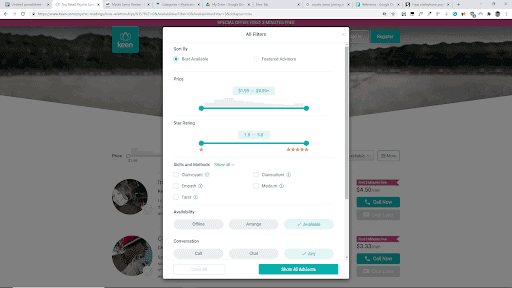 Each psychic profile on Keen Psychics includes information on the psychic's specialties, experience, reading types, and reading style. You will also find an entire history of customer reviews starting with the most recent.
Most of the profiles are complete and I found it easy to figure out which psychics I was interested in. To get started with a reading you need to deposit funds into your account. Keen Psychics accepts all major credit/debit cards, PayPal, and pre-paid debit or gift cards.
Winner: Keen Psychics for better overall usability and user experience.
Browse Psychics on Keen psychics
Mysticsense vs. Keen Psychics: Trustworthiness
Mysticsense
Mysticsense might be newer than Keen Psychics but they have still been around for over a decade.
To ensure that each new advisor meets their high quality standards, they have a strict screening system in place for new psychics. They also perform routine quality checks, which I haven't seen mentioned on many other sites.
When it comes to psychic reviews, regrettably, your access is limited to the most recent user feedback, which can be disappointing. Although a full review history for each profile isn't available, it's worth noting that the reviews are mostly positive. Even though the quantity of reviews is a fraction of what you might encounter on Keen Psychics, it still provides enough evidence to uphold Mysticsense's credibility as a genuine platform for discovering online psychics.
Another plus point is that if you are unhappy with your experience, Mysticsense offers a refund for claims made within 48 hours of the call in question.
Keen Psychics
Keen Psychics has earned a strong reputation as one of the most trustworthy online psychic websites around today, with hundreds of thousands of positive reviews and testimonials to back it up. They have been around since 1999.
They are known for their rigorous hiring methods, with only a small percentage of psychics making the cut.
Keen Psychics also offers a satisfaction guarantee should you be unhappy with your reading. If you are unsatisfied with your reading, you have up to 72 hours to claim a refund. They will refund you in the form of store credit up to a certain limit – you don't receive cash back.
Winner: Keen Psychics for their sound reputation and high number of accessible reviews.
Mysticsense: Extra Features
Along with their live chat support, Mysticsense is one of the few psychic sites that offers video readings. So, if you prefer to meet with a psychic face-to-face, this might be the best choice for you.
Mysticsense also regularly adds interesting articles to their blog on everything from astrology and psychic reading to spiritual tools.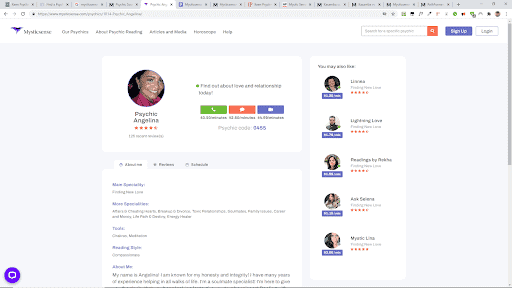 Keen Psychics: Extra Features
The psychic match feature on Keen's website is great for beginners. If you aren't sure what to search for, you can click the "Get Matched" button, which takes you to a short questionnaire designed to pair you with the best psychic. Keen Psychics also has a mobile app that makes things more convenient, but it's not much better than using the website on a mobile device.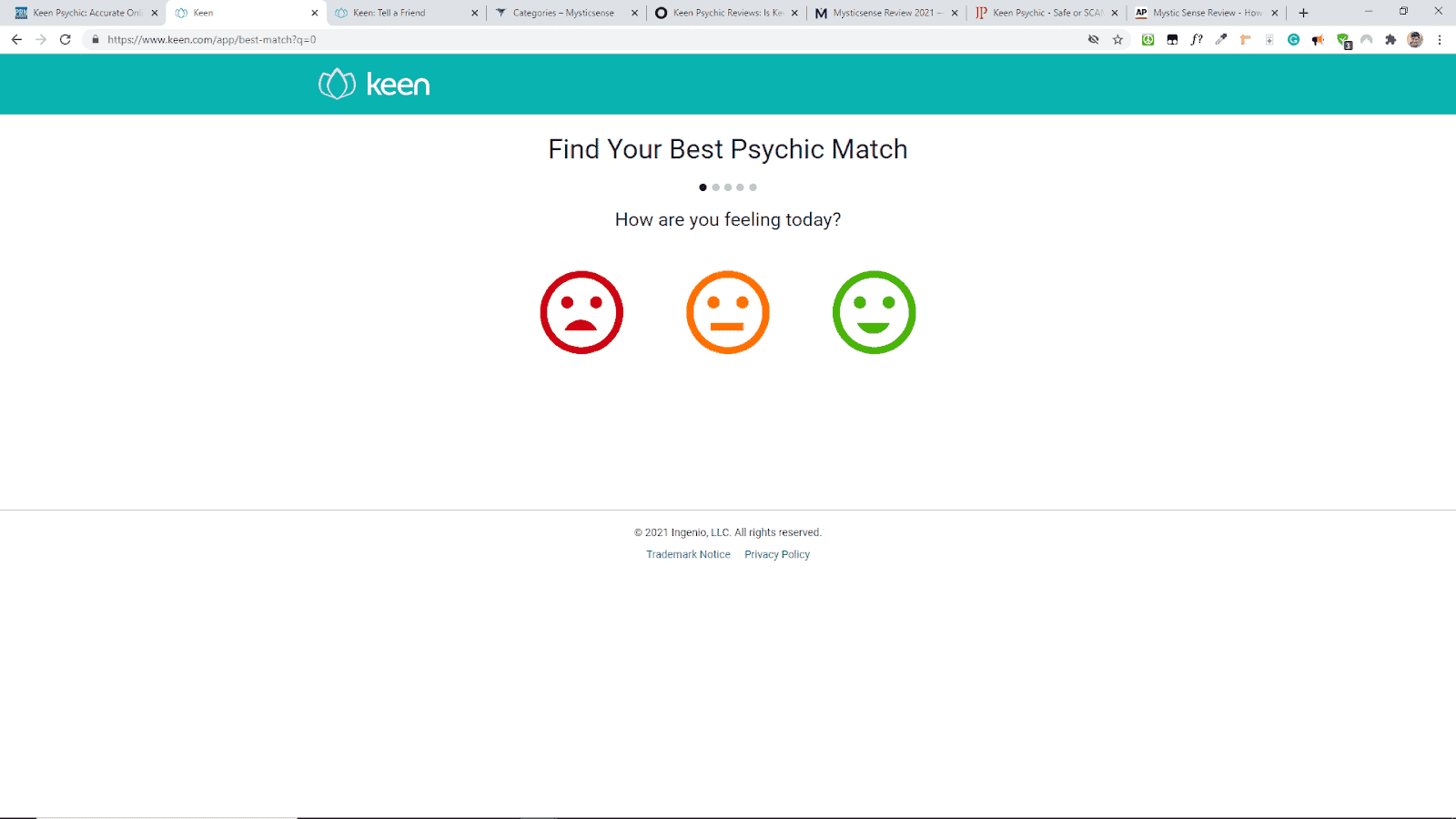 Winner: Mysticsense for their video reading capabilities.
The Bottom Line on Mysticsense vs. Keen Psychics:
This is a classic battle between the old guard and the new kid on the block. Both these sites can lead you to an expert psychic who specializes in just about any topic. The site that's best for you depends on your preferences.
Mysticsense is more affordable and it offers video chat, which you can't get from Keen Psychics. However, Keen has a more dynamic search function, a higher concentration of experienced talent, and a mobile app.