Believe it or not, seeing numbers in your dreamstate can be a sign that you're receiving spiritual messages from the other side. But let's be real. Unless you're well-versed in Numerology, you probably think seeing numbers in dreams is just a coincidence. I'm here to tell you that their occurrence isn't random and are often spiritual signs.
For your peace of mind, I've put together a thorough overview of the meaning of numbers in dreams. However, I suggest getting in touch with an experienced psychic on California Psychics if you'd like tailored interpretations. It's my go-to site for guidance because its readers are legitimate, meaning I can trust their spiritual insights.
Why Do I See Numbers in Dreams?
Some will argue that seeing numbers in dreams signals that you're looking for logic in life, as numbers are associated with organization and order. And while this may be true for some, this explanation doesn't sit right when you feel there's a deeper message behind the numbers. After all, numbers are regarded as the language of the universe.
From a spiritual lens, numbers in dreams hold significant symbolic meanings that can offer profound insights into your spiritual journey and life path. In this context, numbers are usually divine messages or signs from higher realms. So, the appearance of numbers in your dreams can signify that the spiritual realm is trying to get in touch.
It's theorized that dreams act as a channel for divine communication because people's minds are often clouded by various distractions and biases when awake. So when you dream, your consciousness can transcend the physical plane and connect to higher realms, making it easier for divine forces to deliver helpful guidance.
Seeing numbers in your dreams can signal a specific date or time when something important will happen. The numbers can also indicate a house number or address that will be relevant to you in the future. But, just like they can point to the future, numbers in your dreams can also point to parts of the past that need to be revisited.
The Meaning of Numbers in Dreams From 0-9
It's always best to reduce a double-digit number in your dreams to a single-digit unless it holds personal significance. This is because single-digit numbers hold more power and importance in Numerology. For instance, if you see the number 21 in your dream, you should add 2+1 to get the reduced number 3 and analyze its meaning.
Numbers 0 to 4
The number 0 in dreams symbolizes infinite potential, unity, and divine presence.
Dreaming of 0 may signify the beginning of a spiritual journey or a call to connect with your higher self. It symbolizes the void or a blank canvas, suggesting you have the power to manifest anything you desire.
It encourages you to embrace the present moment, be open to new possibilities, and tap into your inner wisdom and intuition for spiritual growth and transformation.

The number 1 in dreams represents new beginnings and individuality. It marks the start of a fresh chapter in your life and urges you to embrace independence.
Dreaming of the number 1 encourages you to take initiative and to trust your instincts. You'll embark on a unique journey that may feel isolating at times.
It serves as a reminder of your potential to shape your reality and that your thoughts and intentions profoundly impact the direction of your life.

The number 2 in dreams symbolizes themes of duality, balance, partnership, and cooperation. It urges you to seek balance and make decisions with discernment.
Seeing it can encourage you to trust your intuition, practice empathy, and embrace teamwork to achieve your goals.
Additionally, number 2 invites exploration of spiritual connections and openness to change for personal growth and self-improvement.

Seeing the number 3 in dreams encourages creativity, expression, and expansion, urging you to embrace personal growth and progress.
The appearance of the number 3 in dreams may also indicate the importance of effective communication and making decisions aligned with your higher purpose.
Overall, seeing the number 3 in dreams is a call to embrace positivity, collaborate with others, and align with higher spiritual forces for guidance and wisdom.

The number 4 in dreams symbolizes stability, structure, and a solid foundation. It can signify a desire for security and remind you to pay attention to practical matters and responsibilities.
From a spiritual perspective, the number 4 may indicate a connection with the physical world and the importance of grounding oneself to manifest spiritual aspirations.
It can serve as a sign of reassurance and encouragement to persevere through challenges, knowing that a strong and steady path will lead to success and fulfillment.
Numbers 5 to 9
The number 5 in dreams represents change, transformation, and growth. It symbolizes the need to embrace new experiences and adapt to transitions in life.
Its appearance signals that you're on the verge of a significant shift or a period of positive change. It encourages you to be open to opportunities, take calculated risks, and explore different paths.
The number 5 in dreams serves as a reminder to be flexible, embrace uncertainty, and trust in the process of personal evolution.

The number 6 in dreams symbolizes harmony, love, and self-care. Dreaming of the number 6 can indicate a need to focus on domestic matters to ensure stability in these areas.
It's associated with healing and empathy, suggesting that you'd benefit from some self-care.
It can also be a reminder to not veer too far from your spiritual path and commitments. This number can show up when you're too focused on the material realm.

Dreaming of the number 7 is about inner wisdom, intuition, and a connection to higher realms.
It encourages introspection, self-reflection, and the pursuit of knowledge and spiritual understanding.
Seeing the number 7 in dreams is a reminder that divine support and protection surround you, and that you're on a path of enlightenment and spiritual growth.

The number 8 in a dream represents abundance, prosperity, and material success. But emphasizes the importance of balancing your actions and intentions.
It can signify a period of financial stability and manifestation of desires, but it also reminds you to remain ethical and mindful.
When the number 8 shows up in a dream, it can also talk about gathering perseverance and strength during trying times.

The number 9 in a dream represents a period of completion, finality, and spiritual closure. It suggests that a particular phase of life is coming to an end.
It signals the need to release the past and let go of what no longer serves you. Embrace transformation, selflessness, and humanitarian endeavors.
The number 9 indicates that opportunities and fresh beginnings await beyond this phase.
Tips to Interpret Numbers in Dreams
Once you've identified the numbers in your dreams, you'll need to interpret them. This involves careful analysis and consistency. The tips below will help you interpret the personal significance of your dream numbers, so I recommend giving them a try.
1. Keep a Dream Journal
A dream journal can help you track patterns, recurring symbols, and any repeating numbers in your dreams over time. Keep your journal next to you to immediately write about your dream when you wake up and avoid missing important information.
2. Examine Personal Associations
To examine your associations with a number, consider the significant events, dates, or experiences related to it in your waking life. The dream may be trying to draw your attention to something connected to the number.
3. Pay Attention to Context
The meaning of a number can change depending on the situation or emotions you experienced when you saw it. If the dream revolves around a specific area of your life, such as work, relationships, or personal growth, the numbers in the dream may offer insight into these areas.
4. Chat With a Psychic
If you feel that the numbers in your dream hold an urgent message, consider chatting with a psychic. A credible reader can connect with your spiritual team to deliver any critical messages you could be overlooking.
Best Sites for Psychic Readings
Numbers in dreams can hold important and sometimes urgent spiritual messages that should be handled carefully. Therefore, it's essential to seek the assistance of a trustworthy psychic when you need guidance. I've selected the following sites because they house some of the best psychics and offer discounted rates for newbies.
1. California Psychics — Overall Best for Psychic Insights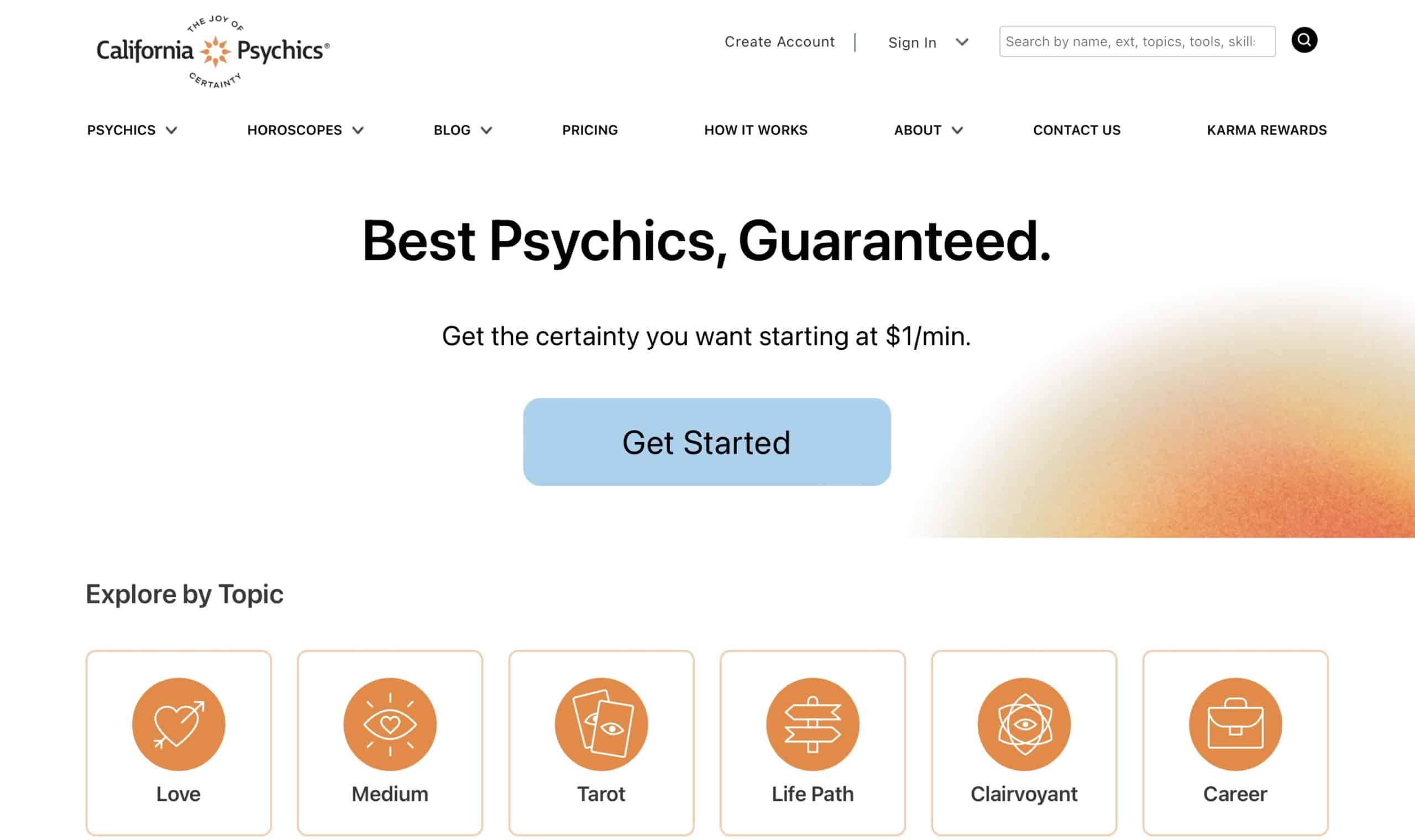 350+ psychics available
$1, $2, or $4 per minute
Chat and Talk readings
Karma rewards program
Satisfaction guarantee
California Psychics is the overall best choice for psychic insights because of its trustworthy roster of readers. The site ensures high-quality services by accepting only the best advisors with a 2% acceptance rate. Knowing that all of your options are reliable will bring you the tranquility you need when seeking accurate insights about numbers in dreams.
I feel appreciated for my business at California Psychics because of its karma rewards program. When you sign up, you qualify for a $20 credit, a free astrology report, points on purchases, and a gift on your birthday. These unique perks allow you to get the most out of your sessions in the short and long term.
One potential concern about using California Psychics is that some popular psychics can be pricey. However, as a newcomer, you'll be eligible for its promotional rates of $1, $2, or $4 per minute. I went with the $4 package to try a premium psychic to see if the readers live up to the hype, and it was well worth it.
2. Purple Garden — Get Psychic Impressions Via Chat, Call, or Video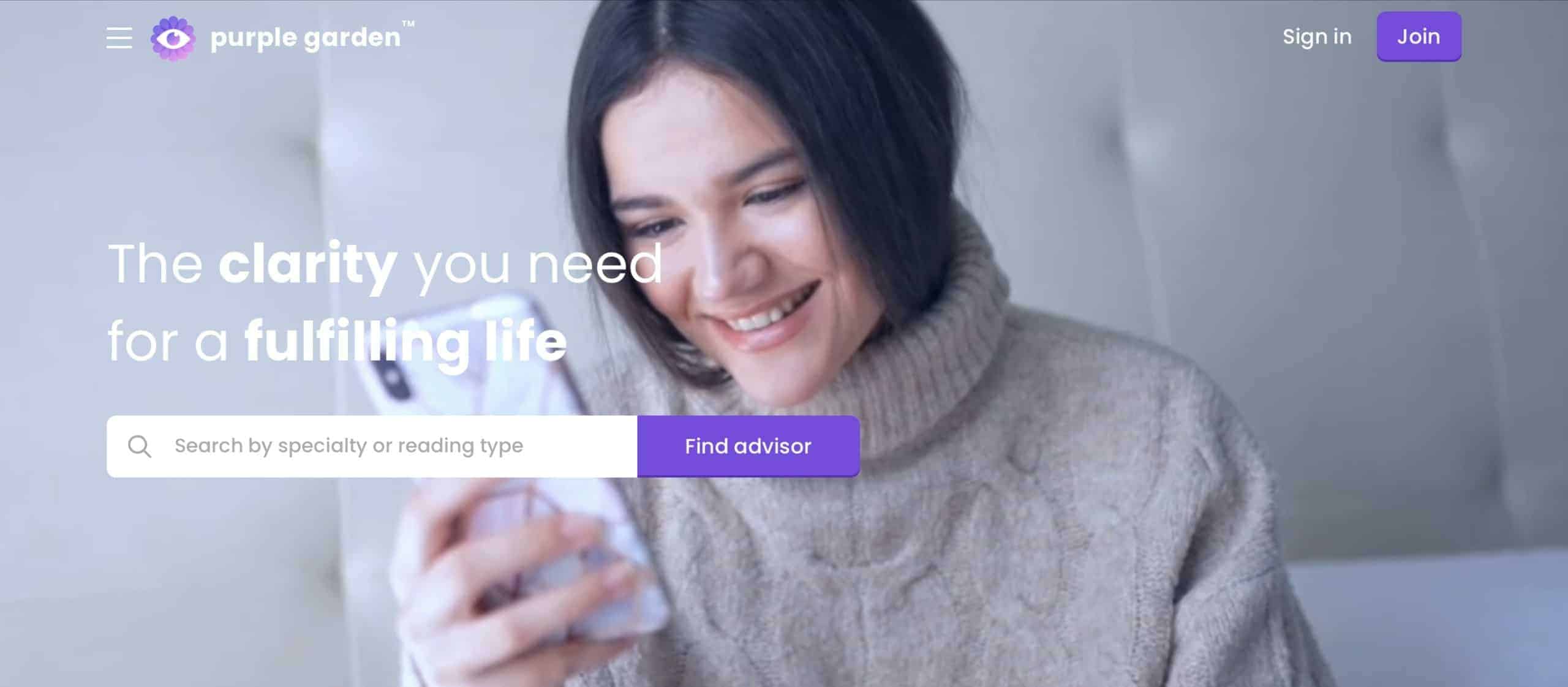 Over 250 readers
$10 free for your first reading
Chat, call, and video sessions
2% cashback on purchases
Refunds available upon request
The psychic guidance on Purple Garden is worth it because it's one of the few trustworthy sites that offers chat, call, and video readings. The added flexibility ensures you feel comfortable, especially if you're nervous. Seeing your reader can help you build trust when you get impressions about the numbers in your dreams.
I find that Purple Garden offers one of the best deals for newbies since you get $10 towards your first reading. The rates on Purple Garden start at $0.99 per minute, and with its offer, you can get substantial psychic guidance about numbers in dreams. The extra time can be great when you have many questions and don't want a rushed reading.
While the screening of its readers is a little vague, Purple Garden has transparent review sections that help you make an informed selection. Having an objective perspective of a psychic's reviews means you have a greater chance of accurate insights about the numbers in your dreams.
3. Keen — Enjoy Last Minute Psychic Guidance With Its Mobile App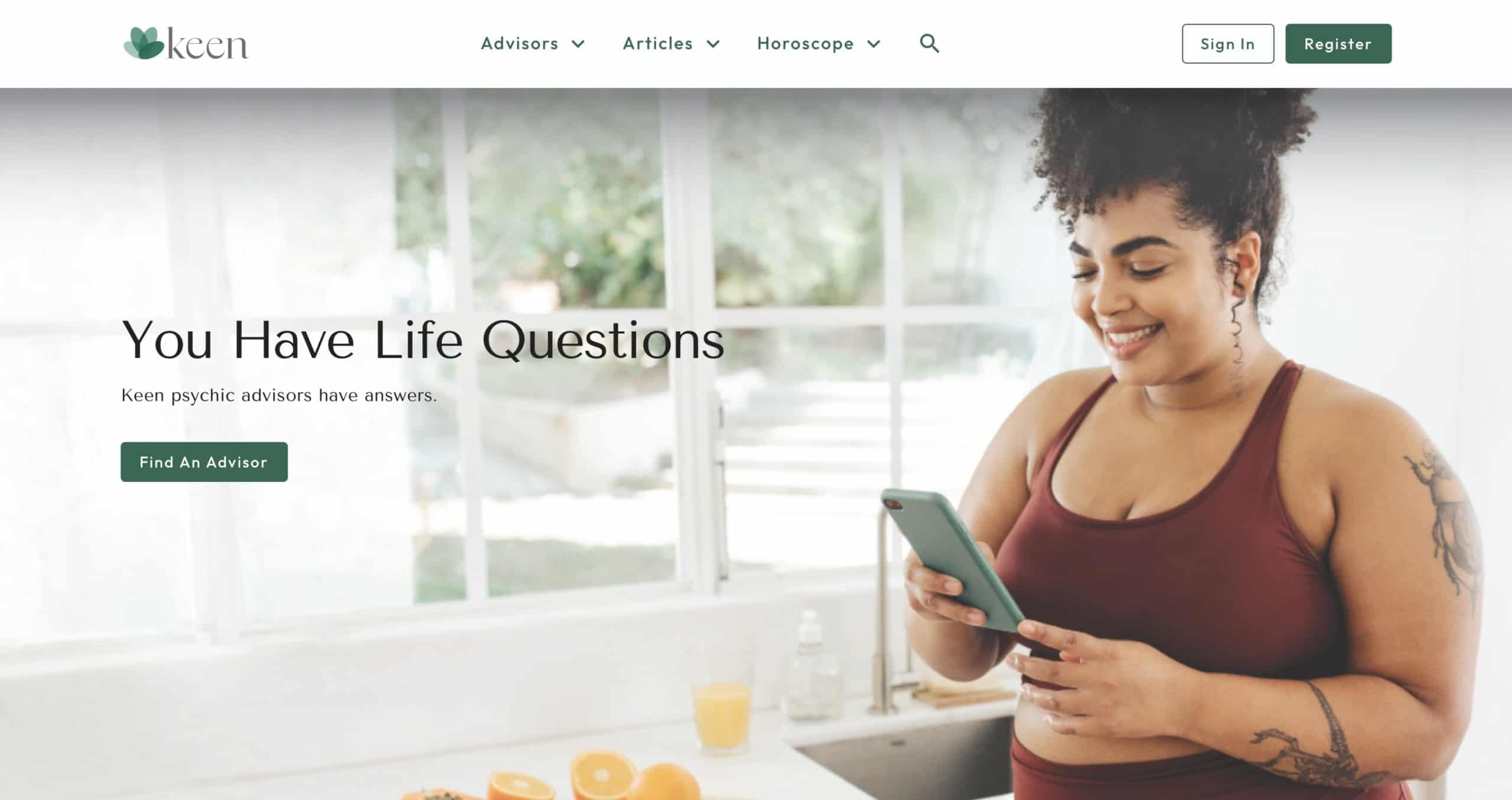 250+ psychics to choose
5 minutes for $1
Chat and phone readings
Keen rewards program
$25 in Keen credits for refunds
Keen offers the convenience of last minute psychic advice with its user-friendly mobile app. It can come in handy immediately after a vivid dream because you can recount it to your advisor without forgetting any details. No matter the hour or day, you can feel sure you'll have quick access to a psychic's gifts.
I always save time when browsing for a psychic on Keen because it has detailed search filters. You can filter your search for conversation type, price, skills, tools, and specialty and avoid connecting with the wrong psychic. So, if you want your psychic to use clairvoyance to interpret the numbers in your dreams, you can select this using filters.
Remember that you can only get a refund of up to $25 in Keen credits for an unsatisfactory reading. However, the odds of this happening are rather low because most of Keen's readers have completed thousands of readings and averaged a rating of 4.8 stars and up.
FAQs on Numbers in Dreams
What are the different types of number dreams?
Dreams are a unique experience but there can be some overlap amongst dreamers. Some common number dreams include seeing dates of significance, numbers in the sky, repeating numbers, phone numbers, and lottery numbers. Here is a brief breakdown of what these dreams mean.
Numbers in the Sky: Symbolizes a need to acknowledge how far you've come and that it's time to smell the roses before you move towards the next goal.
Phone Numbers: A sign that you must communicate something or that information will be coming to you. Unanswered phone calls can mean missed opportunities.
Calendar Dates: A past date of significance can mean you need closure or healing with whatever is related to that date. But, a future date can be a sign to pay attention to events around that time.
Apartment/Home Numbers: You may be longing for stability and security and dreaming about apartment or home numbers can indicate you are close to achieving it.
You may also see Angel numbers, which are sequences of numbers that are believed to be messages from angels or spiritual guides, communicating with us to offer guidance, support, and encouragement. Dreams about phone numbers can be an omen of an unexpected visitor that brings advice, while seeing lottery numbers can represent the end of hardship.
What does seeing Roman numerals in a dream mean?
Some interpret Roman numbers in dreams as a sign that you may soon experience a setback. And while some interpreters view Roman numbers in dreams as bad omens, this isn't always the case. In reality, seeing Roman numbers in your dreams can represent a connection to ancient wisdom, knowledge, or ancestral teachings.
If you remember the Roman number, you should check the particular number's significance in dreams. Based on the symbolism behind the number, you can better understand what the number could be representing. Make sure you consider the context of the dream and when the Roman numeral appeared so you can piece an accurate interpretation.
Is there a difference between even and uneven numbers in dreams?
Yes, odd numbers are believed to be more aggressive or negative than even numbers. But interpreting these numbers will depend on the interpreter because some argue that dreams about odd numbers symbolize change, growth, and expansion. On the other hand, even numbers can indicate a period of peace, balance, and resolution.
However, it's always best to seek the guidance of a credible psychic when attempting to decode the numbers in your dreams. This can save you anxiety and worry because dreams about numbers are subjective for everyone and shouldn't be seen as one size fits all. Getting a psychic's opinion is always the best option when you want tailored interpretations.
Can you see numbers in dreams?
Yes, seeing numbers in dreams is possible, but not everybody does. Some believe this happens because before incarnating, souls make agreements about the experiences they will have. So, if a person's soul contract includes working with or being influenced by numbers, they'll likely see numbers in their dreams.
Additionally, it's theorized that dreams can be a channel for direct communication from the divine or higher realms. People going through a spiritual awakening or seeking spiritual guidance may experience an increase in dreams that contain spiritual symbols, including numbers. But, the receptivity and awareness of the dreamer may also play a role.
Bottom Line
When you feel the numbers in your dreams hold a deeper message, it's important to explore the potential meaning. Even more so if you're spiritually inclined since there's a high chance the universe is trying to communicate. It's not rare for the numbers in your dreams to act as a compass when you feel unsure or worried.
But getting to the bottom of a number in a dream isn't always easy when doubting your interpretation. I've used the support and guidance of advisors on California Psychics for years because they act as a guiding light when I doubt my intuition. Many of its psychics have decades of experience and wisdom beyond their years that you can trust.
In summary, the best sites for psychic readings are…