Oranum vs. Mysticsense: An Overview
These leading psychic reading sites each have something very different to offer, but there is a clear winner.
Oranum's free live video readings are what set this site apart – you'll also be spoiled for choice in terms of psychics to choose from.
Mysticsense, on the other hand, makes finding a psychic and scheduling a reading straightforward and affordable.
While both sites are home to top psychics, one is a better fit for you.
In this review, I unpack the unique features as well as the pros and cons of each site to help you make a final decision.
Quick Summary of Winner in Each Category
Oranum vs. Mysticsense: Types of Readings
Oranum
Oranum is known for its huge selection of diverse reading topics and uncountable number of psychics. The site has grouped all its unique categories into 12 main ones: love, tarot, astrology, clairvoyant, dreams, guides, family, career, numerology, fortune teller, sound baths, and pet psychics.
Overall, if you're looking for a unique kind of reading, then Oranum is the site to use. There are hundreds of readers to choose from, and there are always plenty of live readers to chat with no matter the time of day.
Mysticsense
Mysticsense also has an extensive list of reading topics to choose from, featuring 18 topics and another 18 tools. While the topics are not as unique or uncommon as Oranum's, they do have plenty of specific subjects to choose from, like toxic relationships, grief counseling, lost objects, and more. You can also search for readers that specialize in your standard reading tools like tarot and astrology, as well as more unique ones like pendulum, auras, and runes.
Mysticsense has over 450 readers on their site, and you can even search for one based on their reading style: compassionate, direct, expressive, thoughtful, or wise. With such a large selection, you're bound to find a talented reader that matches your needs.
Winner: Oranum for their unique reading categories.
Explore Reading Categories on Oranum
Oranum vs. Mysticsense: Pricing
Oranum
Oranum's pricing is significantly less straightforward than other psychic reading sites, so it takes some digging to figure out how the platform works. Essentially, you purchase coins to use towards readings, and each reader sets their own rate of coins per minute. From what I've seen, most readers have a rate of 1,000 or 2,000 coins per minute, but some do charge more than this.
Figuring out readers' rates is inconvenient because you have to wait until they're online, and then click to join a session with them. Before you agree to join you'll see the reader's rate.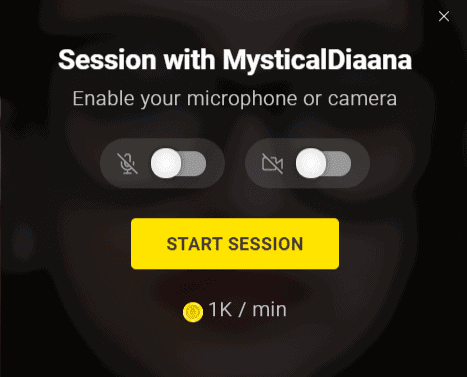 The smallest package you can purchase on Oranum is 1,700 coins at a cost $5.99 plus tax. If you do want to purchase coins, I recommend choosing the next package up, because each larger package offers you some free coins in addition to those you purchased. The bigger the package you choose, the more free coins you'll get.
If we translate these coins into minutes, the smallest package buys you one minute with a reader that charges 1,000 coins per minute, and zero minutes with one that charges 2,000 coins per minute. That means that the lowest rate you'll find is about $6 per minute, which isn't cheap.
It's worth mentioning that Oranum will give you 10,000 free coins just for validating your credit card.
Mysticsense
Mysticsense has some of the most competitive rates out there and is really great value for money. You can connect with readers via chat, phone, and video, with prices ranging from $0.99 to $10 per minute. The majority of psychics have rates that fall on the lower end of that range, at about $2 to $5 per minute.
Mysticsense also gives you the chance to get your first 5 minutes free when you get started with the platform. To claim these 5 minutes, all you have to do is create your account and make a minimum deposit of $10.
Winner: Mysticsense for their competitive rates and easy-to-understand pricing.
Claim Your Free Mins on Mysticsense
Oranum vs. Mysticsense: Website Usability
Oranum
The truth is that Oranum's site is not the easiest to use, so it takes some getting used to. The only way to browse psychics is to click on a reading category and scroll. It also doesn't seem like Oranum enforces any requirements on psychic bios, so readers can put as little information about themselves and their services as they want.
As I mentioned, it's also quite difficult to figure out a psychic's rate. The information isn't readily available on their bio, and if the reader isn't logged in, you have no way of knowing what their rate is. Psychics are also not required to post any type of schedule on their page for you to know when they might be back.
Additionally, while you can browse psychics without having to create an account, that's about as far as you can go as a guest on the site.
Mysticsense
Mysticsense's site is the exact opposite of Oranum's in every way. Right off the bat, it's very easy to find your way around the site and to browse their psychics. Mysticsense has hundreds of psychics just like Oranum, but finding the right one is far easier. You can filter results by reading category, tool, and style, and then sort your results by price and availability.
The site makes it easy to tell if the psychic you're interested in is available, and what reading options they offer— phone, chat, or video. Every psychic's bio features their main specialty, the tools they specialize in, an About Me section, and their rates. Most importantly, it's really easy to read client reviews, and many psychics have even posted their reading schedules, making it easy to check availability.
Creating an account takes less than a minute and you don't need to enter any payment information. All you need is an email address and phone number. When you are ready to deposit funds into your account, all you have to do is select the amount you'd like, enter your card number or connect with PayPal, and you're ready to go.
Winner: Mysticsense for a better user experience.
Oranum vs. Mysticsense: Trustworthiness
Oranum
Although Oranum has a long-standing presence, it is essential to approach the platform with caution, as it falls under the "try at your own risk" category. The key factor in determining a site's reliability is whether they provide a satisfaction guarantee or a refund policy. Regrettably, Oranum lacks substantial offerings in both these aspects.
While there is a Terms and Conditions page on the site, it's a real headache to read because it's basically a legal agreement full of technical jargon. So here's the gist of what it says: Oranum makes no guarantees as to the quality or accuracy of the services that their readers provide, and the only event where you have a chance of getting a refund is if the website itself malfunctions. The site does not provide any refunds for unsatisfactory readings.
The only plus that I can give to the site is that they have responsive customer support agents that reply to you very quickly if you use the live chat function. But that's as far as it goes because if you ask them anything about their refund policy, they just refer you to their Terms and Conditions without much other explanation.
Mysticsense
Mysticsense is a newer platform compared to Oranum, but they make a good impression from the very first page. The site has an FAQ page that addresses their refund policy in clear, easy-to-understand language. If you're a first-time customer and you're unhappy with your experience, you may request your cash back within two days of your transaction. The site will refund your money, but keep in mind they reserve the right to ban you from using the platform again. They will also only refund up to 20 minutes.
The site performs routine quality checks to make sure that all of their readers are performing at their best. And when it comes to hiring new psychics, Mysticsense evaluates applicants not only based on their skills and experience but their integrity too. Overall, it shows that Mysticsense is invested in establishing a trust-based relationship with their users.
Winner: Mysticsense for their clear refund policy.
Oranum vs. Mysticsense: Added Extras
Oranum
Oranum has one truly unique quality that you just can't ignore on their site – free live video readings. Part of Oranum's policy is that they require all of their psychics to host free, weekly live sessions. Whether you have an account with the site or not, you can join these live sessions and interact with a psychic. There is a live chat box that lets you ask anything you'd like.
While you shouldn't expect the psychic to perform a free reading for you right there in front of everyone, it's not uncommon for them to pull a single tarot card for you, or answer a simple question. But remember that the purpose of these live readings is to convince you to join a paid session with them where they'll provide you with a more personalized and in-depth session.
Mysticsense
Like most psychic reading sites, Mysticsense offers free daily horoscopes, as well as a respectable selection of articles on tarot cards, crystals, astrology, finding a medium, and more.
Mysticsense also takes their psychic bios one step further, with pre-recorded audio or video messages. These are a great way to get to know a psychic before entering into a paid reading with them.
Winner: Oranum for free live video readings.
Join a Live Reading on Oranum Now
The Bottom Line on Oranum vs. Mysticsense
The reality is that Oranum and Mysticsense have two very different approaches to psychic readings. Overall, Mysticsense is the more affordable, user-friendly, and trustworthy website of the two. It's great for first-time and advanced users alike because it makes it easy to find and meet with a qualified psychic.
Oranum, on the other hand, while not ideal for the first-time users, does give you the chance to connect with more unique and niche readers. And of course, the free live sessions are a fun element that anyone can participate in.
My advice: if you're looking for a fun, free, no-strings-attached experience, then Oranum might be a good option for you. But if you're looking to meet with a psychic and establish a regular connection, Mysticsense is probably the better choice.