Fretting about the future is something that most of us do whether we really want to or not, especially when it comes to our romantic relationships.
The emotional strength that relationships require can be exhausting at times, so it's only natural to seek some guidance.
The good news is that many of the answers you need are right in front of you.
In this guide, I will show you where to find your love line and determine what it says about your romantic life.
If you would prefer to speak to a professional palm reader, Purple Garden offers new customers $10 towards their first reading.
Where to Find Your Love Line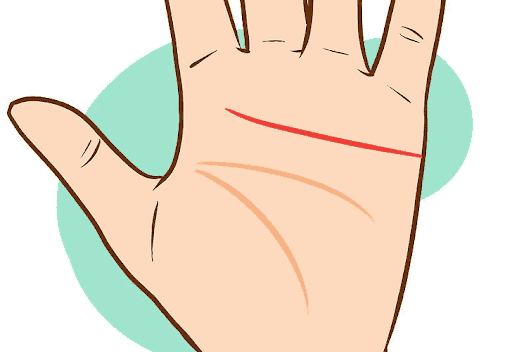 Your love line is the top line running horizontally across your palm, just below your fingers. It is also known in palm reading as the heart line.
What Your Love Line Reveals
Straight
Having a direct love line indicates that you are the kind of person who doesn't settle easily in relationships. You know exactly what you want, and are unafraid to remain single until you discover it. Once you enter a relationship, you refuse to tolerate any mistreatment from your partner. Your aim is to build strong and long-lasting connection, and you're prepared to make every effort necessary to attain this goal.
Straight but Short
A line that is straight but ends before your middle finger indicates that you suffer from emotional immaturity. You aren't able to read and understand other people's feelings well and, as a result, your relationships suffer for it. In order to break this cycle, you'll need to work on this trait and make concerted efforts to change your behavior as you conduct your relationships – and this doesn't only apply to romantic connections.
Arched
If your love line is arched towards your fingers, this indicates the perfect balance in a relationship. You are able to be a loving, attentive partner without leaving yourself vulnerable to hurt by giving too much of yourself. You have great emotional intelligence and you're able to approach all your relationships with clarity and logic.
Arched but Extending Between the Fingers
A love line that extends too far means that you treat your partner amazingly – but to your own detriment. You are sweet, nurturing and thoughtful, but you can also come across as clingy and suffocating from time to time. This makes it easy for people to take advantage of your good nature and hurt you in the process. If you become more firm about your own needs in a relationship, you'll be able to sustain something far more long-term.
Spiked
Towards the end of your love line near your pinky, you'll notice that there are a few short lines that shoot off, with a similar appearance to the tail of an arrow. If these lines are really defined, this is an indicator that you have clear and well-maintained boundaries in relationships. You are easily able to stand up for yourself in a relationship. Alternatively, if these lines are quite dull and almost invisible, the opposite is true.
Affection Lines
If you look just below your pinky, you'll notice some short lines just above your love line. These lines are indicators of the depth of your relationships. If you have one or two well-defined lines, this shows that you'll have a meaningful long-term relationship (it could even mean marriage). If the lines are numerous and dull, it's a sign that your relationships are usually short-lived and not very impactful.
Top Palm Readers on Purple Garden
While these guidelines on how to read your love line are a great place to start, if you'd like a professional reading from an experienced palm reader, Purple Garden's app comes highly recommended. Here are the top palm readers to consider.
1. Psychic Kathleen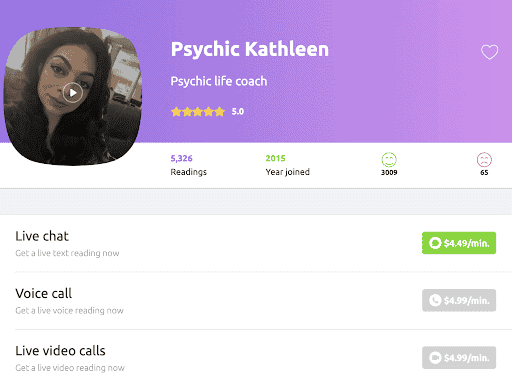 Kathleen is backed by over a decade of experience in reading palms. She takes her role as a palmist seriously and offers solid advice based on the secrets she uncovers from your hands. She has a deep understanding of the art of palm reading because of her divine connection to the universe.
Psychic Kathleen's clients are always blown away by the peace of mind her readings give them. She is able to pick up on any problem you may be facing and help you devise a plan on the way forward.
2. Sara Joy
Sara Joy is a natural-born medium and has an arsenal of spiritual tools at her disposal. While she hasn't been on Purple Garden very long, she has over 17 years of experience helping clients decipher the secrets held in their palms.
Sara Joy has received hundreds of positive reviews during her tenure on the site, leaving her with an overall rating of five stars. They are always amazed by how consistently accurate her readings are which keeps them coming back for more.
3. Readingsbysophia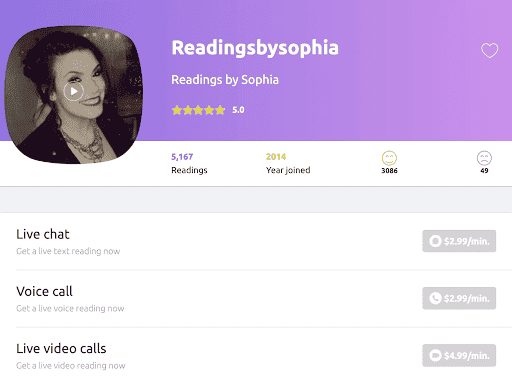 Sophia is a soulmate specialist who will definitely be able to give you encouraging, helpful guidance on how your love line is impacting your life. In fact, she uses all the lines on your hand to give you a clear plan of action for your future.
Sophia has over 20 years of experience reading palms and she is well-loved by her customers for her accuracy and undeniable psychic talents.
4. Love Whisperer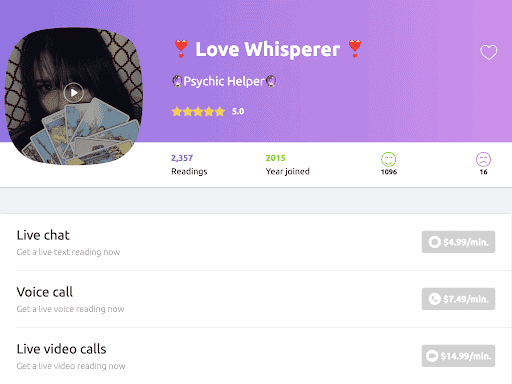 Love Whisperer has over 15 years of experience performing palm readings and understands the intricate nature of the secrets held by each person's palm. She is able to use her gifts as a psychic and tarot specialist along with spiritual guidance to give you a palm reading straight from the universe.
She is well-loved by her loyal customers on Purple Garden who appreciate how forthcoming she is. Love Whisperer doesn't beat around the bush and gives you as much information as possible so that not a cent is wasted during your reading.
5. Lady Mystery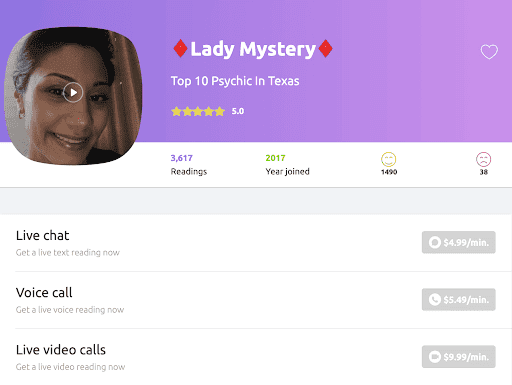 Lady Mystery's rates are a real bargain when you consider the fact that she is considered one of the top 10 psychics in Texas. She is a renowned palm specialist with over 20 years of experience who is appreciated for how intuitive and evidently spiritually connected she is.
Her clients boast of her accuracy and how quickly she picks up on things that are bothering them. Lady Mystery has a knack for understanding exactly what your love line means for your future.
Bottom Line
Not only can a palm reading uncloud the future of your love life, but the many other lines and prints can be deciphered to give you an unparalleled understanding of the trajectory of your life as a whole.