At first glance, PathForward and Keen Psychics seem like two very similar psychic reading sites. And it's true, they do have some fundamental similarities. But, they also have important differences when it comes to types of readings offered, how easy it is to use the platform, and perhaps most importantly, their pricing.
Price is not everything though, so how do you decide which site is best for you?
While we are on the subject of price, you might like to take advantage of PathForward's introductory offer of $1 per minute and Keen's offer of 3 free minutes.
Now, let's get into this comparative review to get a better look at the finer details of each platform and discover where your perfect reader is waiting.
Quick Summary of Winner in Each Category
💲 Starting price:
PathForward ($

1

per Minute)

🔮 Types of reading:
Keen (

20

+ Choices)

🤝 Trustworthiness:
PathForward (

Unlimited Refund Requests

)

🎉 Added extras:
Keen (Reading Transcripts)
🙋 Customer Support:
Keen (Phone & Email Support)
PathForward vs. Keen: Types of Readings
PathForward
If you're like me, a variety of reading types and some good filtering capabilities are important to you. When a site doesn't allow me to filter my search results, I have a really hard time sorting through psychics and it takes me much longer than necessary to find the right reader. Thankfully, this is one area PathForward excels in.
While the site only has 5 topics to choose from, you can also choose to filter psychics based on gift, tools used, type of communication, and even language.
These advanced filtering options help you find the exact psychic you're looking for with minimal effort and time. With that being said, PathForward's available topics don't go beyond the standard ones of relationships, careers, and spirituality. There are a lot of gifts and tools to choose from though, setting it apart from some of its other competitors.
Explore Readings on PathForward
Keen Psychics
Keen Psychics is a bit different than PathForward in that it offers many more reading types but has limited filtering capabilities. Keen Psychics has 24 different topics to choose from, including some more obscure ones like Chinese, Mayan, and Vedic astrology, as well as aura and chakra cleansing.
Where Keen Psychics falls short compared to PathForward is in its filtering capabilities. Beyond selecting one of the topics, there isn't much more you can specify when searching for a psychic. You can filter according to availability, star rating, and price, but not actual tools, gifts, or topics.
Winner: Keen Psychics for a wider selection of reading types.
Explore Readings on Keen psychics
PathForward vs. Keen Psychics: Pricing
PathForward
One of the best things about PathForward is its straightforward pricing structure. For first time users, readings only cost $1 per minute, and you choose a package that is worth either 10, 20, or 30 minutes. You also get your first 3 minutes free, which means you can get a total of 33 minutes on the site for a cost of $30.
After you've used up the minutes from your introductory package, every reader on PathForward has a flat rate of $5 per minute. While $5 per minute certainly isn't as cheap as some other psychics on competing sites, it's also nowhere near as expensive as sites like Kasamba. The other great thing about PathForward is that you don't have to pay a premium for top-rated psychics. There's no complicated tier pricing like with California Psychics. With PathForward, what you see is what you get.
Keen Psychics
Similar to PathForward, Keen Psychics also offers new users 3 free minutes when they sign up. But this is where the similarity ends. While Keen Psychics does have some psychics that offer rates as low as $1.99 per minute, they also have readers that charge more than $30 per minute.
To be fair, the majority of psychics charge around $5 per minute, making it similar to PathForward in price. This makes the site worth checking out, because chances are, you'll find a reader that meets your needs and isn't very expensive.
Winner: PathForward for their competitive and straight forward pricing.
Claim Your Introductory Offer on PathForward
PathForward vs. Keen Psychics: Website Usability
PathForward
Signing up with PathForward is straightforward and easy. Like most sites, it asks you for your name, email address, and to create a password. However, one big con of this site is that you have to actually purchase an introductory package in order to create your account. This means you're required to enter your payment information. Personally, I am not a fan of sites that require you to pay right from the minute you sign up. I usually like to create my free account and then browse the platform and its psychics before committing to a purchase.
That being said, once you do sign up and pay for a package, jumping into a reading with an advisor is quick and easy.
Another drawback of the PathForward platform is that the site does not have a mobile app. So, if you were looking for a platform that allows you to enter into psychic readings on the go, PathForward is not the psychic platform for you.
Keen Psychics
Unlike PathForward, Keen Psychics doesn't demand any payment information to set up an account. Literally, all you need is an email and password and you're good to go. In less than a minute you're in and can start exploring the platform in greater detail.
Another thing I love about Keen Psychics is that right when you log in, it offers you the option to "get matched" with a psychic. You just answer a few quick questions like your mood on that day, the topic you want to discuss, and the reading style you prefer, and instantly the platform produces a list of appropriate readers.
Once you've found a psychic you'd like to speak with, Keen Psychics makes the process of connecting super easy. The platform gives you the option to pay before or after your reading. Just keep in mind that you could accidentally let the clock run a bit longer if you opt to pay after your session, instead of before.
Overall Keen Psychics really excels in website usability and you can tell that they have really considered the whole user experience from beginning to end. What's more, Keen Psychics also has a mobile app, which means you can connect with readers from anywhere, right from your phone.
Winner: Keen Psychics for the best user experience on desktop and mobile.
Explore the Keen Psychics Site
PathForward vs. Keen Psychics: Trustworthiness
PathForward
While some sites may deliberately leave their refund or satisfaction processes ambiguous, this is not the case with PathForward. The site has not one, but two pages dedicated to explaining their policies to customers: their code of ethics and their peace of mind promise.
PathForward's code of ethics explains that the site prioritizes privacy, both for customers and their psychics. That's why psychics use pseudonyms on the site and are also forbidden from requesting personal information from clients. They are also not allowed to communicate with or solicit money from clients outside of the PathForward platform. Psychics are also forbidden from imposing any personal values or beliefs onto their clients.
The PathForward peace of mind promise allows customers to request a refund for any reading they're not satisfied with. To receive a refund you must make the request within 24 hours after the reading. The site will review your claim and will either refund your money or time for a call up to 20 minutes in length.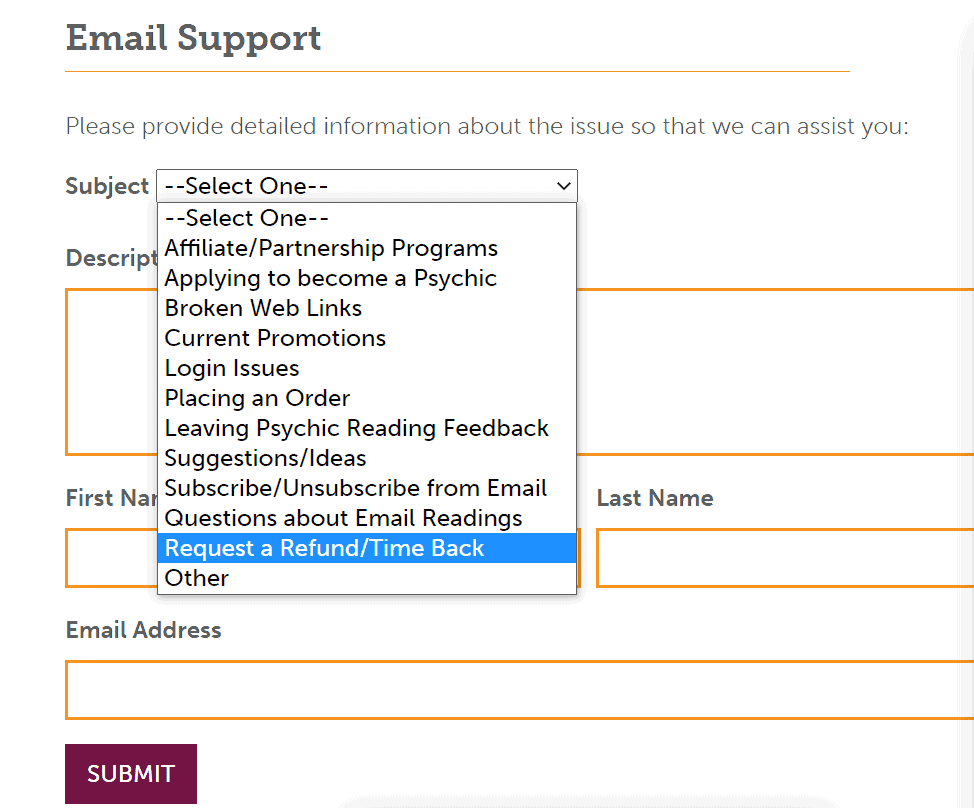 What I particularly appreciated about the platform is that it's very easy to request a refund. I've seen many other platforms that include contact forms but do not list Refund as a reason for contact. This is not the case with PathForward. Overall, the site seems very invested in establishing a secure and trustworthy environment between psychics and clients.
Keen Psychics
While PathForward's policies can easily be found in the site's sidebar menu, the same cannot be said for Keen Psychics. While Keen Psychics does offer a satisfaction guarantee, it takes a bit more searching to find it on the site. In fact, while the site does show a 100% satisfaction guarantee label on its home page, there is no clickable section that directs you there.
Instead, you must first scroll all the way to the bottom to find the small button that says Customer Support. From this page, you can click on Satisfaction Guarantee to read more about their policy.
Nevertheless, Keen Psychics offers customers who are unhappy with a reading up to $25 back to use again in the site. You must submit your complaint within 72 hours of the reading and you can only be reimbursed for one unsatisfactory reading every 30 days.
Winner: PathForward for their clear policies and simple refund process.
PathForward vs. Keen psychics: Added Extras
PathForward: Extra Features
In addition to its psychic readers, PathForward also has its own blog called The Tea. I found the blog to be useful as it organizes its posts into a variety of categories, including money and hustle, self care and spirituality, and more.
PathForward also offers daily and yearly horoscopes, as well as a fun horoscope compatibility calculator.
Keen Psychics: Extra Features
Keen Psychics has similar extra features to PathForward, with its own blog and horoscope section. The platform also has a fun instant tarot reading feature. After you've selected 3 cards, each one comes up with a description to help you understand your virtual reading.
An additional bonus that I noticed on Keen Psychics is that all your chat transcripts are recorded and saved after chatting with a psychic. I always appreciate this feature as I find it valuable to go back to readings from months ago and review my psychic's predictions.
Winner: Keen Psychics for their additional tools and the ability to refer back to reading transcripts.
The Bottom Line on PathForward vs. Keen Psychics
Here's the deal: both PathForward and Keen Psychics are really great choices when it comes to picking a psychic reading site. You really can't go wrong with either of these. But for the sake of this comparison, the score comes down to 3-2, with Keen Psychics coming out on top.
It's a close call, but Keen Psychics has some extra features that PathForward doesn't, like the fact that you can create an account without having to enter any payment information and that it has a mobile app.
That being said, you should remember that PathForward has the more straightforward and potentially affordable pricing model, with a $1 per minute rate for new users and a flat fee of $5 per minute, no matter which psychic you choose.
Overall Winner: Keen Psychics
Explore Psychic Profiles on Keen Psychics