Natalie Sist, Intuitive Empath and Astrologer has used her innate ability to help educate her clients about their future for over 25 years. Through astrology and using her own personal deck of cards, she offers guidance for people to better understand the world they live in. In this interview Natalie shares the story of her life's work Planet Starz Inc which started off as a dream and became a small site has grown into a community with a "family" atmosphere.
When did you first realize you have a psychic gift?
Around age nine. I felt different from the other kids. Somewhere around that time I had a prophetic dream with a happy ending and it came true. I always knew, deep down, that I wanted to help people, though.
What inspired you to develop Planet Starz?
I worked for a site online and after a group meeting where the owner ignored me, I made up my mind to never treat anyone like that! It created a thirst to bring something better to the Internet. This was in the early stages of the Internet when there weren't many sites like what I wanted to create. I've worked tirelessly to make all the Starz Family user friendly, affordable and a worthwhile experience because of the inner drive to help people.
What sets Planet Starz aside from other sites?
Planet Starz is the umbrella site. We have as subsidiary sites, StarzPsychics with the Daily Blog, the Emporium, the Akashic Bookstore; then there's the online magazine, Mystic Living Today with famous contributors sending in articles, well-known authors sending up excerpts from their books and a host of other articles for our audience's reading pleasure. Add to this, we have a weekly Radio Program where many well-known personalities, especially authors, come to be interviewed and share insights into metaphysical matters. You will find links on our sites to our accounts on Facebook, Instagram, Twitter, Tumblr, Pinterest and YouTube.
Also, the site is almost a one man – or woman – show. I have a web master and two assistants but just about everything on the site is mine to do. I also have hand-picked, extremely talented world-class reader/advisers who maintain my standards of helping others in a loving and kind way. It is my spirit and energy that is poured into the sites and I hope they are culmination of the image I had in my mind all those years ago. They are sites meant to help uplift humanity. We have kept prices quite affordable over the years and our clients know and appreciate it.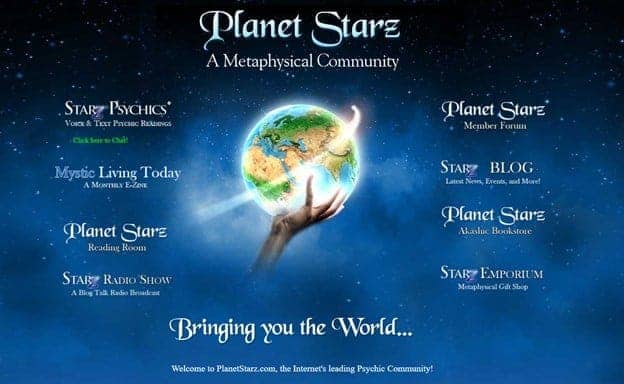 You have over 25 years of experience in this field. Have you found over recent years that a more diverse clientele has developed with an increased interest to access spiritual guidance? If so, why do you think that is?
Our clients are more enlightened, have questions and need answers from someone with a spiritual understanding. Why. why, why they ask? As time has gone on and the world has been under a heavy cloud, people have turned to a spiritual path and our site provides guidance to them. Over more than 25 years or more, this has become more evident and these are the people we serve on the site.
We provide that personal touch most other sites do not. Our reader/advisors surround a client with love and understand and truth. They listen as well as advise. Some of the people who come for readings just need an ear to listen, a shoulder to lean on and we make every effort to provide that!
What do most of your clients seek advice on?
It's a very varied list of questions. People want to know about their relationship, how they'll succeed in business, should they venture into something new? In reality, they have become much more inquisitive about life. The "dark times" we're living through right now have brought us people who need understanding and support so we provide it. Even though people come to us looking for a particular answer to a specific question, Spirit guides our reader/advisers to bring them what they need to hear with love and understanding.
Do you think people should know all the truth about their future?
What is truth today may change tomorrow, so we advise people who come to us that what we're telling them is for right now. Our readers don't sugar coat, but are sensitive to a person's mental state. We try to leave everyone with a good feeling after a reading. We make every effort to address the question but from time to time Spirit wants to bring other information forward but we make sure we tell them what they need to hear.
In your opinion, why do people lose hope in difficult situations? And what can be helpful?
People lose hope when they feel they are not in complete control of a life situation. It tends to feed on itself and our imagination can take over and make something that is gray into something that is very dark. Today's situation in the world is a good example of this. Many are in fear of this pandemic, some world leaders are not giving good direction and so people feel adrift and lost. With the right advice and a kind, listening ear, we make every attempt to help people who are feeling disheartened or untethered.
As the unprecedented year of 2020 is drawing to a close, do you have any message for our readers for the new year?
My advice is to trust in Spirit, think uplifting thoughts, seek out people who are kind and understanding and know that, even though history seems to repeat itself in the bad times, good will come out of this. Look forward to the good times. Our readers are aware of the negativity and make every effort to lift spirits and leave a client with a smile on their face at the end of each reading.
Many of the submissions in our e-Zine are highly spiritual as well, provide a boost to someone's morale and come from contributors who know much of what's going on in the world and try to provide a pathway to a positive attitude for readers.