Psychic Encounters has now merged with California Psychics, which came into effect on the 31st of March 2022.
Most of the psychics from Psychic Encounters can now be found on California Psychics. If you're still interested in Psychic Encounters, then please see our
California Psychics Review
for more information.
Psychic Encounters vs Kasamba: An Overview
Both Psychic Encounters and Kasamba offer quality psychic readings to their customers, but while Psychic Encounters is more simplistic in its approach to keep reading rates low, Kasamba has been around for decades and offers some added extras.
To help you better decide where you should pay for a psychic reading, I've looked at both sites in detail.
Here is what you need to know.
Quick Summary of Winner in Each Category
Psychic Encounters vs Kasamba: Types of Readings
Psychic Encounters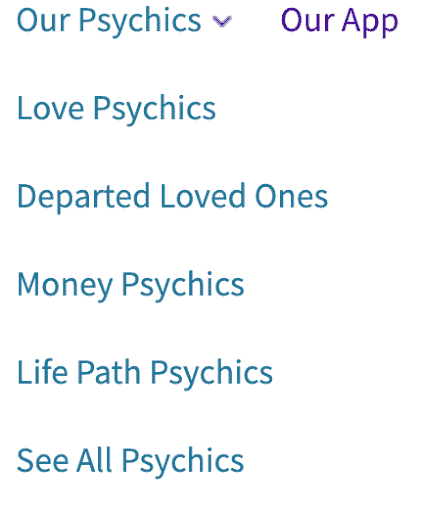 To narrow down your search for a psychic on Psychic Encounters, you can choose between four main categories: love, departed loved ones, money, and life path psychics. This is a limited selection in terms of categories, but if you are looking for something more simple, this could work for you.
There is also the option to filter psychics based on their per-minute rates and whether you want a reading in English or Spanish – I have yet to come across other sites that offer psychic readings in Spanish.
Kasamba

Kasamba has one of the larger reading category selections, with each category housing further sub-categories. For example, under astrology readings, you can choose between Chinese or Vedic astrology. These subcategories make it that much easier to find the right psychic.
Unfortunately, one downside is you're unable to use more than one filter at a time, so it isn't possible to choose a topic and a spiritual tool at the same time. With that being said, there are over 290 psychics on the site in total, so you'll definitely be able to find a good fit by reading through psychic profiles.
Winner: Kasamba for its wide selection of reading categories.
Claim Your Discount on Kasamba
Psychic Encounters vs Kasamba: Pricing
Psychic Encounters

Psychic Encounters' low prices are one of the reasons why this site stands out. Top-tier psychics on the site are available for as little as $1.99 per minute, while a reading with any other psychic will cost only $0.99 per minute. Furthermore, as a new customer, you'll benefit from a 10% discount on your first reading.
One important thing to note about the site's pricing is the $29.70 once-off hold that is placed on your card during your first reading. However, once your reading is done, you are only billed for the time used and the balance is refunded in no time at all.
Kasamba

Psychics on Kasamba set their own rates, which means a reading can cost you anything between $1.99 to $30 per minute, depending on who you choose to speak to. These prices are higher than Psychic Encounters, but the site at least caters to a wide range of budgets.
What's great is that Kasamba offers quite a substantial introductory package where you'll benefit from 70% off your first session of up to $50 and your first three minutes are also completely free. This makes it easy to get a good feel for the site without spending too much upfront.
Winner: Psychic Encounters for its affordable per-minute rates.
Claim Your Discount on Psychic Encounters
Psychic Encounters vs Kasamba: Website Usability
Psychic Encounters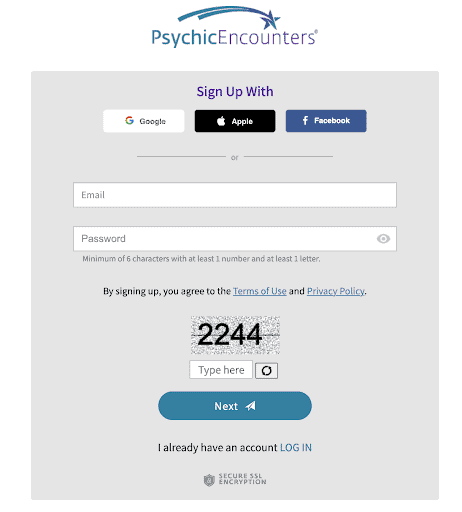 Psychic Encounters has a fairly simplistic site design, making it easy to navigate and find the right psychic for your reading. You can easily sign up within seconds using your email address and a password. What I love is that even though you'll need to insert payment details upfront, you won't be charged until your reading has ended.
The psychic profiles also follow suit in their simplicity. Each profile offers a view of a psychic's specialties, rates, experience, and customer reviews. Even though the site's filtering functions are limited, the detailed psychic profiles make it easier to choose the right reader for you. Customers can schedule a psychic reading over the phone or live chat.
Kasamba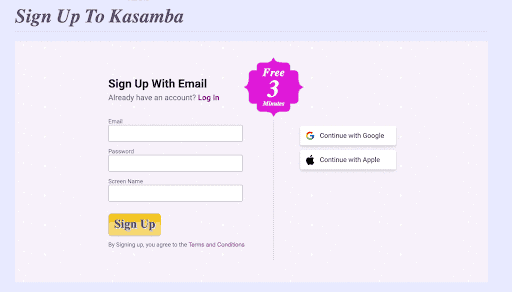 As a Kasamba customer, you'll only need an email address, password, and screen name to sign up, after which you'll be all set to schedule a psychic reading. You can pay with a credit card or PayPal and choose whether you'd like to credit your account upfront or be charged once your reading is over.
As with Psychic Encounters, Kasamba's psychic profiles offer more than enough information for you to select the right psychic for you. Customers can choose between a phone call or live chat for their psychic reading – some psychics even offer email readings. And if your chosen psychic is unavailable, you can schedule a reading at a time that works for you.
Winner: Kasamba for its psychic reading scheduling function.
Claim Your Discount on Kasamba
Psychic Encounters vs Kasamba: Trustworthiness
Psychic Encounters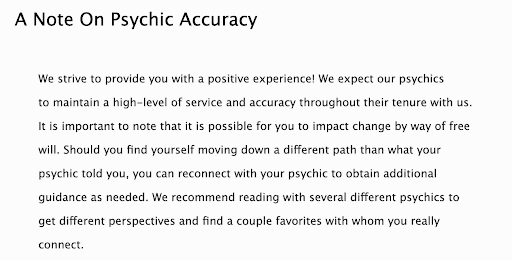 Psychic Encounters has an extensive FAQ section, but unfortunately, there is little to no information available about how psychics are screened, what qualifications they need to have, or even if there is a refund policy in place. It does, however, state that the site expects its psychics to maintain a high level of accuracy at all times.
On a more positive note, Psychic Encounters is really transparent on other aspects such as its pricing. If you want to get a feel for what to expect from the psychics on the site, your best bet would be to check out their reviews from past customers. You can filter reviews from low to high to see any negative feedback too.
Kasamba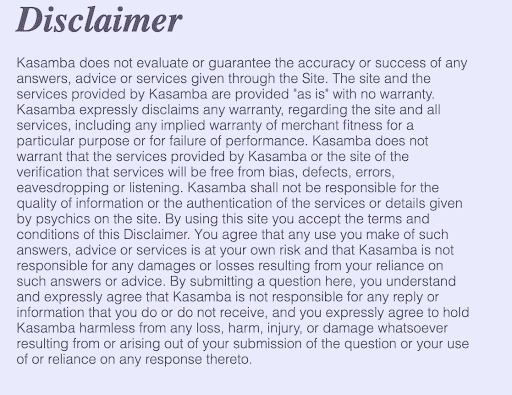 For a site like Kasamba that has been around for over 20 years, accuracy and quality are absolutely necessary. The site boasts a whopping 93% satisfaction rate, so it's clear that customer satisfaction is one of its top priorities.
What truly shows Kasamba's commitment to quality is the money-back guarantee. If you are not completely happy with your first reading, you can claim up to $50 worth of credits back.
A notable concern, though, is the lack of negative reviews available on the site. It's difficult to tell whether these are simply not published, or if all the psychics are that good.
Winner: Kasamba for its money-back guarantee.
Claim Your Discount on Kasamba
Psychic Encounters vs Kasamba: Added Extras
Psychic Encounters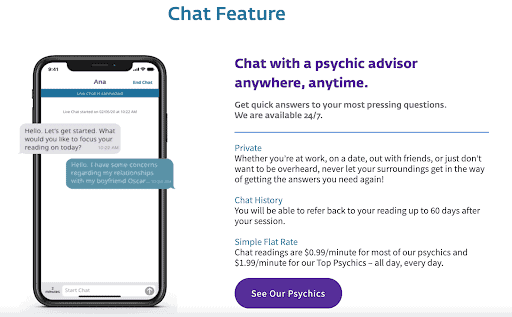 Because Psychic Encounters' main aim is to keep its pricing consistently low, there aren't any extra bells and whistles available on the desktop site.
However, there is a convenient mobile app available for on-the-go readings. Your chat history is also saved for up to 60 days, so it's possible to have another look at the sage advice you received later on when you need it again. You can also use the app to receive notifications when your favorite psychic is online.
Kasamba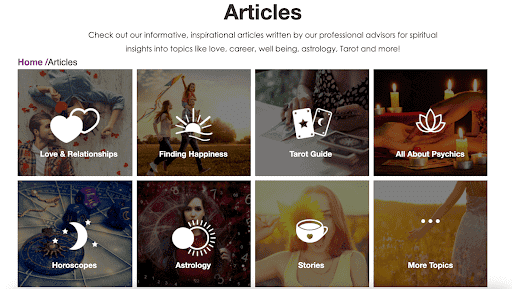 One of Kasamba's more unique features is its psychic messaging functionality. This way if you want to ask a psychic questions about a reading or negotiate a price, you are free to do so.
There's also a really great blog available on Kasamba with helpful articles on all things spiritual as well as free horoscopes.
The Bottom Line on Psychic Encounters vs Kasamba
Since Psychic Encounters is fairly new, it's made sure that its customers are able to benefit from quality readings at really low, standardized prices.
Kasamba, on the other hand, has a little bit more on offer since it's had so many years to figure out exactly what its customers are looking for. You can get psychic readings on a variety of topics and schedule readings at times that work for you.
For this review, Kasamba is my overall winner, simply because it does more to provide customers with a positive experience.
Overall Winner: Kasamba