Psychic Encounters has now merged with California Psychics, which came into effect on the 31st of March 2022.
Most of the psychics from Psychic Encounters can now be found on California Psychics. If you're still interested in Psychic Encounters, then please see our
California Psychics Review
for more information.
You can get a psychic reading on both Psychic Encounters and Keen Psychics, but you can expect quite a different experience on each site. So, which one should you choose?
Before you resort to eeny, meeny, miny, moe — read through this in-depth review. I've included detailed information on both these psychic services to help you make a better decision. I compared them based on types of readings, price, website usability, trustworthiness, and more.
You can also take advantage of Psychic Encounter's introductory offer of $0.99 per minute and Keen's 3 free minutes for new users.
Quick Summary of Winner in Each Category
💲 Starting price:
Psychic Encounters ($

0.99

per Minute)

🔮 Types of reading:
Keen (

20

+ Choices)

🤝 Trustworthiness:
Keen (

100% Satisfaction Guarantee

)

🎉 Added extras:
Keen (Psychic Matching Tool)
🙋 Customer Support:
Keen (Phone Support)
Psychic Encounters vs Keen Psychics: Types of Readings
Psychic Encounters
Psychic Encounters offers chat, phone, and video readings. I prefer phone readings myself but sometimes I like the intimacy of a face-to-face reading. I was surprised to see they have both English and Spanish-speaking readers. Psychic Encounters categories include:
Love
Money
Life Path
Departed Loved Ones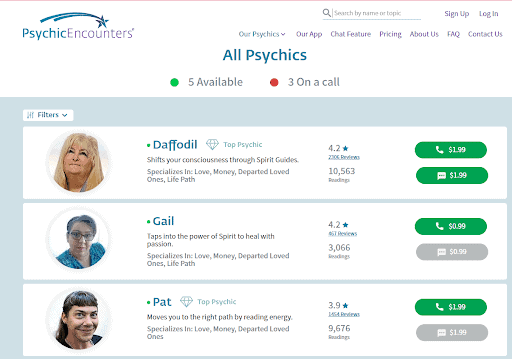 The categories might be broad but their psychics are gifted with a wide range of abilities and use a number of different tools to conduct readings. For the most part, you can expect to get a good conversational type of reading on Psychic Encounters.
While you won't see as many highly rated psychics on this site as you will on Keen, there is still a fair number of top readers to choose from.
Keen Psychics
Keen Psychics gives you access to phone and chat readings with top-rated psychics from around the world. They have a healthy amount of categories and specialties listed on their site. Their main categories are:
Psychic Readings
Love & Relationships
Life Questions
Tarot Readers
Spiritual Readings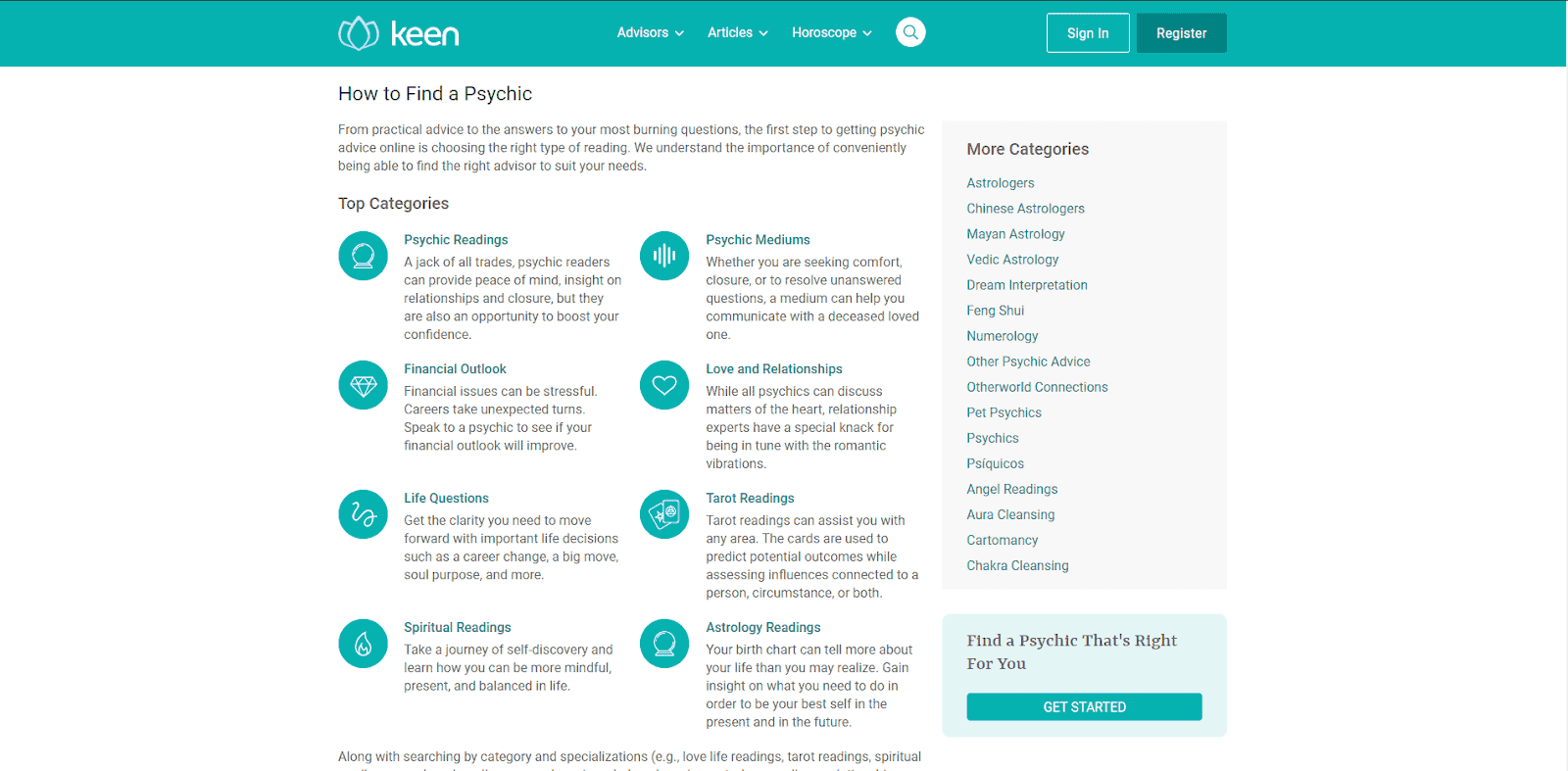 What I like most about Keen is their selection of reading categories and experienced psychics. However, the selection is not overwhelming.
All of the psychic advisors on Keen are highly gifted and work with a wide selection of tools, including tarot cards and crystals.
Winner: Keen for a better selection of top-rated psychics.
Browse Reading Types on Keen Psychics
Psychic Encounters vs Keen Psychics: Pricing
Psychic Encounters
Psychic Encounters is definitely one of the most affordable psychic sites I've come across. They have simple, flat rates. Calls are either $0.99 per minute or $1.99 per minute. So the difference that you pay for a top-rated psychic vs a more inexperienced psychic is only $0.99.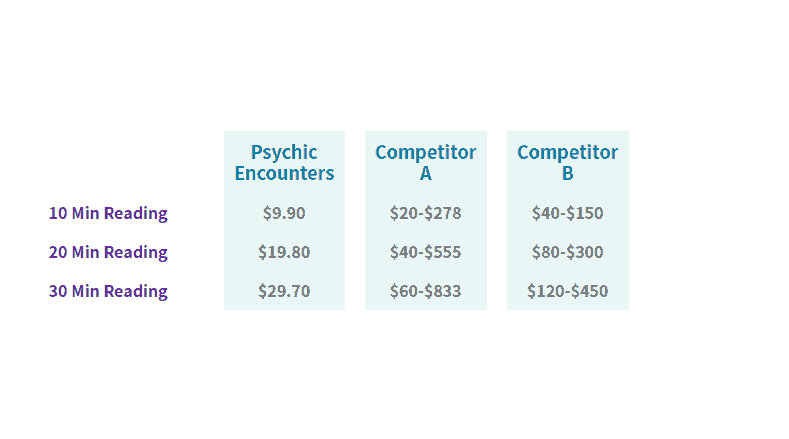 Psychic Encounters also has a pay-as-you-go model, which gives you more control over the amount of money you spend. Once you have successfully made your first purchase you can use the same payment method next time.
Keen Psychics
Keen's pricing is different because the psychics set their own rates. While the average rate is not as low, the pricing is more flexible. Calls generally range from $1.99 per to $10 per minute with the most expensive readers charging well above $10 per minute.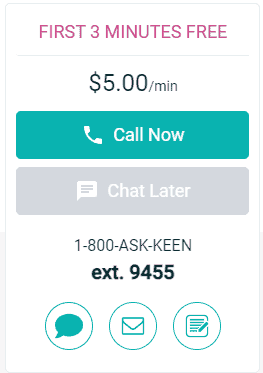 Fortunately, Keen Psychics does give new users the first 3 minutes of their initial reading for free. This way, you can try out the site and your preferred psychic before you pay for a full reading.
Winner: Psychic Encounters for affordable ongoing rates.
Psychic Encounters vs. Keen Psychics: Website Usability
Psychic Encounters
Psychic Encounters has a very simple, user-friendly website. Creating an account is easy and it's not hard to find a psychic, but some things bothered me.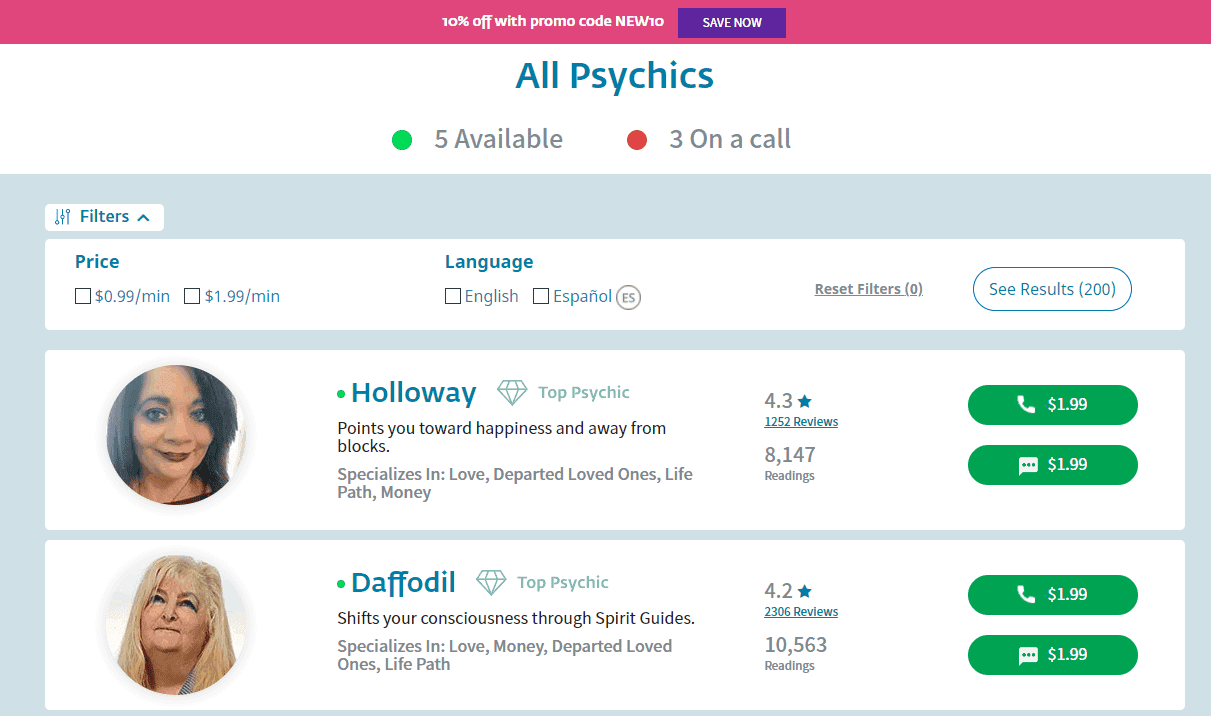 The categories are too broad for my liking, but for some, that may be an advantage. Additionally, there are no search filters, which also makes it hard to find the type of reading that you want. This isn't an issue after you get used to the service, but if you are using the site for the first time it can be frustrating.
You can click on each psychic's profile to learn more about them. After a bit of browsing, I was able to find a psychic that looked like she was a good fit. Once you've found the right person, click on the phone or chat button and you'll be taken to the sign-in or sign-up form.
After you sign up you will be asked to choose your payment method and that's it. The whole process only takes a few minutes.
Keen Psychics
When I was using Keen's website, I felt like I was in first-class. While their website is as smooth and intuitive as you'd expect, there are a few extra features that make it even better. First off, they have helpful search filters that make picking a psychic really simple.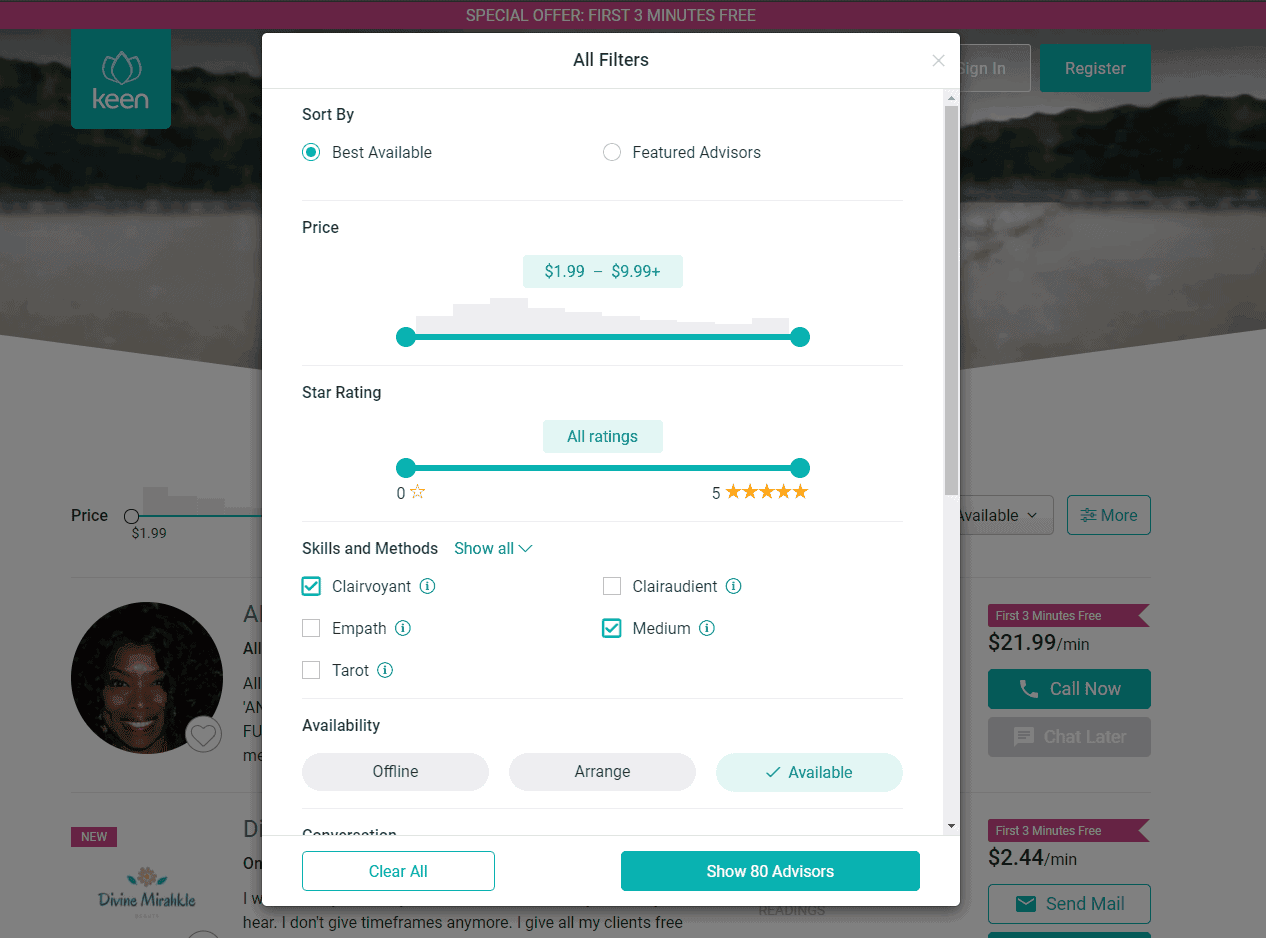 The strange part is that while this did save me time initially, I found myself spending more time searching for psychics on Keen because I was getting so many good search results.
Creating an account was easy and I was able to get my first reading within a few minutes. All you need is an email address to get started.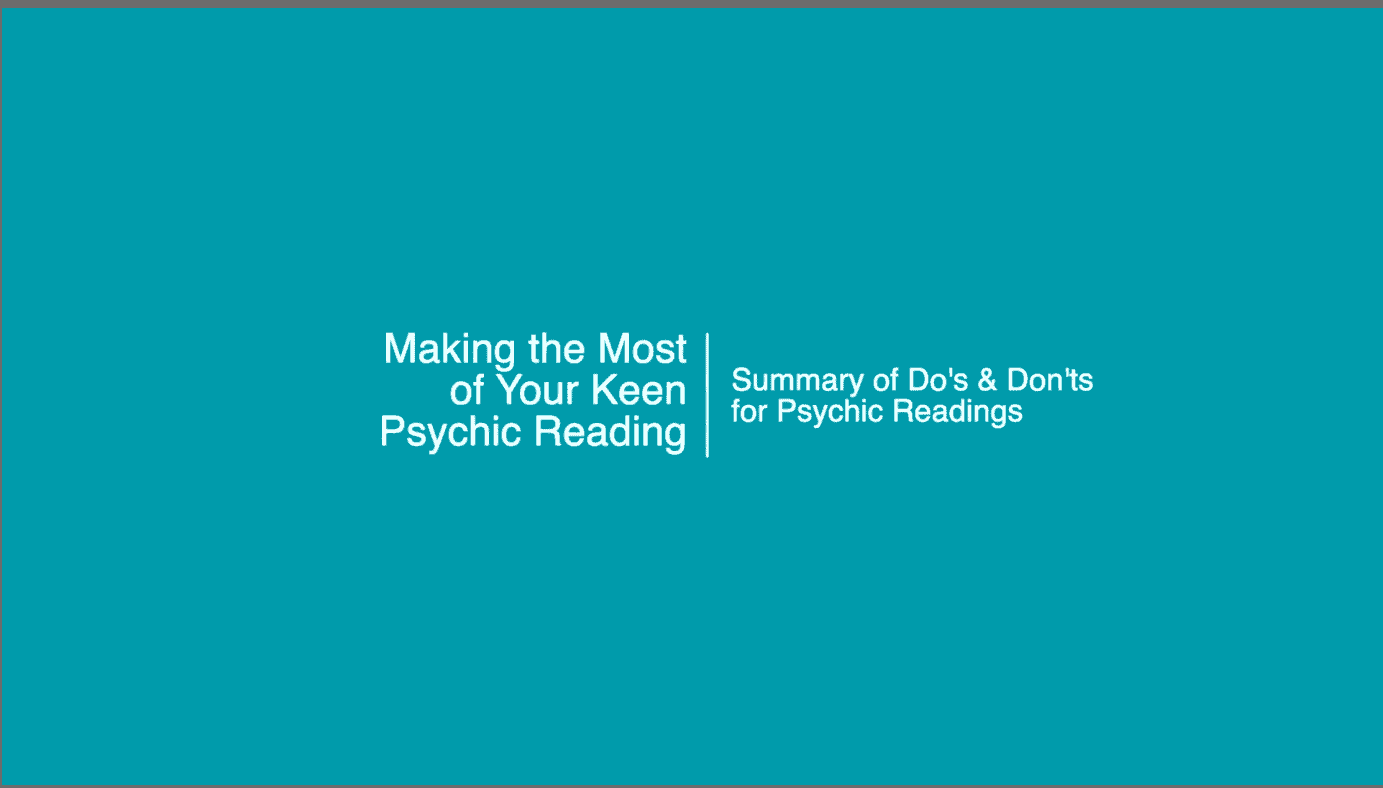 The profiles are easy to view and the website is full of useful information. You can even check your horoscopes and read interesting articles about all things psychic. Plus, there are a ton of helpful videos and guides on the dos and don'ts of psychic readings.
Winner: Keen for their search filters and helpful articles.
Claim Your Free Minutes on Keen Psychics
Psychic Encounters vs Keen Psychics: Trustworthiness
Psychic Encounters
I was hoping for more transparency from Psychic Encounters on their hiring process but I couldn't find much information. Despite this, they have a solid reputation as one of the better online psychic reading sites.
The company has been around since 2016 and has been growing rapidly. That tells me one thing, that they are doing something right. The profiles are informative and the reviews seem legitimate. You will find both positive and negative ratings and reviews from real people.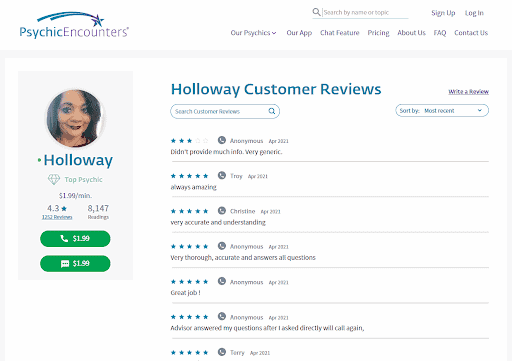 I wanted to test out their customer service so I opened a ticket. The good news is that support responded within 24 hours of my request. The bad news is that they don't do refunds. All in all Psychic Encounters lives up to their reputation. I guess I can give them a little leeway since the rates are so low, but the lack of a guarantee makes me reluctant.
Keen Psychics
With a reputation as the go-to place to get readings from top psychics since 1999, Keen is certainly in a much stronger position. As with Psychic Encounters, it's hard to find information on Keen's vetting process. That's about my only complaint.
The psychic profile pages give you a good idea of what you can expect from your reading and the rating system is strong. You can find plenty of top-rated psychics with a full review history.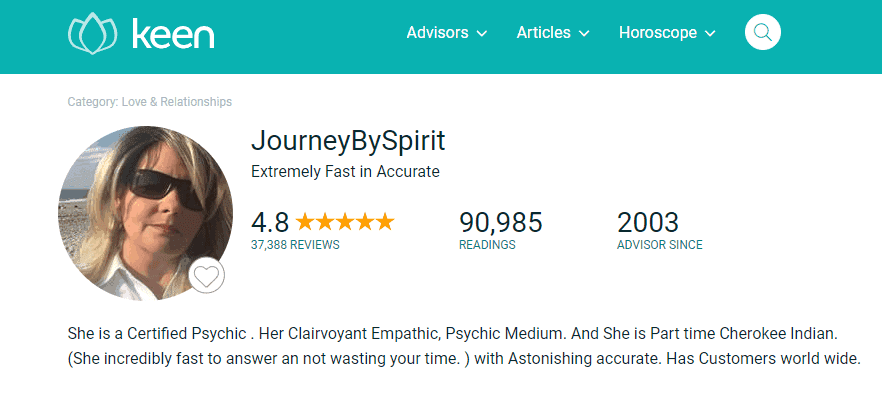 I was also happy to find out that they offer a 100% satisfaction guarantee. Keen offers refunds in the form of store credit up to a limit, as long as you make the claim within 72 hours of the call.
Winner: Keen for their 100% satisfaction guarantee.
Psychic Source vs. Keen Psychics: Added Extras
Psychic Source: Extra Features
Psychic Encounters doesn't offer a lot in terms of extra features, but they do have a mobile app for both iOS and Android. The app is easy to use and great for readings on the go.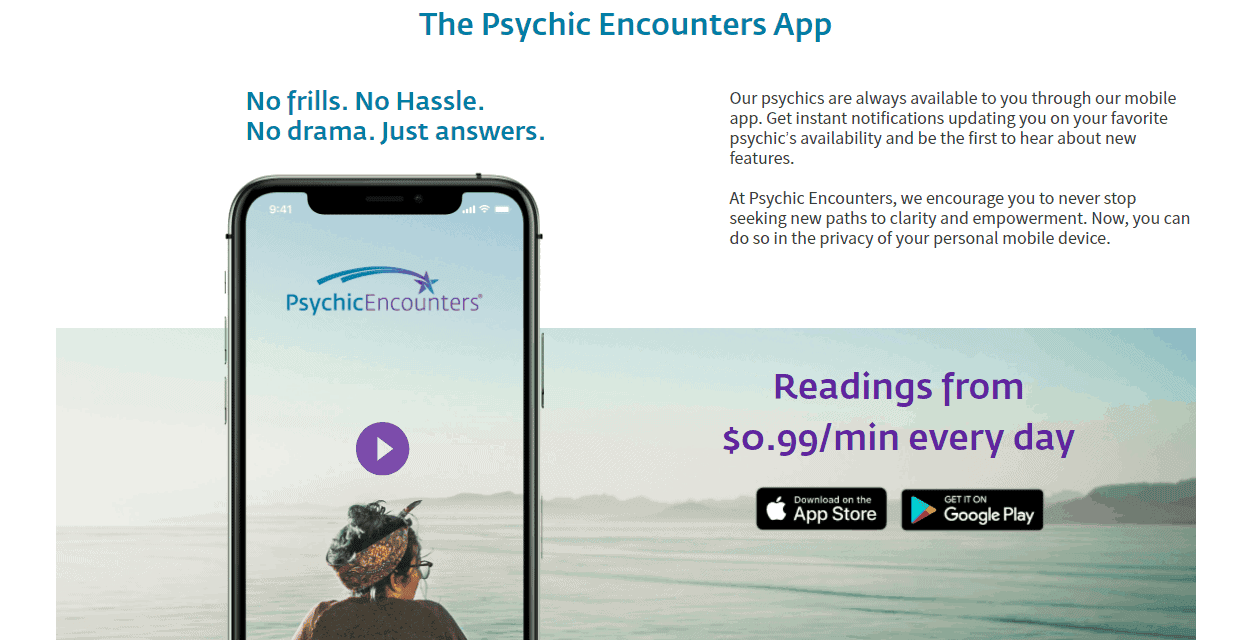 Keen Psychics: Extra Features
If you aren't sure what kind of psychic you're looking for, the Get Matched feature will do the work for you.By answering a few simple questions, the site will match you up with a few psychics that meet your requirements.
Keen Psychics also has a rewards program – every time you refer a friend, you get $25 worth of credits.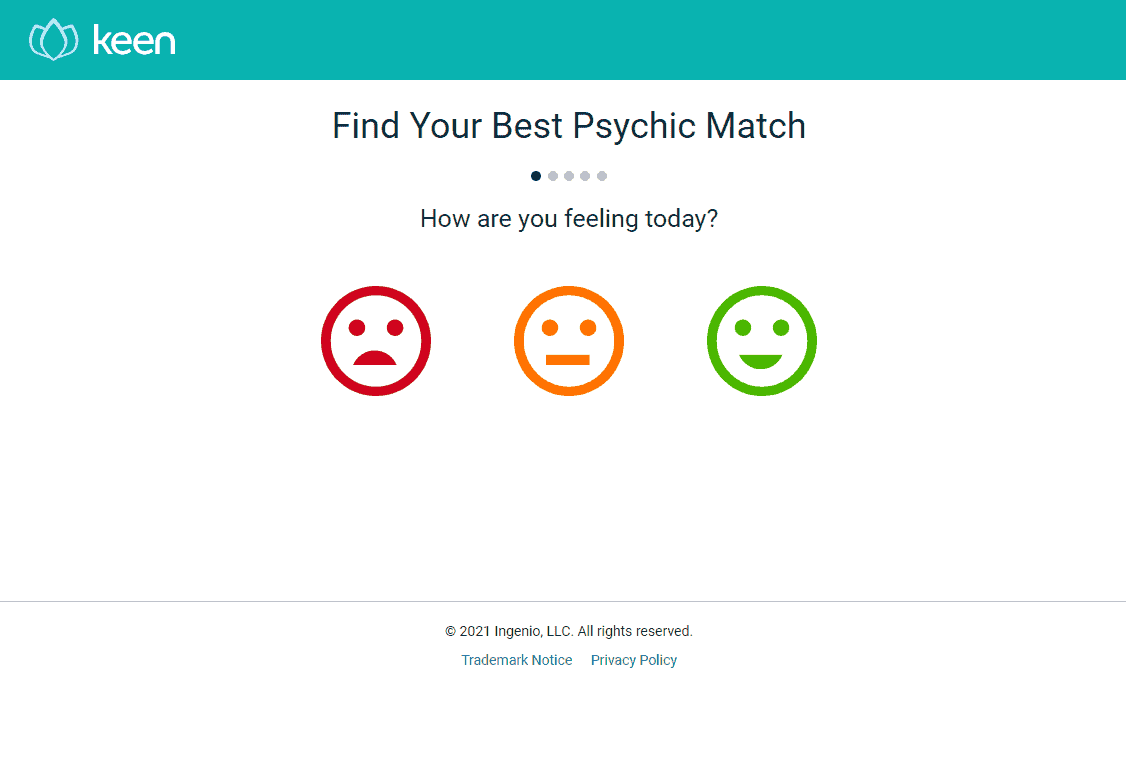 Winner: Keen Psychics for the Get Matched tool and their rewards program.
The Bottom Line Psychic Encounters vs Keen Psychics
As you know, there are many gifted psychic advisors out there, so it really comes down to choosing the right site for your reading. Keen Psychics is my preferred choice because it offers more choices. It's also much easier for me to find the right psychic.
If you need a more affordable way to connect with a psychic, Psychic Encounters is a great low-budget option. Don't get me wrong, you can find lots of top-rated psychics on this site too, but if you're happy to pay more for experience, Keen Psychics is a better choice.
Overall Winner: Keen