Psychic Encounters has now merged with California Psychics, which came into effect on the 31st of March 2022.
Most of the psychics from Psychic Encounters can now be found on California Psychics. If you're still interested in Psychic Encounters, then please see our
California Psychics Review
for more information.
Psychic Encounters vs Psychic Source: An Overview
Psychic Encounters is a fairly new site with a clear mission: to provide quality readings at low prices. Psychic Source, on the other hand, is focused on providing a memorable user experience and the chance to connect with psychics face-to-face.
How do you decide where to create an account though?
In this review, I will take you through everything you need to know about each site.
Quick Summary of Winner in Each Category
Psychic Encounters vs Psychic Source: Types of Readings
Psychic Encounters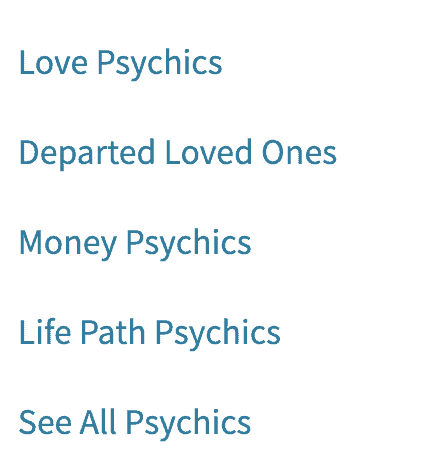 Psychic Encounters' mission aligns with how they've designed their site – there aren't a lot of bells and whistles, which is why they're able to keep their prices so low. Because of this, your only choices when looking for a reading will be psychics specializing in love, departed loved ones, life paths, and money.
Unfortunately, the site doesn't give you the option to filter your searches any further, but you can sort according to the psychic's rate and the language you'd prefer. There are over 180 psychics to choose from and if you'd like to know more about what they have to offer, a quick click on their profile will unpack useful information such as client reviews, rates, and how many readings they've conducted to date.
Psychic Source

Psychic Source customers are really spoilt for choice when it comes to types of readings. The site has over 300 psychics to choose from, and you can filter your search according to their specialties, reading topics, tools, and reading styles.
The site offers readings via live chat, phone call, and even video call, and if your favorite psychic isn't online, you can schedule a reading using the appointments tab.
Winner: Psychic Source for its wider selection of reading choices.
Psychic Encounters vs Psychic Source: Pricing
Psychic Encounters

Psychic Encounters is a frontrunner among popular psychic sites because of its amazingly low prices. You'll pay a minimum of $0.99 for a minute's reading with most psychics while readings with premier psychics on the site will cost you a maximum of $1.99 a minute.
The one thing that new customers should take note of is the once-off charge that Psychic Encounters collects for your first reading. $29.70 will be put on hold on your card during your first reading, however, you'll only be charged for the time you've used and your balance is refunded. I tested this process and was surprised that the remaining amount was back in my account within just a few days. You can find more information about this procedure on Psychic Encounters' pricing page.
Psychic Source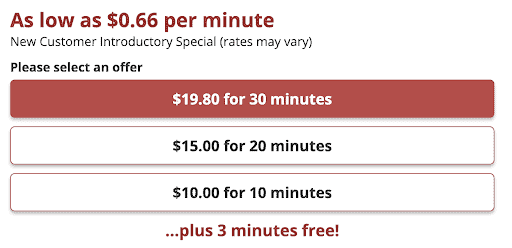 Psychic Source has a great introductory offer where you'll qualify for a rate of $0.66 per minute on the first package you purchase. This rate is only available once, though, so you'll need to choose between a 10, 20, or 30-minute package to take advantage of it. You'll also get three minutes completely free as a bonus when you sign up.
Once your introductory package is depleted, psychics have variable rates on the site, which have no limit. Most psychics do tend to stay within a reasonable amount, but there may be some who charge up to $18.99 a minute.
Winner: Psychic Encounters for its low per-minute rates.
Psychic Encounters vs Psychic Source: Website Usability
Psychic Encounters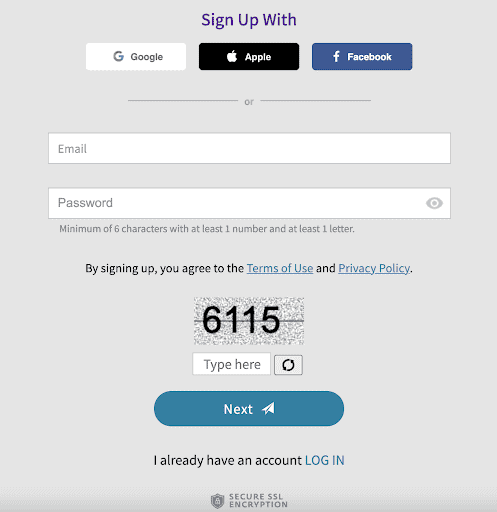 Signing up on Psychic Encounters couldn't be easier. The site doesn't request any personal information – simply select your preferred sign-up method (Google, Apple, Facebook, or email), create a password, and you're good to go. When you're ready to do a reading, the site will prompt you to set up and link your preferred payment method.
Navigating the site isn't difficult either. It allows you to choose whether you'd prefer a reading via live chat or phone call, and these methods are available on both the desktop site and the mobile app. The only downfall is that you can't schedule a reading with your preferred psychic at a time that works for you.
Psychic Source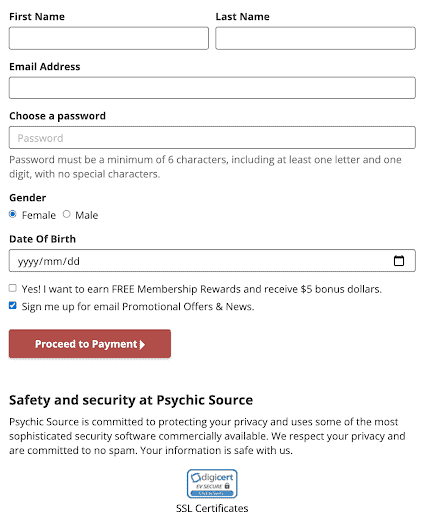 Psychic Source also only requires a few basic details for you to get started, however, you do need to select and pay for your introductory package during registration. You can pay for this package using your credit card, debit card, or PayPal, but no funds will actually be deducted until you start a reading.
Most of the Psychic Source advisors have an introductory video and audio clip that you can watch and listen to in order to get a better feel for their energy. During the reading, there is also a handy feature that allows you to see how many minutes you have left, and once your credit is depleted, you'll have the option to purchase more or terminate the session.
Winner: Psychic Source for ease of use and extra features.
Psychic Encounters vs Psychic Source: Trustworthiness
Psychic Encounters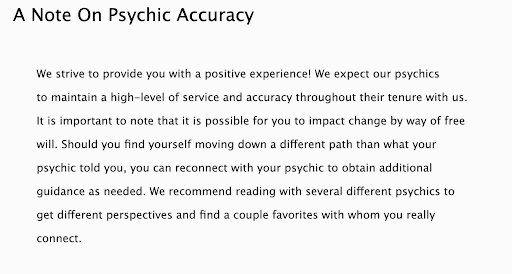 Psychic Encounters leaves much to the customer's imagination with its simplistic design, and because of this, there isn't an abundance of information about its processes. There is no indication of how they screen their psychics and if a refund policy is available.
The best way to get an idea of what you're signing up for on Psychic Encounters is by reading customer reviews. This will give you a clearer picture of each psychic's reliability. On a positive note, the site does state that it expects accuracy and professionalism from its psychics, so it's likely that some effort is made to ensure its psychics' credibility.
Psychic Source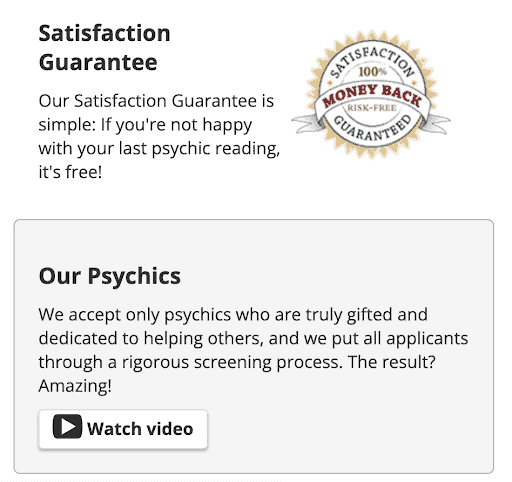 Psychic Encounters is really forthcoming about the fact that each psychic goes through a rigorous screening process. The site created a video featuring some of its psychics who speak to how the company truly believes in what it is offering to its customers.
Further to this, Psychic Source also offers a 30-day money-back guarantee. If you aren't happy with the quality of the reading, you can reach out to customer support to request a refund. When I tested this process I had the money credited back to me in just a few days.
Winner: Psychic Source for transparency and quality control.
Psychic Encounters vs Psychic Source: Added Extras
Psychic Encounters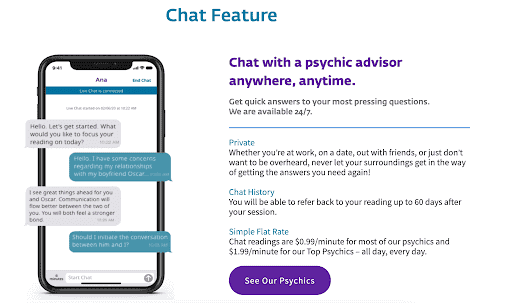 Psychic Encounters has an app that offers the same functionality you'd find on the website. This means that you have the option to connect with a psychic on the go.
The app offers a handy chat feature for when you need urgent assistance and can't get into a full psychic reading call. You can get any urgent questions you have answered, and this chat will be saved on your profile for up to 60 days so you can refer back to the helpful advice you received at any time.
Psychic Source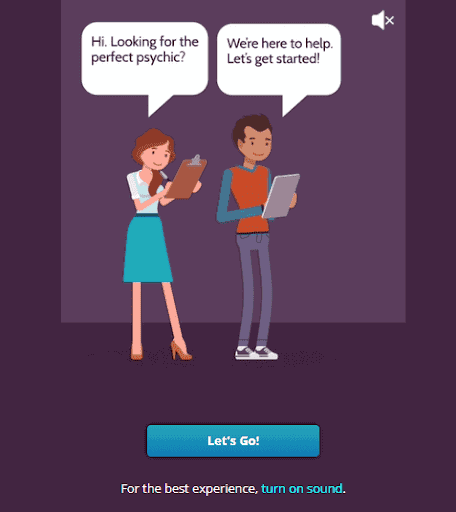 Psychic Source has several useful extras. Along with the free horoscope section, the site also has a wealth of helpful articles, videos, and podcasts.
My favorite feature though is the Find a Psychic Tool, which helps match you to the best psychics based on your needs. Simply answer a few questions to find your top psychic matches.
Winner: Psychic Source for its added extras.
The Bottom Line on Psychic Encounters vs Psychic Source
If you want a site that offers quality at a really affordable price, then Psychic Encounters is perfect for you. However, you would need to forgo the option of connecting with a psychic face-to-face over video.
If you prefer having more options in terms of psychics and types of readings, Psychic Source is a much better choice. You can also benefit from the site's low introductory rate and enjoy the peace of mind that comes with their screening processes and refund policy.
For this comparison, Psychic Source comes out on top.