Psychic Source vs. Kasamba: An Overview
Psychic Source and Kasamba both have decades-long reputations and feature highly sought-after advisors. But should one of these sites be crowned the best of the best?
These two sites might have a similar offering overall, but there are some key differences you should be aware of – differences that can help you determine which is a better pick for you.
In this review, I will outline what you can expect from both sites. From there, you can take advantage of their introductory offers.
Psychic Source's introductory rate works out to less than $1 per minute. Plus, you get the first 3 minutes of your reading for free. As for Kasamba, you'll be eligible for 3 minutes free with the first 3 psychics you try.
Quick Summary of Winner in Each Category
💲 Starting price:
[affiliate-link vendor="13333" deeplink-family="psychic-reading" alooma-button-id="18889"]Psychic Source ($

1

per Minute)

🔮 Types of reading:
Psychic Source (Video Readings

)

🤝 Trustworthiness:
Kasamba (

7-Day Refund Request Period

)

🎉 Added extras:
Psychic Source (Customer Rewards Program)
🙋 Customer Support:
Psychic Source (Live Chat Support)
Psychic Source vs. Kasamba: Types of Readings
Psychic Source
Right off the bat, Psychic Source sets itself apart from the crowd when it comes to reading types. While most psychic sites offer the choice to connect with readers via chat or phone, Psychic Source takes it one step further. You also have the option to speak to a psychic via video call. For a lot of people, this feature is essential, as it allows them to form a face-to-face connection with their reader, even from a distance.
When it comes to volume and variety of reading topics, Psychic Source has an impressive selection. You'll find filters for all the standard reading topics, like relationships, career, and life path. But you'll also find more specific and specialized subcategories, like toxic relationships, incomplete goodbyes, office romance, and more.
In total, Psychic Source has over 30 reading topics and a variety of psychics to choose from. Whatever guidance you're looking for, you'll very likely find a top-rated psychic who can meet your needs.
Kasamba
Similar to Psychic Source, Kasamba also has an impressive selection of reading topics to choose from. In addition to all the standard categories you'd expect, they also have some unique ones that Psychic Source actually doesn't have.
For example, you'll find over 80 picture reading advisors on Kasamba. These psychics answer questions and reveal secrets about your person of interest using just a photo of them. You'll also find over 30 Kabbalah advisors, which is an ancient esoteric specialty. Some of the other unique categories include Chinese and Vedic astrology, palm readings, occultism, and more.
Unlike Psychic Source, Kasamba does not have the option to meet with readers via video call. You can only connect with readers via phone and chat.
Winner: Psychic Source for their option to schedule a video reading.
Psychic Source vs. Kasamba: Pricing
Psychic Source
While Psychic Source's regular rates can be a bit expensive, the site offers a really great introductory package for new users. When you sign up, you'll be asked to choose between 3 introductory packages: 10 minutes for $10, 20 minutes for $20, or 30 minutes for $30. No matter which package you choose, you'll get an additional 3 minutes for free. That means that you can get up to 33 minutes for $30, which comes down to a rate of $1.10 per minute.
You'll see on the site that psychics charge introductory rates of either $1, $2, or $3 per minute, so you can divide your minutes between psychics however you'd like. Keep in mind that there are a few top psychics on the platform that don't accept introductory minutes.
After you've used up your introductory minutes, psychics' rates range from $4.99 to $17.99 per minute.
Kasamba
Because Kasamba is known for featuring some of the best psychics in the world, the platform is also known for its expensive prices. Unlike Psychic Source, the platform doesn't have discounted rates for new users. However, you'll get the first 3 minutes of your chat or phone reading for free with up to 3 new psychics. The purpose of these 3 minutes is to get to know a potential reader a little better and determine whether you want to pay for a reading.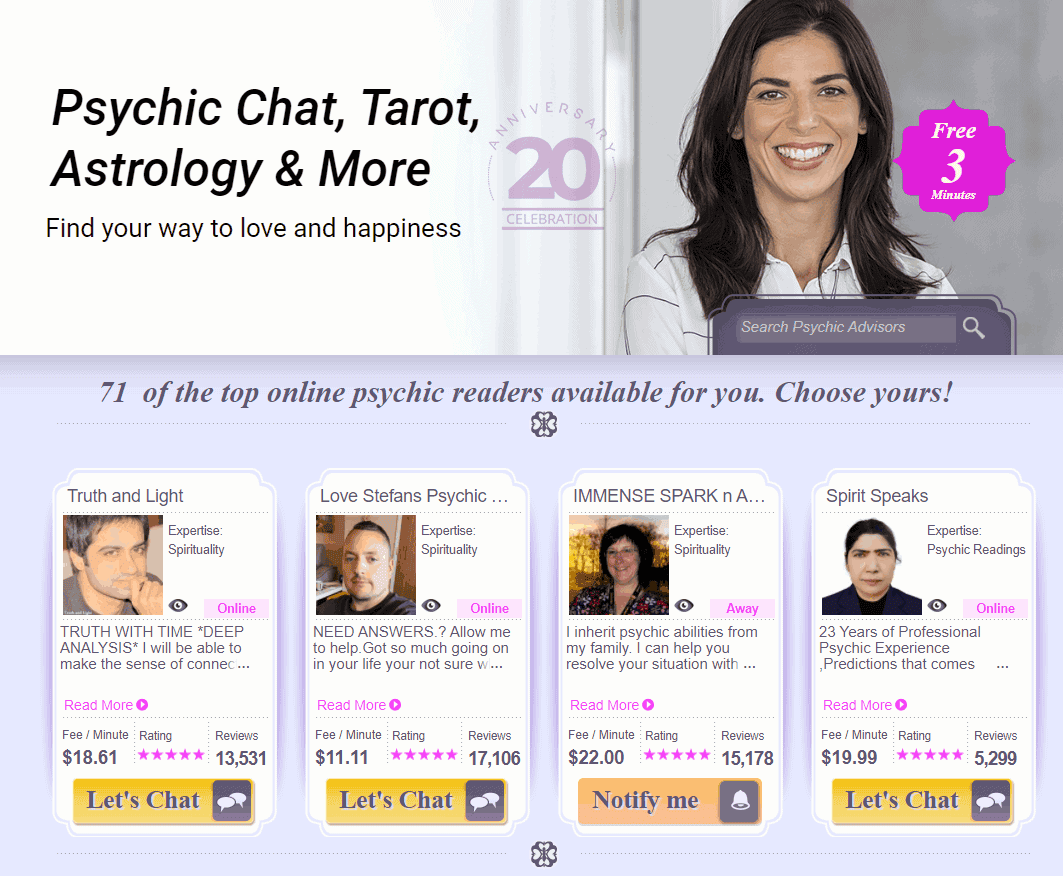 Psychics on Kasamba charge between $2.99 per minute, and $29.99 per minute. This means Kasamba might be the more affordable platform if you can find a reader with a rate less than $4.99 per minute (the lowest rate you'll find on Psychic Source). The good news is there are plenty of psychics that charge between $2.99 and $4.99 per minute.
On the other hand, there are many psychics on Kasamba that charge $20 per minute and above (whereas the highest rate I could find on Psychic Source was $17.99 per minute). So ultimately, the matter of which platform is more affordable comes down to the psychic you decide on.
Winner: Psychic Source for a good introductory offer and fair ongoing rates.
Get 3 Free Minutes on Psychic Source
Psychic Source vs. Kasamba: Website Usability
Psychic Source
One of the things I love about Psychic Source is that the platform makes it really easy to search for the exact type of reader you want. Using the site's filtering options, you can select the topic you're interested in as well as the psychic tools, abilities, and reading style you'd prefer. This might seem like a small detail, but most psychic reading sites don't offer in-depth filtering options like this.
Psychic Source also ensures you can get to know your reader using detailed profiles. Each profile even includes a pre-recorded audio message you can listen to.
Psychic Source has another basic feature that many platforms lack. If your chosen reader isn't available right away, you can check out their calendar and schedule a reading with them. If you've downloaded the Psychic Source app, you'll even get notifications reminding you of your scheduled reading, or when your advisor has logged on. All of these small but significant features add up to create a great platform. There is also a mobile app for readings on the go.
Kasamba
The reality is that Kasamba doesn't have the same level of functionality that Psychic Source does. While you can click on a specific category to see available readers, you're not able to filter your results by gift, tool, or reading style. You can read about your psychic's abilities and experiences on their profiles, but you won't be able to check their availability or schedule a reading.
One area where Kasamaba excels over Psychic Source is the account creation process. Psychic Source requires you to purchase one of their introductory packages in order to create your account. This isn't the case with Kasamba. Kasamba doesn't require any purchases or payment information— all you need to create your free account is an email address.
Similar to Psychic Source, Kasamba also has a mobile app that allows you to chat with readers on the go.
Winner: Psychic Source for their advanced filtering options.
Browse Readers on Psychic Source
Psychic Source vs. Kasamba: Trustworthiness
Psychic Source
According to Psychic Source's website, the platform boasts a history of over three decades. They don't offer many details regarding their psychic selection and verification process, but they uphold a code of ethics that prohibits advisors from imposing personal beliefs on clients or seeking external business from clients.
Psychic Source also has a satisfaction guarantee which states that if you're unhappy with your reading for any reason, you can request a refund. You need to submit your request within 24 hours though. The team will review your request, and you can receive up to 20 minutes' worth of credit back to your account.
Kasamba
Kasamba has been around for over 20 years and the site states that it has helped over 3 million people find guidance since 1999. Similar to Psychic Source, the site doesn't offer much information about how they vet their psychics, but they do offer a satisfaction guarantee.
Kasamba's satisfaction guarantee states that if you're unhappy with your first reading, you can apply for a refund within 7 days. Once their team reviews your request, you can receive up to $50 worth of credits. Their time frame and refund amount are larger than Psychic Source's, but keep in mind that this guarantee only applies to your first reading on the site.
This doesn't mean you can't request a refund at all after your first reading. Just keep in mind that Kasamba reserves the right to deny your request. One positive sign is that it's easy to find the refund request form on the site, unlike other psychic reading platforms that bury their refund forms.
Winner: Kasamba for their extended refund request period.
Psychic Source vs. Kasamba: Added Extras
Psychic Source: Extra Features
If you explore Psychic Source's website, you'll notice that the platform has a blog full of articles with advice across a wide range of topics, as well as some useful guides on tarot, astrology, numerology and more.
The extra feature that sets Psychic Source apart though is its rewards program. When you sign up, you can enroll in the rewards program completely free, and you'll begin earning 3% cash back on every purchase you make. These rewards can be applied to future readings.
You can also earn rewards dollars by being a frequent user: 10 readings in a month earns you 10 rewards dollars, 20 readings earns you 25 rewards dollars, and 30 readings earns your 50 rewards dollars. Just keep in mind that you can't earn more than 50 rewards dollars every month.
Kasamba: Extra Features
Similar to Psychic Source, Kasamba also has a blog that offers advice on a range of life topics, as well as a tarot and astrology guide. You can also read advisors' personal stories about their psychic journeys and how they've helped clients find answers.
Winner: Psychic Source for their customer rewards program.
Create an Account on Psychic Source
The Bottom Line on Psychic Source vs. Kasamba
Out of these 5 categories, Psychic Source came out on top. But that doesn't mean Kasamba isn't a platform you should consider.
Consider the platforms' prices – while Kasamba does feature more expensive advisors than Psychic Source, they also feature more affordable ones too. So if affordability is a priority, you simply have to choose your advisors more carefully.
Then there are the advisors – while Kasamba is known for their world-renowned psychics, you can find top-rated psychics on Psychic Source too. It's just a matter of taking the time to explore each site.
You also need to consider the unique features that each site offers. If you prefer having face-to-face readings, Psychic Source is the obvious choice.
The bottom line is that both of these sites are well worth your time, and are must-sees when it comes to searching for the right psychic for you.