Choosing between Psychic Source and Keen Psychics couldn't be more difficult. These are two top psychic reading services, but how do you know which one is right for you?
Psychic Source has been around for over three decades, so their experience is unmatched. However, Keen Psychics also has a long track record of over 20 years and glowing reviews.
Both sites are similar in the services they offer, but after testing them out, I found some key differences that will help you decide between Keen Psychics vs. Psychic Source.
Quick Summary of Winner in Each Category
Psychic Source vs. Keen Psychics: Types of Reading
Both Keen Psychics and Psychic Source offer a wide range of psychic readings, but I was really surprised by just how many specialities Keen Psychics has to offer.
Keen Psychics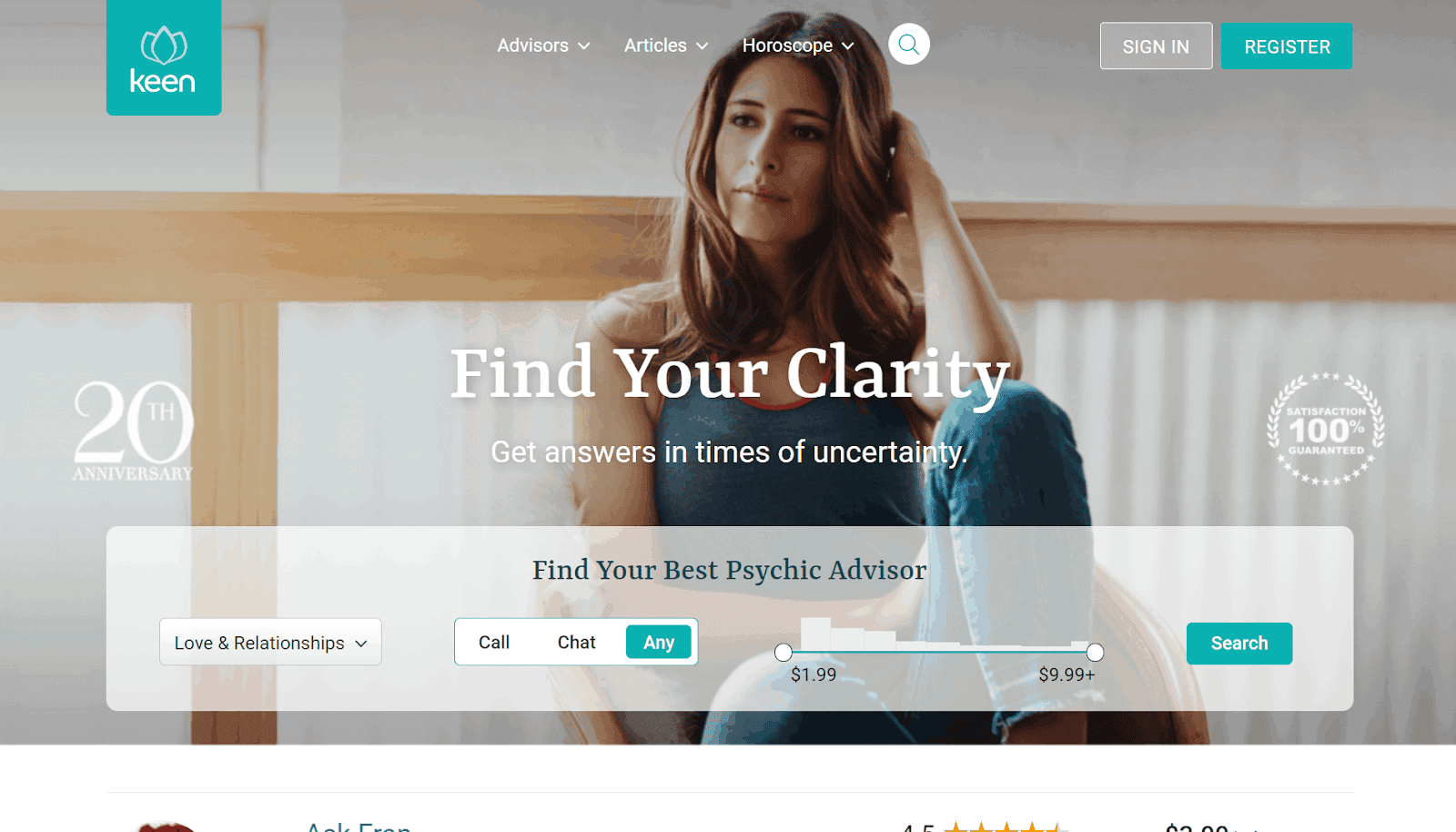 Keen Psychics are only available via call or chat, and their top categories include:
Psychic Readings. I found that most psychics fall under this category. Thankfully, you can filter your results based on reviews, costs, and whether you prefer readings over chat or phone.
Love and Relationships. I found a lot of psychics in this category too – over 75 advisors to be exact, At least most of them are highly experienced, so it's difficult to choose the wrong psychic.
Life Questions. There are over 50 psychics to choose from in this category, most of whom have a 4.5/5 rating.
Spiritual Readings. Around 40 Keen Psychics are ready to walk with you on your spiritual journey.
Tarot Card Readings. I was surprised by how few Keen Psychics popped up under this category. However, I noticed a lot of the advisors in the Psychic Readings category use tarot cards as a tool, so you can also search there if that's what you're looking for.
Other categories. There are 10 more categories to choose from, ranging from Feng Shui and spiritual connections to angel readings and chakra cleansings.
Keen's variety is impressive, but it might be a little overwhelming if you're not yet familiar with online psychic reading services. And while most of their psychics have detailed profiles and reviews, some profiles had next to no information despite being with Keen Psychics for years.
Psychic Source
Psychic Source, on the other hand, simplifies things with 12 categories that cater to the most common types of readings:
Tarot Readings – If you're specifically interested in tarot readings you'll find many 4 and 5-star psychics ready to guide you. However, over 165 psychics use tarot cards across other categories too, so you have options.
Astrology Readings – You'll find over 45 psychics in this category, so it's easy to narrow down your list of who to choose.
Numerology Readings – I was pleased to find a numerology category that's separate from astrology. Some psychic reading sites tend to group these together, but Psychic Source has over 30 advisors that specialize in this specific tool.
Spiritual Readings – With less than 50 psychics in this category, finding the right psychic for you won't be an overwhelming task.
Love Readings – This is where the bulk of the psychics are, so deciding on who to choose might be difficult. Thankfully, most of them have 5-star ratings, so you can hardly go wrong with whoever you choose.
Dream Interpretation – Over 35 advisors offer dream interpretation readings.
Other categories – Psychic Source also offers angel, cartomancy, lost object, past life, and love tarot readings. There is also an energy work category if that interests you. However, I believe energy work should ideally be done in person.
Along with choosing a specific type of reading, you can also search based on types of psychics to find your ideal psychic match.
Winner: Psychic Source, for keeping things simple by only offering several reading categories. Experienced psychic clients will be okay with Keen's large selection of categories, but newbies may find it overwhelming.
Psychic Source vs. Keen Psychics: Pricing
Psychic Source
Psychic Source plans include 10, 20, and 30 minute options. The more minutes in the plan, the cheaper the per minute rate – you could end up paying as low as $1 per minute. Just keep in mind that different advisors charge different rates, and some are quite expensive.
New users get the first 3 minutes free when they purchase a plan. This wasn't enough for me to get a full reading, but it's a great way to get a feel for a Psychic Source advisor.
Keen Psychics
Keen Psychics plans start as low as $1.99. The service can get a bit pricey though, depending on the psychic advisor you choose – some might charge as much as $30 per minute.
I really liked their introductory offers. New users get 3 minutes free to try out a psychic advisor, as well as 10 minutes for $1.99 which can be used for different sessions.
Winner: Keen Psychics, for their different pricing options and 10-minute introductory offer.
Psychic Source vs. Keen Psychics: Website Usability
Psychic Source
My first impression of the Psychic Source website was that it looked a bit outdated. However, after browsing through the site, that turned out to be an advantage – simple, straightforward, and very easy to navigate.
I started off with their Find a Psychic tool. It asked a few questions to help me determine what type of reading or psychic I wanted, then suggested 3 advisors based on my responses. I was impressed by how easy it was, and it'll come in handy if you're new to these types of services.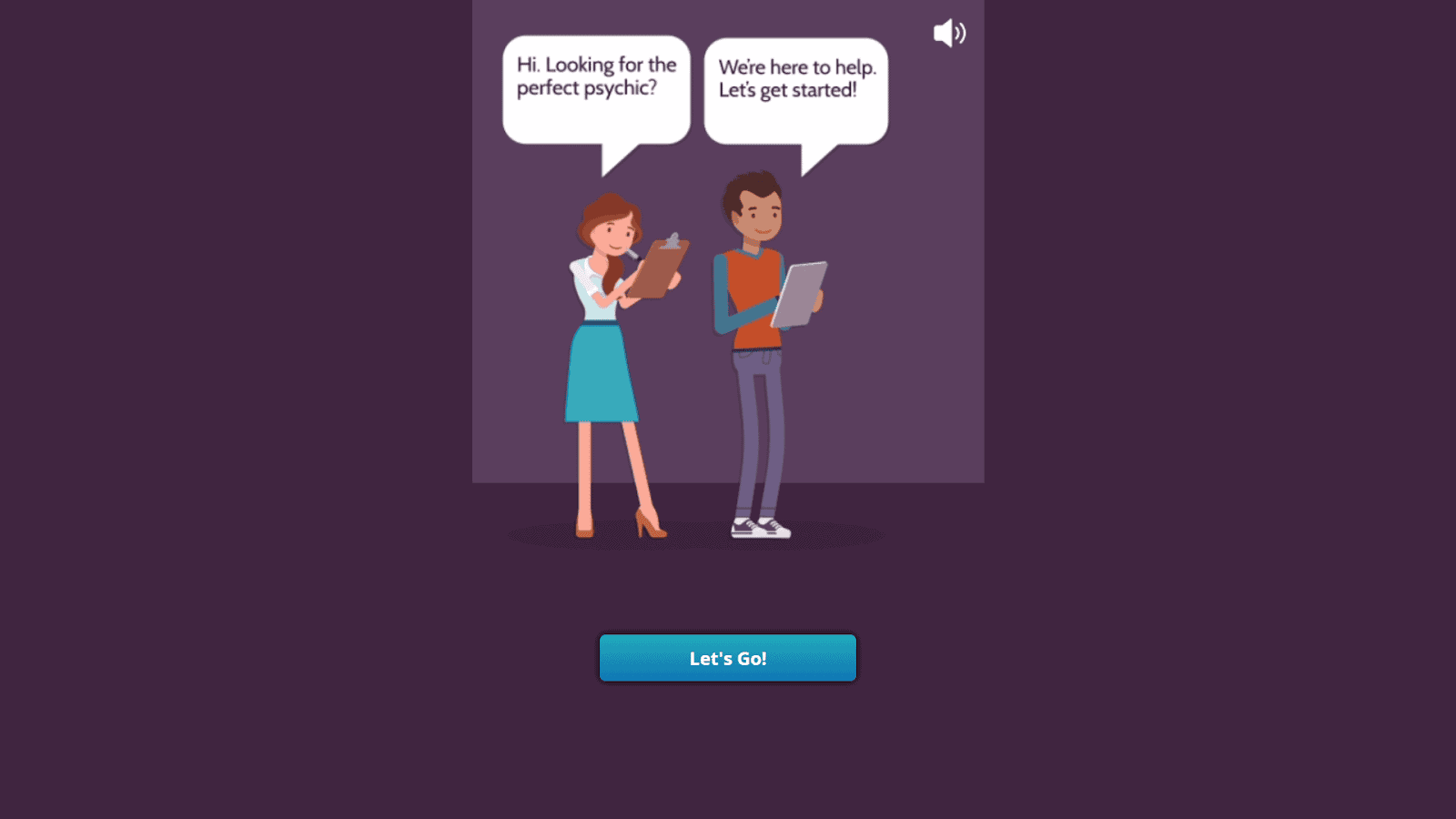 Searching through the different types of readings and psychics is straightforward. Just click an advisor to read their in-depth profile, complete with reviews, costs, and other details to help you decide.
After choosing your psychic, you need to create an account before going any further. This includes purchasing a plan with your debit card, credit card, or PayPal account.
At this point, you can schedule your session as a call, video, or chat. I prefer video as it allows me to see my psychic and have a face-to-face conversation.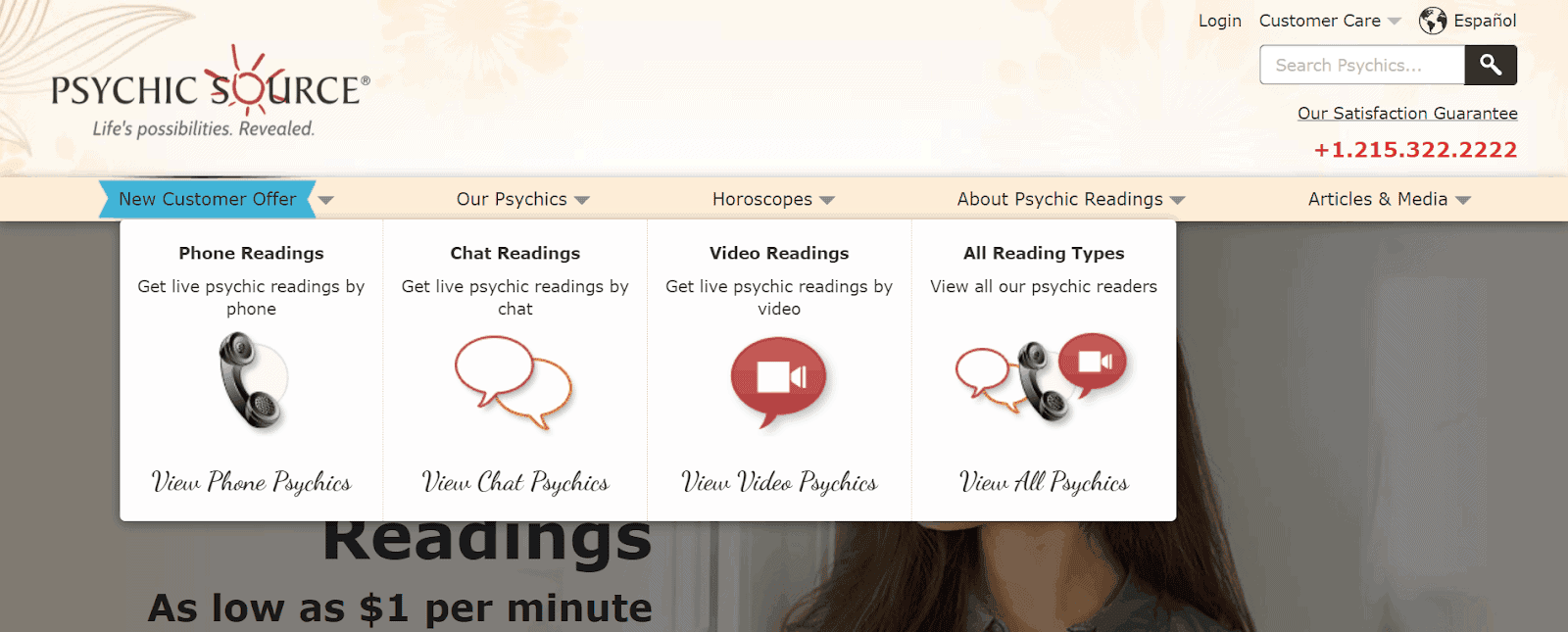 You can also download the Psychic Source app on Google Play or the App Store. I was impressed by how smoothly the app worked, especially the feature that shows which psychics are currently online. The app gives you the option to schedule a session whenever, wherever.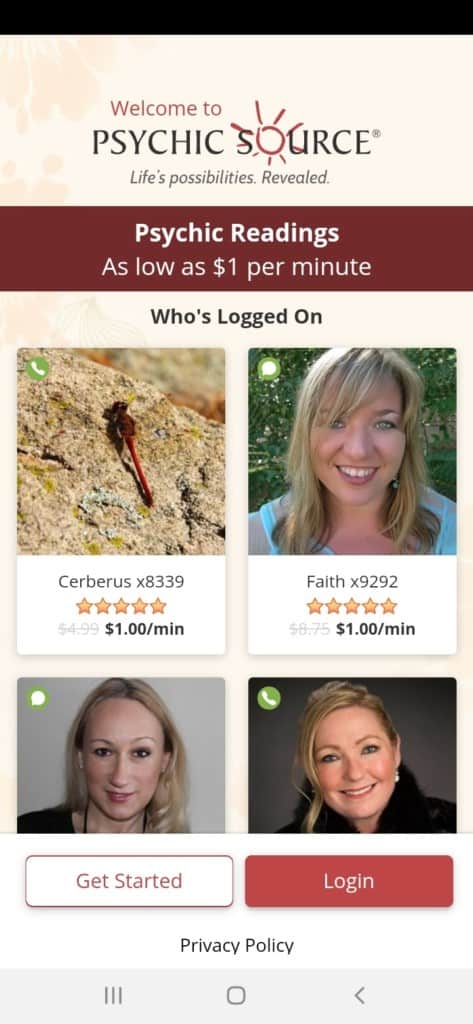 Keen Psychics
Keen's website is also very easy to use and you can start searching for a psychic right away.
The search tool filters psychics based on price, reading delivery method, and type of reading. Once you select a psychic from the search results, you're taken to the signup page.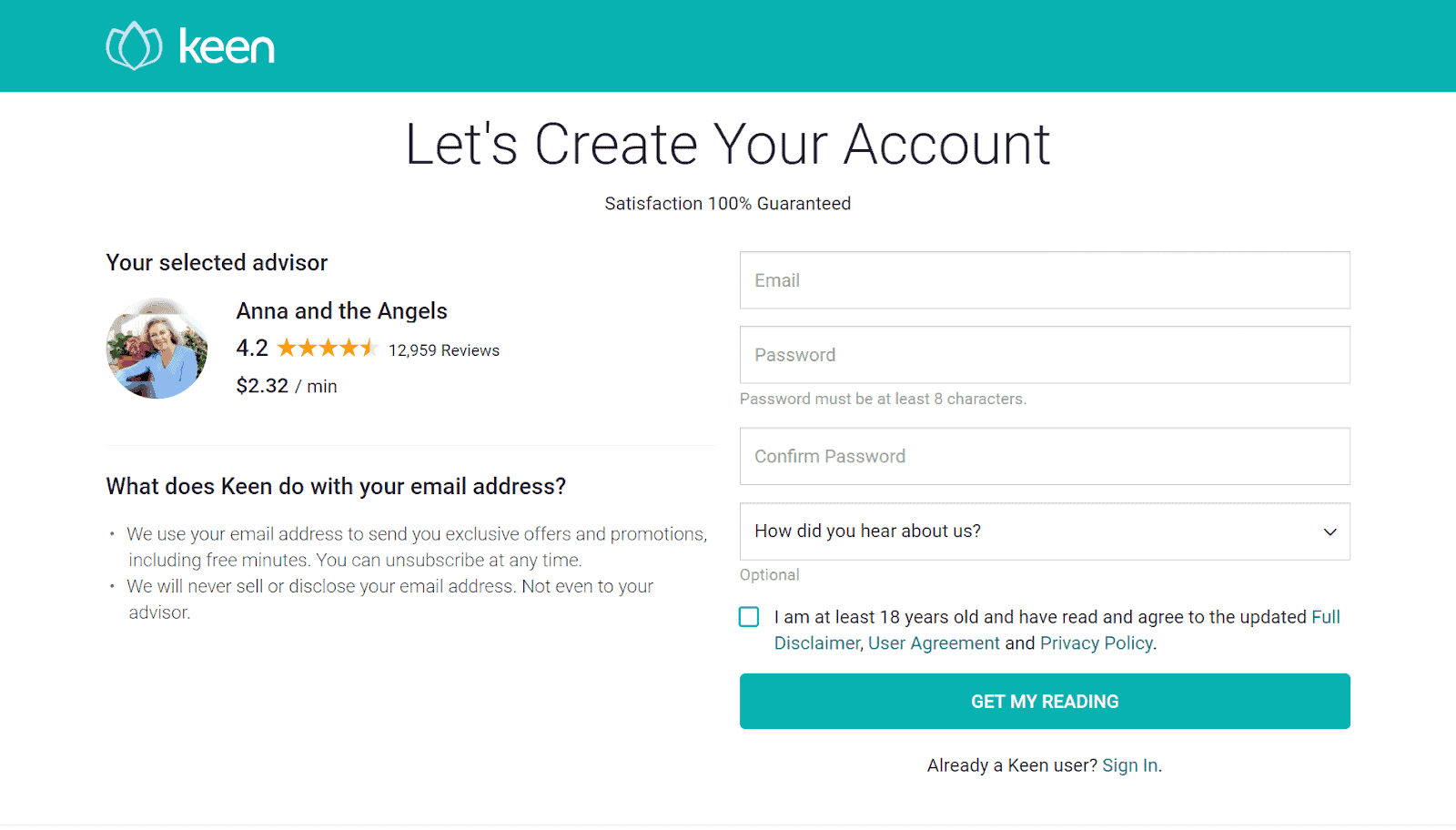 The signup process is straightforward – just enter your email, password, and indicate where you heard about their services.
Keen Psychics also has a Psychic Match tool that asks you a few questions before matching you to psychics that fit your needs.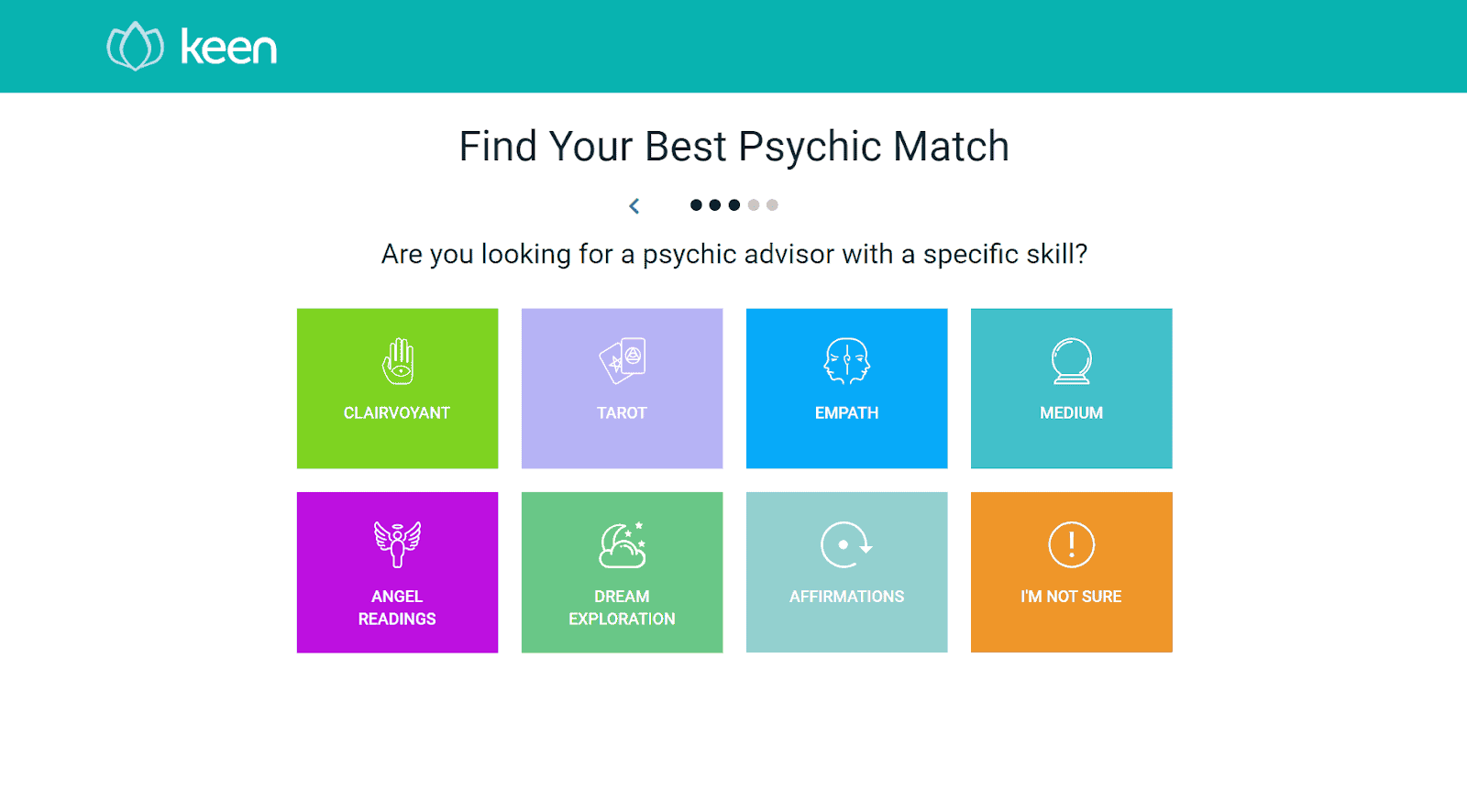 You can dig deeper into Keen's psychics before you schedule a reading by exploring the detailed profiles. However, because some profiles don't give much information and lack reviews, there are times when deciding on a psychic is difficult.
To get your session started, you'll have to top up your account with your debit card, credit card, or PayPal account. There are no video sessions, but you can call or chat with your chosen advisor.
Keen Psychics also has an app on the App Store and Play Store. You'll get a similar experience to the website except you can use it on the go.
Winner: Psychic Source wins this round. The detailed psychic profiles make it easier to know if an advisor is right for you, and the video option is awesome.
Find a Psychic on Psychic Source
Psychic Source vs. Keen Psychics: Trustworthiness
Psychic Source
Psychic Source offers a 100% satisfaction guarantee. If you're not satisfied with your session, they refund your minutes.
The site has been around for over 30 years, and they've maintained a good reputation. And because you purchase plans directly from Psychic Source, their advisors have no access to your information.
You won't find any information about how Psychic Source advisors are hired, though. Fortunately, there are thousands of reviews from past users that serve as an objective source to help you make an informed decision.
Keen Psychics
Keen Psychics also has a 100% satisfaction guarantee in the form of a credit to your account. However, the satisfaction guarantee can only be used once a month.
Keen Psychics is also vague about how it chooses psychics, but with over 20 years of good reviews, they must be doing something right. What's odd is that many of the psychics who have been on Keen Psychics for years have only performed a few readings.
Winner: Psychic Source takes this round. It's hard to beat 30 years in the business, their satisfaction guarantee, and in-depth psychic profiles.
Schedule a Reading on Psychic Source
Psychic Source vs. Keen Psychics: Added Extras
Psychic Source
Psychic Source members benefit from some cool features:
If you or your psychic is unavailable, you can schedule a reading for a later time/date.
Psychics leave a voice message on their profile to give you an idea of what you can expect.
Use the Favorite Tool to add psychics you're interested in to a personalized list.
You'll find a video guide on the homepage explaining how Psychic Source works.
Their free horoscopes provide users with additional guidance.
Get a $5 bonus when you opt into the Membership Rewards program during sign up.

Keen Psychics
Here are some unique features I found on Keen Psychics:
You'll find videos from featured psychics guiding you on how to make the best of your experience.
Keen Psychics offers free horoscopes for members and non-members.
A range of psychic and spiritual articles are available on the site.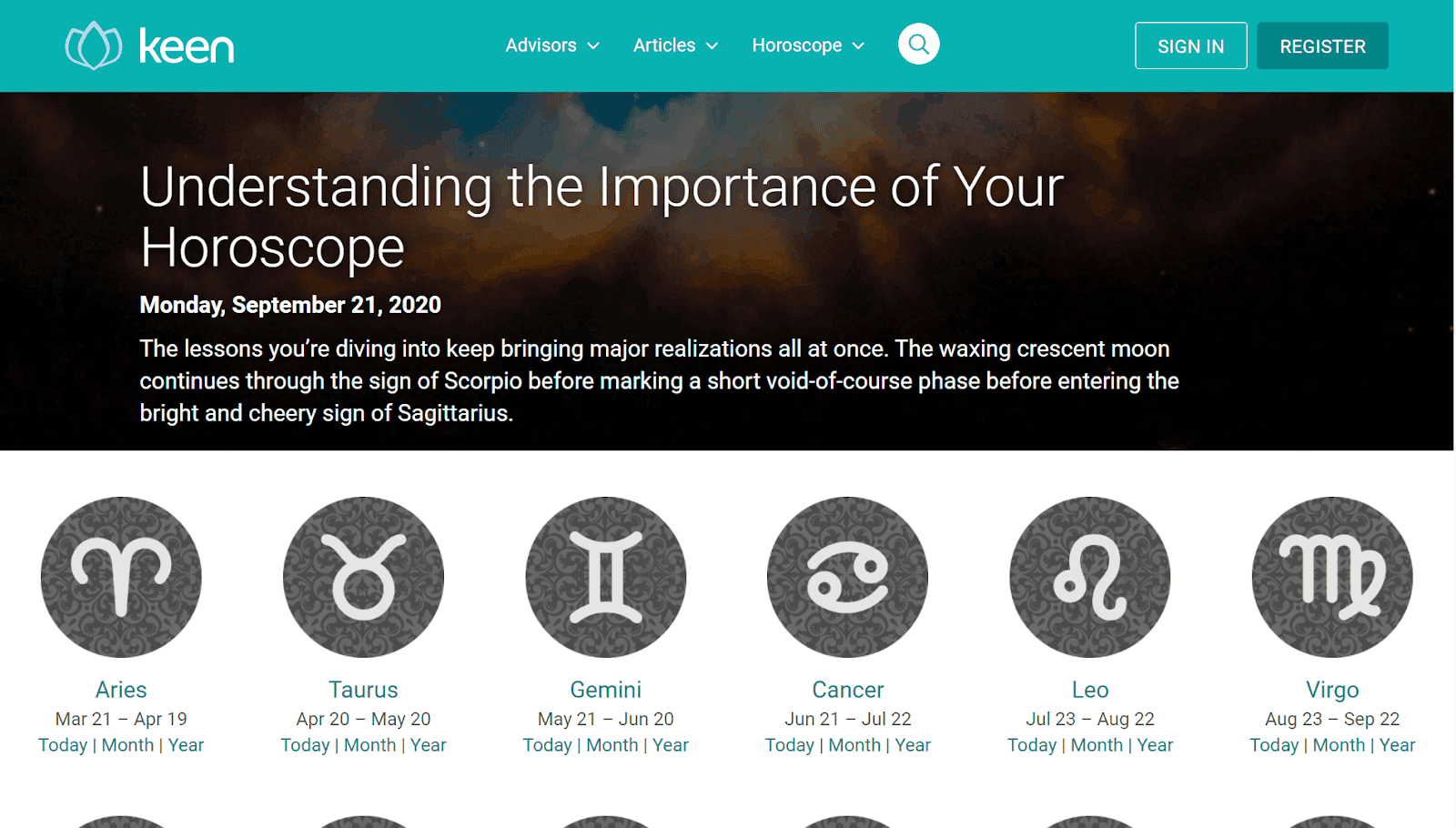 Winner: Psychic Source wins this round. Their $5 Membership Rewards bonus puts them ahead for obvious reasons, and the Favorite tool is very helpful when narrowing down your list.
Bottom Line on Psychic Source vs. Keen Psychics
Both Keen Psychics and Psychic Source offer mostly the same services, but their approaches are slightly different. I found both sites easy to use, reasonably priced, trustworthy, and they're both packed with extra features. However, there are some differences that make them a better choice for different audiences.
Getting the best psychic reading depends on your unique needs. What do you find important in a session? What are you looking for? If you're very familiar with psychic readings, Keen's many options are perfect for you. If you're just starting out, then Psychic Source's simple approach could be a better match.
If you're still not able to decide between these two sites, be sure to read my colleague's expert review on Keen Psychics, as well as Psychic Source. As for my experience with both sites, it led me to a verdict that I think many could agree with.
Winner: Choose Psychic Source if you want a website that's easy to use and offers a good selection of reading types from a number of experienced psychics.