Psychic Source and Keen are both renowned platforms with great performance track records. But if you're struggling to choose between the 2, you'll need to consider the quality of their services and whether they're worth your money and time. To help you make an informed decision, I've thoroughly tested and compared Keen and Psychic Source.
Based on my findings, I discovered Keen is the better option for several reasons. I like how the platform covers various niche topics, such as dream interpretations and women's issues. This lets you get guidance on areas not usually covered by other psychic sites.
Additionally, Keen is more affordable than Psychic Source, which means you can consult with a reputable psychic without going over budget. You also use its introductory offer to enjoy discounted rates and 3 free minutes with any psychic you choose.
Short on Time? Here Are My Key Findings
Keen
Psychic Source
⭐ Best Feature
🥇 Message and email psychics directly
Free chat transcripts
🔮Reading Themes
🥇 13 themes
9 themes
🤝Trustworthiness
🥇 Satisfaction guarantee and psychic vetting process
Satisfaction guarantee and strict recruitment process
🧙 Psychic Profiles
🥇 250+ psychics available who can guide you via live chat or phone.
280+ psychics who offer live chat, phone, and video reading services.
📱Ease of Use
🥇

User-friendly and well-designed website which loads smoothly.
Mobile app available for iOS and Android

Website loads quickly and supports English and Spanish
Mobile app available for iOS and Android.

💁Delivery Methods
Live chat and phone only
🥇 Live chat, phone, and video
💲 Pricing
🥇 Readings start from $0.66 per minute
Readings start from $4.99 per minute
🔧Customer Support
FAQ and web ticketing system only
🥇 FAQs. web ticketing system, and 24/7 live chat
🌍 Other Features
🥇

Free customized horoscopes
Intuitive psychic matching tool

Pre Recorded messages
Schedule readings in advance
Reading Themes, Methods, and Skills — Keen Pulls Ahead of Psychic Source
Keen is the better choice compared to Psychic Source regarding reading themes, methods, and skills. Being able to receive expert advice from psychics in niche areas like women's issues or dream analysis helps you find a more compatible advisor.
Plus, Keen's psychics also use a wide variety of exotic tools like runes, which can help provide greater clarity and insight into the situation you're dealing with.
Reading Themes
Keen is slightly ahead of Psychic Source when it comes to reading themes. While Psychic Source provides readings on topics like love, career, and finance, it doesn't cover more niche reading topics. This means Keen can provide comprehensive guidance on a wider range of issues.
| | | |
| --- | --- | --- |
| Themes | Keen | Psychic Source |
| Love | ✅ | ✅ |
| LGBTQ+ | ✅ | ✅ |
| Breakups & divorce | ✅ | ✅ |
| Infidelity | ✅ | ✅ |
| Family and friends | ✅ | ✅ |
| Commitment-phobia | ✅ | ✅ |
| Career | ✅ | ✅ |
| Dream interpretations | ✅ | ❌ |
| Life path | ✅ | ✅ |
| Women's issues | ✅ | ❌ |
| Money | ✅ | ✅ |
| Pet | ✅ | ✅ |
| Deceased loved ones | ✅ | ✅ |
| Grief | ✅ | ✅ |
| Spirit guides | ✅ | ✅ |
Reading Methods
While Psychic Source's experts make use of tarot cards, astrology, and crystals, Keen's psychics make use of a larger selection of psychic tools. This even includes more exotic reading methods like Feng Shui and alternative astrology fields, giving psychics more versatility.
| | | |
| --- | --- | --- |
| | Keen | Psychic Source |
| Tarot | ✅ | ✅ |
| Astrology | ✅ | ✅ |
| Crystals | ✅ | ✅ |
| Feng Shui | ✅ | ❌ |
| Runes | ✅ | ❌ |
| Pendulum | ✅ | ❌ |
| Numerology | ✅ | ✅ |
| I-Ching | ❌ | ❌ |
| Oracle Cards | ❌ | ❌ |
| Cartomancy | ✅ | ✅ |
| Vedic, Mayan, Chinese Astrology | ✅ | ❌ |
| Reiki | ✅ | ❌ |
| Aura/Chakra Cleansing | ✅ | ✅ |
Skills and Abilities
Psychic Source and Keen are closely matched with skills and abilities, but the latter stands out as its psychics can conduct remote viewing sessions. This allows Keen's psychics to gather insights based on people or places in faraway locations hidden from plain sight.
| | | |
| --- | --- | --- |
| Skills/Abilities | Keen | Psychic Source |
| Clairvoyants | ✅ | ✅ |
| Clairsentient | ✅ | ✅ |
| Medium | ✅ | ✅ |
| Clairaudient | ✅ | ✅ |
| Energy Healing | ✅ | ✅ |
| Psychic Empath | ✅ | ✅ |
| Dream Interpretation | ✅ | ✅ |
| Remote Viewing | ✅ | ❌ |
🥇Winner: Keen

Keen wins because of the larger number of reading themes it supports. Plus, the site's psychics also use various exotic tools not generally seen on other psychic platforms. This makes Keen the superior choice when you're seeking personalized guidance.
Psychic Profiles — Keen Offers Better Advisor Profiles
I've noticed that Keen offers a bit more insight into its advisors than Psychic Source. For instance, on Keen, you can actually see the number of readings an expert has carried out, which is super handy. Psychic Source, on the other hand, keeps this info under wraps. You know, this kind of information can be a real game-changer when you're trying to get a sense of an advisor's expertise or experience. It's like trying to find your way without a map – a tad bit challenging, wouldn't you agree?
I also like how you can view more information on Keen's psychic profiles, such as a psychic's bio, their specialties, skills & methods, and spoken languages. Psychic Source offers similar features, but the information provided is less detailed than Keen's.
Both Keen and Psychic Source allows advisors to feature customer testimonials. In the case of Keen, customers have the ability to emphasize particular favorable qualities exhibited by psychics, including their helpfulness, accuracy, and detailed.
When it comes to Psychic Source, you can observe the niches that have been endorsed by previous psychic's customers. These impressive attributes, simplify the process of discovering the ideal psychic to align with your needs.
The "My Keen Blog" button on Keen's profiles is a unique feature. When you click on this link, it directs you to the psychic's articles on Keen's blog. I like the informative nature of these articles as they provide me with additional understanding about an advisor. On the other hand, Psychic Source offers the option to listen to pre-recorded messages from its advisors to know more about them, which aren't as detailed.
| | | |
| --- | --- | --- |
| | Keen | Psychic Source |
| Number of reviews | ✅ | ✅ |
| Amount of readings | ✅ | ❌ |
| Star rating | ✅ | ✅ |
| Years on the platform | ✅ | ✅ |
| Introduction and background | ✅ | ✅ |
| Busy/available button | ✅ | ✅ |
| Staff picks | ✅ | ❌ |
🥇Winner: Keen

I find Keen to be the better choice when it comes to the quality of psychic profiles. The information provided is more detailed and includes links to articles written by that psychic. All of which help you connect with an advisor who aligns with your needs and emotional space.
Ease of Use — Keen is More User-Friendly
When it comes to user-friendliness, both Psychic Source and Keen are somewhat similar.
Psychic Source's website loads quickly with minimal wait time. It uses primarily neutral and muted colors, conveying a sense of calm confidence that works well. Information is readily available and clearly displayed for easy access.
You can use Psychic Source's filtering system to sort through advisors by type, specialties, subject and expertise, tools, and reading style. This is a real-time-saver and makes it easy to find a psychic who is compatible with me.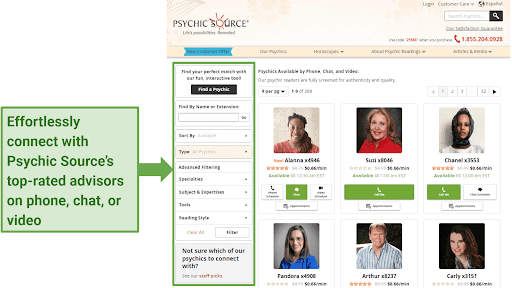 Psychic Source's website is easy-to-use and well-designed


Keen takes a similar approach to Psychic Source regarding web design. The site's homepage features a good information hierarchy making it easy to navigate. It has an intuitive "Get Matched" function on its homepage that helps you connect with any compatible psychic who's available.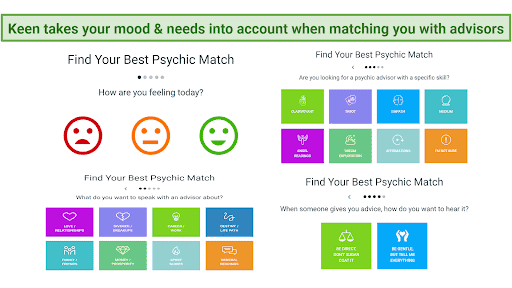 Keen makes it easy to connect with quality psychics


I downloaded apps for both Psychic Source and Keen on my Android tablet and iPhone. Performance-wise, the apps have no noticeable difference, as neither lags nor freezes. It's good to see that the mobile apps for both platforms have the same features found on the desktop version. That way, you can quickly get readings on the go with either app.

Both also have a similar design with a clear information hierarchy, making navigation easy. From a rating standpoint, both apps have received 4-star ratings on the App Store and Google Play.

🥇Winner: Keen

Keen comes out ahead of Psychic Source regarding usability. Its website and app have a superior UI compared to Psychic Source. Also, the "Get Matched" tool makes connecting with the ideal advisor easier.
Booking a Reading — Keen Makes it Easier to Book Readings
The booking process on Psychic Source or Keen is relatively straightforward. But remember that both sites require you to create an account before proceeding.
When you're creating an account on Psychic Source, you must provide your email address and first and last name. There is no option to link your account to a third-party profile which is slightly inconvenient. But I find this to be the better choice if you're concerned about privacy, as you won't have to worry about revealing personal information.
You must purchase at least 10 minutes to complete Psychic Source's account creation process. The packages offered by the site range from $10 for 10 minutes to $30 for 30 minutes which comes up to $1 per minute. Once that's done, the site will also award you with 3 free minutes.
Fortunately, you don't have to create an account to explore the psychics available on Psychic Source. Once you've decided which psychic is right, click "Call me". "Chat", "Video", or "Direct Message" to book a reading. The site will then prompt you to create an account.
On the other hand, creating an account on Keen is free. When you've found a psychic you like, you only have to click either "Call Now" or "Chat Now" to reach out to them. Other options include emailing a psychic or sending them a DM on the site.
Choosing any of the above options will bring you to the sign-in/account creation page. Here you can log in with a Google or Apple account, which is quite convenient. But if you're concerned about privacy, I wouldn't recommend doing this.
Instead, you can register without linking your Keen account to a third-party account. When you do this, Keen will only ask for your email address. You don't have to include personal information, such as your name, birth date, or address. This makes Keen a better choice if you want to keep a low profile.
🥇Winner: Keen

Keen has a better booking process compared to Psychic Source. First of all, the account creation process is free and doesn't require you to make any purchases. Secondly, the site requires much less information than Psychic Source, which puts it ahead.
Pricing — Keen is More Affordable
Psychic Source and Keen have somewhat similar pricing systems.
All payments on Psychic Source are processed in USD, and you can pay with either credit/debit card or PayPal. You can expect to pay around $4.99 to $11.99 per minute for reading on Psychic Source. Generally, advisors with higher ratings and more experience command a higher rate.
When you create an account, Psychic Source lets you choose from 1 of 3 different packages for discounted minutes. The packages range from $10 for 10 minutes to $19.80 for 30 minutes i.e., $1 to $0.66 per minute.
On Keen, psychic reading rates vary significantly from advisor to advisor, depending on their experience and ratings. For example, some psychics charge $5.99 per minute for a reading, whereas others ask for $28.99 per minute. Keen also only accepts USD payments and supports credit/debit cards and PayPal.
| | | |
| --- | --- | --- |
| Details: | Keen | Psychic Source |
| Price | $1.99/min to $28.99/min | $4.99/min to $11.99/min |
| Introductory Offers | Free minutes or discounted rates | Free minutes & discounted rates |
| Reward programs | Collect Keen Rewards points for benefits and gifts | Collect Reward Bonus Dollars for extra minutes |
Both Psychic Source and Keen have special introductory offers and discounts. First-time users on Psychic Source enjoy a discounted rate on minutes and 3 free minutes when creating an account. Keen, on the other hand, lets you choose between getting the first 3 minutes of your reading free or getting 10 minutes for $1.99.
Besides that, both sites also offer loyalty programs. The Psychic Source Membership Rewards Program functions like a cashback and rewards you with Reward Bonus Dollars i.e., credit, whenever you make a purchase. Do note that Reward Bonus Dollars expire after 48 months if your Psychic Source account remains inactive.
Keen's program is known as Keen Rewards which rewards you with points whenever you spend money on a psychic reading. You can then redeem these points to unlock special rewards, such as discounted readings and unique gifts from the site. However, your rewards points will expire after 6 months if you don't log in or use your Keen account.
🥇Winner: Keen

Keen wins hands down when it comes to pricing. Besides more affordable rates, the site has a more rewarding loyalty program that lets you earn points for extra minutes, which helps you save money on readings.
Customer Support — Psychic Source Wins With Live Chat
Psychic Source and Keen make it easy to get help. For example, both sites have extensive and well-written FAQ sections that address common customer issues. These pages ensure you can easily find support when you need it.
You can contact Psychic Source's customer support team in several ways. First off is the web ticketing system. To use it, you must choose an issue before providing a description, your first and last names, and your email address.
Psychic Source also has a live chat which is monitored 24/7. When I contacted Psychic Source's customer team, I got a response within several seconds. The agent who handled my query was polite, friendly, and informative.
Unlike Psychic Source, you can only contact Keen's customer support team via a web ticketing system. You just need to provide a question, tell them what device you're on, and describe the issue that you're facing. The system is easy-to-use, and I received a reply within 2 hours.
🥇Winner: Psychic Source

It's a close fight between the two platforms, but Psychic Source wins narrowly thanks to its 24/7 live chat feature. With it, you can easily get support from the site's customer service team in real time.
Other Features — Psychic Source Gives You More With Its Extra Features
To help them stand out from the competition, Psychic Source and Keen come with several interesting extra features.
Psychic Source offers video readings which are quite uncommon in the psychic services sector. This helps you immerse yourself during your session and can make the difference between a regular reading and a personal one. It is also handy that video readings cost the same as phone and live chat sessions.
Another standout of Psychic Source is its ability to schedule readings for a later date. For example, you can book a reading in advance if you or your psychic are unavailable. That means you don't have to worry about missing a session with your favorite psychic, making it easier to plan your time.
One of Keen's interesting features comes in the form of free customized horoscopes. All you need to do is key in your birth date and year, and the site will produce one unique to you. There are daily and monthly charts that you can refer to and get free guidance on your horoscope.
I also enjoyed making use of Keen's psychic matching tool. The tool considers your mood, requirements, and preferences to match you with the perfect psychic. This is especially useful if you're feeling lost or don't like browsing individual psychics.
🥇Winner: Psychic Source

Psychic Source wins when it comes to offering extra features. The fact that it offers video readings and the convenience of being able to schedule readings makes Psychic Source the superior choice here.
The Bottom Line
Choosing between Psychic Source and Keen is difficult. Psychic Source is more affordable and offers video readings, but its psychics are less specialized. And while Keen has a stricter psychic recruitment process, it loses out to Psychic Source when it comes to customer support.
🔮 Types of reading:Keen (8+ choices)
💲 Starting price: Keen ($1.99/min)
😊 Psychic profiles: Keen (multi-talented psychics)
🤝 Trustworthiness: Keen (offers pre-recorded messages)
🍃 Ease of use: Keen (provides a superior UI)
📱 Contact methods: Psychic Source (offers live chat, phone, and video readings)
🧑‍🤝‍🧑 Number of Psychics: Keen (200+ advisors)
🎉 Added extras: Psychic Source (provides video readings and let's you schedule readings)
🥇 Overall winner: Keen
But if I'd have to choose, I'd go with Keen. The site gives me access to a larger selection of reading themes and niches, which makes it easier to connect with a psychic who aligns with my needs. Besides that, Keen's advisors are also skilled in using more psychic tools, which allows them to provide more insightful readings.
FAQ on Psychic Source and Keen
1. Is Psychic Source better than Keen?
Both Keen and Psychic Source are excellent platforms with their own unique strengths and weaknesses. What matters more is the type of service that you're looking for.
Personally, I prefer using Keen because of the site's more affordable rates, its roster of versatile advisors, and detailed psychic biographies. All of these makes it easier for you to find and connect with the right psychic and enjoy a more fulfilling psychic consultation.
On the other hand, Psychic Source is unique as it offers video readings. Speaking to a psychic over video can sometimes feel more immersive which allows for stronger connections and better-quality readings. However, this may not be suitable for those who are self-conscious, so you can also reach out to its psychics via telephone or live chat.
2. Should I choose Psychic Source or Keen for love and relationship readings?
It's clear that both platforms are more than up to the task of helping you with love and relationship readings.
I like Keen because it features a large selection of versatile psychics who cover a variety of niches related to love and relationships. Besides that, its psychics are also familiar with a variety of psychic tools that help them gain deeper insight into your soul. That way, you can reach out to a psychic who truly understands you and will be able to advise you on what to do.
Psychic Source offers video readings that replicate the feel of a face-to-face consultation. This is ideal if you're a social person who enjoys human contact. It also lets you form a stronger psychic bond with your advisor, making for more accurate psychic readings.
3. Which site offers the best delivery methods for psychic readings — Psychic Source or Keen?
Psychic Source is the better reading method choice because it offers video readings, while Keen doesn't. The added optionality makes it easier for you to connect with your favorite psychics in a way that suits your personality. For example, video readings can make a world of difference if you're yearning for a connection or human contact.
But if you're feeling self-conscious, you can opt for a live chat reading which is offered by both sites. This lets you carefully think through your questions and gives you time to reflect on the psychic's responses.
You can also get a combination with a phone reading on Psychic Source and Keen. Phone sessions give you the comfort of human contact without revealing your face, which can help you express yourself emotionally. Additionally, the privacy policies on both sites will always maintain your anonymity.