Psychic Source vs. Purple Garden: An Overview
Psychic Source and Purple Garden are built for two different audiences – which one do you fit into?
Psychic Source has a strong focus on providing a simple and straightforward psychic reading experience. The pricing is easy to understand, there are only a handful of reading categories to choose from, and filtering your search results is a breeze. There's also a 100% money-back guarantee.
Purple Garden, on the other hand, is built for anyone who spends more time on their phone and would prefer to connect with a psychic on the go. The Purple Garden mobile app is one of the best psychic apps I've used to date – it's great for beginners and seasoned psychic customers.
In this review, I take a deep dive into what each platform has to offer, including usability, pricing, and top psychics. Read on to discover which of these sites is my top choice and why.
Made up your mind already? Get a reading on Psychic Source for less than $1 per minute with this introductory offer. Or, claim $10 worth of free credits on Purple Garden here.
Quick Summary of Winner in Each Category
Psychic Source vs. Purple Garden: Types of Readings
Psychic Source
While Psychic Source isn't one of those sites that has hundreds upon hundreds of readers to choose from, this is far from a bad thing. Home to about 280 talented readers, Psychic Source features a more exclusive listing of psychics that have gone through a rigorous screening process.
These psychics are ready to help guide you via chat, phone, or video, and specialize in a huge range of topics. One of my favorite things about Psychic Source is that the platform doesn't just have the standard reading categories you'd expect. They also have more specialized subcategories, like sibling/ parent issues, office romance, incomplete goodbyes, and more.
The site also lets you search for psychics based on tools and gifts, and includes options like tarot, crystals, energy healing, mediumship, and more.
The fact is that no matter what category, tool or reading style you have in mind, you're bound to find an advisor on Psychic Source that can meet all of your demands— something that most psychic reading sites out there can't confidently proclaim.
Purple Garden
Purple Garden has an uncountable number of psychics to browse through, which is great for people who enjoy the process of checking out and comparing multiple readers.
The site also has a more limited selection of reading categories. With just 8 topics to choose from, you'll find the standard ones such as relationship coaching, astrology and tarot, as well as a few more unique ones, like palm reading and oracle guidance.
Similar to Psychic Source you can connect with different readers via chat, phone, and video. And because there's such a huge number of advisors to choose from, it's likely that you'll find someone available to speak to no matter the time of the day.
Winner: Psychic Source for their wider variety of reading categories.
Explore Readings on Psychic Source
Psychic Source vs. Purple Garden: Pricing
Psychic Source
Psychic Source has a really great introductory offer for new customers that allows them to choose a 10, 20, or 30 minute package, each at a cost of just $1 per minute. And no matter which package you choose, you'll get an additional 3 minutes for free.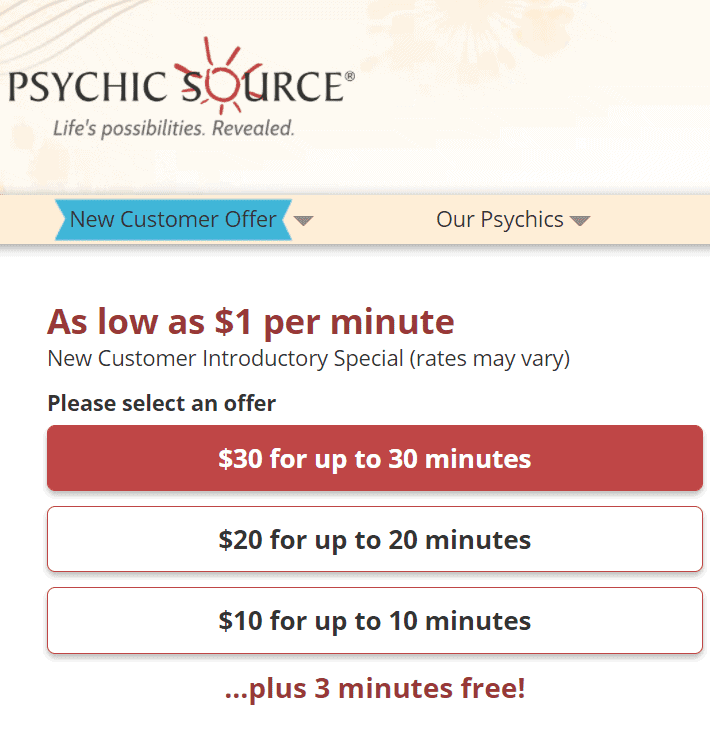 Once you've used up these introductory minutes you'll switch over to paying psychics' regular rates, which range from $5 to $18 per minute. The reality is that most psychics' regular rates fall between $6 and $10 a minute, which if you're looking to have readings done on a regular basis, can be quite pricey.
Purple Garden
Purple Garden's average price per minute is lower than that of Psychic Source. You can meet with a reader from anywhere between $0.99 to $14.99 per minute. Most readers' rates fall between the range of $5 and $10 per minute.
The site has another unique perk which allows you to earn 2% cash back on every purchase you make. Once you've accumulated $10 worth of credits, you can start using this towards your readings.
As an added bonus, new users also get $10 worth of credits when signing up.
Winner: Purple Garden for more competitive per-minute rates.
Psychic Source vs. Purple Garden: Website Usability
Psychic Source
When it comes to website usability, Psychic Source really is the full package. Their desktop site makes it very easy to browse psychics with their advanced filtering options, allowing you to find exactly what you're looking for, fast.
Once you're on a reader's profile, you'll find all the information you need, including a pre-recorded message from the psychic. There are plenty of user reviews for you to read, and you can see which reading categories other clients have endorsed this reader for.
If the psychic you'd like to connect with isn't online, you have the option to check out their calendar (if the psychic has set one up) and schedule a reading with them for when they're back online.
Psychic Source also has a mobile app that's equally easy to use. In addition to connecting with readers from your phone, you can also set up notifications to let you know when your favorite advisor has logged on, when you have a new message, and more.
The one downside of Psychic Source is that to create an account, you also have to purchase one of their introductory plans.
Purple Garden
Purple Garden is quite different from other psychic reading sites because the platform has a mobile-first design. The user experience on the mobile app is significantly better than desktop.
That being said, if you do choose to use the desktop version, keep in mind that you can only connect with readers via chat. If you want to connect via phone or video, you must download the app.
Their desktop site might be lacking in functionality, but Purple Garden's mobile app is one of the best psychic reading apps out there. Similar to Psychic Source, you can enable notifications to let you know when your advisor is back online.
One area where Purple Garden excels over Psychic Source is the account creation process. Unlike Psychic Source, you don't need to make any kind of purchase in order to create an account. Signing up is easy, and completely free— all you need is an email and password.
Winner: Psychic Source for best overall user experience.
Browse Readers on Psychic Source
Psychic Source vs. Purple Garden: Trustworthiness
I can see that Psychic Source is genuinely committed to delivering a positive experience to its clients. They offer a satisfaction guarantee, which means that if you're not satisfied with your reading, Psychic Source will refund you with minutes for a future session. You can receive up to a 20-minute credit for your most recent call.
Psychic Source also has a very thorough psychic screening process. Psychics who want to be featured on the platform must submit an application that details their qualifications and experiences, much like a regular job application.
If the advisor makes it past the initial application stage, they must then complete an "On-Demand" interview. The final step is then a real-time interview with the Psychic Source team.
Psychic Source's satisfaction guarantee, coupled with its rigorous screening process, make it one of the most trustworthy psychic reading sites out there.
Purple Garden
The reality is that while Purple Garden does offer some information about how they screen their psychics, I get the feeling that they're not as thorough as Psychic Source. According to the site's FAQ section, applicants must submit a resume detailing their qualifications and experience, and complete a video reading.
While this is similar to Psychic Source's policy, Purple Garden does not offer any satisfaction guarantee and does not issue any refunds for "unsatisfactory" readings. Purple Garden also makes "no guarantees" as to the accuracy of their readers, and the site states that the platform is for entertainment purposes only.
So while Purple Garden does feature talented, real psychic readers, you should take some extra care when you're looking for the right one to connect with.
Winner: Psychic Source for their satisfaction guarantee.
Psychic Source vs. Purple Garden: Added Extras
Psychic Source
Regardless of whether you have an account with Psychic Source or not, you can still head to their website for a free daily horoscope reading.
The horoscopes are actually quite detailed, with subsections answering more specific questions such about a sign's career paths, health, ways they fall in love, and more.
Purple Garden
If you download the Purple Garden app and spend some time exploring it, you'll likely come across a feature called Journeys. Journeys is a forum where real users share their personal stories about what led them to seek psychic guidance, what their advisor told them, and where they are now.
Journeys is a great place to explore user experiences. And if you feel comfortable, you can even describe your own Journey and share it on the forum.
Keep in mind that you can only find this feature on Purple Garden's app, not on the desktop version.
Winner: Purple Garden for their unique forum feature.
The Bottom Line on Psychic Source vs. Purple Garden
On paper, Psychic Source emerges as the winner in more categories than Purple Garden, excelling in important areas like variety of reading types and trustworthiness.
But when it comes to user experience, the platform that's best for you really depends on your preferences. If you like browsing and meeting with readers from your computer, then Psychic Source is the site for you. But if you prefer to meet and connect with readers on the go, then you should definitely check out Purple Garden's app.
Both of these platforms feature talented readers, and give you the option to connect with psychics not only via call and chat, but video too, a feature many well-known psychic reading sites lack.
Overall, as long as you take the time to do the necessary research on a particular psychic, you're bound to have a great experience on either of these platforms.