PsychicOz vs Mysticsense: An Overview
Both PsychicOz and Msyticsence have nifty features that benefit users. But some features will be more important to you than others, so it can be difficult to choose between the 2. PsychicOz focuses on keeping prices as low as possible, while Msyticsence aims to offer a vast range of reading types to choose from.
To help you make an informed decision, I've done a like-for-like comparison to help you decide who comes out on top. Whatever your priorities, you can confidently choose the one that suits you.
PsychicOz vs Mysticsense: Types of Readings
PsychicOz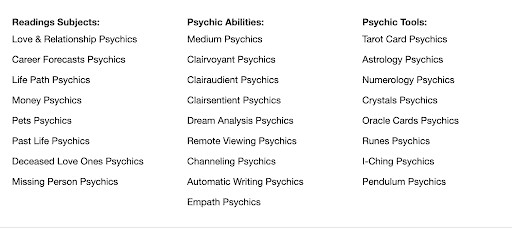 With over 80 psychics on staff to choose from and a fair selection of reading types on offer, PsychicOz is a good contender in this category. The site allows you to filter according to the subject, psychic ability, and psychic tool. Unfortunately you'll only be able to filter by one option at a time.
To supplement it's unusual reading categories, PsychicOz also features some of its top notch psychics that you can view via the homepage. Select between the site's customer favorites, rising stars, and staff picks to get a quick start to your first reading.
Mysticsense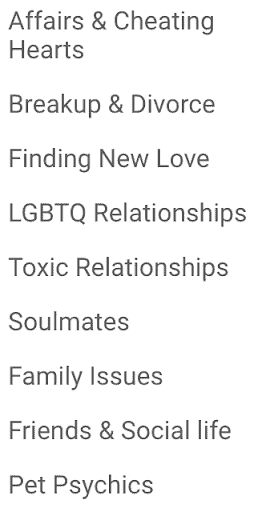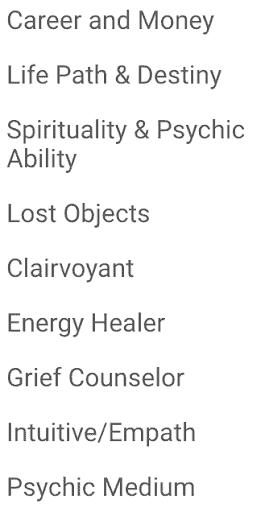 Msyticsense goes above and beyond and leaves its customers spoilt for choice when it comes to reading categories. Not only does the site allow you to filter by dozens of reading specialties and tools, but you'll also be able to narrow your search according to the online status, special tags, and reading style.
To top it off, you'll be able to use more than one filter at a time to choose from over 550 psychics. If you've had a good experience with a psychic in the past, simply search for their name in the top left corner of the page to get going on your reading.
Winner: Mysticsense – countless filters and loads of psychics to choose from
PsychicOz vs Mysticsense: Pricing
PsychicOz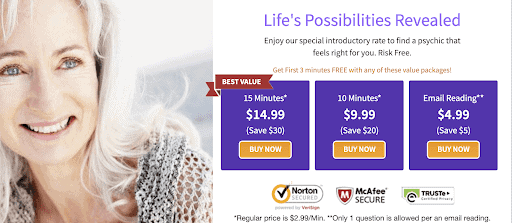 One of PsychicOz's biggest selling points is its pricing. It keeps its rates as low as possible and charges a standardized price no matter which psychic you speak to. Calls and live chats usually cost $2.99 per minute, but with the introductory offer you'll benefit from a rate of under a dollar a minute. Similarly, you'll only pay $4.99 for your first email reading rather than the usual price of $9.99.
Once you're ready to speak to a reader on the site, you'll need to choose between a 10 or 15-minute welcome package. You'll also get three minutes completely free. To add to this, PsychicOz is one of the only psychic sites that offers the first minute of every single reading to customers at no cost at all.
Mysticsense

Mysticsense has no cap on what its psychics charge, so while the cheapest reader will cost you $0.99 per minute, prices can range up to $10 a minute depending on who you speak to. By industry standards these are reasonable rates.
Your welcome offer with Mysticsense will buy you ten minutes for only $1.99, with an additional five minutes free. This is more than enough time to get at least one reading, which will give you an idea of whether the site and any of its psychics are a good fit for you.
Winner: PsychicOz – low rates and standardized pricing
GET 3 MINUTES FREE ON PSYCHICOZ
PsychicOz vs Mysticsense: Website Usability
PsychicOz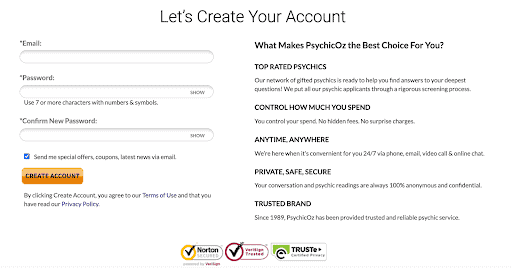 Signing up to PsychicOz couldn't be easier. You'll need to use your email and select a password to create an account, after which the site will prompt you to verify your phone number. You won't need to make a payment until you're ready to get a reading.
Navigating the site itself is straightforward, which makes it a great choice for beginners. You'll have a few different ways in which you can search for a psychic by selecting one of the categories on the homepage. Also, you can search for a psychic by using their name.
There's even a "Notify Me" button that lets you request an email notification when your favorite psychic becomes available for a reading. This ensures that you'll never have to miss out on an opportunity to get the advice you need.
Mysticsense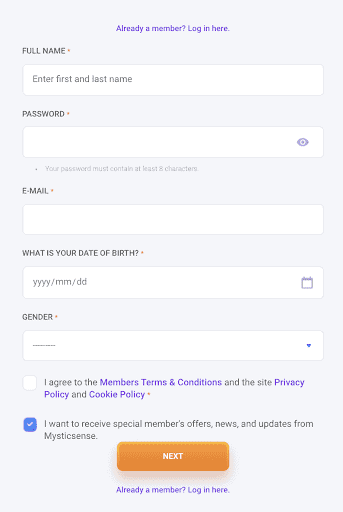 Signing up on Mysticsense requires a bit more information than PsychicOz. Over and above your email address and password, you'll also need to input your full name, date of birth, and gender. You'll then need to confirm your email address before your account becomes active.
Once you've signed up, you can opt to continue your search for a psychic or add funds right away. You'll need to verify your phone number when topping up your account to allow for phone calls through the site.
Navigating the Mysticsense website is a pleasure. Although there are a few more features available than on PsychicOz, the user experience is very pleasant and manageable. A great standout feature is the live chat support function that you can make use of any time you need assistance.
Winner: Mysticsense – great user experience
PsychicOz vs Mysticsense: Trustworthiness
PsychicOz

PsychicOz's 100% money-back guarantee serves as the website's commitment to quality service. While the site claims it have rigorous screening procedures, which evaluate each applicant for "accuracy, professionalism, compassion, and the desire to assist you," it is good to know that not every reading will always meet up to high standards.
In the event that you weren't completely happy with your reading, you have the option to reach out to customer support. If your claims are found to be valid, the agent will arrange for a new reading at no additional cost, or refund the amount spent to your account.
Mysticsense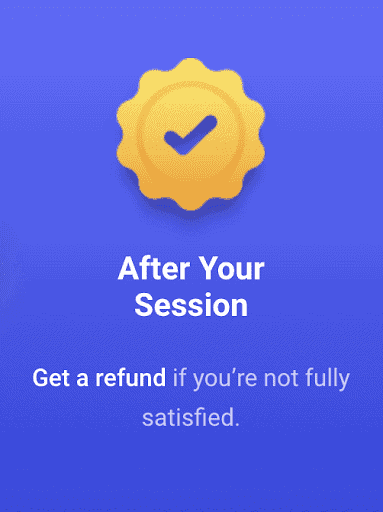 Mysticsense's psychic application process is lengthy and rigorous, so it's safe to say that only the cream of the crop makes the cut. Over and above this, the site also performs routine quality checks throughout a psychic's tenure on the site to ensure that their quality isn't slipping.
Similar to PsychicOz, it offers a money-back guarantee if you weren't totally happy with your reading. Additionally, the site provides a customer wellbeing resource, which provides insight on potential addiction to psychic readings. This proves that Mysticsense is more concerned with providing a quality service than making money.
Winner: Mysticsense – routine checks and customer wellbeing policy
PsychicOz vs Mysticsense: Added Extras
PsychicOz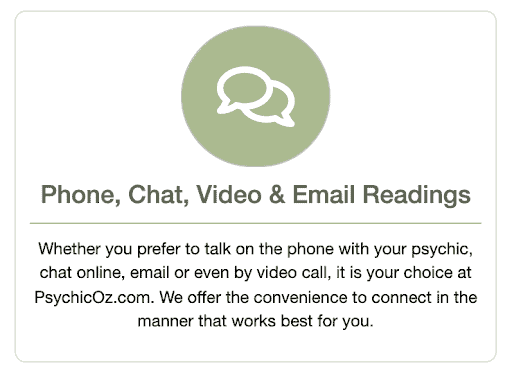 PsychicOz keeps its prices as low as possible by limiting the number of extra features offered on the site. For that reason, you won't find much more than straightforward, quality readings on offer when browsing through the site.
One feature offered by PsychicOz that is not an industry norm is the email readings feature. This allows you to keep reading costs under control as you'll pay a fixed price for the advice received via email. It also lets you get your thoughts and feelings out carefully and coherently, even when you don't have the time or privacy for a phone or chat reading.
Mysticsense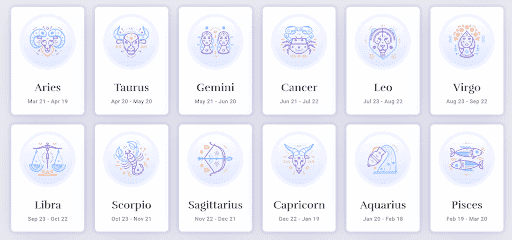 Although Msyticsense may not have loads of bells and whistles, it offers a few more additional features than PsychicOz. The site will give you free access to your horoscope, as well as a free daily horoscope that can be sent straight to your email.
You'll also find an insightful articles page that covers topics relating to all things spiritual. You can filter according to the category of articles you're interested in, or even search for something specific using keywords in the search bar.
Winner: Mysticsense – free horoscopes and articles
CHECK YOUR HOROSCOPE ON MYSTICSENSE
The Bottom Line on PsychicOz vs Mysticsense
Both these sites have great features and seemingly good quality readings on offer. With a 100% money-back guarantee available from both PsychicOz and Mysticsense, choosing a winner is no easy feat.
PsychicOz has a great welcome offer, combined with standardized pricing and one free minute on every single call, which means that you can get the advice you need without breaking the bank.
Mysticsense offers a huge variety of readings and hundreds of psychics to choose from, which makes it really easy to find the advice you're looking for – no matter how specific it may be.
For the purpose of this review, variety is key, so Mysticsense is my clear winner. However, it will be up to you to decide which site's offerings appeal to your spiritual needs.
Overall Winner: Mysticsense