PsychicOz vs Psychic Source: An Overview
While Psychic Source has been around for decades, PsychicOz has been a fair competitor in recent years due to its low, standardized pricing. However, there's no doubt that cheaper isn't always better, and it's possible that you might be getting more bang for your buck with one service over the other.
I've stripped both these sites down to their basics so you can take a look at some of their key features and decide which matters most to you!
Quick Summary of Winner in Each Category
PsychicOz vs Psychic Source: Types of Readings
PsychicOz
PsychicOz boasts a variety of reading types and has over 80 psychics to choose from. Not only can you benefit from common reading topics like relationships and life paths, but you can also choose to speak to niche-specialized psychics who are experts on topics like missing persons or that use remote viewing as a spiritual tool.
You won't be able to select more than one category at a time, but if you need to narrow down your search, you can filter according to rankings, reading types, and psychic rates.
Psychic Source
Psychic Source has dozens of reading types to choose from, and what's great is that you can use multiple filters at once, making finding your psychic match a breeze. You can specify the reading topic, spiritual tools, psychic gifts, reading styles, and even whether you'd like a phone, chat, or video reading.
If you aren't having any luck using your own filters, you can also make use of the Find a Psychic tool, which asks you a number of pertinent questions to help match you to a suitable psychic.
Winner: Psychic Source its wide selection of reading types and filtering options.
Claim Your Free Minutes on Psychic Source
PsychicOz vs Psychic Source: Pricing
PsychicOz
PsychicOz is an industry leader with its low rates that stay the same no matter which of its psychics you speak to. You'll pay $2.99 per minute for a phone or chat reading, or $9.99 per email reading. It's important to note that you'll only be allowed to ask one question per email reading, so it may be wise to opt for a different reading type if you have a few things on your mind.
Despite the already-low prices, PsychicOz also has a great introductory offer that gets you a phone and chat rate of under a dollar a minute, and email readings for only $4.99. Additionally, you'll get three minutes completely free with your purchase and the first minute free on every single reading thereafter.
Psychic Source
Unlike PsychicOz, Psychic Source has no cap on the rates that psychics charge, so they could range between $4.99 and $18.99 per minute, depending on the psychic you select. It may be best to start with a rate you feel comfortable with before venturing toward higher-tier psychics.
Psychic Source has an introductory offer that allows you to benefit from a rate of $0.66 per minute, but you'll only be able to make use of this once. You'll need to choose between a 10, 20, or 30-minute package to use the discount though. You'll also get an additional 3 minutes completely free as a first-timer.
Winner: PsychicOz for its low rates and standardized pricing.
Claim Your Free Minutes on PsychicOz
PsychicOz vs Psychic Source: Website Usability
PsychicOz
PsychicOz has quite a simple user interface that is easy to navigate as a new customer. Taking a look at individual psychic profiles helps you get a better idea of what to expect from a reading. There are usually loads of reviews to browse through, as well as a description of the psychic's abilities and a voice-recorded introduction. Once you're confident in your choice, you can use the appointment scheduling tool to set up a time for your reading in your very own time zone.
Signing up to PsychicOz can be done in just a few steps. You'll simply need to create an account with your email address and password. Once that's done, you'll be prompted to verify your phone number, after which you're set for your first reading.
Psychic Source
Psychic profiles on Psychic Source are by far one of the most comprehensive I've seen on any reading site. Over and above a scheduling tool, you'll also have access to a video or voice recorded introduction, customer reviews, and links to their personal articles. You can even send the psychic a direct message and favorite the profile to refer back to later.
Signing up to Psychic Source requires a few basic personal details, and you'll also need to select and pay for your welcome package upfront. Once this is done, you can begin using your purchased minutes on your first reading.
Winner: Psychic Source for its detailed psychic profiles.
Claim Free Minutes on Psychic Source
PsychicOz vs Psychic Source: Trustworthiness
PsychicOz
The PsychicOz website claims to screen and test its psychics more than any of its competitors. However, the selection criteria have never been made clear.
To back up its promise of quality, PsychicOz offers a 100% money-back guarantee, so if you weren't completely satisfied with your reading, you can reach out to customer support who will either arrange for you to speak to a new psychic or provide you with a refund.
Psychic Source
Psychic Source does provide a detailed explanation of the psychic application process, but there is also no indication of what criteria psychics are screened against. The site does, however, make it abundantly clear that its reputation and ethical codes are of utmost importance, so all psychics contracted to the site will need to meet these expectations.
Similarly to PsychicOz, there is also a money-back guarantee in place. You can contact the site's 24/7 customer support for assistance with a refund if you weren't fully satisfied with your reading.
Winner: Psychic Source for its transparency on the psychic screening process.
Claim Free Minutes on Psychic Source
PsychicOz vs Psychic Source: Added Extras
PsychicOz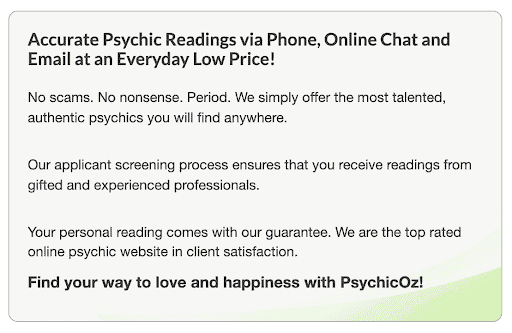 Part of the reason PsychicOz has been able to keep its prices so low is that all the bells and whistles have been removed to offer straightforward quality readings. This means that there won't be too many additional features available on the site.
One standout feature, however, is the site's offering of email readings. This is not a widely available feature on many psychic reading sites, so it can be really useful for those who don't have the time or the privacy for a phone or chat reading. Simply send your question through to your chosen psychic and you'll receive a detailed response in due course.
Psychic Source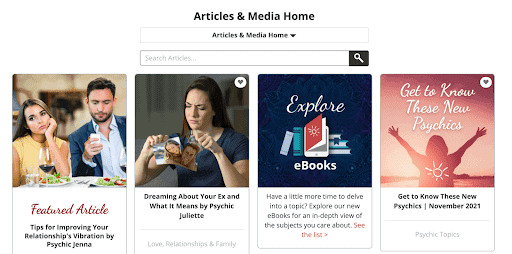 Psychic Source has bonus features galore, with everything you can imagine from free horoscopes to articles on various spiritual topics like destiny, love, loss, and careers. The site also gives you access to helpful videos, podcasts, and infographics to help you get started on your spiritual journey.
My personal favorites are the guides available on astrology, energy healing, numerology, and tarot. If you're new to psychic readings, these guides have an abundance of information to equip you with the background knowledge you need to choose the right psychic reading for your own situation.
Winner: Psychic Source for its bonus features.
The Bottom Line on PsychicOz vs Psychic Source
Both PsychicOz and Psychic Source have loads of reading categories and psychics to choose from, but the sites differ in many ways as well.
If you're looking for an affordable option, PsychicOz is your best bet, allowing you to regularly contact your favorite psychic without breaking the bank.
If extra features and overall experience is more important, Psychic Source may be worth the few extra dollars you'll spend to subscribe.
My overall winner is Psychic Source for the excellent value for money it offers.