Both Purple Garden and Kasamba are great sites with a large pool of experienced psychics, and both offer tiered pricing options. However, these two sites have key differences and cater to different customer needs.
To help you decide between these psychic platforms, I compared the two sites in 8 categories, including pricing, customer care, and trustworthiness. Kasamba is a good psychic site if you want a variety of readings to choose from, but Purple Garden is the better psychic site as it scores higher in more categories.
Purple Garden has more ways to connect and cheaper prices. Rates start from just $0.99 for first-time users, and you get a free transcript of your reading to keep.
Short on Time? Here Are My Key Findings
Reading Themes and Methods — Kasamba Wins for Variety and Choice
When it comes to reading themes and methods, Kasamba wins for its wider variety and choice. Kasamba covers more niche areas such as break-ups, past lives, and missing persons, and that means you can get expert advice on a wider range of situations.
It's also possible to get readings that make use of a broader range of tools or specialist areas on Kasamba, which I find can be helpful sometimes. Kasamba psychics offer tools like runes, fortune telling, or Reiki, which isn't always offered on other sites.
Reading Themes
Kasamba offers more choice of reading themes than Purple Garden, with more options to choose from than the standard themes such as love, career, and finance. For example, on Kasamba, you can drill down into the love category to find specialist advisors in break-ups, divorce, soul connections, and LGBTQ+.
Reading Methods
Kasamba has more variety in this category too. It offers all the reading methods you would expect, plus some extra ones such as Reiki, aura cleansing, the paranormal, and crystals.
Skills and Abilities
Kasamba is home to psychics with experience in more areas, such as fortune telling and remote viewing. However, Purple Garden has more tarot and clairvoyant psychics to choose from.
Trustworthiness — Kasamba Gives More Information on Screening
Both sites have a positive reputation, but Kasamba has been around longer. They both use tests and a screening process, although Kasamba provides more information on the screening of applicants. Both sites monitor the performance of psychics on an ongoing basis.
Kasamba also has a better satisfaction guarantee. You can get a refund for either a full or partial reading if you didn't enjoy it for any reason. Unfortunately, Purple Garden is a lot more restrictive and only lets you get credits if you have technical issues.
Psychic Profiles — Purple Garden's Profiles Are More Informative
Purple Garden's psychic profiles are neatly organized into sections and include introductory messages for each advisor that helps you decide if you resonate with them. It also gives you a concise advisor summary in the search results that saves you time going in and out of profiles.
Kasamba also does well on the advisor summary front, with search results showing prices, ratings, specialisms, and number of reviews. Once you visit a profile on Kasamba, you can see any specialist areas, skills and qualifications, and reviews. However, Kasamba doesn't have introductory messages that let the psychics introduce themself.
Both sites allow you to see if an advisor is online, busy, or available, and both allow you to contact advisors with questions before your reading. If you find an advisor you like, both sites also have a 'favorites list' feature that helps you keep track of them.
While both sites show customer reviews, I like how Purple Garden shows all the customer reviews the psychic has received and lets you click on either positive or negative reviews.
Ease of Use — Purple Garden Is More User-Friendly
While the sites are similar, Purple Garden wins this section as it's more user-friendly. However, both sites have clean interfaces and well-displayed search results that save time when browsing through the lists of advisors.
Both sites have apps for iPhone and Android for convenient readings on the go, and I found they both downloaded quickly and easily, with no technical issues to resolve. Both apps have the same features as the website, which I find makes them easier to use.
It is also easy to use either site to find an advisor, and you can listen to introductory messages on Purple Garden. Both sites show you when your psychic is online. Neither site offers appointments, but Purple Garden offers more ways to connect with your psychic, including a video option. Kasamba only offers chat, phone, or email for some advisors.
Purple Garden's website has filters that help you sort the readers into 8 reading categories, and you can sort your results further by connection method, number of reviews, and price if you want. I find it helpful that you can sort multiple times, as it saves me time and effort.
Kasmba also has an easy-to-use website. Menus are clearly displayed, and it looks professional and well laid out. There are filters that let you go into all the different types of readings to find specialist advisors. You can sort psychics by rank, which is helpful when finding the top advisors on a subject.
When it comes to the signing up process, it's easy to sign up for Purple Garden by completing this simple registration form;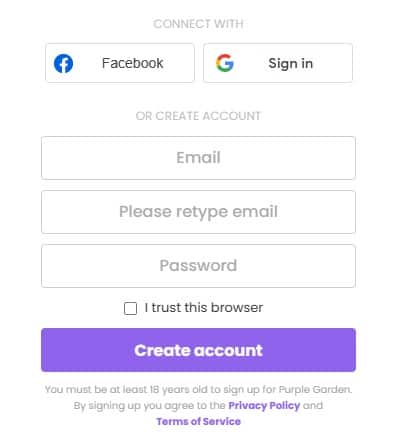 Complete this simple form to register on Purple Garden

Kasamba has an easy signup process too, so there isn't much between them when it comes to the convenience of signing up.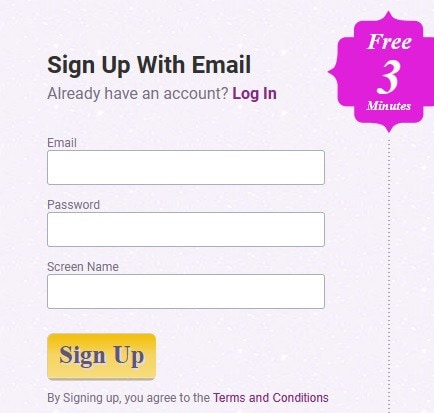 Kasamba also has a simple sign-up method
Booking A Reading – Purple Garden Makes it Easier to Book a Reading
Purple Garden just wins this category as it offers more ways to book a reading. You can opt for phone, chat, or a video reading, and the sign-up and booking process is quick and easy.
To sign up for either site, you will need to provide an email address. You can also opt to sign up more quickly with a third-party account such as Google or Apple, but this isn't advisable if you have any privacy concerns.
Both Kasamba and Purple Garden have simple booking processes for readings. However, both also require you to create an account before you speak with a psychic. You can browse the lists of psychics without creating an account, which is handy, and clicking 'voice call', 'chat', (or video' on Purple Garden) will take you to the account registration section.
Kasamba offers readings by phone or chat, and you can also request an email reading with many readers. You can also ask questions before your reading, which is helpful.
Both sites are easy to use to pay for your reading as they accept credit and debit cards, as well as PayPal. On Purple Garden, you can purchase credits or tokens, and any unused credits are carried over for next time. On Kasamba, you also have the option of paying after your reading is complete.
Pricing — Purple Garden is More Affordable
Purple Garden takes the lead in terms of pricing, offering a welcome offer of $10 credit for first-time users, and generally maintaining lower costs. Majority of psychics present fair pricing, with new psychics start at rates as modest as $0.99 per minute, extending up to $14.99. Additionally, you receive an extra reading when you recommend the platform to a friend.
Purple Garden, in addition to their new user bonus, allows you to earn 5% cash back on every purchase you make on their site with Karma Rewards, which can be used towards future readings. So, if you're looking for ongoing low-cost psychic readings, they're a better choice. You also get $20 credit for joining Karma Rewards, and there are regular offers and promotions.
Kasamba is one of the more expensive psychic sites available, but it claims reading accuracy justifies this price. Psychics on Kasamba, like many others, set their own per-minute rates. However, even though there are readings for $1.99 per minute, some can be as high as $35.00 per minute, which can be costly.
Fortunately, you can try out Kasamba's services at a cheaper rate by taking advantage of their introductory offer. You can also often receive a 70% discount on your first session, up to the value of $50, if you watch out for quiet times on the site.
Kasamba is also different in its introductory offer. It offers 3 free minutes, which is not uncommon. However, you get 3 free minutes with each new psychic you try on Kasamba.
Customer Support — Purple Garden Has More Support Options
Purple Garden wins this one as it has more support options available than Kasamba. I find it reassuring to know I can choose how I want to contact Purple Garden's support as it offers both a ticketing system and a live chat.
Both Purple Garden and Kasamba offer email contact forms and comprehensive FAQ sections. I personally found Kasamba's FAQ section easier to search through, as they organize the questions into payment questions, connection issues, account queries, and app functions.
However, Purple Garden also has live chat and community forums. I found the live chat to be more helpful when I had a more serious issue that needed to be solved.
Other Features — Purple Garden Wins for Free Reading Transcripts
When using a psychic site, it's the added features that give it that extra touch and makes the experience smoother and more enjoyable. Purple Garden wins this time as it has more extras that make it easier to use, like introductory messages and seeing negative reviews.
Not only that, but Purple Garden also makes free transcripts of your reading available (chat and phone readings only), which saves you from remembering to make notes during your reading. It also has an excellent 'Journeys' feature on the mobile app. This lets you connect with other users and share stories in a forum-like experience.
Kasamba does offer readings in other languages, as well as articles on topics such as the paranormal, so it depends on what you are looking for when it comes to this category. I also like how you can contact the psychics to 'name your price' and negotiate a fee for a reading.
The Bottom Line
Since Purple Garden and Kasamba are so similar, choosing which site you should go for is tricky. They both have trustworthy and highly-rated psychics that can help you with your issue.
🔮 Types of reading: Kasamba (offers 22 types)
💲 Starting price: Purple Garden ($0.99/min)
😊 Psychic profiles: Purple Garden (multi-talented psychics)
🤝 Trustworthiness: Kasamba (offers a guarantee)
🍃 Ease of use: Purple Garden (simple process)
📱 Contact methods: Purple Garden (phone, chat or video)
🧑‍🤝‍🧑 Number of Psychics: Purple Garden (1500+ psychics)
🎉 Added extras: Purple Garden (free reading transcripts and 'Journeys' App Feature)
🥇 Overall winner: Purple Garden
If you have issues that aren't solved with the standard psychic reading types, Kasamba offers a lot more niche reading types and methods. It also has a clearer psychic screening process, and its psychics are more specialized.
However, Purple Garden is the overall winner as it's more affordable and offers video readings. Besides that, Purple Garden has an easy-to-use web interface, as well as better offers and more psychics to choose from.
FAQs on Purple Garden vs. Kasamba
Is Purple Garden better than Kasamba?
I found Purple Garden is better than Kasamba in 5 out of 8 categories tested in this review. However, whether it is better for you depends on what is most important to you when you book a reading.
Purple Garden has better offers and cheaper rates, but Kasamba has more variety in the reading types available. Use my key findings to check each category winner at a glance.
Should I choose Purple Garden or Kasamba for a love reading?
You can choose either Purple Garden or Kasamba for a love reading, as both sites have hundreds of love psychics with experience in delving into people's love lives to guide them.
The site you choose will probably depend on other factors that are important to you, like skills and methods or the trustworthiness of the site. See which site scored highest when I tested them for trustworthiness.
Which site offers the best delivery methods for psychic readings — Purple Garden or Kasamba?
Kasamba wins for more types of reading and delivery methods, so it's a good choice if you have a very specific type of reading in mind, like aura cleansing or fortune telling.
Purple Garden wins when it comes to ways of connecting, as they offer phone, chat, and video calls, so this site might be the best option for you. See what other features the sites have that might swing it for you.