This week, Mystic Mag had the opportunity to interview Gopala from Rainbow Yoga Training. We talked about his journey of becoming a Yoga Teacher, what makes Yoga fun, and what's the difference between kids' and adults' Yoga classes.
When did you first know that being a Yoga Teacher was your calling and how did it come about?
I started practicing meditation when I was 12 and yoga when I was 14.
My first meditation teachers were my music teachers. They taught me this practice both as a way to be my best self for a concert and as a way to experience ecstasy through music.
I was interested in oriental music too and when I was 14 I went to an Indian Flute (Bansuri) concert that was held in a yoga center in Tel Aviv. The concert was canceled because the musician was unwell and I stayed for a yoga class – I was feeling so ecstatic and expanded that I decided then and there that this is what I'm going to dive into!
When I was 16 I ran away from home, went to India, and became a Hindu monk for 10 years.
Now, many years later, I am married to a beautiful and passionate woman, I have 4 children, I have just bought a house, and have a very fast-growing yoga business.
What services do you offer?
We offer kids yoga teacher training online and in-person.
We have trained over 35,000 children yoga teachers since 2007 and have been conducting online programs since 2016.
We have many happy graduates to show how practical and transformative our training are!
How are Yoga Classes for kids different compared to ones for adults?
First, we make yoga fun!
Kids learn through fun. If your class is boring, there simply not going to be a class. If the kids have a choice and the class is boring, the kids will not return. If they have to come because it is a part of the school curriculum for example and the class is boring, they will disturb your class… So if you want to have a class at all, make it fun!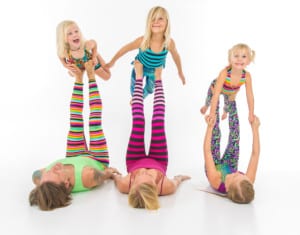 To make the class fun we make it social and interactive!
We come out of our yoga square or our yoga mat and we join the Rainbow Yoga circle!
Rather than contracting and going within, which is also important at times, we expand our mind, body, and spirit to include everyone and everything around us, and the feeling is ecstatic!
While doing yoga together we can stretch farther than ever before and enjoy a deep connection with friends and loved ones.
We are also not afraid to reinvent ourselves and reinvent yoga as needed. We change and we adapt, adjust and accommodate yoga to best fit us as we evolve.
Each one of us is a one-of-a-kind bright color in the rainbow and together we all shine brighter!
Is there an optimal age for a child to start practicing Yoga?
You are never too young (or too old) to start the practice of yoga and mindfulness. We all need more tools to cope with this crazy world.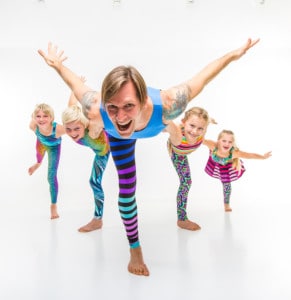 And of course, the practice looks very different if you are 3 or 13 years old. In our training we teach how to make yoga super fun, cool, and engaging for the different age groups from a year and a half years old to teenagers.
What is the most important detail in maintaining a relationship of mutual trust with customers?
Be nice to everyone! Don't be too strict with anything. You never lose by giving.
Come at least 15 minutes before and stay for at least 15 minutes after. Be interested in the kids' stories and their likes and dislikes. Make the kids your friends… a much better way than shouting and scaring to have the kids do what you tell them to. Always use the child's name and bond with each child in a personal way.
Create a community for the parents too. Being a parent can sometimes be an isolating experience and people come to the class not only because you are a great teacher; they also come for the social part of it. Share contact lists and encourage conversation and help each other.
What is the best part of your job?
Imagine rocking up to a school early in the morning and having dozens of children following you and calling your name with excitement just because they love you and your AMAZING yoga classes so much… This is my experience when teaching yoga at schools!
I always wanted to be a rock star!
Teaching is a noble profession, it can be tiring at times, but with the right attitude and armed with lots of Rainbow Yoga tools, it can be so much fun both for you and for the children!
Let us show you how to do this in our famous Rainbow Kids Yoga Teacher Trainings!