Learning how to read palms as a beginner can be overwhelming but it's actually a skill anyone can pick up. And while you shouldn't expect to become a pro overnight, knowing the fundamentals can take you to that level sooner than later. To help you learn, I've put together a detailed guide on what different elements mean so you can get started.
Over 5 years of experience, I've read palms for a large number of people and learned the intricacies of palmistry as an art. With a bit of practice, you can do it too.
The Functions of Palmistry
Palmistry is the art and science of analyzing your hand's physical features to interpret your personality characteristics and predict what is going to happen in the future. Each line, bump, and pattern is examined to reveal hidden information about your talents, strengths, and attitudes, as well as your past lives, current situation, and destiny.

Study of the hand can bring great insight


Of course, each palmist eventually develops their own interpretations of the various shapes and creases within the hand. However, the basics you will learn have been passed down through history for centuries, so it's a good place to start.

Palmistry takes time, effort, and practice. Start with large observations and work your way slowly into observing more detail as your confidence grows. Over time, you will start to become familiar with different hand types and their meanings.
Getting Started
The first step is to take some time to make some observations for yourself about the hand. Inspect the texture of it and notice how it feels. Look for clues, such as the palm being rough while the back of the hand is smooth.
Does the person have dirty fingernails, or are they neatly manicured? Regardless of what you feel or experience, it should not be overlooked when you're practicing divination. Everything has a specific meaning, but using intuition means knowing what to look for, being aware of it, and noting it.
Left or Right Hand
There is no general consensus on which hand to analyze. Some modern readers believe it is necessary to look at both. Others say you should focus on the most dominant hand, as this reveals opportunities and challenges in your present situation and past. Your non-dominant hand indicates your potential, future plans, and what could be.
Another school of thought is that the left or non-dominant hand represents your personality and character, while the dominant hand represents how these traits materialize in reality. Reading both palms thus helps to better understand how you are utilizing your potential.
The 4 Elements and Types of Hands
Within palmistry, there are 4 primary hand shapes to look out for, and each is connected to a different element. Within each element are associated traits that you can use to read the palm more effectively.
Most people's birth charts are made up of all 4 elements through the placement of planets and angles, and these combine to make up our personalities as unique and complex individuals. However, one element will come through strongly in the hand, so start by looking at which of these fits your hand shape, size, and feel best.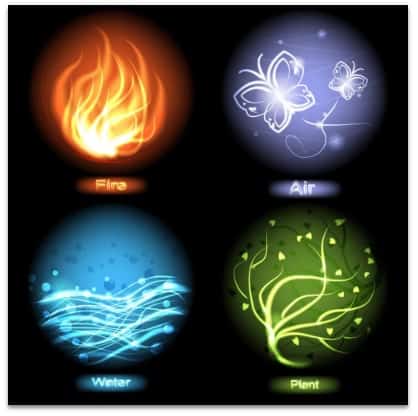 The 4 elements
Earth
An earth hand is one that has short fingers and a square palm. The hands are usually solid, firm, and fleshy. The hands may be rough, and the skin may be textured.
People who have earth hands are typically grounded, logical, and practical. They are hard-working, reliable, and consistent, and they enjoy using their hands to make things. Though they are reliable and secure, they can get consumed with reality in the immediate present, which means they can't plan for long-term achievements easily.
Fire
You can tell a fire hand by the short fingers and long palms. They may have a square or rectangular shape and a rosy red or pink complexion. Fire hands are often distinctive, with strong creases and defined mounds. They may feel warm or hot to the touch.
Those with fire hands are often industrious, confident, lively and passionate. They're primarily driven by their desires and can be less empathetic and tactful when they're having a bad day.
Air
People with air hands have long fingers and square palms. Generally, the knuckles protrude, and the fingers are boney and spindly. The skin may be dry, with shorter palm length compared to finger length.
Such a hand shows that the individual is intellectually curious and has significant communication skills and analytical abilities. They are chatty, intellectual, friendly, and rational. However, they're distracted easily and can get edgy or anxious if they don't stay stimulated.
Water
Water hands are usually distinguished by long fingers, an oval shape, and long palms. They're soft when you touch them and might even be clammy or cold to touch, with lots of fine lines. The skin might feel supple, and the fingers may appear elongated.
These people are most in tune with their intuition, emotions, and psychic ability. They're fueled by imagination and compassion, so they may be more creative in life. Plus, they are highly sensitive, even moody, and often get their feelings hurt easily, which can cause stress.
Mounts and Plains
Once you determine your hand type, you can observe the inherent landscape of the palm. These regions beneath the fingers, known as mounts or plains, possess fleshiness and distinct bumps. They are associated with diverse life themes.
When the mounts are slightly elevated and rounded, that means you've got attributes that are well-proportioned and balanced. Sunken mount areas can expose blind spots for the individual or regions where the qualities aren't developed fully. If the mounts are very prominent, they can reveal certain dominant characteristics that are overly emphasized or exaggerated.
Jupiter
Jupiter is found at the base of your index finger and is just above Inner Mars' mount. It symbolizes leadership, confidence, and ambition. Often, it can reveal a connection to the spiritual realm, as well as divine aptitudes.
Saturn
Saturn is found at the base of your middle finger. It can correspond with responsibility, wisdom, and fortitude. Generally, it shows a person's integrity and how they understand the ups and downs of their life.
Apollo
Apollo is found underneath the ring finger and gets its name from the classical antiquity of the sun god. For palmistry, this area of the hand focuses on a person's essence, optimism, and vitality. The zodiac signs can expose a person's innate spirits, and Apollo shows happiness, success, and artistic inclination.
Mercury
Mercury is found under the pinky finger and is connected to intelligence and communication. It's also linked to adaptability, wit, social skills, and how resourceful and strategic a person is.
Luna
Luna was named after an ancient Roman goddess, and it symbolizes intuition, imagination, and psychic abilities. It's found toward the lower part of the palm by the pinky and can reveal a person's compassion and empathy.
Venus
Venus is generally found at the base of the thumb and is primarily linked to attraction, sensuality, and love. This zone shows natural magnetism and how well a person can connect on an emotional level. Passion, indulgence, and sexuality are all parts of this region. A large Venus mount can indicate a pleasure-seeking individual.
Inner, Outer, and Plains of Mars
Mars covers extensive ground in palmistry. It's connected to the Roman god of war, so it tends to represent temperament, aggression, and resilience. Lower or Inner Mars is found above the thumb and often symbolizes bold tenacity and physical strength.
Outer or Upper Mars can represent emotional bravery and perseverance. Then, you've got the Plain of Marks, which is found in the lower center of your palm. It focuses on the Inner and Outer versions and sees how they balance. Because this part is often flat, the significance of this area is determined by the lines that occupy the section.
The Lines
The creases and folds of a palm are referred to as lines, and they can be used to predict what might occur in the future and form a narrative.
The meanings of the different lines get determined by their depth, curvature, and length. No two palms are exactly the same, so context is essential here. Determine where each line starts/ends, the mounts it crosses, where creases intersect, and whether it's straight or curved. Intuition is what fuels the analysis here, so get creative.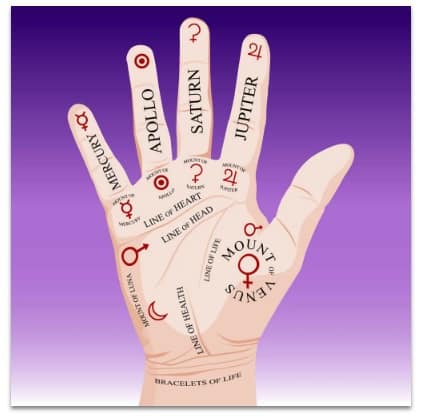 The main lines on a hand
Head
The mind is going to play a significant role in shaping your destiny. The head line focuses on intellectual pursuits, thinking, and curiosity. It's found in the center of your palm and can reveal the lessons life is trying to teach us.
The line's depth tends to correspond with the complexity of the person's mental pursuits, while its length reveals how many topics they are going to explore. Wavy lines mean progressive thinking and straight lines can be considered a more traditional approach. If there are breaks within the line, it can show you mental strife, epiphanies, and monumental breakthroughs.
Heart
The heart line is located right above the head line and is the highest line on the palm horizontally. It's sometimes called the love line, and this crease focuses on all heart matters, such as friendship, romance, commitment, and sexuality. Once you've identified it, see whether it starts at the middle or index finger. When the heart line begins at the index finger, it reveals that relationships are content. When it starts at the middle finger, it can signal restlessness.
Of course, the depth of the line is also significant and focuses on interpersonal relationships within the querent's life. The length focuses on the time spent as a couple with someone else. Long lines can represent longer partnerships. Forks and breaks in this line can suggest transformative bonds, multiple lovers, or cheating.
Life
The crease is designed to focus on your life journey and not your death. It's found under the head line and reveals vitality, zest, and experiences. The depth of this line can suggest a richness of experience or show how others might influence your path. Shorter lines can mean you prefer autonomy and independence.
Generally, people see a short life line and ultimately believe they're going to die young. Unethical palmists might even indicate that it is going to be within a certain timeframe. This turns people away from palmistry and other divination practices.
Fate
The fate line is sometimes called the line of destiny and is a vertical crease at the center of your palm. It reveals how a person's life is going to be influenced by various circumstances that are out of their control. It may not appear until the 20s or 30s unless the person is being strongly directed in a particular direction, for instance, by their parents, in which case it can appear early on.
Our palms are going to evolve throughout our lives, but this is the line that transforms most often. When you're right in the middle of a shift (professional or personal), take a glance at the fate line. It might have changed. Generally, palmists hold the belief that an itchy hand signals change.
Sun
The sun line is also called Apollo's line, and it's that vertical crease found at the pinky side of your palm. It focuses on fame, legacy, and image. If the fate and sun line aren't close, the person's legacy is likely to be built independently of outside influences.
It can vary significantly in position, depth, and length. Since it sits alongside the fate line, it can show when and how a person's destiny is based on external events that they can't control.
Next Steps on Your Palm Reading Journey
Now that you have learned the basics of how to read your palm, including the elements, mounds, plains, and lines, you might want to get an experienced palm reader to read your palm and see what other clues to your destiny it holds.
The sites below are all respected platforms I have found that offer palm readings at reasonable rates. Some even have introductory offers that will let you get your palm read by an expert at a discount, so it won't even cost too much.
In a Rush? Here Are My Top Sites for Palm Reading for Beginners
Purple Garden – Best for learning more about palm readings with experienced palmists by phone, chat, or video.
Kasamba – Great for experienced palmists and 3 free minutes with up to 3 new advisors.
Oranum – Watch expert palm readers live and chat by video.
Best Palm Reading Sites for Beginners in 2023 — Full List
1. Purple Garden — Best Overall Site for Palm Readings for Beginners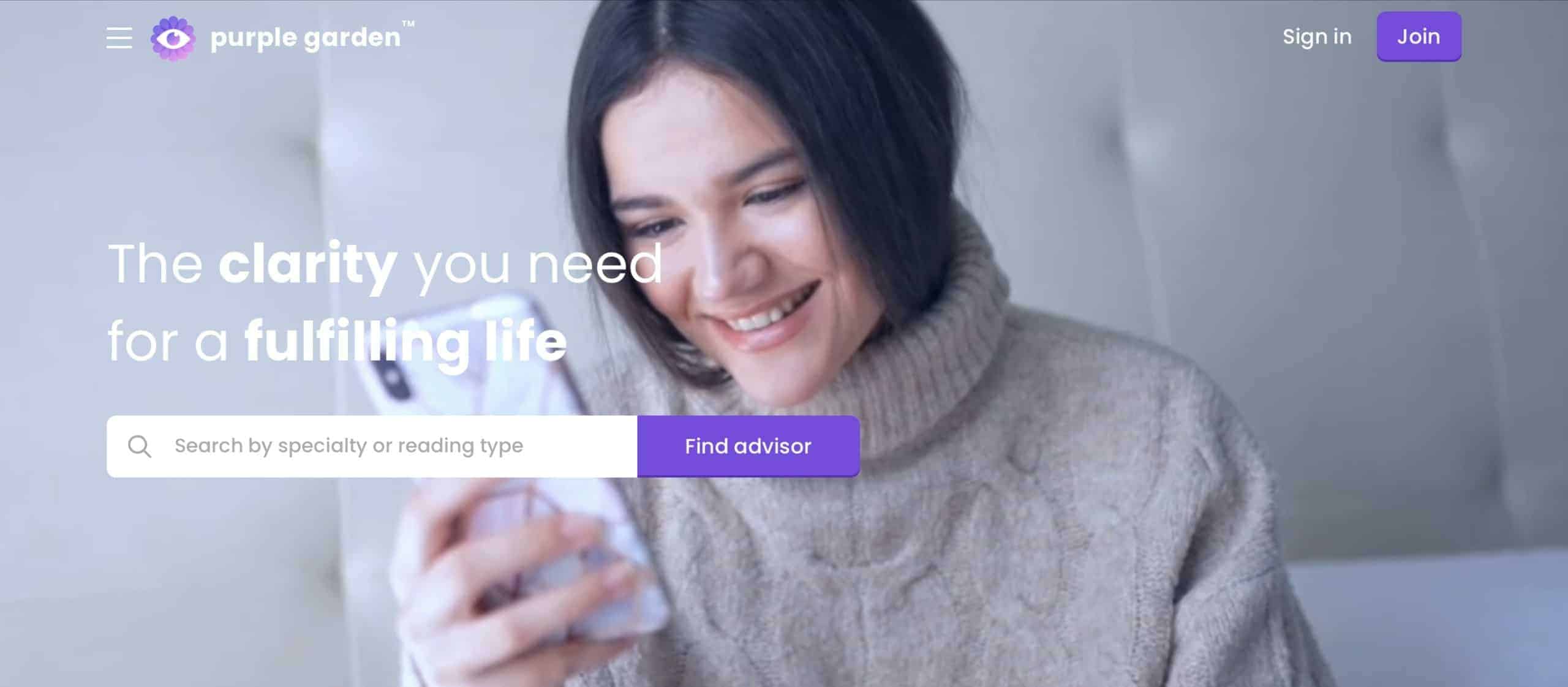 25+ palm readers to choose from
Chat, phone, or video call
Transparent rating system
$10 credit towards first session
Introductory videos
Purple Garden has plenty of experienced palm readers available in the palm reading category, and I found it quick and easy to find them and start browsing profiles. The introductory videos on Purple Garden really help me find the ones I like best and let me hear about how they work.
Another thing about Purple Garden is that you can get your reading done by video. This will really help as you and your reader can see each other, and they can see your hand, so it makes things much easier.
New customers get a $10 introductory bonus, which you can use on your first reading. You can join the community, too, for regular updates and offers.
2. Kasamba — 3 Free Minutes Offer to Start Your Palm Reading Journey

60+ palm reading specialists available
Connect by chat or phone call
Rates start from $1.99 minute
First 3 minutes free with up to 3 new advisors
Sort by highest ranking
Kasamba has plenty of top-rated, skilled and experienced palm readers to choose from, some specializing in different palmistry branches. These include Chinese, Western, and Indian branches, and there are many experts with decades of experience in using palm reading to make predictions.
I found it easy enough to navigate straight to the palm readers on Kasamba, by selecting palm readers from the 'more' category. Once you view the profiles and pick one, you can choose to connect by phone, chat, or email.
Rates start from $1.99, and there's an offer that lets you try out 3 new readers with 3 free minutes, which I find helps me choose the right one for me. If, for any reason, you're not satisfied with your reader, you can apply for a refund.
3. Oranum — Learn Palm Reading with Live Readings and Videos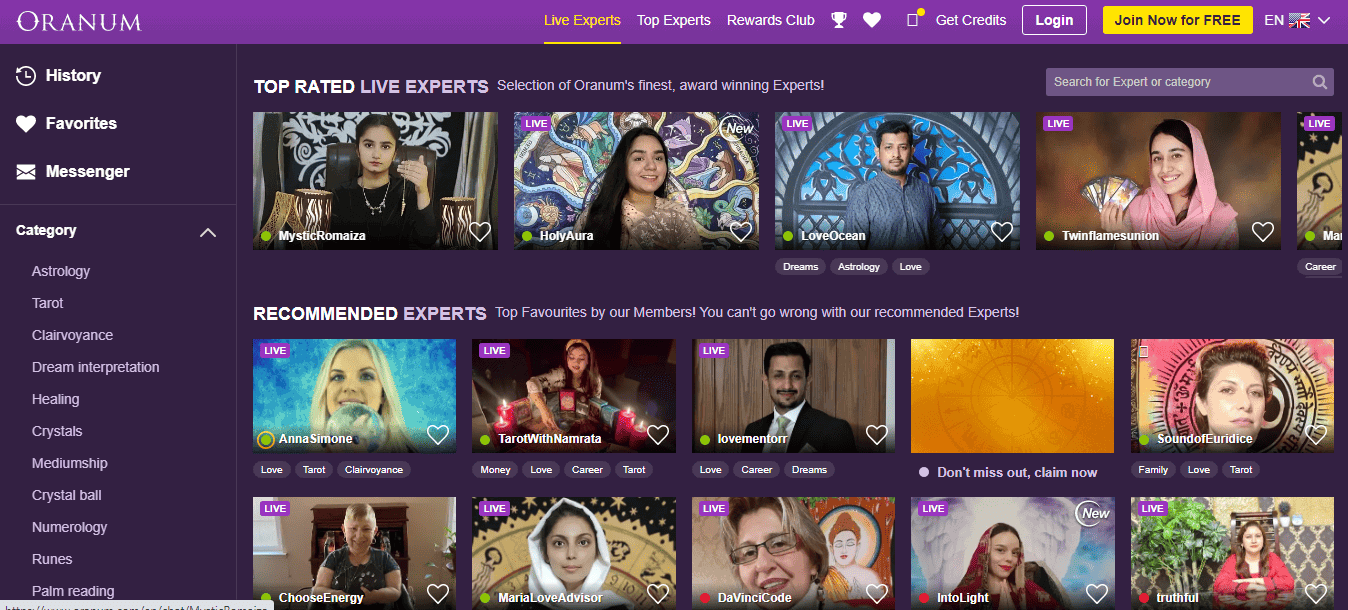 5+ palm reading experts available
Call, chat or video
Rates from $0.98 per minute
New member discounts
Introductory live videos
Oranum is a unique platform in that it offers free live videos by the readers, which I find helps me interact with them and observe them before I go ahead and book a reading. You can book onto group sessions with your favorite advisor, and there are chat rooms, live streams, and lots of ways to get involved.
Once you find an advisor you want to speak one to one with, you can opt for call, chat, or video reading and then buy credits from $0.98 per minute to use for your reading. I found it easy to sign up on Oranum, and you can choose between Basic and Premium membership packages, each offering different rates.
FAQs on Palm Readings
Can a palm reading tell me the future?
Yes, there are many lines on your palm that can tell you different things about your future. Each line has its own meaning, and there is no one-size-fits-all interpretation. Palm readers will offer as accurate predictions as possible, and no matter what method they use and what advice they give you, remember that your destiny is always, literally, in your own hands. The lines on your hand can reveal a lot about your future.
What can I expect during a palm reading?
Most palm reading sessions will last around 20-30 minutes but can be longer, depending on your questions or concerns. During your reading, the palm reader will study your palm and look for any markings that may be present.
They will then offer interpretations of what these markings mean. Some palm readers might also use tarot or astrology to supplement their readings. After the reading, the reader will likely give you some advice on what they believe your future direction to be or provide further guidance on other questions you may have. See some interpretations of what palm markings mean.
What questions can I ask a palm reader?
Asking questions during a palm reading session can help you better understand the palm reader's interpretation of your palm and supplement your own observations. Here are some questions you might ask:
What does my heart line tell you about my love life?
What can you see happening about my career direction?
What is my biggest challenge to overcome in the next year?
How can I use my palm reading to improve my life?
What are my main strengths and weaknesses?
What is the potential for success in my current situation?
A palm reading can help you unlock your true potential and highlight what path you should take. Once you have analyzed your own palm, get advice from a professional and up your palm reading skills to another level.
Bottom Line
Palmistry isn't a cut-and-dry practice that is going to provide fixed answers. You are going to have to learn all of the meanings for hand shapes, plains, lines, and mounts while letting intuition start to guide you. This helps you form specific interpretation patterns for yourself.
Speaking with a palm reader can help you develop your style and confidence even more. Purple Garden has a great choice of experienced palmists and some great offers to get you started.
To summarize, my top picks for palm readings are…