Today, Mystic Mag's Marko Velimirovic had the opportunity to speak with Reeya Avani, a Reiki Master, and Crystal Healer. We talked about her career, healing sessions, and what she loves most about her profession.
When did you first know that being a Reiki Master and Crystal Healer was your calling and how did it come about?
Healing therapy has been in my family for a couple of generations and my grandfather was a big believer in this. From a young age, I was introduced to alternative ways to look after my health.
But it wasn't until I went through a very dark period that I didn't have anyone to help me.
During the 90's and the early '00s, I suffered many hardships where I felt completely alone.
The lowest point came in the early 2000s, when I went through a very traumatic time in my personal life, which spiraled me down to a dark corner, a point where I was ready to take my own life. I was faced with a grim reality, either sink or swim. I didn't want others to fall into the same place, because once there, it's so easy to make the wrong decision.
Looking back, I realize this was the beginning of my healing Journey, healing for myself, and then helping to help others. My grandfather's teachings, self-help, along with meditation, and reiki saved my life.
What services do you offer?
I offer advanced form styles of Reiki Healing, Aroma Reiki, Crystal Healing, Chakra Balancing, and Energy Cleansing, to name a few. I also use color healing, sound therapy, and light touches of psychic and mediumship capabilities.
The last 2 are not individual services, and I don't offer them as standalone, instead, it's incorporated into my sessions.
How would you describe Crystal Healing?
There is a science and study behind crystals called mineralogy and gemology, but exactly how they work at an energy and molecular level is still being discovered. One thing Is sure all crystals have natural energy and omit vibrations that don't change. The frequencies of these vibrations stay the same.
These vibrations resonate with livings things; plants, animals, and humans, and as we are made up of cells and energy, subtle vibrations and energies coming from these crystals can have a positive effect on the body.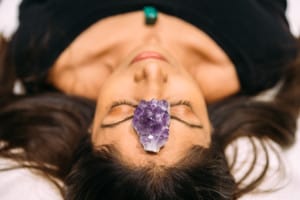 During my healing sessions, I help direct these vibrations to target the 7 chakras (energy points) across the body. When I perform crystal healing, I place certain crystals on my patient and I then combine this with other skills and techniques (which are all part of my healing framework) which further intensifies the energy to help the 7 points heal.
The crystals work with our energy field, so where there is a low-frequency energy field in somebody, bringing a high-energy crystal into their field will help and balance their energies, making them feel lifted, calmer, better, and even happier. When then there is low-frequency energy, I use uplifting crystals to provide that boost.
Each crystal has its own energy and vibration signature, and it's important to remember that for example, you could have 2 crystals from the same family, e.g. 2 Amethyst, and they may have slightly different energy vibrations. I use my skills to detect these differences.
One thing to remember is that the energy from crystals has been used in many devices over the last 50 years; think quartz-based watches. The quartz crystals (which we use in crystal healing) help the time mechanism to maintain time. Quartz was also used in the early days of computer architecture in the '70s and '80s and I think is still used in modern technologies too.
What can a person expect from your sessions?
This will vary from person to person and depending on their energy, what they are going through and how stressed they are on the day, and if they have large amounts of alcohol or another stimulus in their system. I always ask my clients before they come in, don't drink too much, no drugs (narcotics), and avoid smoking at least an hour before your appointment, if they can.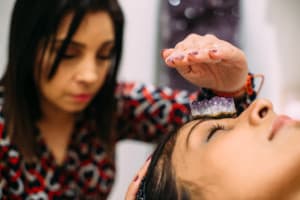 A whole healing session can take up to 2 hours, depending on the person. No 2 individuals are the same, so there is no fixed time per se. But on the whole, between 1 ½ to 2 hours is ample.
1st step is Consultation and that involves: (approx. 25 minutes)
Discovery of reasons why healing is required
I will look to understand the client, their needs, and their lifestyle.
Throughout the consultation, I will use my skills to pick up on their energy, their aura, and other insights that I may need to know.

2nd step, we move into the healing session: (approx. 45 minutes to 1hr)
The client will lie down on a therapy bed on their fully clothed, but shoes off.
I will perform a guided meditation, which helps the client to be more grounded, (so they are ready for the healing). This process is important as it puts them at ease and into the best state to receive healing
I scan their energy fields and chakras to further identify blockages and issues.
I then select and use the appropriate crystals on or around the client, in order for the crystals to release vibrations and energy thus targeting areas that need re-balancing and fixing. I will also use my other skills to enhance the energy and vibrations. FYI, I have an extensive collection of crystals that I use.
Towards the end, I will perform the close-down procedure and close the chakras
The client gently wakes up. And in their own time, we move on to the final part.

3rd step – Analysis, feedback, and Q&A (approx. 25 minutes)
The final stage involves analysis and discussion on what I picked up, Questions and answers, and recommendations for the next steps in their healing journey. If they want, they can buy the crystals I have used on them.
What is the most important detail in maintaining a relationship of mutual trust with customers?
Privacy and confidentiality. What's discussed in my practice, stays in my practice. Compassion, empathy, and understanding; because of my own experience and past pains, I know what it's like to hurt, suffer, and lose hope, but I also know how it helped me. I also pick up on their pain and what is going on in their life, and I help to uncover the root causes of these.
When we work together, I have been told that I provide a bubble of protection (which is probably the best way I can describe it) for my clients to be able to let go, accept the healing, and move forward. This helps to build mutual trust, and maintains positive relationships, even with the most difficult of people. And boy, I have worked with some very difficult individuals; and we got there.
What is the best part of your job?
For me, the most rewarding part of my job is when I see my clients heal when I see them feeling happier, feeling more confident, and knowing that they understand there is no reason to feel alone throughout their healing journey, and even beyond. It empowers me to help others when I witness their successes, and there's no feeling like it. Finally, It's not an appointment for an hour or 2, it's the ongoing support that really does make the difference.