Going through a difficult time might make you wish you had a special person in your life, someone who just perfectly understands everything you're feeling and has your back. That missing piece of yourself that you're searching for is your twin flame – a soul that mirrors your very own.
A twin flame is a rare find. So often people settle for having what they think is good enough in a relationship when in actual fact there is someone out there who is perfect for them in every way. Having a partner who is on the same wavelength as you and constantly matches your energy at every turn would be amazing. If you want to find your person, your twin flame, we have some signs that you should look out for.
How a Twin Flames is Different from a Soulmate
At face value, twin flames and soulmates sound like they could be one and the same, but while they do share similarities, a twin flame is a much deeper, instinctual spiritual connection that far exceeds the bond you'd have with a soulmate.
While a soulmate may have the same pattern of thinking as you and strike you as your other half, a twin flame is an exact reflection of you. This can be displayed in behavior, habits, mindsets, and experiences. The best way to understand it is that if your twin flame were placed in the same situation as you, they would react in exactly the same way that you would and vice versa.
This can sometimes become problematic because not only are your good characteristics mirrored in your twin flame but so are your bad. That means that unhealthy aspects of your personality can cause difficulty between you if issues are not effectively resolved.
Speak to a Twin Flame Psychic on Keen
Signs That You've Met Your Twin Flame
1. There's an Instant Attraction
When you meet your twin flame, you'll feel a supernatural attraction that is completely unlike anything you've felt before. Your souls will recognize each other and you'll feel a strange sense of belonging despite having just met. Finding your twin flame can feel a lot like finding something that feels like home.
2. You Have an Intense Emotional Connection Very Early On
Because of how in sync you are with each other and the similarity of the way your minds work, you and your twin flame may develop feelings for each other fairly quickly and even say I love you much faster than you ordinarily would. This is because you both know what you want and are completely aware of exactly how the other person feels – there is no room for insecurity. It's like reading your own mind!
3. The Relationship is Tumultuous
As great as it is that all your good qualities are matched by your twin flame, your bad ones are too. This means that you both feel that you're right 100% of the time and may struggle to work through any hurdles in the relationship. You'll also feel eerily self-aware with the way your own flaws are on full display and this may cause you to shy away from confronting the problem head-on.
4. You Always Find Your Way Back to Each Other
Despite the fact that the relationship may not always work out with a twin flame, you'll never be able to stay away. You'll find yourself in a cycle of break-ups and make-ups because the two of you simply cannot live without each other. You are the same soul living in two bodies, and this acts as a magnet continually pulling you closer together.
5. You're Inspired to Be a Better Version of Yourself
It's easy to pick up on your flaws and have an objective perspective on how you could live differently when you have someone in your life who always behaves exactly the same way you do. Your relationship with your twin flame will illuminate these issues in your character and push you to move past them.
6. You Easily Fit Into Their Life
When you're around your twin flame's friends and family you never have to feel doubt that they enjoy your company because they see you the same way they see them! You'll find your social circle will broaden immensely and you'll form new, close relationships with the people in your twin flame's life.
7. You Align Emotionally, Spiritually, Physically and Sexually
This relationship will never leave you feeling starved in any aspect of your life. You will feel completely fulfilled with being with someone who is on the same frequency as you and shares your feelings and interests. It's safe to say that you will never be bored with each other.
8. You Have an Almost Telepathic Connection
It's very easy for you and your twin flame to communicate with each other because you almost always know what the other one is thinking. You'll never argue about where to eat or what TV show to watch. You're both on the same wavelength and want the same things.
Top 5 Twin Flame Psychics
If you've felt some of these signs but you're still not completely sure you've met your twin flame, the easiest way to get clarity is from a professional physic.
1. Evangeline Grace – Keen

Evangeline Grace is a twin flame expert and has plenty of experience guiding her clients on their relationships and love interests. She's an empath and clairvoyant and uses her gifts in conjunction with tarot cards to help you find meaning in your romantic connections.
Her clients love how direct she is and feel they get maximum value out of their time with her. You can speak to her for only $9.99 a minute, but with Keen's introductory offer, your first 3 minutes are free.
2. Psychic Medium Nicole – Keen

Nicole is no stranger to matters of the heart and isn't afraid to be brutally honest during your reading. She will give you guidance on new, existing or potential relationships and won't sugar coat things or tell you what you want to hear.
She's used her medium capabilities to advise her clients on whether their current relationships are the right fit for them, or whether they are yet to meet their twin flames. Speak to her for only $5.55 a minute and see what she can pick up from your spiritual energy.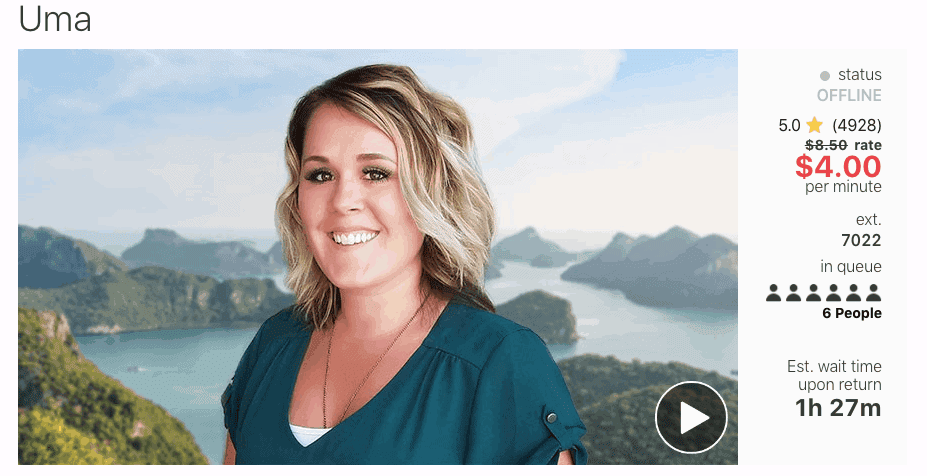 Uma's readings are in demand because of the insightful, accurate help she is able to provide her clients in terms of their love lives. She uses tarot and oracle cards to delve deep into the supernatural and understand what lies ahead in your relationships.
Uma has a way of easily connecting to her clients and has wowed them with how at ease she makes them feel during their readings. She usually charges $8.50 for a minute of her time but you can speak to her for less than half of that with this special offer.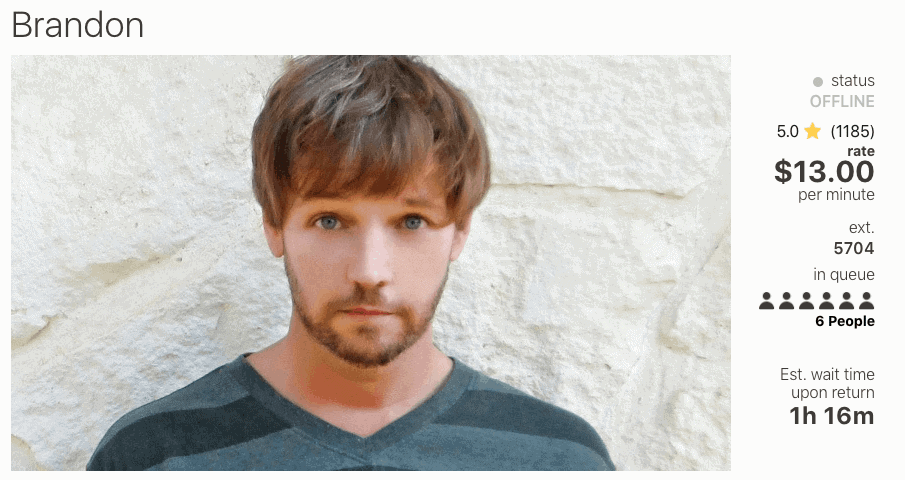 Brandon may look unassuming but he is in fact a very gifted and powerful psychic. He's a love expert who uses his clairvoyant and empath abilities to perform readings using tarot, astrology and numerology.
He may be slightly higher priced than many psychics, but his amazing insight and intuition make his readings great value for money. You can chat to him about your twin flame for only $13 a minute.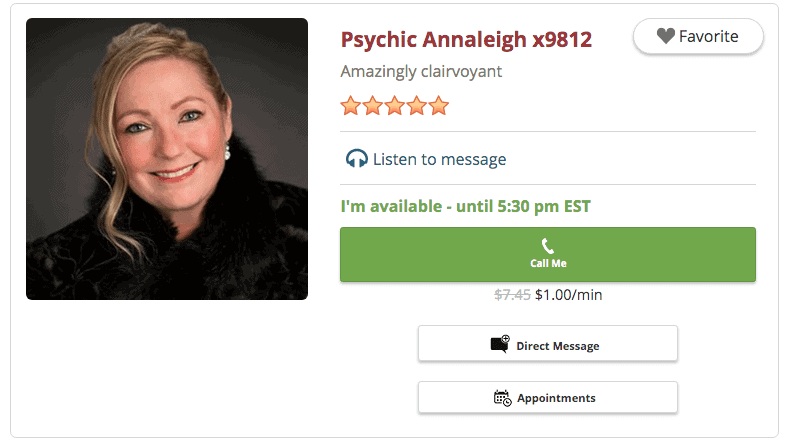 Annaleigh has almost 30 years of experience guiding people on their relationships and twin flame journeys. She is a true empath and does not need to use any special tools to perform her readings.
She is able to instantly connect with her clients and understand the dilemmas they're facing. Her abilities are unparalleled and her readings are always highly accurate. She is usually available for $7.45 a minute, but with Psychic Source's introductory offer you can speak to her for just $1 per minute.
Bottom Line
Finding your twin flame is a true blessing because of the joy and completion it brings to your life. You'll be able to experience a relationship unlike any you've ever had before with someone who matches you in every single way. Love can be difficult, but with your twin flame, it's a million times easier.
It can sometimes be unclear whether the person you've connected with is really your twin flame. While the signs I've listed will really help you narrow it down, there's no harm in seeking a professional opinion just to be completely certain. Keen is my top pick for twin flame psychics.
FAQs
Can a psychic help find my soulmate?
It's possible because psychics draw upon their subject's inner energies to perform love readings. This helps them determine if there are any special connections or people in your life. They can also advise you if any changes need to be made or if there's anything or you need to worry about.
Keep in mind that readings can be quite sensitive. And this is why I recommend that you get in touch with a gifted psychic who has plenty of experience advising her clients on matters related to soulmates and twin flames.
Are twin flame relationships real?
Yes, twin flame relationships are the real thing. A twin flame is someone who has gone through the same experiences or traumas as you, and this in turn helps you form an intense bond with them.
Oftentimes, twin flames have extraordinary spiritual, emotional, physical, and sexual chemistry with one another. And this is often easily noticed by those around you.
What is the difference between a soulmate and true love?
A soulmate is similar to true love, but the difference is that the term soulmate has spiritual beliefs attached to it. This is because some psychics believe that every soul is missing a piece of it and a person's soulmate completes this part of them.
But many people often confuse lust with love and make the mistake of assuming that their latest partner is now their soulmate. It is for this reason exactly that I recommend that you work with a psychic reader with the skills and experience needed to perform love readings. They can tap into you and your partner's aura to determine your compatibility for another.