What on earth do our dreams mean? Whether it's your teeth falling out, an old friend suddenly reappearing or something terrible happening, trying to work out what your dreams mean requires expert help.
But why do you need a professional dream interpreter? Well, if you're looking for quick answers and an expert opinion, they're your best option. You can try to read about your dreams online but dream interpreters are gifted psychic specialists who can read your dreams and provide their other realm insights.
The Best Dream Interpretation Websites
There are so many so-called 'best' dream interpretation sites out there, that finding one can be just as confusing as your dream itself.
Even if you visit a top psychic reading website (of which I've independently reviewed dozens), the sheer amount of psychics on offer can be really intimidating.
So I've decided to do the hard work for you, checking out and speaking with the best dream interpreters and psychics that these sites have to offer!
I've found psychic dream interpreters suitable for all styles of readings, budgets and who have excellent customer feedback and ratings. I'm almost certain you'll find the best psychics dream interpreter for you on this very list!
Among the psychics reading platforms I highly admire, Psychic Source stands out as the most established and oldest psychics site (boasting a remarkable 30-year track record). And, you can make a consultations for as low as 66 cents per minute, which, without a doubt, represents the most affordable per-minute rate I have come across on any psychics reading platform!
Its dream interpreters are put into several different categories, including clairsentients, clairvoyants and psychics mediums, so I recommend applying these filters and checking out the psychics available.
Psychic Pearl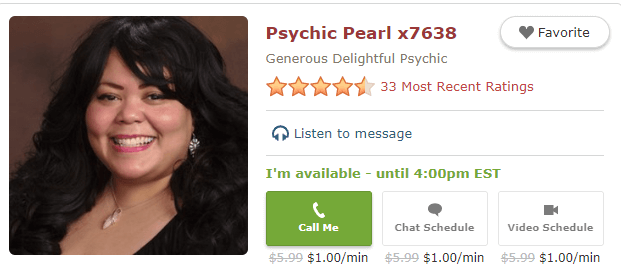 Pearl has been a Psychic Source psychic since November 2013, and has racked up almost 550 reviews in that time. She has many gifts, including clairaudience and tarot reading, but is a natural empath.
Pearl reads in a straightforward but compassionate way, helping you to delve into your deepest psyche via your dreams. I personally found her to be very intuitive, and she helped me with a particularly tricky dream I'd been having. I really felt that she gave me an interesting new perspective, delving into my life without me really telling her anything about it!
Pearl's rates start from just 66 cents per minute, with Psychic Source's introductory offer for new signups, which is down from her usual $5.99 per minute rates.
Psychic Willow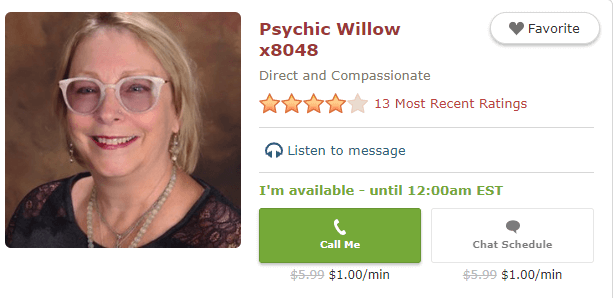 Psychic Willow has been reading at Psychic Source since March 2010, and has received almost 350 reviews from customers during that time.
She's a natural-born psychic, who tells it straight (which I really appreciated), as well as a deep-trance medium, among other psychic gifts. She's also been a professional tarot reader for over 52 years, and is just ready and waiting to decipher every message locked inside your dreams – no matter how strange.
I gave Psychic Willow a call to help me decipher a particularly frightening recurring dream. She gave me a lot of interesting truths, while unpicking details that I'd never really taken notice of. Since we spoke, I've had far fewer recurrences of that dream!
Psychic Willow is available to speak from just 66 cents a minute, thanks to Psychic Source's introductory offer, and usually charges $5.99 per minute.
Psychic Sally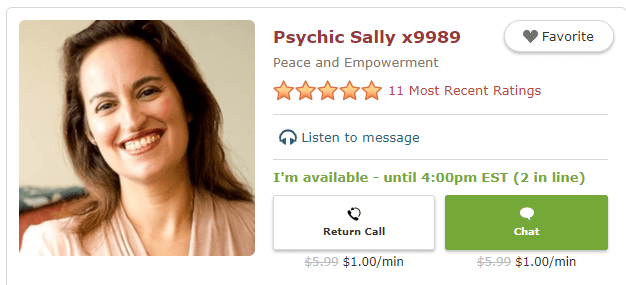 Psychic Sally is a little newer than my other best dream interpretation site readers, but since January 2018, she has received over 200 reviews from very happy customers.
She's a clairaudient, clairvoyant natural empath, and can read both without tools and with tarot cards. I found her very direct yet expressive, an approach which I enjoyed.
I enjoyed Psychic Sally's interpretation of my dream, which was a newer dream that I had started having regularly after a particularly painful recent occurrence. She tackled it with grace and honesty, and helped me see a whole new perspective.
Psychic Sally's rates for new signups to Psychic Source are 66 cents a minute, or $5.99 a minute regularly.
Keen Psychics
I do love Keen Psychics – it looks wonderful, it's super easy to use and I have a great time every time I speak with one of its psychics.
It has a nice introductory offer, with new signups receiving their first 5 minutes for $1. On top of that, I must say that I find Keen's prices per minute for psychics calls very reasonable, which is never a given at any psychic reading site!
There are around 20 dream interpreters available to speak, and here are my top picks:

Maiden of Mystery
Having been at Keen Psychics since 2001, Maiden of Mystery has a very impressive 35,000 readings under her belt, as well as 15,000 reviews (at the time of writing this).
As well as providing dream interpretation, she can also read tarot, Angel Readings and remote viewings.
Her specialty is dream interpretation, and I found her analysis to be very eye-opening, and as if I was in the presence of a real expert, who at times was so inside my head that it was slightly uncomfortable!
Maiden of Mystery charges $3.49 per minute, which is very worth it, in my opinion.

Healing Solutions with Iriana
Iriana has been providing psychic reading services at Keen Psychics since 2001, during which time she has amassed 5000 readings, and 2500 reviews from customers.
The reason I like Iriana so much is that she marries her natural psychics ability (she's a spiritual channeler, empath and clairvoyant, among other gifts) with an academic focus – Jungian dream interpretation, to be exact.
Her reading was fascinating, as she both gave me a psychic interpretation and an academic one, which I greatly enjoyed!
She charges $2.07 a minute for calls which is incredibly reasonable, and especially for such a dual expert – and I highly recommend giving her a call.
California Psychics
I love California Psychics – it has fantastic psychics available, all easily accessible via some truly amazing filtering and sorting options. California Psychics also has a generous introductory offer with psychics as low as $1 or $4 a minute (for premium psychics).
There are over 100 dream interpreters here waiting for you. Of these, I found a few that I really enjoyed speaking with, and who you might consider some of the best dream interpreters online!
Zitta

Zitta has been reading at California Psychics since 2013, and has given almost 19,000 readings since then, with 1700 happy reviews from customers.
She's a natural empath and clairvoyant, and is very specific with details. I found her to be quick to pick up on things in her dream interpretation reading which I would never have told her voluntarily!
She charges $2 per minute with California Psychics' introductory offer, which is a huge discount from her usual $6.50 a minute.
Charlie

Charlie has racked up a very impressive 50,000 readings at California Psychics ever since he joined in 2010. Of these, 900 happy customers have left reviews.. He's a natural empath and clairvoyant, who reads without tools, and also provides remote viewing services.
Charlie is bilingual in Spanish and English, and when I called him for a dream interpretation reading, he used his other gifts to give me some more information, including a quick aura reading (which was very insightful).
He usually charges $6.50 a minute, although thanks to California Psychics' introductory offer you can have a call with him for just $2 per minute.
The Best Dream Interpretation Websites – What to Expect?
Whether you're a regular dream interpretation reading customer or this is one of your first times, every psychic reader approaches dream interpretation readings in a very different way.
Of the psychics I've just listed, I received very different but insightful readings from each. Here are some things you should know about before getting a dream interpreter reading:
Check out your chosen psychic's other gifts. Each psychic I spoke to used a variety of their other gifts to give me an in-depth reading of my dream. I found it very interesting, to say the least!
Help your psychics out. They may ask for a few details about your life or otherwise or even intuit on their own – either way, help them along to get the most from you reading.
Be as descriptive as possible. The first few times I had an online dream reputation reading, I was so nervous that I forgot the dream I wanted to discuss. In order to prepare, I really suggest writing down as many details of the dream as possible before your session, as it will help you to relax and recall the important aspects to discuss.
The Best Dream Interpretation Sites – A Bottom Line
While every dream interpreter varies, one thing never will: you.
Your dreams are a product of your own psyche, and so are all interconnected. If I can give one piece of advice, it's find a dream interpreter you enjoy speaking with and with whom you really connect, and then stick with them: you're building up a relationship, and your psychic will get to know you and your dreams, providing deeper insight into them in time.