Using your name and date of birth, an experienced numerologist can provide you with in-depth insights into your life path and destiny. But with so many online services out there, how do you know which numerology reading site to choose?
I've done the research so you don't have to. Here are the numerology sites you should consider.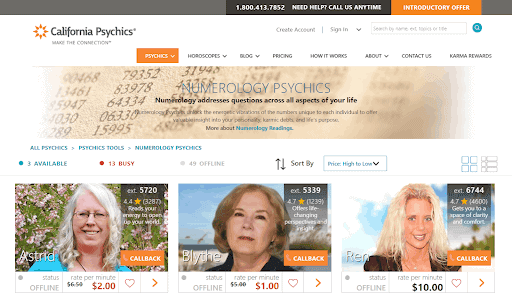 California Psychics is one of the easiest sites to use when searching for a numerologist.
Users have 60 readers to choose from and can filter their results based on experience, availability, price, and ratings.
Each advisor's price per minute, rating, and availability are displayed directly in the search results, making it easy to make a decision at a glance.
What I really like is that you can request a call back if a numerologist is busy. The site even tells you how long you can expect to wait for a reading and how many users are ahead of you in the queue.
California Psychics has been around since 1995, so I'm always confident in their services. They also have a rigorous psychic screening process that includes a background check. And if you are not satisfied with a reading, you can request a credit of up to 15 minutes for a future reading.
Over and above their established reputation, California Psychics is affordable. New users can get a reading for as low as $1 per minute. Thereafter, keep in mind that some psychics cost more than others, with the more experienced numerologists charging as high as $15 per minute.
Find a Numerologist on California Psychics
2. Kasamba – Best for Satisfaction Guarantee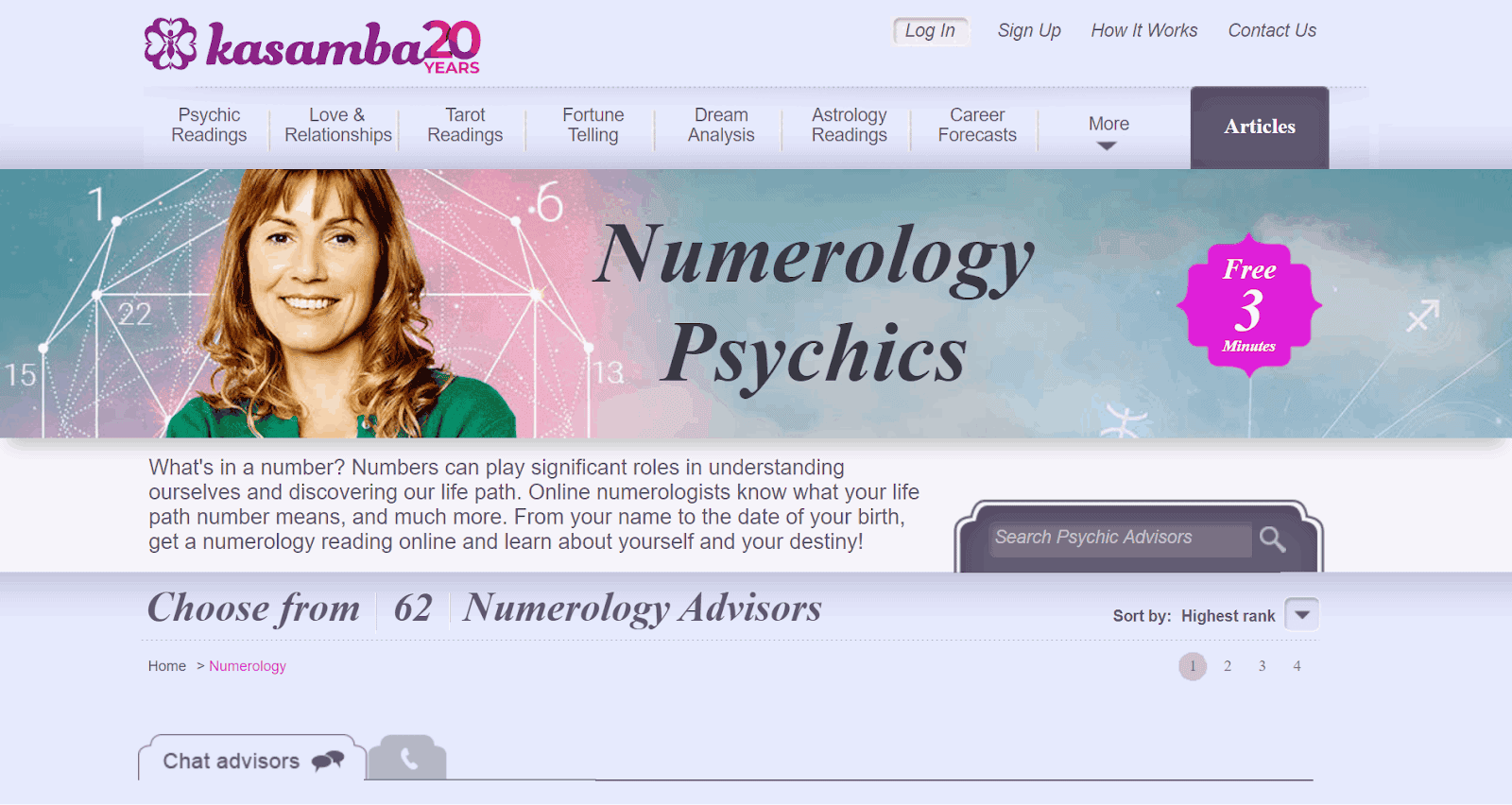 Kasamba has been around for over 20 years and the site has racked up hundreds of glowing reviews.
I found over 60 numerologists available for chat readings on Kasamba, with over 35 also offering phone readings.
Your numerology reading could cost as low as $1.69, but since Kasamba is one of the pricier online psychic services out there, you could pay as much as $30 per minute.
Because Kasamba psychics can get a bit expensive, I was relieved to discover their search function made it possible to filter results based on price.
On the plus side, Kasamba gives new customers a 70% discount and 3 free minutes, giving you the chance to find the right numerologist without spending anything. If you go beyond those 3 minutes during your first reading but are not satisfied with the outcome, Kasamba's satisfaction guarantee promises up to a $50 refund.
Find a Numerologist on Kasamba
3. PathForward – Best for Affordable Readings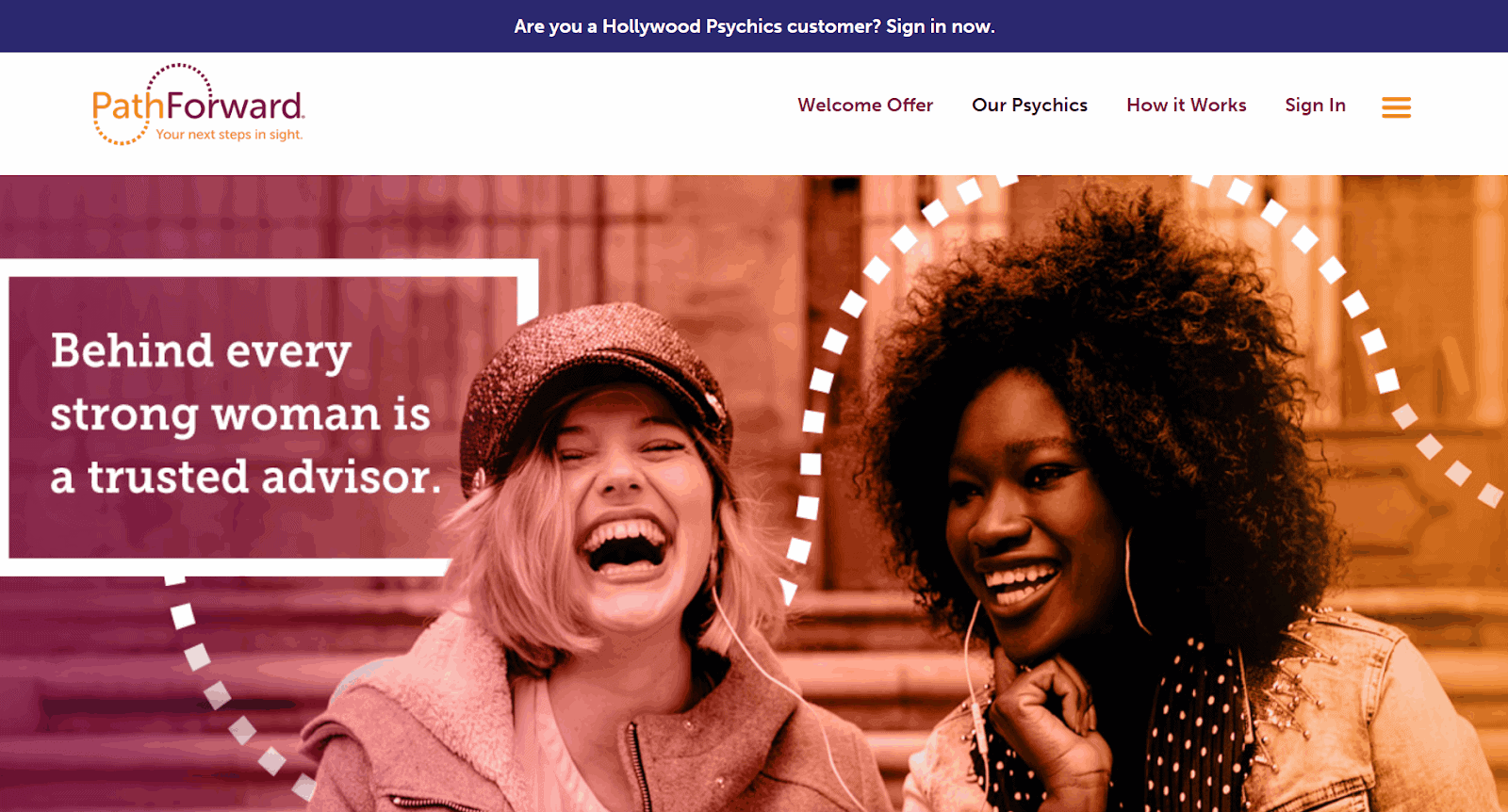 Formerly known as Hollywood Psychics, PathForward has been offering psychic and numerology readings for the past 15 years.
Compared to the other sites on this list, PathForward doesn't have an overwhelming number of readers. Out of the 50+ advisors on their website, I only found 9 numerologists. All PathForward psychics offer phone readings, but some offer chat readings too.
I was a bit surprised by how few advisors PathForward had at first, but then I realized just how easy it is to decide on a numerologist.
If you are a newbie, or you don't want to spend hours searching for a numerologist, PathForward is the ideal option.
I also like how each reader's availability is displayed in the search results, making it even easier to schedule a reading.
But the real attraction for me was PathForward's affordable prices.
Readings for new customers are $1 per minute regardless of the advisor you choose. Plus, the first 3 minutes are free.
Even after you become a regular user, you will never pay more than $5 per minute.
Find a Numerologist on PathForward
4. Psychic Source – Best for Video Readings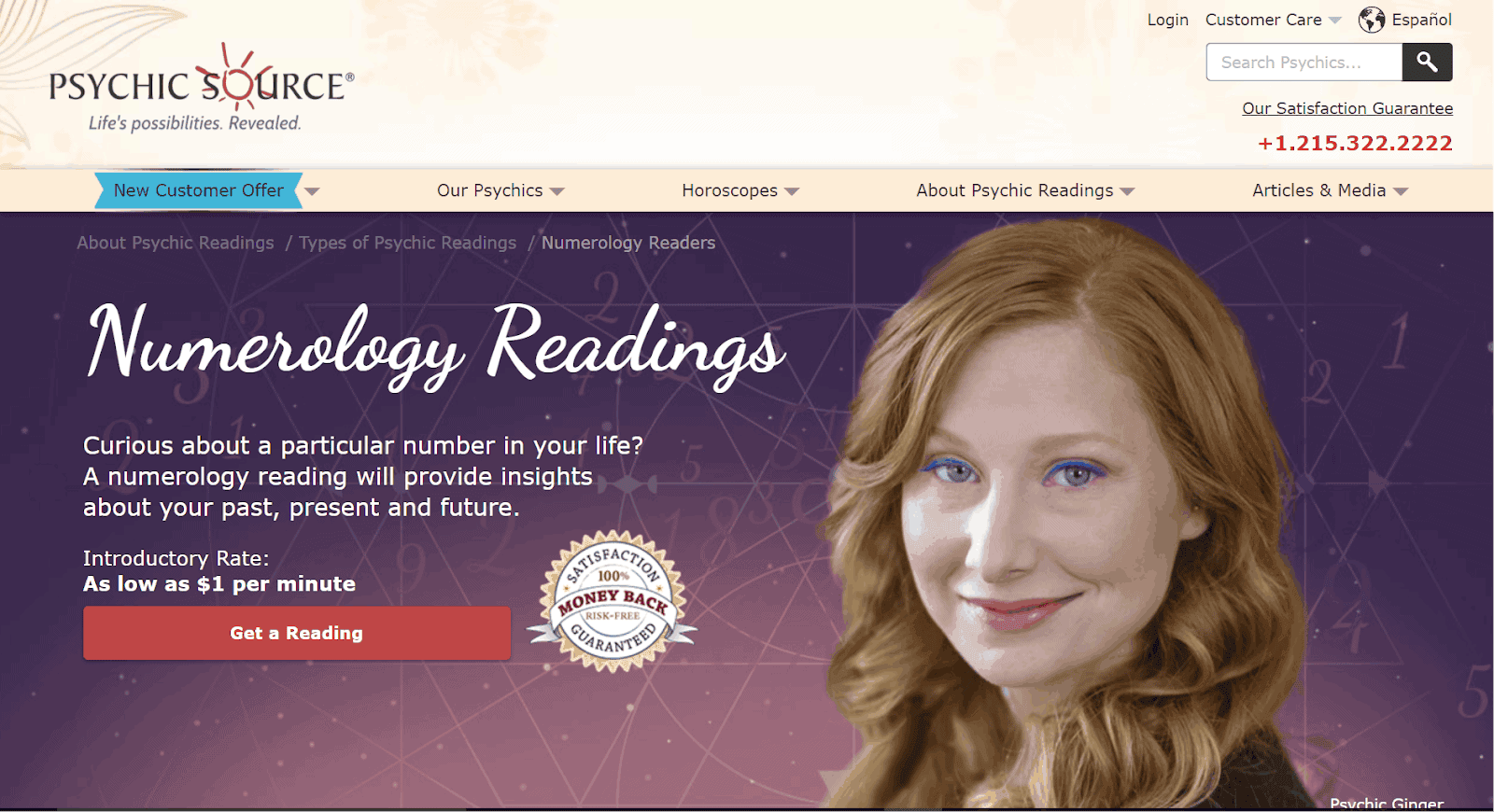 Psychic Source is another great option for affordable numerology readings. New customers get the advantage of a $1 per minute introductory offer, along with 3 free minutes on their first reading.
However, the main reason why Psychic Source stands out is because they are one of the few sites that offer video readings.
There are 30 numerologists on the Psychic Source site – just the right amount to avoid getting overwhelmed or underwhelmed. And, if the reader you want is busy or unavailable, simply check their schedule.
The Psychic Source website has a lot of unique features that got me even more interested. The Find a Psychic tool automatically matches you to a reader based on your answers to a few questions.
To take it a step further, you can get a better feel for a reader by listening to a prerecorded intro message on their profile page.
Overall, the low introductory offer and the option to chat with a numerologist face-to-face makes Psychic Source an excellent choice.
Find a Numerologist on Psychic Source
5. Keen Psychics – Best for Transparent Psychic Profiles
I only found 4 numerologists on Keen Psychics, which is by far the smallest selection on this list. However, having so few psychics to choose from can actually work in your favor.
Despite the very small selection, Keen's reputation is just too stellar to not feature on this list. Keen Psychics has been around for over 20 years, boasting some of the most experienced psychics out there.
The best part is how transparent their psychic profiles are, showing everything from the number of readings an advisor has performed, to what past clients have to say.
When compared to some other sites, many Keen Psychics are on the affordable side. Readings can cost as low as $1.99 per minute, but some psychics charge as high as $30 per minute.
The good news is your first 3 minutes are free and they have a satisfaction guarantee that could refund you up to $25.
Find a Numerologist on Keen Psychics
6. Oranum – Best for Free Chats and Live Shows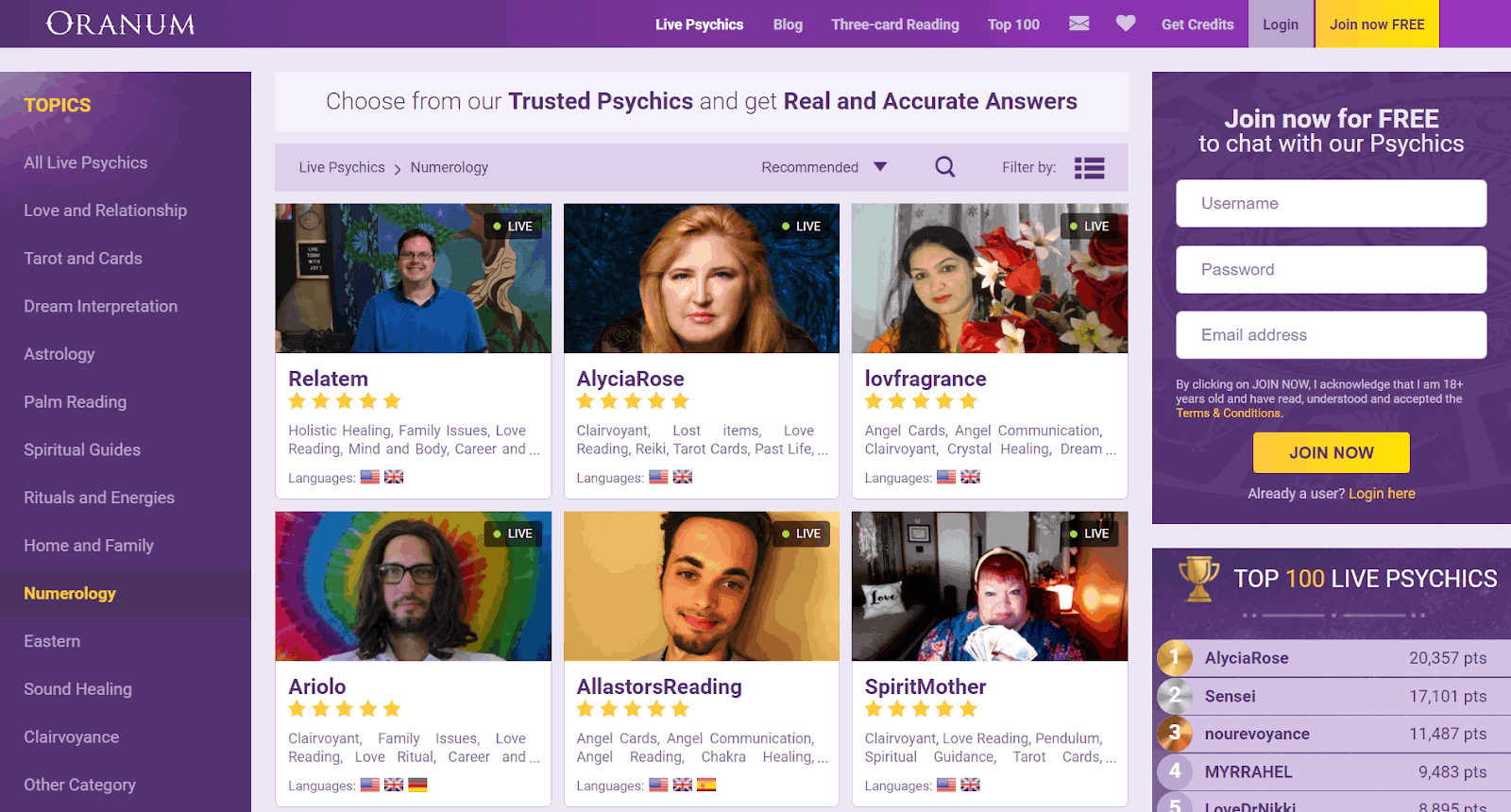 Oranum has over 170 numerologists – the widest selection on this list by far. If you are new to numerology, this could be rather overwhelming. However, if you are more experienced, you may prefer a wider selection.
Fortunately, Oranum has some helpful features that make it easier to find the right numerologist. One of the site's specialties is their free live shows. Without creating an account, you can watch a reader live and ask questions.
When you're confident that a numerologist is a good match, you can switch to or schedule a private reading. New users get an introductory offer of $9.99 worth of free credits. Depending on the reader, that's enough to get you a 10-minute reading for free.
Are Numerology Readings Accurate?
Provided your reader doesn't make any mathematical mistakes, numerology readings can be highly accurate.
These in-depth calculations can tell you a lot about the current energies in your life, your life path, and the likelihood of certain events.
With that being said, it's important to remember that nothing can affect free will. You will always have the option to make different choices and take a different path. No matter what your numerology chart indicates, you are still completely in charge of your future.
What a numerology reading can tell you is what energies to be aware of and how your personality might affect your choices.
Bottom Line
Numerology readings can give you the insight needed to understand yourself, your purpose, and the world around you. Because these readings are so detailed, it's important to choose a numerologist you can trust.
But remember, the right site for you really depends on what you find important. So, make a choice based on your own preferences, and take advantage of the many introductory offers out there to find the best site for you.