With a screening process as rigorous as Everclear's, there's no doubt that the site is home to some of the industry's best psychics. Everclear offers really competitive rates, and with its introductory offer, you get the first three minutes of your first reading completely free – what better way to find a psychic you feel connected to.
Searching through hundreds of psychics can be overwhelming, so I've taken the time to create a list of some of Everclear's top psychics to help you find a good fit.
The psychics on this list all have hundreds of positive reviews, making it easy to see why they are so well-loved by their clients.
Among all its psychics, Winter L has the most positive reviews on Everclear and what's great is that she's available for readings every single day of the week. She makes use of tarot, angel, and spirit cards together with pendulums to give you accurate spiritual guidance by deciphering the energy that surrounds you.
Winter L isn't just a gifted medium, she has also received a Master's degree in mental health counseling. She is honest, yet compassionate and makes sure to treat her clients with just the right amount of tenderness. She usually charges $2.99 per minute, but your first three minutes are free with Everclear's introductory offer.
Susanna A is one of Everclear's highest-rated life path and relationship experts. She uses tarot, numerology, reiki, and rebirthing combined with her qualifications as a licensed marriage, family, and child therapist to perform clear and accurate psychic readings.
Susanna's approach to psychic readings empowers her customers to create a life path that will lead them in the direction of the destination they are trying to reach. She teaches you easy-to-implement tools, so the effects of her readings are felt long after the session has ended. You can talk to her for $2.99 per minute, or send her a yes/no question via live chat.
Brea L prefers to take a straightforward approach to her psychic readings. She is a love, relationship, and career expert who can give you the guidance you need without mincing words. She is backed by 25 years of experience and uses tarot together with her natural gifts to perform her readings.
Brea has confidence in the accuracy of her readings, but this is also proven by the rave reviews her clients have left her, boasting about her unprecedented intuition. You can arrange to speak to her for only $3.32 per minute.
Stephanie Dyke is one of Everclear's most versatile psychics, having the ability to read on love and relationships, careers, destiny and life paths, money and finances, wellness, and pets. She uses numerology, tarot, and reiki together with her gifts and psychic abilities to perform concise and accurate readings.
Stephanie has 4 years of psychic reading experience, but because of the quality of her readings, she's helped hundreds of clients in that short time. She takes her work seriously and makes sure that every one of her clients feels as valued as possible. She is only available for phone calls at $1.99 per minute on Everclear.
Kate is unassuming as one of Everclear's top psychics but she's backed by over 10 years of experience and extensive education in psychology, sociology, and the spiritual arts. She provides the tools you need to move in the right direction and manifest the future you want to create.
Kate has a naturally uplifting style and aims to give her clients the best possible advice on the topics of love and relationships, destiny and life paths, careers, and lost loved ones, but she's also excellent as a general reader. She is priced slightly higher than her counterparts on the site, charging $5 a minute for a reading, but you can use the site's introductory offer to reduce this cost.
Types of Psychic Readings on Everclear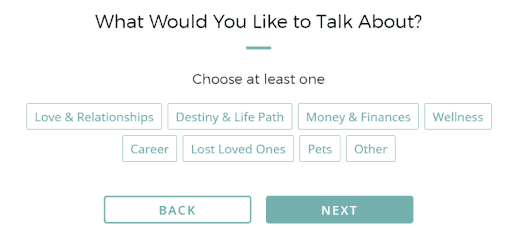 When you arrive at the Everclear website, you'll come across a tool available on the homepage that assists you in finding a psychic who matches your requirements. Utilizing this tool is likely the simplest method to narrow down your search, as you won't have the option to sort psychics based on reading type when viewing all their profiles at once. This functionality also enables you to choose your preferred spiritual tools and whether you'd prefer to consult with a psychic or an empath.
Love & Relationships
If you need guidance on your love life or even non-romantic relationships, this category is one of the most popular among Everclear psychics, so you are guaranteed to find a good fit. You can get helpful insight on whether you are stuck in a toxic relationship, or even just tips on how to improve a healthy one.
Destiny & Life Path
With the never-ending rat race most people live, destiny can sometimes be obscured by the responsibilities that seem to pile on non-stop. There are plenty of Everclear psychics who can help you refocus and align yourself with your true path so that you can fulfill your purpose.
Money & Finances
This topic can often seem worlds apart from those usually discussed through spiritual guidance, but in actual fact, a psychic on Everclear can help you identify negative habits that are stopping you from achieving true financial freedom.
Career
If you're not sure whether you're pursuing the right career, or if you just need help excelling in your current job, an Everclear psychic can give you guidance from the universe to help you reach your professional goals.
Lost Loved Ones
Since psychics have a link to the supernatural, you can seek peace after losing a precious loved one by finding out how they are faring in the afterlife. Furthermore, an Everclear psychic will be able to help you unpack the emotions you're feeling and get a handle on your grief. There are even pet psychics if you want to connect with a furry family member who has passed on.
Bottom Line
Everclear has something for everyone, and while I'd love to mention all the top psychics on the site, I've had to narrow it down to just the cream of the crop.
If you still can't make a decision based on these recommendations, Everclear's search tool is really great for helping you get started. You can also make use of the site's introductory offer where you'll get three minutes completely free so you can get a feel for the psychic you're interested in before you begin paying for the service.