It's widely believed that psychics have a special ability to read your mind and tell you if you have a "secret admirer". If you're not careful, then these unrealistic expectations can lead to disappointment. However, it doesn't mean that psychics aren't helpful when it comes to relationships.
With that said, a psychic can help you learn more about yourself, your relationship desires, and what's currently hindering you from getting the one you want. But not every psychic provides genuine advice, so finding one that's trustworthy can be difficult.
To save you from trouble, I've tested many several dozen online psychic sites and shortlisted the best ones for relationships. The site I recommend is Keen Psychics, which lets you message psychics directly before you book a reading.
Getting the Most Out of a Love Reading
Be Honest
It's hard to get reliable readings about your relationship because it's not just about you. Some aspects of your life — like your career path and financial health — are almost entirely your own responsibility. Love readings are tricky because they're totally dependent on how someone else influences your life and happiness.
While couples counseling involves two people putting in equal work, you're on your own when you ask a psychic about your relationship. This makes it even harder for advisors to fully understand your situation and help you.
The most important thing you can do is be honest with your reader. Even the most gifted psychic won't be able to help you if you're not open about your relationship. You should be ready to talk openly about the issues you're facing, even if it makes you or your partner sound bad. Your psychic is there to help you, not judge you, so open up and let them.
Expect Disappointment
Disappointment may sound a little harsh, but it's really important to have reasonable expectations about your reading.
A psychic won't be able to tell you if someone is interested in or thinking about you, or if the person you're with at the moment is your soulmate. Real relationships need work and perspective, and no reputable psychic will claim to know what's in your partner's head.
Prepare Your Questions
In my first love reading, I asked questions like, "Should I leave my boyfriend?" and "When will I get married?". Questions like this are pretty much impossible for psychics to answer because the future isn't predetermined.
Remember, good psychics don't simply predict the future. They use their gifts and understanding to help you find direction and clarity and to guide you towards the future you want to create for yourself.
To get the most out of your reading, prepare open-ended questions about your current situation. Good examples are:
How can I improve communication in my relationship?
What can I do to rebuild trust with my partner?
How am I going to get through this breakup?
If we're both happy where we are right now, how could I start a conversation about taking it to the next level?
How will I know when I'm ready to have children?
You should also think about the kinds of tools you'd feel comfortable with for a relationship reading. Better preparation almost always leads to a better reading. If you want to get the most out of your session, it's definitely worth planning ahead.
Have Patience
Whether you're looking for love or you're in a relationship, working towards happiness with someone else can be exhausting. Your psychic can't predict exactly what will happen to you. Seeing something in your future won't magically make it happen. You need to work hard to make sure you're ready for love, whether that means letting go of old relationships, learning to love yourself, or something else entirely.
A good psychic reading can help you gain perspective, and a great one will help you understand what you need to change in your life to reach a place where love can find you.
My Favorite Love and Relationship Psychics
I've talked to a lot of love and relationship psychics on a few different sites. I found that while they were all skilled readers with genuine insights about my love life, I didn't "click" with all of their reading styles. I definitely recommend making sure you have a good connection with your psychic before you get started! You'll save a lot of time and money if you do.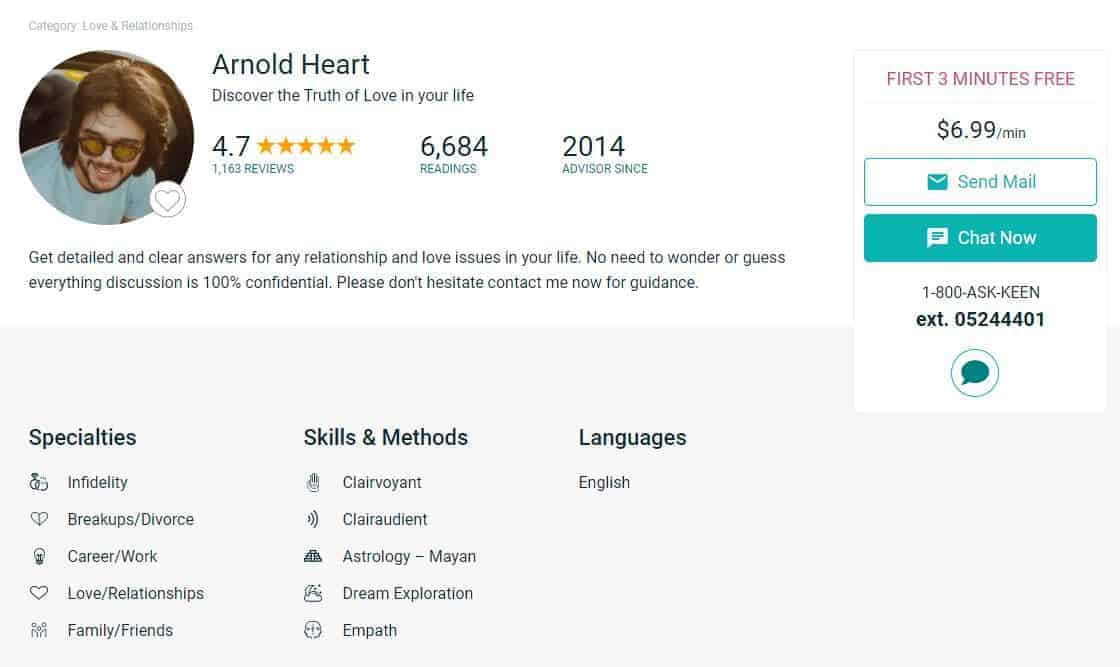 Arnold Heart is an expert at giving advice about relationships. I really like that he includes Family/Friends as one of his specialties — not all relationships are romantic, but they still need time and effort. He gave concise and direct answers to my questions, which really helped me find clarity.
I felt like I was in good hands with Arnold Heart. He's been with Keen Psychics since 2014 and has delivered more than 6,600 readings with an average rating of 4.7 stars, so I was confident that his advice was legit.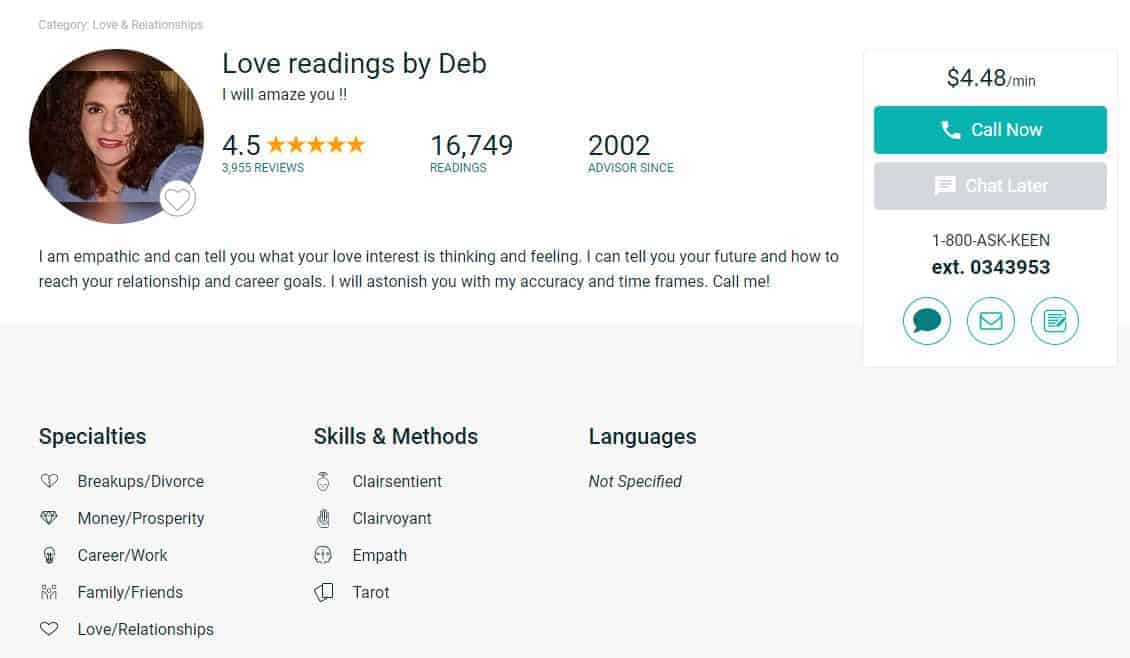 I really liked my reading with Love Readings by Deb. She's given more than 16,000 readings in almost 20 years with Keen and has close to 4,000 reviews and a 4.5-star rating. She seemed super experienced and empathetic, so I was looking forward to my reading.
Deb specializes in love and relationships, with an emphasis on breakups and divorce. I was thinking about ending the relationship I was in, and she used her gifts to see that someone better was on their way to me (she was right!). She also gave me some great advice for getting through the breakup.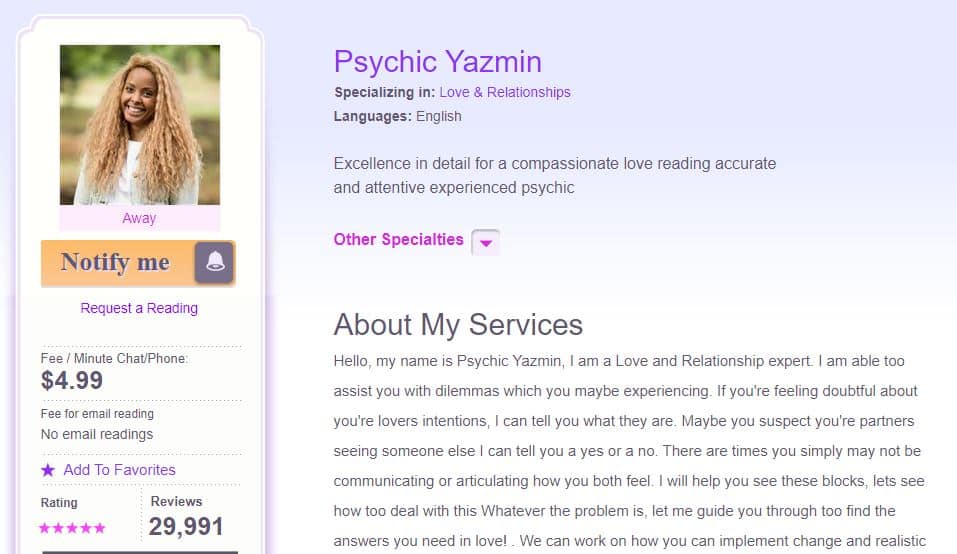 Psychic Yazmin is one of the most experienced readers I've ever spoken to. She's been an advisor since 1998 and has almost 30,000 reviews on Kasamba. While I often enjoy direct readings, I was feeling very vulnerable as I was going through a rough spot in my relationship. Her compassionate reading style was perfect for me.
I felt that Psychic Yazmin really understood the issues I was having. She helped me understand how my partner may have been feeling and gave me some great advice to help us work through our communication issues.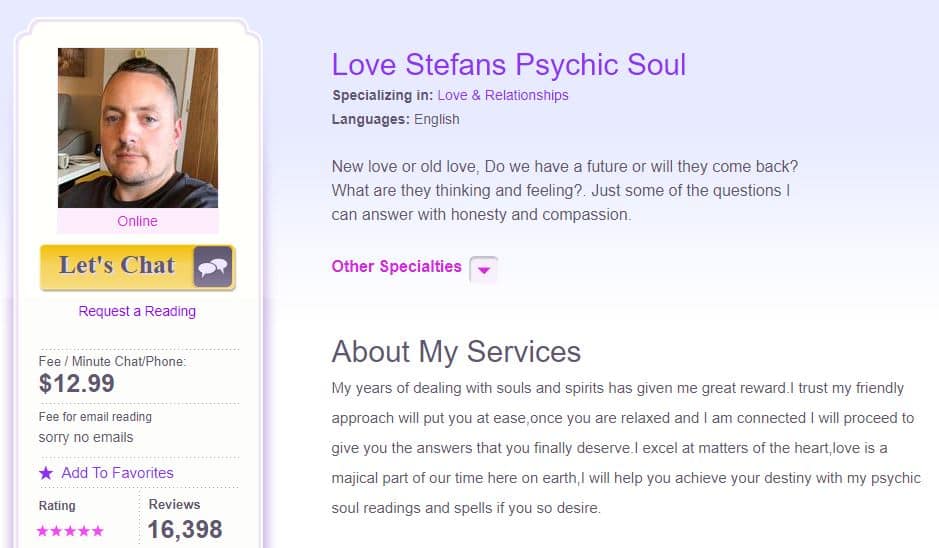 When I get a psychic reading, I usually like to focus on the issues I'm facing in this world. Love Stefans Psychic Soul is a skilled reader who communicates with the spirit world. This pushed me a little outside of my comfort zone, but it definitely wasn't a bad thing. His holistic advice really helped me deal with my relationship issues.
Love Stefans Psychic Soul has a 5-star rating, more than 16,000 reviews, and gifts like mediumship and dream analysis. I definitely plan on going back to him.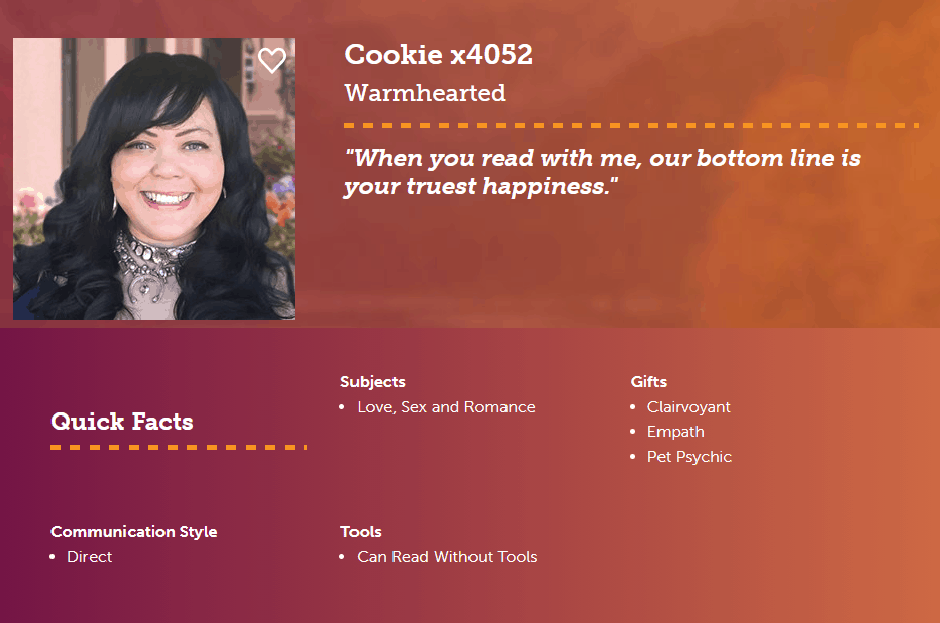 I chose to have a reading with Cookie because she doesn't use tools and because she has a direct reading style. I wasn't disappointed: she gave me clear, no-nonsense advice that really helped me work through the issues I was facing.
Cookie has been giving readings with PathForward since 2016. Although she's not as experienced as the other readers I've mentioned here, I thought she was warm, kind, and empathetic.
Bottom Line
Psychics can tell you lots about your relationships, and you'll get the most out of your reading if you know what to expect before you start. I suggest preparing open-ended questions about the situation you're in now and the relationship you're hoping to build. Remember, great love psychics don't predict your future; they help guide you to a place where love can find you.
Want to read more? Click here to learn about love symbols, what they mean, and how to use them.