Past life readings are very different from what you see in the movies, it's best to temper your expectations with a proper description of the process. To help you avoid the common misconceptions of a past life reading, I got one myself. Using my experience with the process, I created the ultimate guide that shows you everything you need to know.
Once you're familiar with the ins and outs of past life readings, you'll feel confident enough to receive guidance and clarity about your own past life. I recommend you get a past life reading from California Psychics. Its empathetic advisors and satisfaction guarantee will ensure a positive experience.
What a Past Life Reading Can Tell You
A past life reading looks into what your soul has experienced in past lifetimes. By finding out what happened in your past lives, you can better understand your current life. The goal is to return with a soul that is more emotionally and mentally enlightened.
In my experience, a past life reading helped me understand why I feel such a deep connection to certain places, even if nothing happened there in my current life. It also helped me pinpoint the source of some physical ailments (I am allergic to sunflowers, and my past life reading revealed a difficult situation in a sunflower field).
But most importantly, a past life reading can help you explore and heal unresolved emotions and embrace the lessons of your past lives. It's all about what the universe feels you need to learn to reach a higher level of consciousness.
Depending on the psychic, it is possible to get a good idea of what your life was like in past lives. However, keep in mind that it's rare to get very specific answers, such as what your name was.
What Happens During a Past Life Reading?
Before the Reading
Before you schedule a reading in person, decide whether you should have the reading over the phone, chat, or email. You should also consider what type of psychic you'd like to contact. Psychics with a variety of abilities can perform a past life reading, but they are generally clairvoyants and mediums.
Immediately before your reading, you should make sure to clear your mind and make sure you're calm. Past life readings can be a very emotional experience for both you and the psychic. Anything that you experienced in a past life might be experienced by your psychic too, which is why you need to clear your energy following any reading.
During the Reading
During my past life reading, I didn't have a chronological overview of my past lives, and you shouldn't expect one, either. My reader saw me as an adult in a past life before seeing me as a child a few seconds later. The information often seems disjointed and random, which is perfectly normal.
The whole session began with a guided meditation that put me in a deeply relaxed state and activated the right side of my brain (the one related to our intuition, imagination, and creativity). This is how my psychic connected to the depths of my subconscious. After 20 minutes, she began to reveal some valuable information.
What surprised me the most was how some of the details resonated with me in a way that I couldn't explain. Moreover, I found that the information I received was related to my recent dreams, which is when past life memories tend to appear. This was definitely a jaw-dropping moment for me.
After the Reading
At the end of the reading, my psychic left me with guidance to help me better navigate this life. She also gave me insight into why I have certain phobias and recurring thoughts and why I repeat certain patterns.
All readings are as unique as each individual who receives them. In my experience, a single past life reading tied up the loose ends that years of therapy didn't. Understanding my most unexplained problems helped motivate me to make the changes necessary to move forward.
Can You Pick Which Past Lives You Want to See?
Past life readings operate differently from what some might assume. During these readings, the past life information revealed is what your soul chooses to reveal to you. Our souls bear imprints from past experiences, potentially influencing our present encounters. Your psychic will perceive and share the most significant information tailored to your current needs.
You should understand that even if your soul experienced a traumatic event in a past life, it doesn't mean it will have the same impact on you in your present life. I encountered this insight during a psychic session when it seemed that I had faced decapitation in a past life. The psychic assured me that there's no need to walk around in fear of its recurrence. Instead, that particular encounter has influenced my discomfort with wearing things around my neck.
In short, go into a past life reading with an open mind if you want the most fulfilling experience.
Are Past Life Readings and Regression the Same?
Past life readings serve the purpose of providing you with a deeper understanding of your previous experiences and their influence on your current life. It is important to note that past life readings differ from past life regressions.
Past life regression is when you actually see and experience your past for yourself. These can be very intense and traumatic experiences. If you do schedule one of these sessions, make sure it's with an experienced professional that you trust.
I find that past life readings are a simpler, more manageable way to experience your past. If you're not sure what your past might hold for you (and it's always a surprise, with any past life reading), it's best to start with a past life reading before diving head first into a past life regression session.
Top Past Life Reading Sites (Updated 2023)
1. California Psychics – The Best Site for Past Life Readings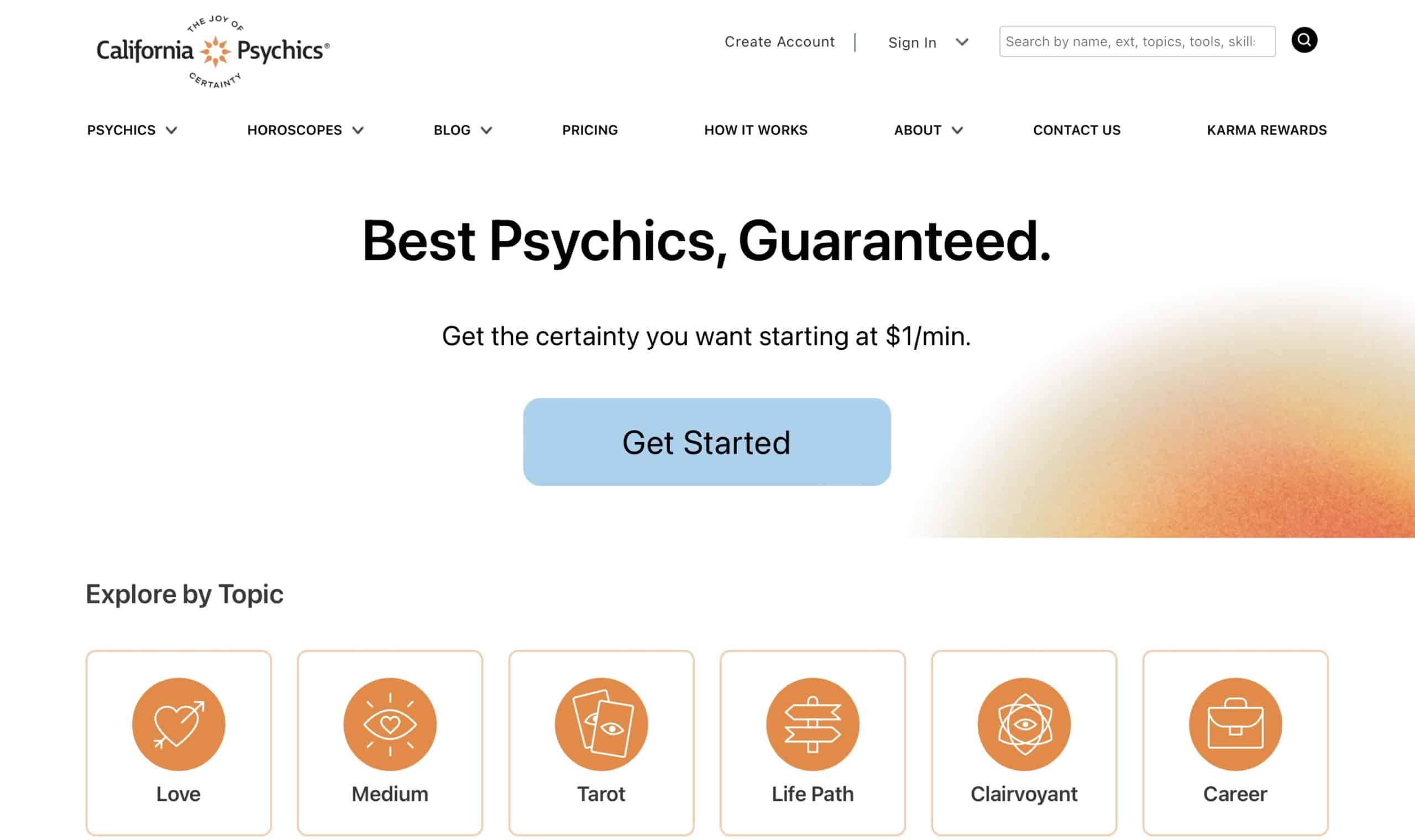 82 past life readers to choose from
$1 per minute introductory rate
Rigorous medium screening process
Intimate and empathetic readings
California Psychics is the best site to get a past life reading. The psychics offer a range of reading styles such as pendulum, oracle, and tarot, and are as intimate, insightful, and empathetic as possible. California Psychics thoroughly screens new psychics to make sure they meet the rigorous standards expected.
I can tell that the one I chose knew exactly what she was doing. She knew how to comfort me in times of anxiety and guide me with accurate advice when I had a concern. At the same time, it really felt like she could sense what was going on beyond the surface.
For example, I came to the reading trying to understand some fears related to the dark, cellars, etc. Although my psychic helped me with this, she discovered that there was an underlying issue that I was afraid to address: my fear of independence. Without her guidance, I wouldn't have been able to uncover it. She helped me see beyond the obvious, which made this reading life-changing.
California Psychics offers readings via chat or phone call, depending on your personal preferences or the environment you are in. I like to schedule a video when I'm alone, but I rely on the chat option when my roommate comes home. I am a very private person when it comes to psychic readings, and I appreciate having a variety of contact options.
There are at least 82 psychics who can do past life readings, so you are sure to find your perfect match. If, after reading all of their profiles, you feel a connection with a psychic who is not currently available, don't worry. You can always schedule a meeting with them as soon as they are back online.
I did find that some California Psychics' advisors are more expensive. The higher rated the psychic is, the more they charge. However, you can still get a first-reading discount if you choose one of the top-rated psychics, at a price of $4/minute. You can also choose a lower-rated psychic for $1/minute — I was still very happy with my reading even when I chose a more affordable reader.
In addition, when you try California Psychics to get a past life reading, you get a satisfaction guarantee if you are not completely happy with your consultation. This policy encouraged me to try different psychics without risking my money. If you find the reading wasn't what you wanted, you can get a credit applied to your account to get the next reading free.
2. Keen – More Than 200 Past-Life Readers to Choose From
274 past-life readers to choose from
5 minutes for $1
Helpful user reviews
"Find a Psychic" tool
Keen has more than 200 qualified past-life readers to choose from, so you're more likely to find a reader that fits your specific concern. Having a lot of psychics available also means you're more likely to be able to get a reading at any time of day.
Despite the number of psychics available, I didn't find it tricky to make a choice. Keen's "Find a Psychic" tool lets you filter psychics by reading type, and also by skills, tools, and price. You can also sort by availability, which is useful if you want to get a reading immediately.
Once you've got a handful of psychics to choose from, the best way to make your choice is to read the many helpful reviews from past clients. Each psychic's profile sheds light on their background and personal style, allowing you to do thorough research before you make a decision.
You can call or chat with your psychic, depending on your preference. If the psychic you want to chat with isn't available, Keen also allows you to schedule a meeting. This makes it a lot easier to plan a reading for when you're most comfortable, which is essential for the best experience.
The only downside I found with Keen is their lack of a refund process. However, you shouldn't be discouraged because if you are not satisfied with your past life reading, you can get a credit of up to $25 on your next reading. You just need to submit a request within 72 hours of your session ending.
3. Psychic Source – Enjoy a Face-to-Face Past Life Reading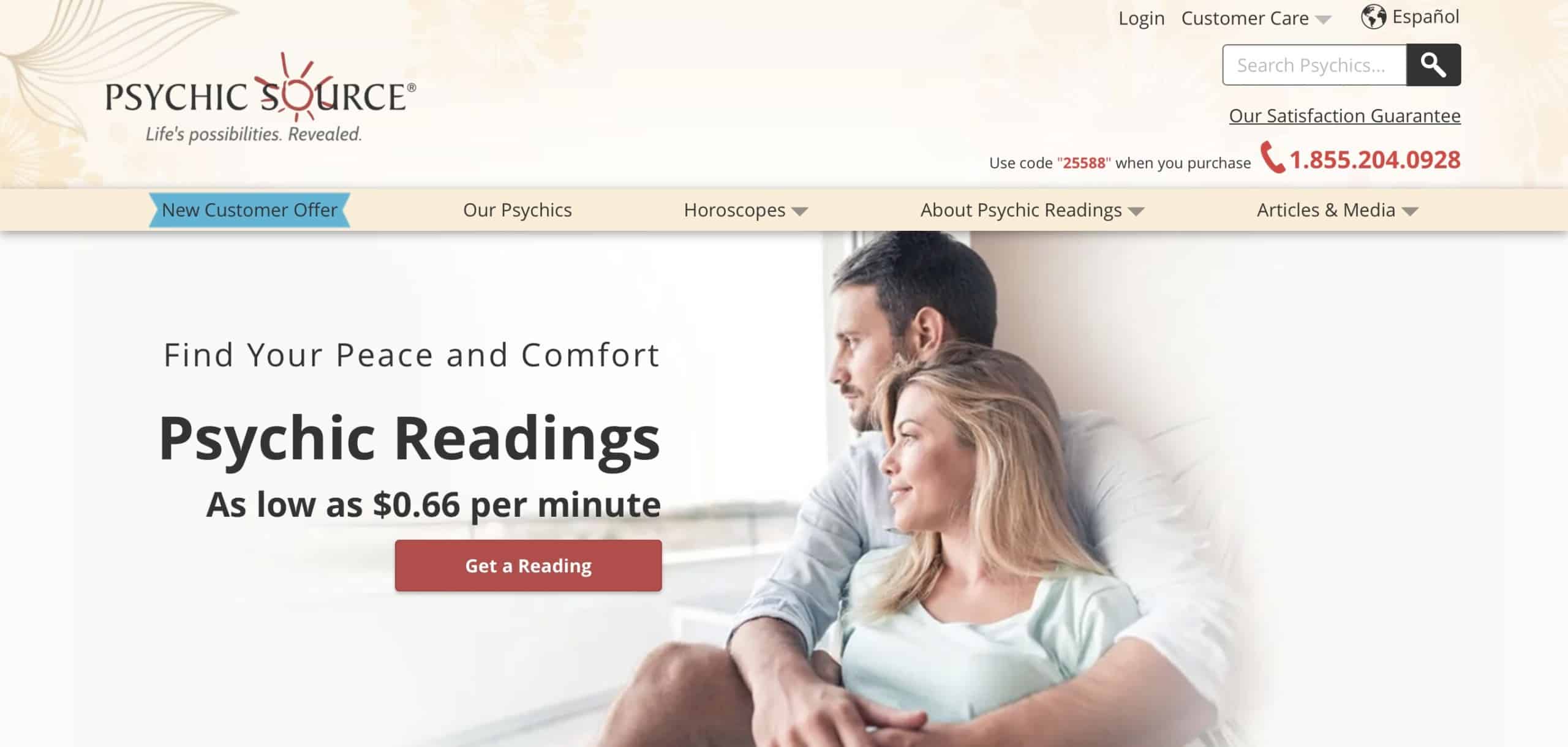 29 past life readers to choose from
Introductory rate of $0.66/minute plus 5 minutes free
Readings available via phone call, live chat, or video call
Highly personal readings
As well as offering readings by live chat and phone call, Psychic Source offers past life readings by video call, which is not available on all sites. I liked meeting my psychic via video call because it made the session more personal.
Since getting a video reading is an intimate experience, I was relieved to see that Psychic Source allows you to schedule your past-life appointment at a time that suits you best. This means you can get everything prepared ahead of time.
Unfortunately, Psychics Source doesn't have many past-life readers. However, the ones it does have are compassionate and will address all the concerns you may have. Embarking on a soulful journey through your past lives can be a vulnerable experience, but the Psychic Source consultants make all sessions a positive experience.
In addition, Psychic Source's introductory offer of $0.66 per minute is very reassuring. You can even use their money-back guarantee to claim a refund if you are unsatisfied with your past-life reading.
Should You Schedule a Past Life Reading?
I highly recommend that you schedule a past life reading. For me, acknowledging the lessons of my past life has helped me let go of unconscious patterns. This prevented me from making the same mistakes in this life.
This reading also helped me learn a lot about myself and what makes me tick. I can honestly say that I feel more independent, free, and motivated than I did a few months ago.
Your past life reader can uncover some buried trauma, so it's important to find a psychic you trust. You'll want to do a little research of your own before getting a past life reading.
Bottom line
Past life readings reveal important information from your past experiences, talents, struggles, and triumphs. This deeply transformative experience helps you make sense of any fears, phobias, or feelings that are holding you back in this life.
The information you receive during a past life reading can be deeply moving and life-changing. For this reason, I recommend that you seek out a reputable psychic from the sites mentioned in this article.
I chose California Psychics for my past life reading, and I'm glad I did. Their sensitive and professional readers helped me make sense of deep feelings that changed my life. However, you can also choose Keen or Psychic Source if you want to explore other worthwhile options.
To summarize, my top picks for online past life readings are…