Finding the meaning of your lip shape based on your zodiac sign can encourage you to express yourself better. But, with varying interpretations and a lack of formal research on the topic, information can seem a little ambiguous. Using my Astrological knowledge, I've put together a guide on lip shapes for each sign you can explore.
Astrology is a vast subject that can serve as a powerful guide along your spiritual journey. And if you're interested in what it has to say about you, diving into fun topics like lip shapes can be a great place to start. You can use the chart to see if it's accurate with the people you know but for greatest accuracy, check based on their Sun, Rising, and Moon sign.
What's the Link Between Your Lip Shape and Zodiac Sign?
Your ascendant sign rules over your appearance in Astrology, so make sure to check it. Keep in mind that planets close to your ascendant can also influence your lip shape. So, take this chart as a general guideline of each sign's lip shape and for the most accurate interpretations, consult with an experienced Astrologer.
Aries, Taurus, Gemini, Cancer
Shape: Strong, defined, uneven.

Characteristics: Aries' lips reflect their dynamic, assertive, and courageous nature. The pronounced and prominent shape might symbolize their desire to lead and their confident approach to life.

Meaning: The energetic influence of Mars may be expressed through a passionate and active appearance, with a more pronounced upper lip representing Aries' headstrong nature.

Best Lip Color: Bright red & vibrant coral.

Shape: Full, rounded, symmetrical.

Characteristics: Taurus lips exude a sense of comfort, warmth, and indulgence. Their fullness can symbolize a love for earthly pleasures, stability, and a tendency towards luxury.

Meaning: Being ruled by Venus and the Earth element, Taurus' lips reflect an appreciation for beauty and their steadfast, grounded, and pleasure-seeking nature.

Best Lip Color: Neutrals & light brown.

Shape: Fine, curved, balanced.

Characteristics: Lips may be adaptable in appearance, fitting well with various expressions and moods, mirroring Gemini's flexible and versatile personality.

Meaning: Gemini's lips symbolize their quest for knowledge, their ability to communicate effectively, and their often playful and lively disposition.

Best Lip Color: Raspberry pink & glosses.

Shape: Soft, rounded, full.

Characteristics: Cancer's lips have a warm and nurturing quality, reflecting their caring and empathetic nature. Their lips make them seem approachable and comforting.

Meaning: The soft and rounded shape symbolizes Cancer's emotional depth, intuition, and ability to connect with others on an emotional level.

Best Lip Color: Deep rose & peach.
Leo, Virgo, Libra, Scorpio
Shape: Bold, pronounced cupid's bow.

Characteristics: Leo's lips are expressive and attention-grabbing, mirroring their desire to be in the spotlight. They have a naturally appealing and magnetic quality that draws others in.

Meaning: Their lips symbolize their passion, creativity, and leadership abilities. Their pronounced and confident cupid's bow represents their self-assured nature and desire to lead and inspire others.

Best Lip Color: Deep purple & matte red.

Shape: Delicate, proportioned, slight curve.

Characteristics: Neat and refined lips, represent Virgo's analytical and discerning nature. Likely to be well-cared-for, as Virgos often pay attention to health and personal grooming.

Meaning: The precise and delicate shape could symbolize Virgo's intellectual, meticulous approach to life, their desire for order, and their keen eye for detail. Unlikely to be overly bold or dramatic.

Best Lip Color: Powder blush pink & nude.

Shape: Balanced, symmetrical, proportionate.

Characteristics: Well-proportioned and aesthetically pleasing lips mirror Libra's appreciation for beauty and elegance. With a soft and gentle appearance, their lips reflect their diplomatic and graceful nature.

Meaning: Libra's lips showcase the ability to communicate with charm and tact, as well as their inclination towards balance and fairness.

Best Lip Color: Pastels & salmon pink.

Lip Shape: Intense, magnetic, and pouty.

Characteristics: Scorpio's lips have a more enigmatic and intriguing shape, reflecting their passionate and intense nature. Their bottom lip tends to pout or protrude, symbolizing their emotional intensity.

Meaning: Scorpio's lips reflect their sensual and commanding nature. Scorpio's lips might also reflect a controlled strength, indicative of their ability to focus their energy and their determination.

Best Lip Color: Velvet red & burgundy.
Sagittarius, Capricorn, Aquarius, Pisces
Shape: Wide, plump, cheerful.

Characteristics: The lip appears open and inviting, symbolizing their open-mindedness and zest for life. There may be an upward curve, expressing their positive outlook and love for exploration.

Meaning: Sagittarius' lips symbolize their need for freedom, desire to explore, and their philosophy of life. Also represents their jovial nature.

Best Lip Color: Bright coral & stiletto red.

Shape: Firm, angular, controlled.

Characteristics: The lips of a Capricorn may exude a sense of authority and restraint. They could be neither too full nor too thin, symbolizing their balance, structure, and focus on essentials.

Meaning: A Capricorn's lips symbolize their ambition, determination, and ability to set and achieve long-term goals. Their lips reflect a practical and realistic nature.

Best Lip Color: Soft brown & subtle mauve.

Shape: Unique, straight, asymmetrical.

Characteristics: Reflecting their individualistic and innovative nature, Aquarius lips stand out for their distinctiveness. Symbolizes the sign's originality and unconventional nature.

Meaning: Aquarius' lips showcase the ability to think outside the box and the pursuit of personal freedom. Their lips exude the tendency to break boundaries, embrace new ideas, and champion humanitarian causes.

Best Lip Color: Electric blue & metallics.

Shape: Soft, curved, delicate.

Characteristics: May mirror the compassionate, empathetic, and intuitive nature of Pisces. A tendency towards a soft and inviting appearance.

Meaning: The softness and fluidity of the lips symbolizes Pisces' connection to emotions, dreams, and spiritual realms. Additionally, the dual nature of Pisces, with a capacity for deep emotional connection and spiritual exploration.

Best Lip Color: Translucent & ethereal gloss.
Getting to Know Yourself With Astrology
Lip shapes only scratch the surface of all the incredible things you can learn about yourself with Astrology. That's because you have an entire chart that's curated only for you and it outlines things like your appearance, your family life, your relationships, and your career. And while Astrology can just be for fun, a deeper understanding can make your life easier.
Not only can you uncover why you're the way you are, but you can use favorable aspects and planets in your chart to your advantage. For instance, a strong Jupiter in your 1st house can indicate that you'd be great at promoting or that luck flows to you with spiritual development. But, the truth is that being able to spot this information takes a lot of study.
And if you're impatient like me, you'll want to get to the bottom of your chart as soon as possible. That's when leaning on the experience of a trusted Astrologer can help you discover your personal Astrology sooner. You can check out my go-to sites for Astrology readings below and not have to worry about being scammed.
Best Sites for Astrology Readings
Getting an Astrology reading can be a fun way to get to know yourself better. Whether you're curious about how your chart affects your appearance or the influence it has on your career, an Astrologer can bring you those answers. I've put together a list of my favorite sites for Astrology readings so you can get insights without risk.
1. California Psychics — Overall Best for Astrology Readings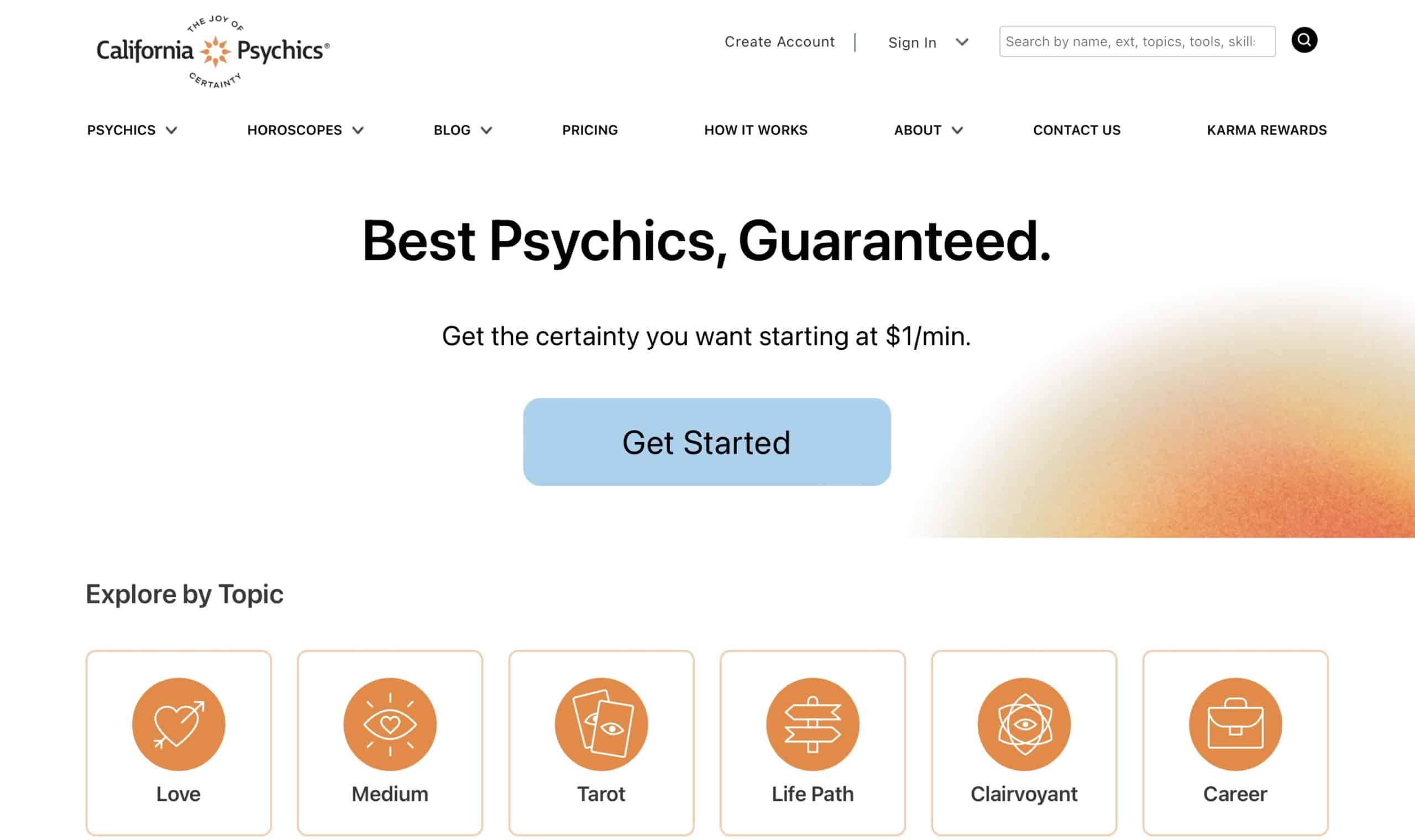 90+ Astrology advisors
$1, $2, or $4/min
Karma Rewards program
Satisfaction guarantee
Chat & call readings
California Psychics offers the most Astrology perks of all the sites I've reviewed. Upon joining its Karma rewards program, you get a free detailed birth chart report and a $20 credit for your first session. The Astrology report is accurate and you'll get valuable information that helps you connect with yourself better.
I find it helpful that on California Psychics each Astrologer lists their delivery style at the top of their profile. That way, if you prefer an inspirational tone you won't end up with someone who has a direct one. Having this information allows you to make the best choice for your needs and ensures you connect with a compatible Astrologer.
While I understand that the regular rates on the site are a little pricey, it's well worth it because of the quality you receive. California Psychics has one of the strictest acceptance rates and only takes on about 2% of all applicants. So, there's little to no risk of getting disappointing Astrology insights.
2. Purple Garden — Get Community Support With Journeys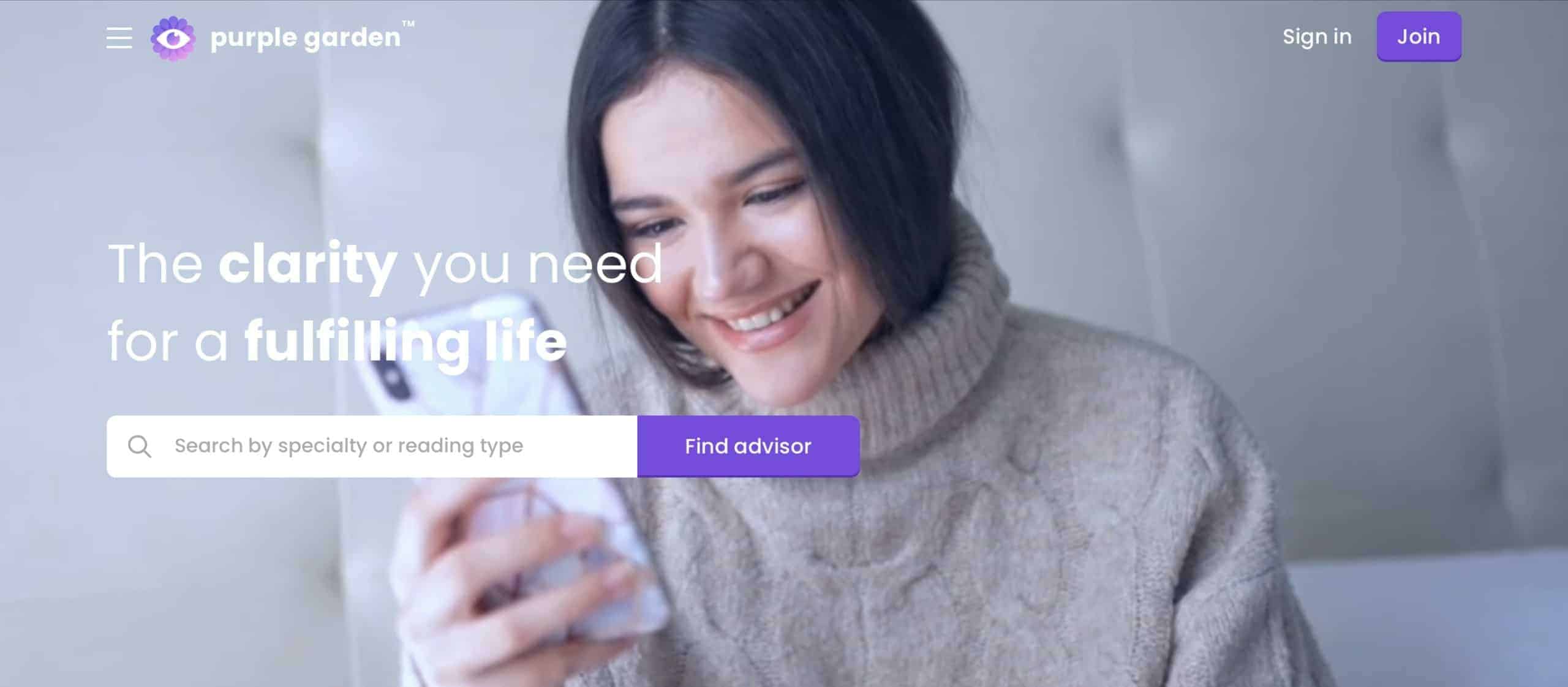 80+ Astrologers
$10 credit for 1st reading
2% cashback program
Refunds available
Chat, call, & video readings
The Journeys community feature on Purple Garden is one of the main reasons I use the site. Journeys lets you connect with others with similar interests through thread-board style posts and you can even find first-hand recommendations for Astrologers. In case you want to find a like-minded Astrology community, you can do so on Purple Garden.
I like Purple Garden's mobile app because it grants you access to exclusive features like Journeys and is convenient for traveling. And even if you just prefer readings over mobile, you won't have to sacrifice this preference with the app. It's great for last minute Astrology insights since you can get connected with a reader in a few taps.
Purple Garden screens its readers but it's not as strict as California Psychics. But, the review sections on Purple Garden are transparent since there's a numerical breakdown of positive vs. negative reviews. The layout makes it impossible for negative comments to get buried over time, so you'll have an accurate idea for an Astrologer's skill.
3. Keen — Easily Find Your Ideal Astrologer With Its Search Filters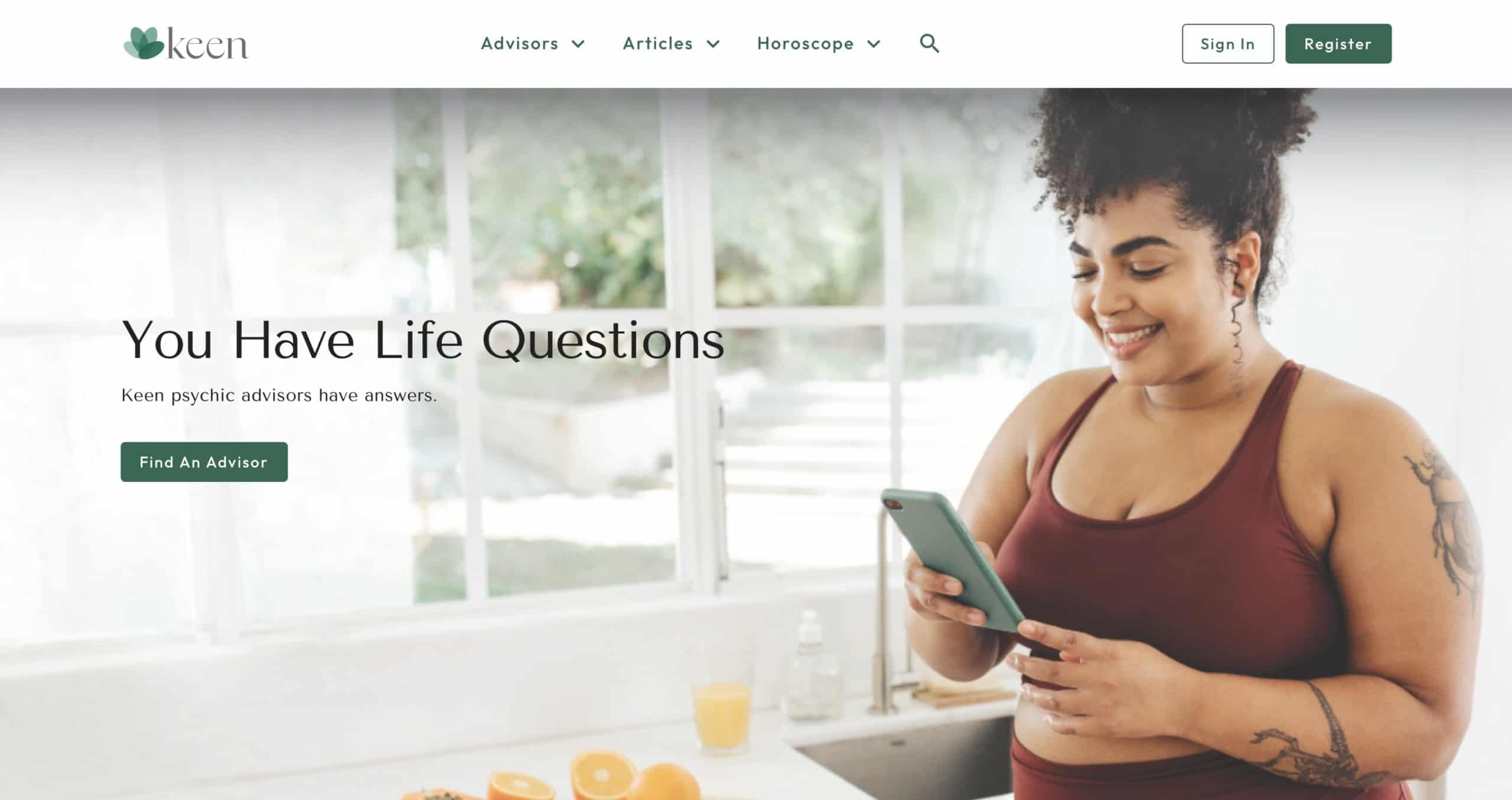 30+ Astrology readers
5 minutes for $1
Keen Rewards program
$25 in Keen credits for refunds
Chat & call sessions
You can get connected with an Astrologer the quickest on Keen because of its useful search filters. You can filter for over 30 preferences and avoid looking through options that aren't for you. For instance, if you'd like an Astrologer that uses Tarot and is clairvoyant, you can find exactly that on Keen in under a minute with its filters.
My favorite feature on Keen is its mail feature since it lets you contact an Astrologer without a booking. In case you have additional questions about an Astrologer's experience or skill level, you can use Keen's mail feature for free clarification. It's a great way to confirm you've selected the right reader before you pay for a full session.
In case you have a below par reading experience, you can get refunded up to $25 in Keen credits. Although there are no refunds back to original payment methods, it offers you the chance to test out another Astrologer without paying double. All clients are eligible for this refund once a month and requesting the refund is hassle-free.
FAQs on Zodiac Lip Shapes
Which zodiac sign has the best lips?
The concept of "best" is highly subjective and varies from person to person. In Astrology, there isn't a ranking of zodiac signs in terms of physical attributes like lips, as each sign has its unique characteristics and qualities that can be appreciated in different ways. However, there are some signs that are ruled by planets that are said to be more aesthetic.
Those with prominent Taurus or Libra placements may have more aesthetic lips or beautiful features since they're both ruled by Venus, the planet of beauty. That said, others would argue that Cancer's feminine influence from the Moon makes their lips just as beautiful. But, this is all subjective and dependent on one's personal beauty preferences.
What's the connection between lip shapes and zodiac signs?
The connection between lip shapes and zodiac signs is a blend of Astrological theory and interpretation. It's not a universally recognized or scientifically proven aspect of Astrology, but some practitioners and enthusiasts might explore this connection for fun. Since Astrology is highly individual, it's only possible to draw general conclusions with appearance.
For example, because Aries is ruled by Mars, it's said that people with Aries ascendants can have red features. Mars may even influence them to feel drawn to red clothing, makeup, or accessories. Similarly, Jupiter ruled signs of Sagittarius and Pisces can be taller than average because of Jupiter's expansive nature.
What other physical attributes are connected to zodiac signs?
In traditional astrology, each zodiac sign is thought to rule or govern a different body part. Aries rules the head, Taurus the neck, Gemini the shoulders, Cancer the chest, Leo the heart, Virgo the intestines, Libra the kidneys, Scorpio the reproductive organs, Sagittarius the hips, Capricorn the knees, Aquarius the ankles, and Pisces the feet.
Typically an Astrologer will use this system while looking at your birth chart to determine the source of current or potential illness. This system reflects the holistic philosophy underlying traditional astrology, where different parts of the cosmos are seen as interrelated and interconnected.
Bottom Line
Although it may seem wild, your zodiac sign can influence things you may have never considered. Let's be real, finding the meaning of your lip shape based on your sign is entertaining and a great way to get to know yourself better. And beyond just your lip shape, you can discover how Astrology influences the rest of your appearance and life.
Just ensure that you're connecting to a reputable Astrologer if you are looking for guidance. It's a safe bet to look for an Astrologer on California Psychics because of its strict vetting practices. The plus of using the platform is that you can get a free astrology report and explore it further with a top rated reader of your choice.
In summary, the best sites for Astrology readings are…