AskNow Overview
AskNow is clean, modern and boasts the 'most talented network of psychics'. Describing itself as 'the home of experts', AskNow certainly seems to talk – but does it walk the walk?
I've reviewed over 10 psychic reading sites, and here's what I think about AskNow.
AskNow Psychics and Services on Offer
AskNow has a solid range of servioces and categories on offer –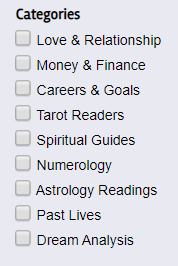 Although it may look modest, this is certainly more than enough – I dont think I've ever seen 'Past Lives' as an option at any of the other psychic reading sites I've reviewed, or dream analysis, come to think of it.
I really think there's more than enough here to give you the answers you need – after all, at sites like California Psychics, Psychic Source and Keen, the number of services and specialists on offer was just overwhelming. Ditto for Oranum, which had 60+ specialists – some of which were so specific that even I hadn't heard of them before.
Otherwise, I really liked AskNow's filtering – it's to the point and not too much (the only other site I've seen that does it even better is California Psychics):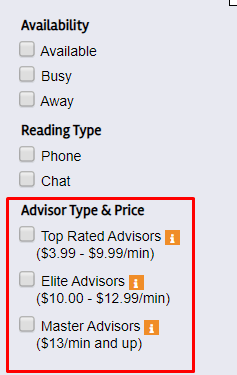 I especially liked the 'filter by price', which is a huge consideration for most customers…but more on that later.
AskNow – Is it Trustworthy?
AskNow is one of the only psychic reading sites that I've seen address the question of whether or not it's actually trustworthy –



But how does this break down, in practice?
Psychic screening process
While some psychic reading sites (California Psychics, Psychic Source) really invest a lot on their applicants – performing background checks, interviewing them – 7th Sense even insist on live reading from all potential applicants – others have a 'set it and forget it' mentality – sites like Kasamba, Keen and Psychic Encounters merely require psychics to create a listing, et voila they can start accepting customers.
At AskNow, potential psychics are taken to an independent website for the site's parent company (One Sun LLC) to apply for a position as psychic.
It's a pretty long form – the questions asked range from personal information, to listing your credentials, zodiac sign and otherwise.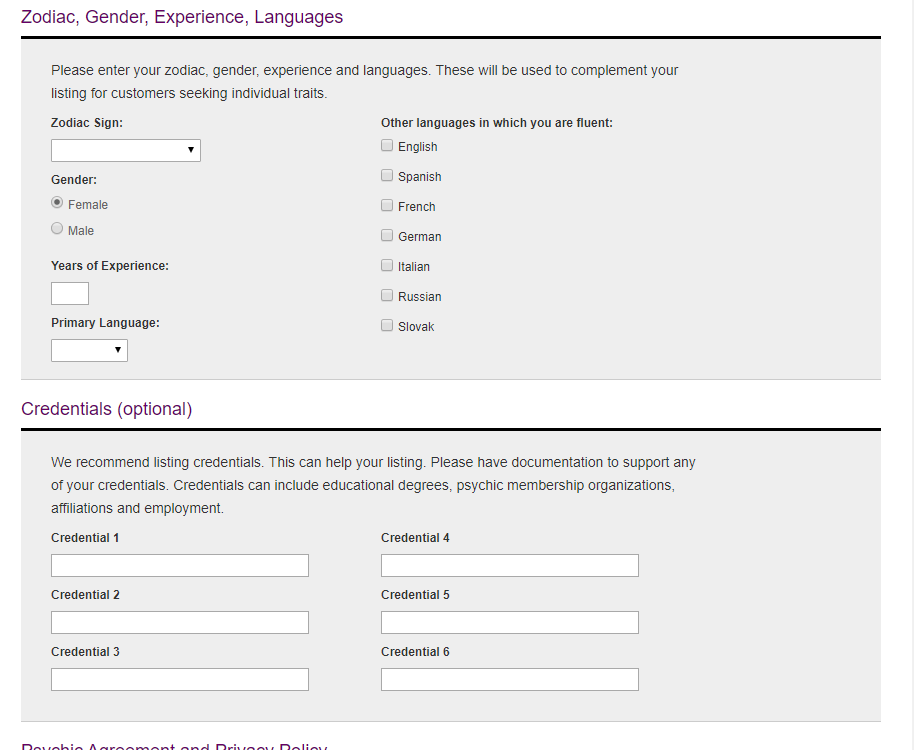 Applicants then have to sign a user agreement.
So far, not so bad – at least the site makes psychics sign an agreement, although I would have liked some kind of interviewing process or background check to have been included.
Psychic bios
Psychic bios at AskNow very nicely put together! Rather than the overwhelm of BitWine Oranum, the profiles give a lot of information in a very clear way: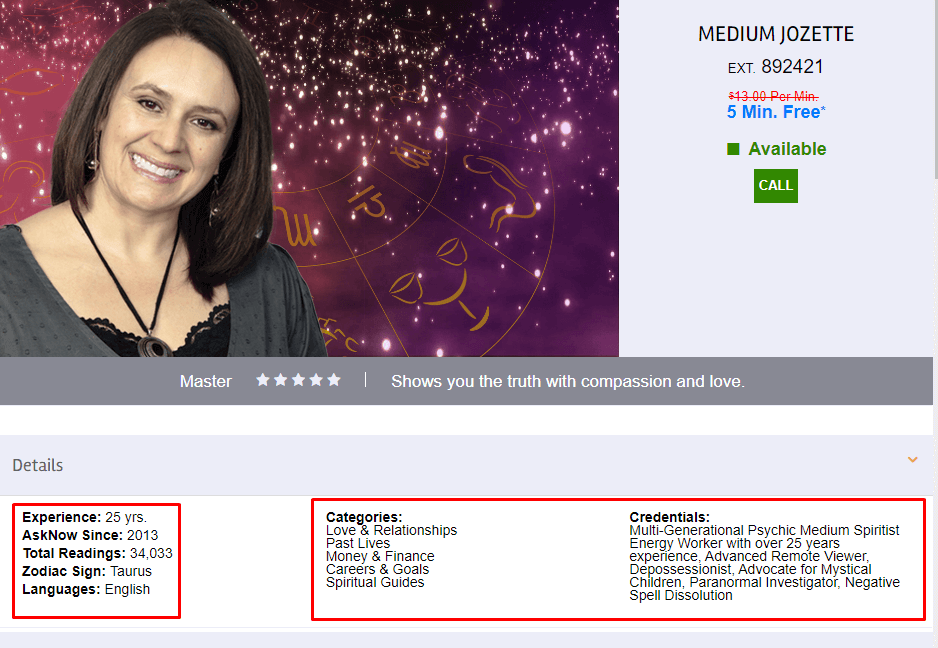 I really liked that the years of experience was shown, as well as the number of readings (which isn't always given) – as well as how many years the psychics has been with AskNow.,
Going down the profile, there are sections for 'About' (where psychics explain how they discovered their gifts, and it makes for quite interesting reading!), reviews and ratings and – my favorite – a scheduler system!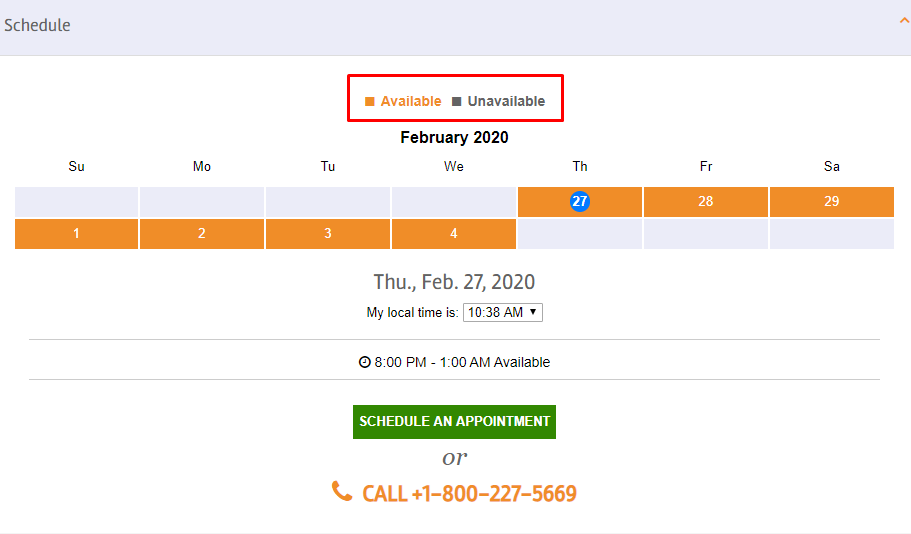 I was very impressed by this.
Customer ratings
You can tell so much about customer ratings, and I liked what I found at AskNow –



Customer feedback just gives you so many insights into the psychics themselves, so I find it very important. It would have been even better if I could have seen some feedback from the psychics themselves (as I did with BitWine), or even see a nice filter for negative comments. Even so, I think customer reactions and comments really speak volumes, and I wasn't disappointed here.
Money-back guarantee
AskNow does have a customer satisfaction guarantee – and quite a good one – but it's pretty hidden.
I found absolutely nothing about it on the website itself, so I had to go digging in the customer terms and conditions to find it –



It states that you can apply for a one-time credit of up to ten minutes if you find your reading unsatisfactory. To do so, you'll need to write to customer support and detail the issue, within 72 hours of your reading, you'll then be refunded the cost of your reading(up to ten minutes) or be given complimentary minutes.
This is pretty good, compared to other sites – it's pretty similar to 7th Sense's customer satisfaction guarantee, as well as California Psychics. Other sites, like Bitwine – don't have customer satisfaction guarantee at all, and it's up to the psychic to reimburse unhappy clients (and make this decision themselves).
I really respect the satisfaction guarantee an offer I just find it strange that Asknow doesn't really advertise this – other sites (Psychic Source, Kasamba) really make it a sticking point for customers.
AskNow Pricing
AskNow lets psychics pick their own pricing, meaning you can choose a psychic offering rates that suit your budget.
There are three levels of psychics – Top Rated Advisors –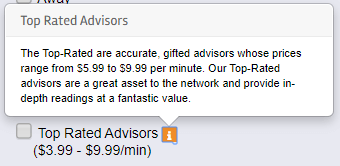 Elite Advisors –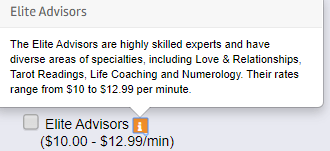 And Master Advisors –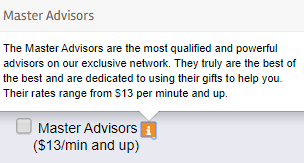 AskNow also has a nice introductory package for new members –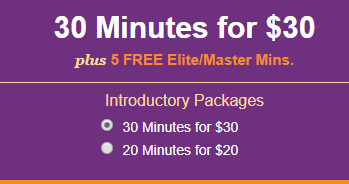 (I particularly liked the 5 free Elite or Master minutes, because their rates are a little pricey for me to pay without some research first, so the 5 minutes were very appreciated).
AskNow's rates are a little higher than the lowest end of the market – for example, Psychic Encounters set its rates at $0.99 per minute for calls, and 7th Sense charge just $1.99 per minute for calls (and have been doing so ever since it was established, 15 years ago) -so $3.99 and up isn't breaking the bank, but it's not the cheapest. On the other hand, it's not the up to $30 per minute rates of top-rated psychics on Kasamba and California Psychics either.
AskNow Customer Support
AskNow is a little cagey about how to get in touch – I tried hitting the 'Contact us' button in the site's footer, only to see it didn't actually link to anything.
So over I went to the FAQ section:


It turns out that AskNow has an email address, a phone address and mail address…which is something I've not seen at any other psychic reading website, and which made me look at AskNow in a whole different light.
Still, I liked that there were several direct ways to get in touch with AskNow, because this isn't a given – at sites like BitWine and Psychic Encounters, there's a 'don't contact us, we'll contact you' online form submission – and only that – which really frustrated me.
Expert Bottom Line on AskNow
AskNow looks good and has a really interesting approach to pricing and its psychics. I liked that each psychic has to physically sign an agreement in order to be featured on the site. And that there's a range of price points for psychics. I also really liked the scheduling system on each psychic's bios, as well as the satisfaction guarantee (even if this is weirdly hidden from view).
I think there could have been a few more psychics specialisms on offer and maybe even a filter for the type of tools that each psychic uses, but all in all, these are very minor issues. I really enjoyed my time at AskNow – especially those 5 free Elite/Master minutes, which gave me access to a higher level psychic than I could have afforded.
AskNow Bottom Line
A simple, straightforward and affordable psychics reading site, with a lot of very happy customers!