AskNow: Overview
At first glance, AskNow seems legitimate. The company describes itself as a premier psychic network and a trusted source of psychic guidance. They have been around since 2005 and host a large number of psychic advisors.
Can they really be trusted though?
In this AskNow review, you might find some evidence that suggests otherwise.
Types of Readings on AskNow
AskNow offers readings in the following categories:
Love and Relationships
Love and relationship readings are very popular in the psychic universe. Whether you want to know if someone is your soulmate or require general guidance on matters of the heart, there are several specialized AskNow advisors that can assist.
Some of AskNow's psychic advisors only specialize in love and relationship readings. This is reassuring as it means you will receive expert advice from an advisor that has made this category their niche.
Money and Finance
Finances can either cause extreme worry or lead to complete freedom. Sound advice from a trusted psychic advisor can go a long way in assisting with planning and problem-solving. For this, you need an experienced psychic that gives realistic and straightforward advice.
During my AskNow review, I found a number of psychics skilled in this area. Some who have done over 19,000 readings.
Careers and Goals
AskNow is one of the few sites that has a separate category for careers and goals. Several very experienced psychics specialize in this specific topic.
Tarot Readings
Most psychic advisors use tarot as one of their tools during readings. Tarot cards can be used to provide a general reading or to answer specific questions.
AskNow doesn't disappoint in terms of the number of psychics who offer tarot readings – you are bound to find the best fit for you.
Spiritual Guides
Our spirit guides are here to help us reach our greatest possible potential on Earth. Channeling spirit guides is a gift that takes years to master. I was able to find several psychics who commune with spiritual guides during my search on AskNow, most of whom have at least 10 years of experience.
Numerology
I am a fan of numerology, so I was happy to find several psychics I could contact about a reading. Many people resonate with this divinatory art form, but unfortunately, AskNow only has 5 psychics who specialize in numerology.
If you are considering an astrology reading, there are far more psychics to choose from.
Past Lives
For many people, knowing about their past lives can provide insights into their present. Not all psychic reading sites offer this transformative category. AskNow currently has 14 psychics who offer past life readings.
Dream Analysis
Dreams are a valuable tool that we can learn from and another category not often found on psychic reading sites. If you are having vivid or recurring dreams, you have 17 dream specialists to choose from on AskNow.
How to Use AskNow
If you are a first-time customer, you will be asked to set up an account before you can connect with a psychic – this is standard.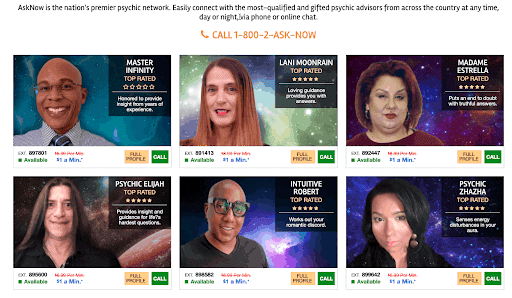 You can choose an advisor by clicking on the Psychics tab or directly from the home page. The Psychics page has several filters, including:
Availability: Available, Busy & Away
Reading Type: Phone or Chat
Advisor Type and Price: Top Rated Advisors ($3.99 – $9.99/min); Elite Advisors ($10.00 – $12.99/min) and Master Advisors ($13/min and up)
Categories: Love and relationships; Finances and Money; Career and Goals; Tarot Readings; Spiritual Guides, Numerology; Astrology; Dream Analysis and Past Lives

Once you have narrowed down your search, you can either get in touch with a psychic immediately or schedule a callback based on your and their availability.
If you are logged in as a registered member, you can also call 1-800-2-ASK-NOW and enter your desired advisor's extension number to connect with them.
Ultimately, AskNow's site is easy to use and understand.
AskNow also has an app that is as user-friendly as the website. Along with scheduling a reading, the app also offers free daily horoscopes and lucky numbers.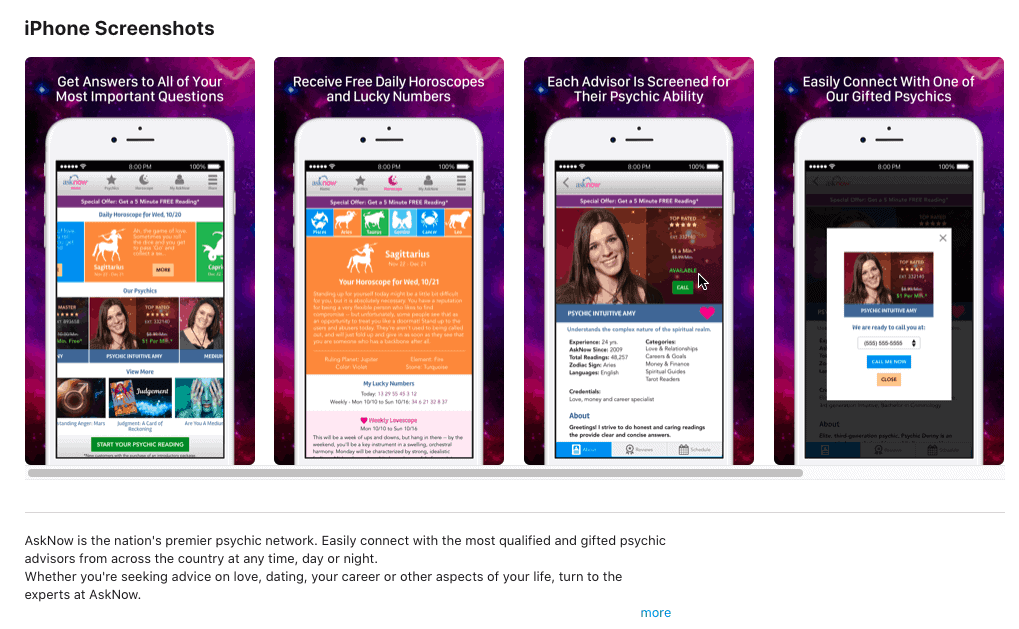 Is AskNow Trustworthy?
With more than a decade and a half in the business, AskNow puts your satisfaction at the forefront. They are so confident in their psychic services that if you aren't content with your first psychic interaction, they will generously offer 5 complimentary minutes. Now, you may question, how is 5 free minutes equivalent to a 100% guarantee, especially if your session extends beyond this limit? That's a valid point to consider when comparing AskNow's guarantee with those of other platforms.
There was also some fine print that made me question their trustworthiness.
On AskNow's homepage, visitors are given the opportunity to ask a free question. This is written in bright, bold letters.
Unfortunately, the fine print states that it is only free if you purchase an introductory package.

As a first-time customer, this feels slightly misleading. It is understandable that some people might want to take advantage of such an offer. But, perhaps they should be wording this offer differently?
On the plus side, they do have a 24/7 helpline should you require assistance or run into problems during registration or a reading.
Top AskNow Advisors
John Alexander

John Alexander have been an advisor for more than 35 years and has completed over 19,300 readings on AskNow. His expertise lies in the areas of love and relationships, money and finance, as well as spiritual guidance. When it comes to approach, John's believe in embracing truth, compassion, and understanding.
Love Specialist Diana

Diana, is a Capricorn that identifies herself as an intuitive advisor. With a long family history of talented psychics, she believes that genuine happiness is attained by embracing faith, truth, and wisdom.
Michael Ryan

Michael Ryan boasts more than 33 years of experience and particularly focus on love and relationships, career and goals, and spiritual guidance. His method prioritizes sincerity and truth, underlining the importance of exploring all aspects of your life, even when they might be uncomfortable, in the quest for answers.
Psychic Cristina
This advisor offers readings in English and Spanish and specializes in love and relationships and tarot readings. Her purpose is to guide clients on life's journey and to help them with the crossroads and pitfalls blocking their futures.
Miss Kim

This psychic is a clairvoyant, clairaudient, clairsentient, and claircognizant. She uses angel cards to gain a deeper understanding and she believes that there is healing when we listen to our spirit guides and angels.
AskNow Pricing
AskNow's pricing depends on the category a psychic falls into:
Top Rated Advisors: $3.99 – $9.99/min
Elite Advisors: $10.00 – $12.99/min
Master Advisors: $13/min and up
New users can take advantage of the $1.00 per minute introductory offer for Top Rates Psychics and 5 free minutes for Master Psychics.
Following the introductory offer, each psychic charges their own rates. The highest rate I could find was for a Master Psychic who charges $14 per minute.
AskNow has 2 introductory packages on offer: $20 for 20 minutes or $30 for 30 minutes. If you opt for the $30 package, you will receive 5 free minutes for Elite/Master Advisors.
It is important to note that package minutes for Top Rated advisors expire after one year and that discount and free Elite/Master minutes expire within 30 days.
Bottom Line
AskNow's site and app are easy to use and navigate. The company is long established and they have some extremely gifted and talented psychics as part of their network. Based on reviews, it seems most of these advisors are legitimate and trustworthy.
I would suggest browsing through some of the fine print before you sign up for a package though.