BitWine Overview
BitWine looks a bit like a site from the earliest days of the internet, which doesn't really make sense considering that BitWine has been online since 2006.
Still, the site describes itself as the 'top destination for anyone looking for psychic guidance…with the lowest fees in the industry'.
That's quite a claim right there -especially when I know that sites like Psychic Encounters and 7th Sense make similar claims.
I've reviewed over 10 psychic reading sites, and here's what I think about BitWine.
BitWine Psychics and Services on Offer
BitWine has a modest offering of psychic services and readings, including –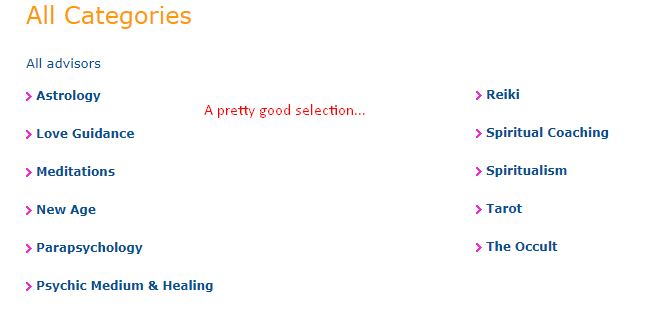 There's a good range of the usual and expected – love and relationships, tarot reading and the occult, but also some other categories that even I hadn't heard of – parapsychology, for one.
But actually, what you'll see once you search for a psychic tells the fuller story: there are other topics on offer, which for some reason aren't provided in the 'topics' menu: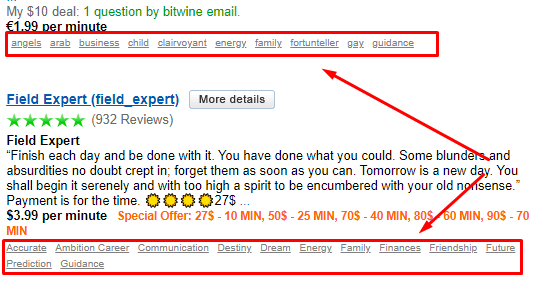 To me, these look like these have been added in by the psychic themselves, and isn't a part of a larger, coherent system of tags, like at, say, California Psychics or Oranum.
There is a search bar at the top of the page where you can search for keywords, so I guess the top psychics are the ones who have tagged their keywords property!
BitWine – Is it Trustworthy?
BitWine is a total blast from the past, which might mean it's even more trustworthy than some other sites: after all, most scams are so high-level nowadays, that you'd be more alert to potential scams from really well-built websites.
BitWine's whole aesthetic screams 'honesty', but here's a deeper dive into certiana spects which you need to know about:
Psychic screening process
Some psychic reading sites go to town on their psychic applicants – both California Psychics and Psychic Source demand background checks and interviews, while Psychic Power Network also demands a live reading from each applicant. Others, like Keen and Psychic Encounters, just need a psychic to apply, post their bio and – and that's it.
BitWine does something more in the middle: each psychic needs to fill out a series of 12 questions, from basic personal information, to a question regarding their psychic abilities, to whether they have a PayPal business account.
And that's it. I guess BitWine – just like Oranum and Keen – rely on its audiences to self select psychics, and weed out the bad or untrustworthy names!
Psychic bios
While some psychic reading sites – Psychic Encounters, 7th Sense – try to keep psychic bios as nice and compact (but full of information) as possible, there are other extremes, like Oranum's social media-style mess of a psychic bio, and then there's this: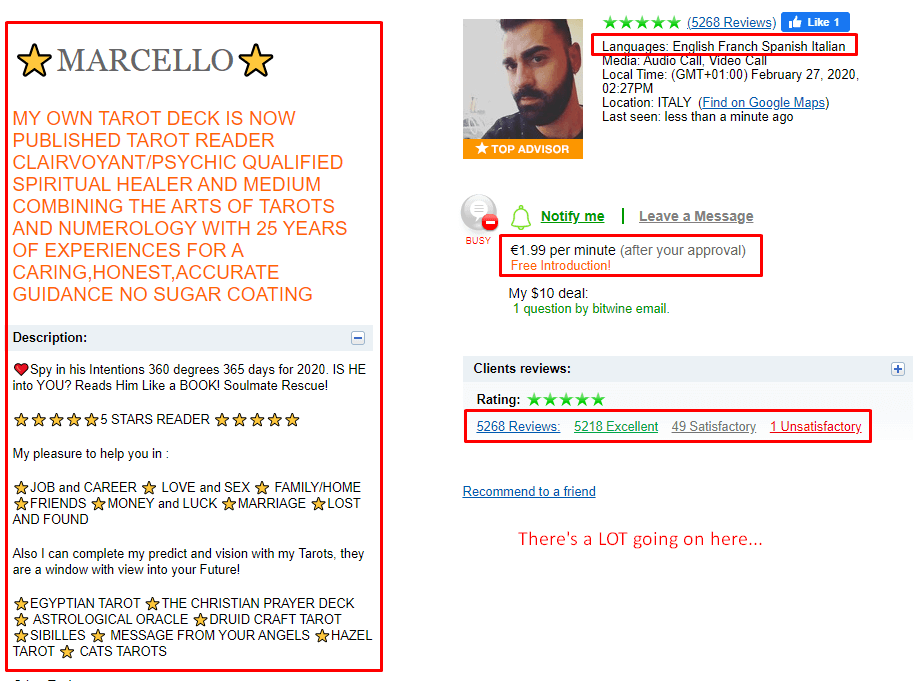 I honestly didn't know where to look here, and I felt like I had to lie down after seeing it!
I really liked that I could clearly see the psychic's location, the languages he spoke and the numbers and types of reviews. I particularly liked that the reviews were clickable by rating – 'Excellent, Satisfactory and Unsatisfactory'.
Otherwise, the psychic bio description seemed to be an absolute mess, but if that's how BitWine rolls (and it's psychics) , then maybe I'm just the square.
Customer ratings
Customer ratings are a real indication for me – at some psychics websites, there is so much feedback that it's a bit mind boggling (like at Oranum, where feedback is actually used as a selling point for psychics, and is plastered across the psychic's bio). At others, like Psychic Encounters, the feedback is pretty hidden, and I suspect, censored.
At BitWine, the feedback is displayed clearly, and there is a LOT of it (I think the most feedback that I've seen at any psychic reading site). Also, it's filterable according to the level of feedback – Excellent, Satisfactory or Unsatisfactory:
(yes, there really are 1054 pages of feedback here – I checked).
Even better, you get to see the psychic's response –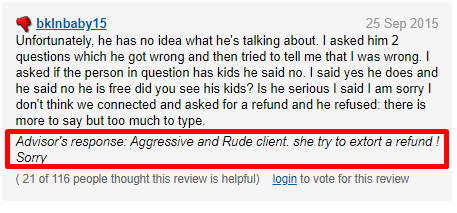 Which I found very interesting and useful in trying to assess which psychic I wanted to speak with.
Money-back guarantee
Shockingly, it seems that BitWine doesn't offer a money-back or satisfaction guarantee. I searched high and low on the site, and even in the Terms and Conditions, for information on this, bt only found this –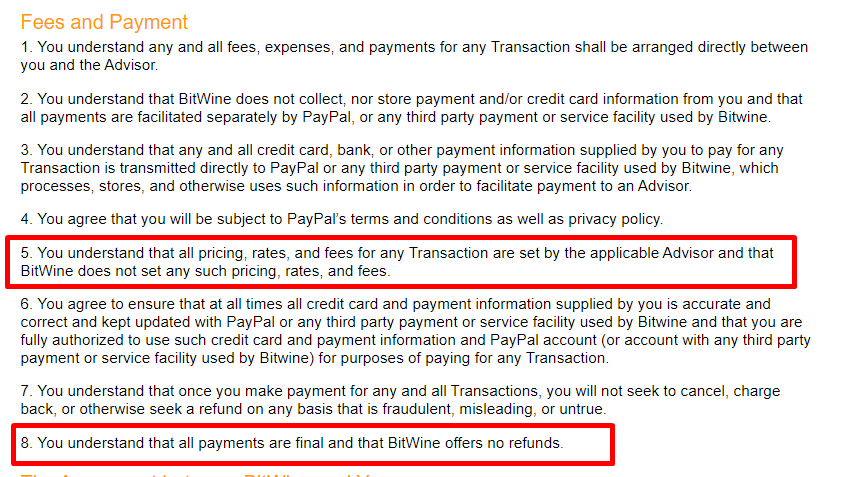 BitWine offers no refunds. It seems that, if you're looking for your money-back, you need to ask the psychic directory (and some of these also advertise this -)
I'm not sure how I feel about this. On the one hand, it gives power to the psychic, and encourages them to really improve their customer service. On the other hand, every other psychic reading site that I've reviewed has included a money-back or satisfaction guarantee if you're dissatisfied, so that's really not cool, BitWine.
BitWine Pricing
It seems like at BitWine, psychics set their own rates – which is pretty much how it's done over at Kasamba, Keen and pretty much almost every psychic reading site.
At BitWine, psychics offer special introductory prices or special deals, such as $10 for a 5 minute quick answers session, or $100 for 1 hour of reading.
It seems that most psychics hover around the $2.99 a minute mark, which is a little more expensive than other psychic reading sites (Psychic Encounters offer $0.99 phone calls, and 7th Sense has kept its $1.99 a minute rates for 15 years).
Each psychic at BitWine offers a $10 special, which can range from a 10 minute chat to a 10-minute voice call.
BitWine Customer Support
As with Psychic Power Network, BitWine has a 'don't contact us, we'll contact you' approach to client communication.
The only thing here is a self-select form, with several topics (and, you should note, nothing about money-back/satisfaction guarantees) –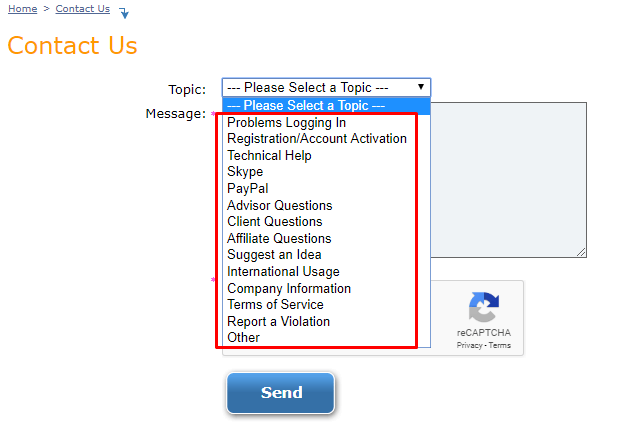 At least there's one way of getting in touch, but I really did prefer having a more direct way of communication – 7th Sense did this fantastically, with a phone line, e-mail address, online form submission and (my favorite) a Facebook messenger widget. I really think BitWine could have done a little better here, but I suspect that any issues you might have, you'll be told to take it up directly with the psychic first.
Expert Bottom Line on BitWine
BitWine is a bit of a blast from the past – looking like a cross between a very old web page and MySpace, it certainly knocked me with some nostalgia!
Otherwise, I liked how psychics were given autonomy to set up their own psychic bios and set their own keywords, but really, leaving it up to psychics to deal with customer satisfaction? I felt BitWine could have done better here, and had one central money-back guarantee for the whole site.
Otherwise, the 'cheapest on the market' claim didn't really come to pass, as I think both Psychic Encounters and 7th Sense are actually cheaper. Still, there is a lot to like at BitWine – and clearly, thousands of other customers have found something to keep coming back for.
BitWine Bottom Line
An old-school psychic reading site, that lets psychics run the show – and lower end of the market prices for psychics.