BitWine: Overview
When it comes to first impressions, BitWine doesn't do a very good job.
I've reviewed several top psychic reading sites, and while BitWine may not look like much on the outside, it has some noteworthy features that could be worth your time.
This BitWine review looks at the site's competitive prices, straight-to-the-point setup, and whether this site is worth considering. If you would prefer a more modern psychic reading site, I would suggest Keen or PathForward.
Types of Readings on BitWine
BitWine's selection of reading types isn't nearly as comprehensive as some other sites out there. It has all the main categories you'd expect to see, like astrology, spiritualism, tarot, and reiki. It also has two more unique categories: parapsychology and the occult.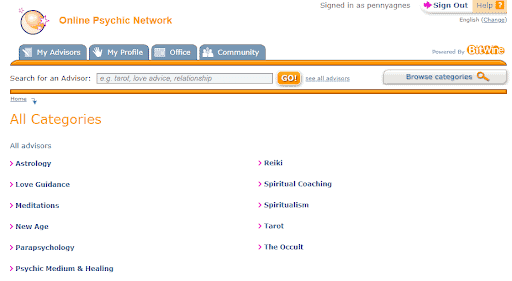 Parapsychology
Similar to clairvoyance, parapsychology involves predicting the future, but it incorporates additional gifts such as telepathy and extrasensory perception. There are hundreds of psychics on Bitwine who specialize in this category, most of whom have a 4 or 5-star rating.
The Occult
I have never seen this category on any other psychic reading sites. It has more to do with magic than psychic readings per se. Using elements associated with the occult, these psychics are able to provide you with a truly unique reading. Surprisingly, there are also hundreds of occult psychics to choose from on BitWine, which makes me question this category.
Tarot
Tarot is a firm favourite amongst psychics, with over 500 BitWine psychics using tarot cards in their readings. Some readers even offer special rates for tarot readings, such as Divine_Power, who offers a special "3 tarot card pick for 1 question" for a price of $35.
Love Guidance
As with all other psychic reading sites, love and relationships is a popular topic on BitWine. The number of psychics specializing in this category is overwhelming. And, unfortunately, there is no way to narrow down your choices based on tools and gifts.
Explore More Readings on BitWine
How to Use BitWine
Right off the bat, you will notice that everything about BitWine's site screams early 2000s – think MySpace era. So, if you are looking for a blast from the past, BitWine delivers. Creating an account is really simple at least and only requires an email, username, and password. No form of payment is necessary in order to start using the site.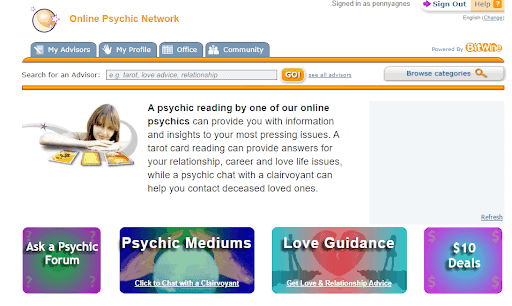 In keeping with the early-2000s theme, BitWine doesn't appear to have a mobile app.
I'll be honest— given the website's primitive looking layout and design, I went into the platform expecting limited functionality. However, I was very pleasantly surprised to find that connecting with an advisor was not as complicated as I was expecting it to be.
As an added bonus, the site offers users a 3 free minutes of chat time with the psychic of their choosing. This is not an introductory offer either, but a standard policy with all psychics.
Unlike other sites where you have to enter a payment method to claim any free introductory rates, BitWine allows you to start chatting right away.
Another plus point is that when I was using my 3 free minutes, communication was not cut off as soon as the 3 minutes ended. I don't know whether the site is programmed this way or readers can waive the time limit, but another 3 free minutes were added to my time after the first 3 ran out.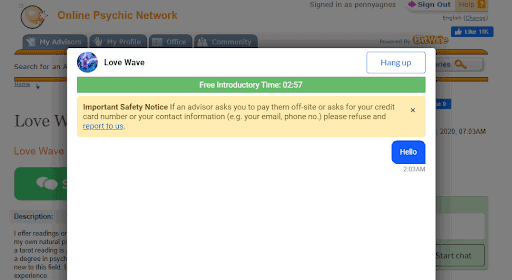 When it comes to searching for a reader, BitWine falls short.. While other sites offer extensive filtering options, BitWine only allows you to select a category.
Each reader has their own bio where you can learn more about their years of experience and specialities. They also have a star rating based on their client's reviews. Something else I like about BitWine is that unlike other sites, users can read the negative reviews as well as the positive ones.
Many sites heavily filter client reviews, which is a red flag for me when it comes to credibility. I really appreciate that BitWine has sorted reviews into three categories: excellent, satisfactory, and unsatisfactory, and allows people to read them all.
If the advisor of your choosing is available you can immediately begin chatting with them. If they're not, you can leave them a message.
Is BitWine Trustworthy?
BitWine has been around since 2006 and features hundreds of psychics. Unfortunately, it looks like it doesn't take much to sign up as a psychic on BitWine.
The application only asks for basic details such as the abilities a psychic possesses and how long they have been practicing.
It's also important to note that BitWine does not advertise any money-back guarantee. They also don't have live chat agents available to assist with questions or concerns. You can only send a message and hope you get a response.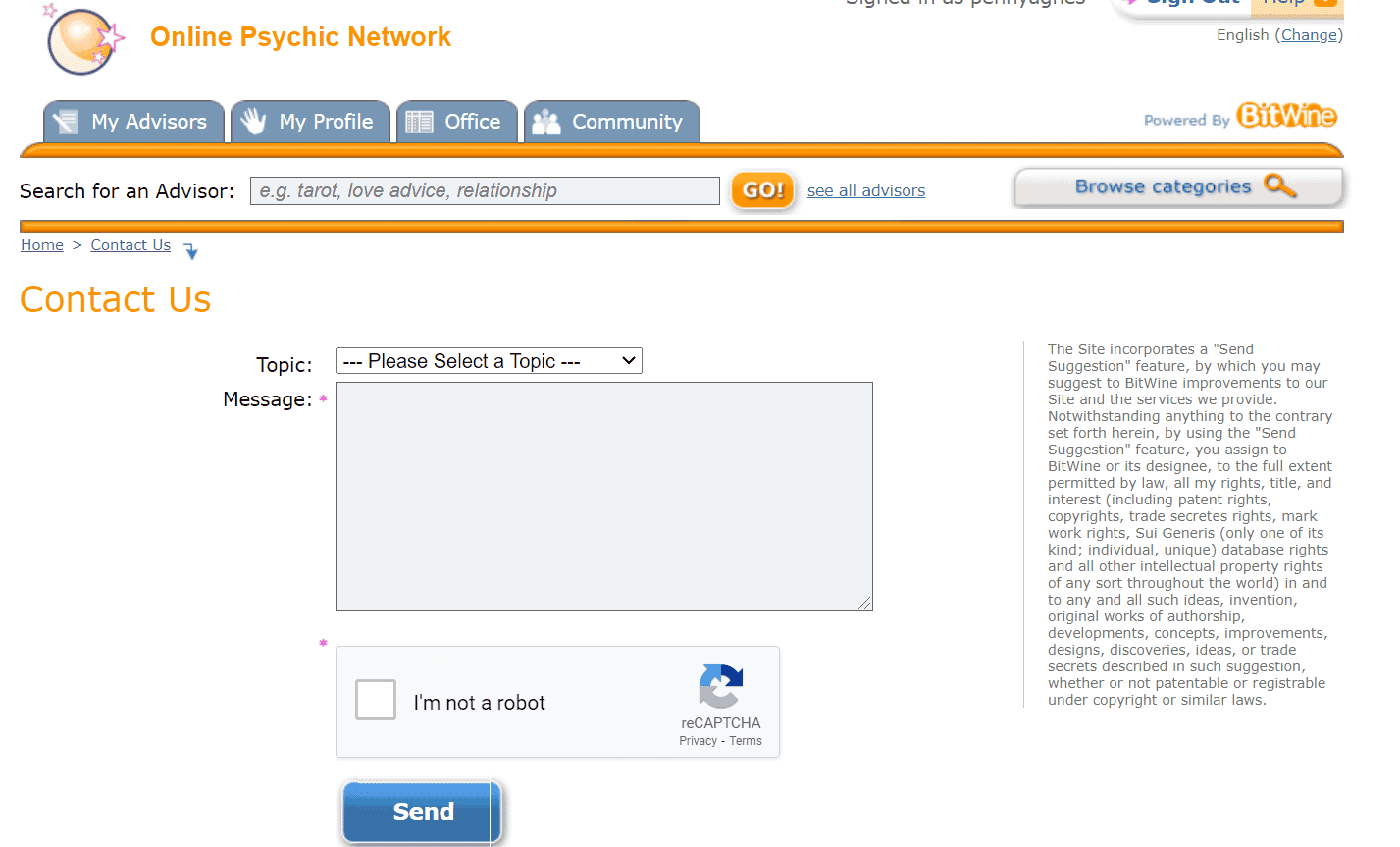 These things aside, there are some things that BitWine gets right that even other top psychic reading sites don't. As mentioned before, BitWine does not filter reviews and remove negative ones. Anyone can read any of the reviews clients have left for a reader, including negative ones.
BitWine also doesn't require you to add a payment method before you can begin chatting with an advisor. That means that you can use your 3 (or possibly more) free minutes immediately.
Once these free minutes run out, a screen pops up that clearly informs you of the rate that particular reader charges. It then prompts you to purchase credits via PayPal.
Some other sites are far less forthcoming about when they start charging you a specific reader rate. This honesty and clarity is a small saving grace for BitWine.
Top BitWine Advisors
BitWine has hundreds of physics on their site, so I have listed a few of the top advisors below.
Ed Roland

Ed Roland is a 5-star reader based on nearly 2,000 reviews. With only 15 unsatisfactory reviews, the vast majority of his clients are very satisfied with their experience. He is different from other readers in that his profile very clearly states he is not a psychic reader. Instead, he works off of energies. He also makes it very clear that he is not the type of advisor who tells people what they want to hear, but rather the truth, pleasant or not.
Jessica Queen 7Star

Jessica has nearly 30 years of experience and specializes in love and relationship readings. She is a 5-star reader based on over 4,000 reviews. According to her profile, only 16 people have reviewed her services as unsatisfactory, while over 3,900 others have rated her as "excellent". She is also a very affordable reader, charging only $1.99 per minute.
Spiritual Expert Jav

Spiritual expert Jav is a 5-star reader based on over 1,800 reviews. Some of their specializations include astrology and Reiki. Jav charges a rate of $2.15 per minute, but also offers special deals such as 10 min for $20, and 20 min for $35.
Psychic Love N Relationship

Psychic Love N Relationship is a 5-star psychic based on 1,319 reviews. She only has 6 unsatisfactory reviews and over 1,200 excellent ones. She has over 15 years of experience and specializes in tarot readings. She charges $1.99 per minute but also offers a special rate of 15 minutes for $25.
Marian The Spiritual Medium

Marian is a 5-star reader based on over 1,600 reviews. She has over 1,500 excellent reviews, and less than 10 unsatisfactory ones. This reader is a 3rd generation medium with over 17 years of experience in spiritual guidance.
BitWine Pricing
BitWine psychics have the ability to set their own prices, with rates ranging from $0.49 per minute to about $9.99 per minute. While most readers charge in dollars, others charge in euros.
BitWine's pricing is a bit different from other sites in that it allows readers to create their own deals, in addition to their per minute rate.
If you happen to find a psychic who you really connect with, but their per-minute rate is out of your price range, you could potentially use your free minutes to negotiate a better rate.
Overall, BitWine's rates are more affordable than many other sites. Whether the readings are better is debatable.
Unique Features
Despite the site's lackluster appearance, it does have some unique features I've rarely seen on any other sites. In accordance with its MySpace vibe, the site has an Ask a Psychic forum that is actually pretty active. New posts appear daily and psychics respond regularly. While most psychics who reply are just pushing for a paid session, this forum can be used to narrow down your search.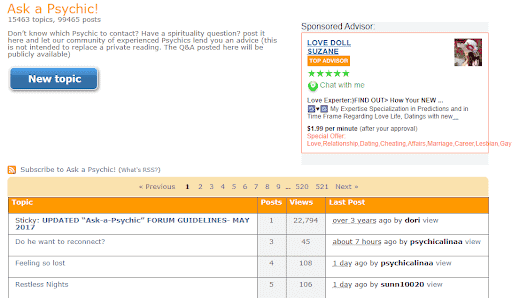 If you feel comfortable, you could post your question in the forum to see which psychics respond. If a psychic only urges you to join a paid session instead of offering any kind of advice, it is probably best to avoid them.

Aside from the forum, BitWine also has the unique feature of storing your chat transcriptions from sessions with psychics.
Having access to all of your readers' replies means you can do a side by side comparison of the answers you receive and decide which readers you connect with.
Bottom Line
If you're looking for bells and whistles, then BitWine is not for you. You won't find a fancy platform or several hyper-specialized categories to choose from. If it's a straightforward, risk-free experience you're after, BitWine could be ideal for you.
Those with little to no experience with psychic readers may also find this site appealing. Unfortunately, the sheer volume of readers can be off-putting.
On the plus side, at least you don't need to enter any payment details before you can register.