Lotus Tarot offers plenty of online psychic services and a roster of experienced advisors specializing in Tarot card readings. You can even get free Tarot readings from its automated tarot reader, designed by a professional psychic. Despite all this, it's only normal to question the site's legitimacy and if it can provide the guidance you seek.
The truth is that Lotus Tarot is backed by Kasamba, a trustworthy psychic platform with an established history. After using the site myself, I was most impressed with its features and accessibility. It even has its own Tarot deck with unique cards that carry special meanings.
To help you get started, it has an introductory offer that gives you 3 free minutes and a 70% discount on your first reading. You can then use these offers to get an accurate Tarot reading from a compassionate advisor on Lotus Tarot.
Lotus Tarot Main Features
Services Available on Lotus Tarot
Unlike most online psychic sites, Lotus Tarot offers different psychic services and products in addition to psychic readings. These include automatic Tarot readings, numerology, training courses and quizzes, and the site's custom tarot card deck.
Free Online Tarot Readings
Lotus Tarot gives you access to free Tarot consultations via their online readings segment. The service is easy to use and lets you get a reading in a matter of seconds. To use this, you must first create a free Lotus Tarot account.
But remember that you won't interact with a live psychic as everything is automated. For a more spiritual experience, it's best to opt for a live reading session, as it allows you to ask specific questions and receive unique insights.
Live Readings
You can enjoy live readings from Lotus Tarot's roster of talented psychic readers via phone or live chat. They enable you to receive personal guidance and clarity since you interact with a real psychic who is compassionate and understanding. Rates charged by the site's psychics start at around $5.99 per minute.
Speaking to a psychic on the phone gives you a more intimate experience by letting you talk to a psychic in real-time. On the other hand, live chat enables you to carefully think out your questions before asking them. Plus, you can then take the time to read through the psychic's reply.
Numerology Reports
Lotus Tarot offers numerology services through its Life Path Number Calculator. When you key in your name and date of birth, the website will reveal your birth number and provide a detailed explanation. This includes insights into your character traits, personality, and even advice on dealing with current challenges.
The site also lets you purchase a customized numerology report. Prices start at $7.95, and each report covers various niches, such as your personality profile, relationship compatibility, and lucky numbers. Master Numerologist Hans Decoz prepares each report, which means it's not automated.
To help you make a decision, Lotus Tarot has some numerology sample reports created for celebrities using publicly available data. I was surprised by how accurate the reports were. For example, Tom Cruise's personality report explained the reason behind his success and charismatic nature and why his fans and colleagues adore him.
Tarot Card Course and Quizzes
You can expand your psychic knowledge by participating in Lotus Tarot's 12-week course called "The Pleasure of Tarot", which introduces you to the basics of Tarot reading. The course divides lessons into 12 modules with quizzes, which you can complete without deadlines. However, you'll need your own Tarot deck to participate.
I also appreciate how the site has a detailed encyclopedia of different Tarot cards and their meanings. Practicing psychics have written the interpretations from Kasamba and Lotus Tarot. So that way, you know that you're getting accurate answers from legitimate sources.
The Lotus Tarot Signature Deck
On top of psychic services, Lotus Tarot also offers its own in-house deck of Tarot cards called "The Lotus Tarot Signature Deck". It is based on the Rider Waite Smith deck and draws influences from Paul Foster Case's BOTA.
They've designed the deck for daily usage, so you can handle the cards repeatedly without worrying about them fraying. That's because this deck is printed on top-quality card stock, making the cards durable and easy to handle.
Besides that, the pictures on the cards have a sharp, vivid color which indicates their superior quality. The imagery is striking and unique, with a high level of detail. You can buy the deck for $99 on the Lotus Tarot online store, and it's a great choice if you're after a highly durable set of Tarot cards.
How to Book a Reading
1. Create an Account
Go to Lotus Tarot's homepage and click the "Sign In Here" button. Then, click the "Sign up for FREE" button on the right-hand side and fill out all relevant details. When you've created your account, you will be brought to Lotus Tarot's landing page, where you need to click the "Live Readings" button.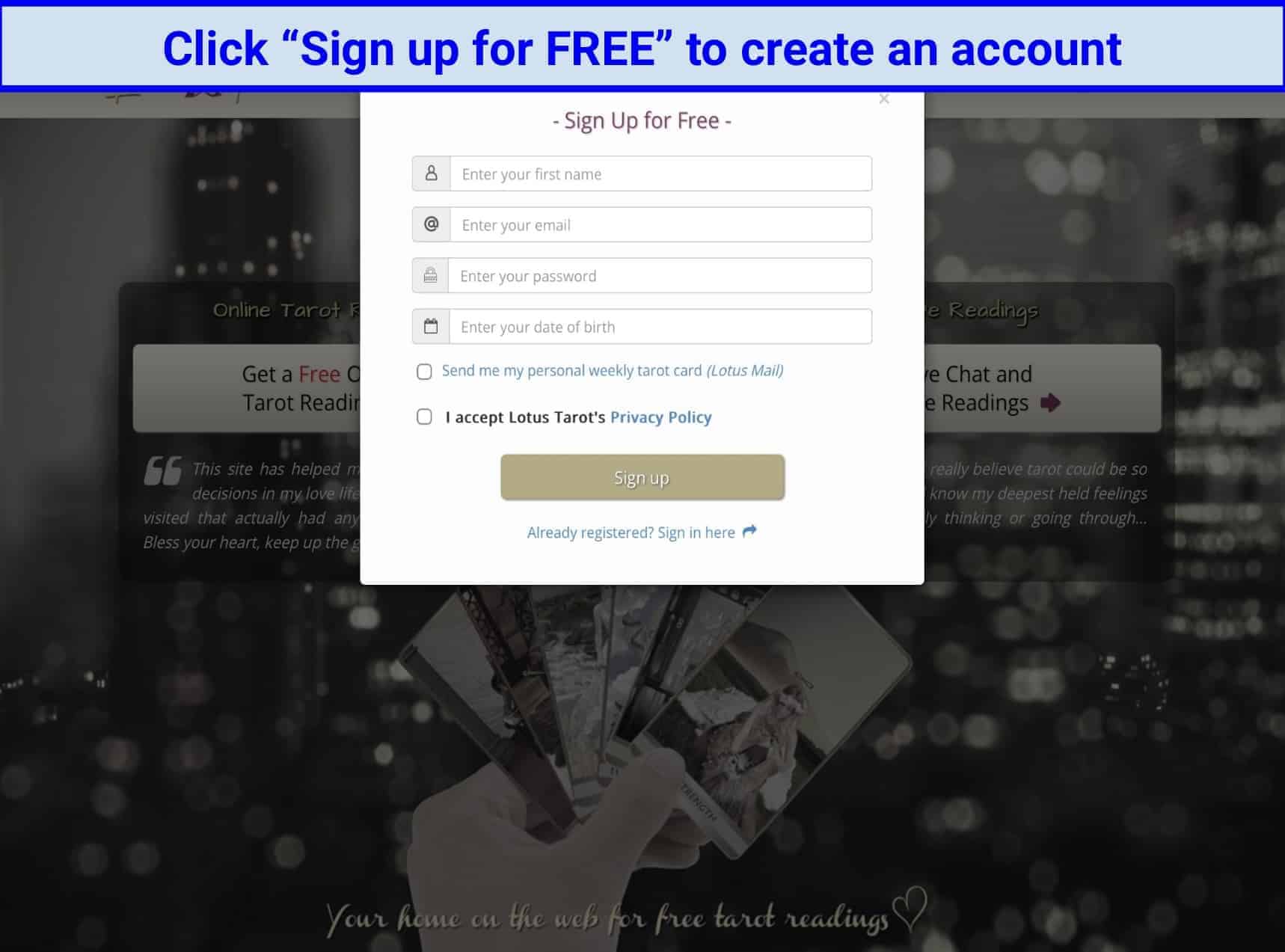 You can sign up for a free Lotus Tarot account from the homepage
2. Choose a Psychic
Click on the "Live Readings" button to go to the psychics page. Here, you can look at all advisor profiles and see their rates, availability, and testimonials, which helps you make an informed decision. Depending on which method your psychic supports, you can also book a phone or chat session.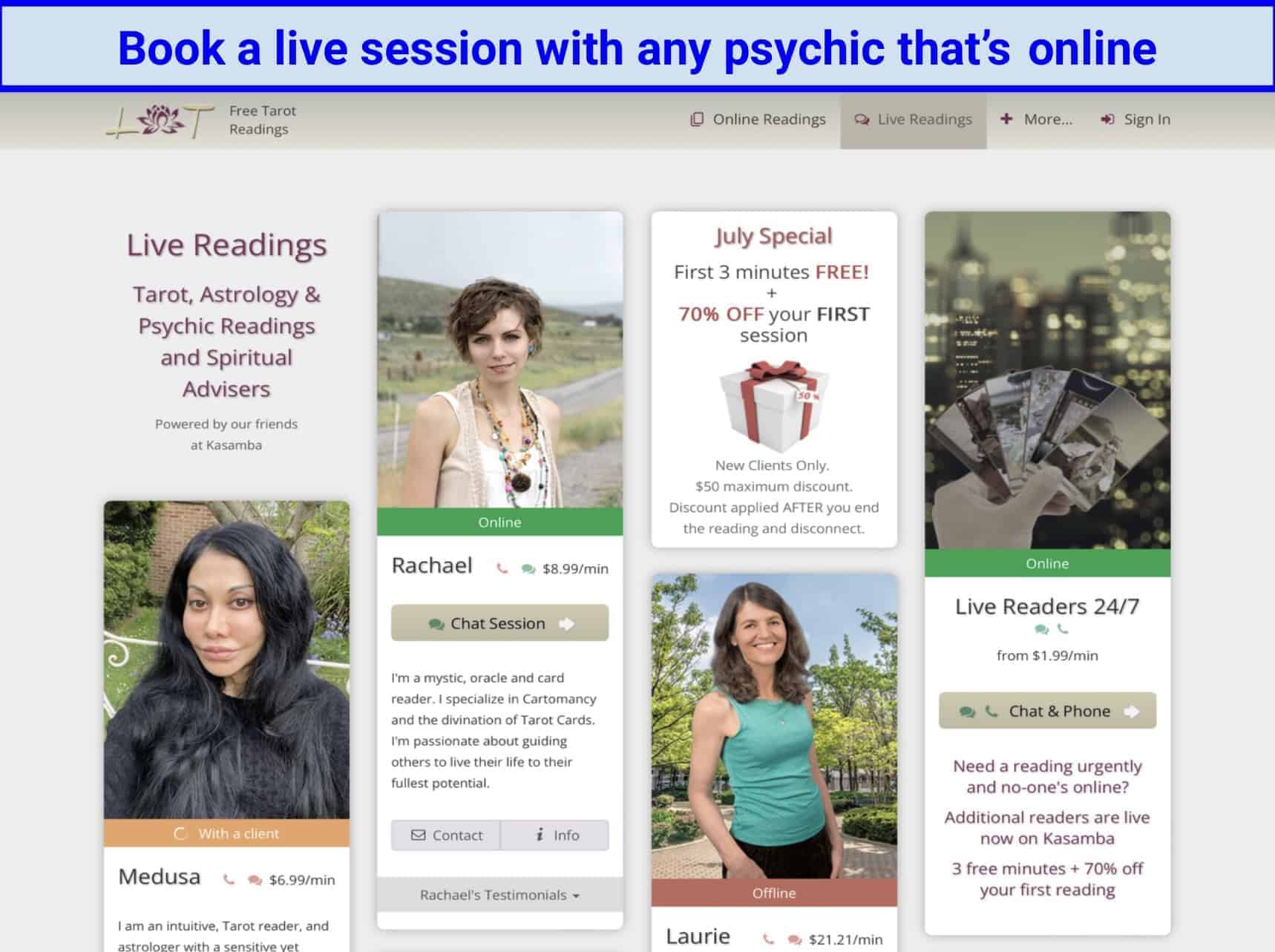 Always make sure you choose a compatible psychic
3. Book a Reading
You can book a phone or chat session by clicking on either the "Phone Session" or "Chat Session". This takes you to Kasamba's page, where you'll be asked to create a Kasamba account from scratch or log in with an Apple or Google account. Then, you must log in and make payment by credit card, PayPal, or Google Pay.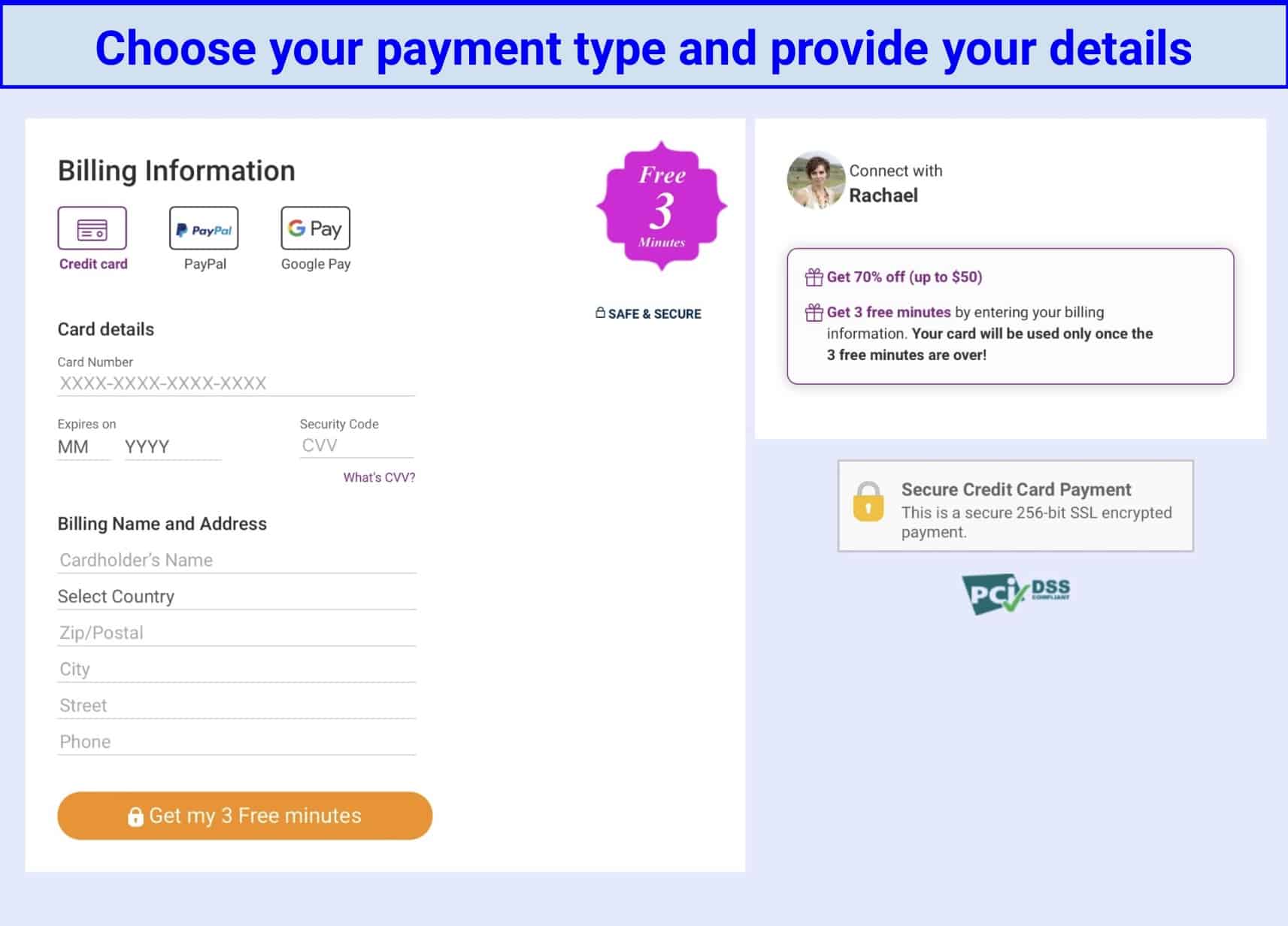 Kasamba keeps your payment information secure
Is Lotus Tarot Trustworthy? Yes
Lotus Tarot is a trustworthy site because it's affiliated with Kasamba, one of the most reputable psychic platforms with decades of experience. This partnership gives me the confidence to use Lotus Tarot.
If your reading fails to meet your expectations, you'll need to reach out to Kasamba for a refund. Simply sign in to your Kasamba account and send them an email requesting the refund. Remember to submit the email within seventy-two hours after your session concludes. Kasamba handles all payments, so they will assist you in this process.
In addition, Lotus Tarot has a roster of talented psychic advisors available on Kasamba. This ensures that you won't connect with a fraud or low-quality psychic.
It's also good that Lotus Tarot lets you see testimonials from previous clients on each psychic's profile. These comments provide insights into a psychic's abilities and experience, so you can determine if they fit your needs well.
Finally, you can send DMs to psychics for free and clear any doubts with them before booking a session. You can ask questions about their services and anything related to life or Tarot.
Top Psychics on Lotus Tarot
Lotus Tarot's advisors are skilled in various niches, ranging from love and relationship advice to career and personal life guidance. They also use astrology and other tools to provide deeper insight into personal matters.
1. Psychic Safina

Best for General Life Readings

Psychic Safina is a talented 3rd generation psychic who first started reading Tarot cards in 2008. She has since authored several books on card reading.

Using her psychic abilities, psychic Safina provides general life readings using Tarot cards. Her skills and compassionate nature make her an in-demand favorite on the site. Having descended from a long line of psychics, her clients regularly praise her for accurate predictions and great advice.

Besides Tarot cards, Psychic Safina may sometimes use Western astrology charts during her readings.

2. Psychic Chrisalis

Best for Love and Relationship readings

Psychic Chrisalis has over 30 years of experience providing love and relationship readings. While love and relationships are her primary focus, she can also look into other areas of your life that may affect you.

Because of this, clients often praise Psychic Chrisalis for her razor-sharp intuition. In addition to her impressive skills, she is also a warm and compassionate psychic, making her more suitable for love and relationship readings.

3. Psychic Meg

Best for Career Readings

You should reach out to Psychic Meg if you're seeking career guidance. She encourages you to believe in yourself and the higher powers. This makes it easy to be open and honest with her about my intentions.

Psychic Meg is also skilled in the art of astrology. She helps you find clarity by looking into how the planets affect your situation.

4. Psychic Joshua

Best for Life Direction Readings

Psychic Joshua combines his psychic gifts with his experience as an industrial engineer to help you reconnect with yourself. What I like about Psychic Joshua is that he enjoys building relationships with his clients.

As an added plus, Psychic Joshua is bilingual and offers both English and Spanish readings. This makes him a great choice if you are a native Spanish speaker.

5. Psychic Rachael

Best for Future Readings

Psychic Rachael is a multi-talented advisor who uses Tarot cards, astrology charts, and crystals to provide readings about your future. She has a special talent for inspiring and empowering clients to achieve their full potential.

Clients have praised her for providing amazingly accurate readings. She doesn't bother trying to sugarcoat news and will often tell clients what they need to know.
Is There a Mobile App?
Lotus Tarot does not have a mobile app, although its website is easy to use. All pertinent information is clearly displayed for easy access. I didn't encounter any slowdowns or lags when browsing the psychics available.
Another benefit is how you can view your reading history and saved readings on your profile. This makes it easy to refer to previous sessions when you need guidance on a past issue. Overall, I'd say that Lotus Tarot makes up for not having an app by offering an accessible website with an intuitive feel.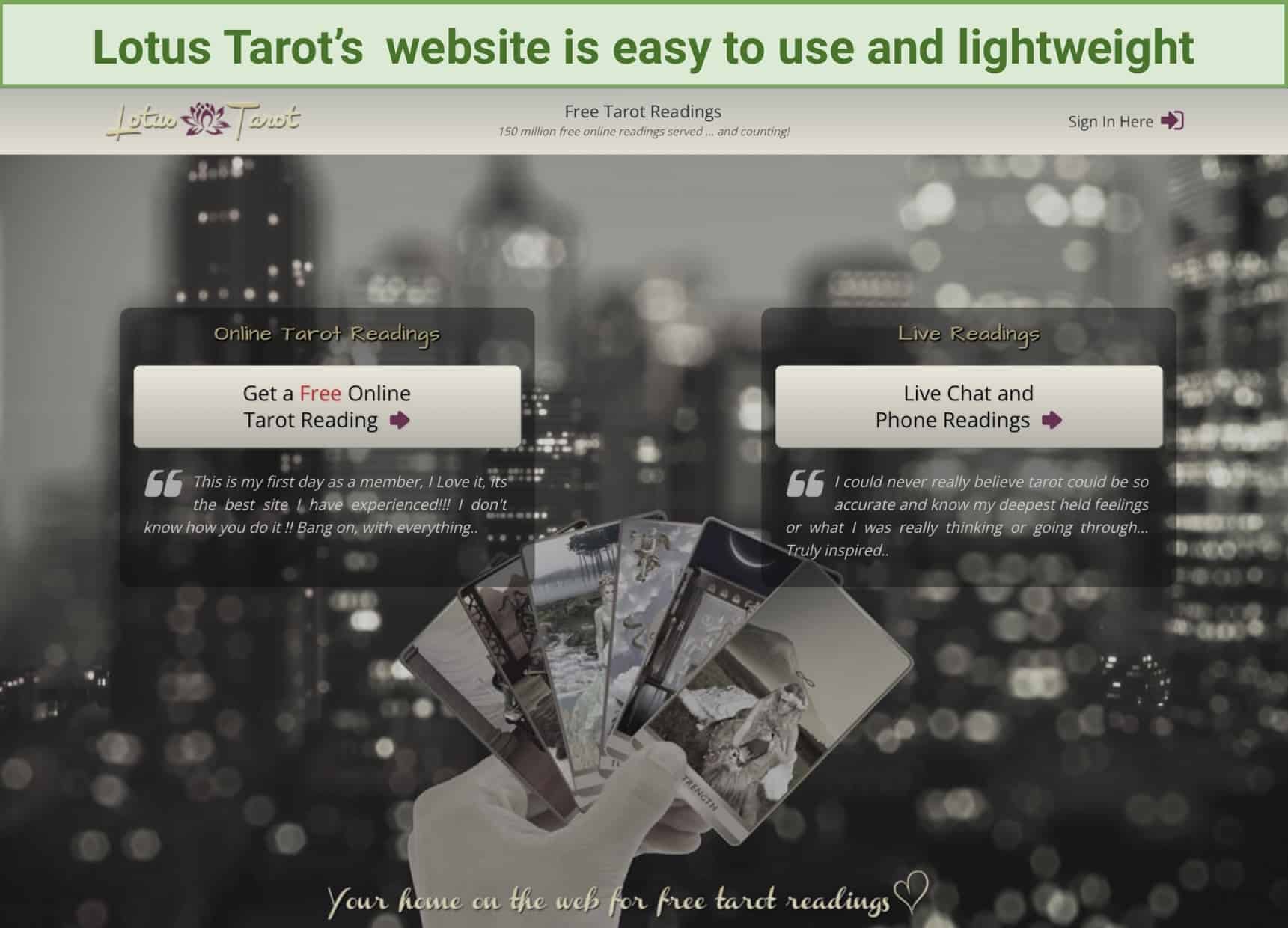 You can access Lotus Tarot from anywhere to get a reading
Pricing
Lotus Tarot charges you by the minute for all readings. As psychics can set their own prices, you're bound to see a lot of variation. The highest rate charged is $11.99 per minute, and the lowest is $5.99 per minute.
Payment on the site is managed by Kasamba, which means that you can pay with credit card, PayPal, and Google Pay. As an added plus, you can get the first 3 minutes of your first reading for free and a 70% discount. However, you will need to provide your payment details to enjoy such benefits.
Customer Support
The only way to contact Lotus Tarot is to raise a ticket through the website. But luckily, its customer support team is efficient. You can contact 1 of 2 people i.e., David, for admin and tech support, and Angie, the admin for the site's numerology reports.
There is also an option to message Angie via Facebook. I tried it out for myself and got a reply from her within a few hours. Unfortunately, Lotus Tarot does not have a FAQ section or forum for queries, so receiving immediate answers might be difficult.
FAQ on Lotus Tarot
What is the Lotus Tarot deck?
The Lotus Tarot deck is Lotus Tarot's collection of specialized tarot cards. It is the brainchild of the company's in-house graphic designer Angie. The cards are modeled on the Rider Waite Smith deck and inspired by Paul Foster Case's BOTA.
You can use these cards to read Tarots just like any other set. However, for the best possible results, I highly recommend you seek out the services of an experienced psychic. Only these gifted individuals have the skills and ability to interpret tarot cards accurately. So, while you can read your tarot, you probably won't get the desired result.
Is the Lotus Tarot deck for beginners or professionals?
Beginners and professionals can use the Lotus Tarot Deck. According to the team behind it, they've designed these cards for daily use. It also helps if you're familiar with the Rider Waite Smith deck. But to get the most out of the deck, you should work with an experienced Tarot card reader who can guide you along the way.
They have the necessary psychic connection to interpret your Tarot cards and deliver unique insights, which helps provide more accurate results. Plus, they can ask the right questions to delve deeper into your problems and circumstances.
How do tarot readings work?
Tarot card readings are a type of cartomancy that provides insight into your past, present, and future. Before you get a reading, the psychic will invite you to shuffle the cards first. Doing this allows you to transfer some of your energy into the cards.
After that, the deck is cut, and 10 cards are drawn and spread out. There are several types of spreads, but the Celtic Cross is the most common. Your psychic will then interpret the meaning of each card according to its position.
To ensure that your readings are accurate, you should always reach out to a Tarot card reader from a reputable platform.
Can I perform tarot readings at home?
Yes, you can do this by either reading your own Tarot or getting a psychic read your Tarot cards online. The first method can be less accurate, making it more suitable for people with genuine psychic abilities.
On the other hand, getting an online reading from a site like Lotus Tarot gives you access to skilled card readers from the comfort of your home. More importantly, it lets you connect with professional Tarot card readers skilled in various niches ranging from love and relationships to career readings.
Bottom Line
Lotus Tarot is an intuitive site with many online psychic services and top-rated advisors. You can receive general guidance for free or get personal insights by consulting with a talented psychic.
While Lotus Tarot doesn't offer a 100% satisfaction guarantee, Kasamaba handles all of its bookings, which means a money-back guarantee protects you. Thanks to its special 3-free minute offer for newcomers, you can get a live Tarot reading for free when you join the site.