Psychic Encounters Overview
Psychic Encounters boasts that it's one of the lowest-priced psychic reading sites. It claims to focus on what matters, keep costs low, then pass those lower overheads over to you. It says, 'There are no packages to buy or confusing subscriptions to decode. You pay just for the time spent connecting with your psychic.'
I really like the simple, stripped-back approach, but how does it work out in practice?
Psychic Encounters Psychics and Services on Offer
Psychic Encounters keeps things simple. You can arrange phone calls or chat sessions through either the website or app.
I like the app-heavy approach. After all, isn't your phone with you most, if not all, of the time? If you're looking to connect to a psychic without your phone, this might be a little annoying.
The app seems to have more features than the website, but when I tried to download it, Google Play Store told me that I couldn't:

It was very strange. I have a very standard Samsung Android model, and yet the app was apparently incompatible with my phone!
So, the website it was, then. The website doesn't really tell you exactly how many psychics there are at Psychic Encounters, but when you go online, you'll be able to see how many psychics are currently online and available: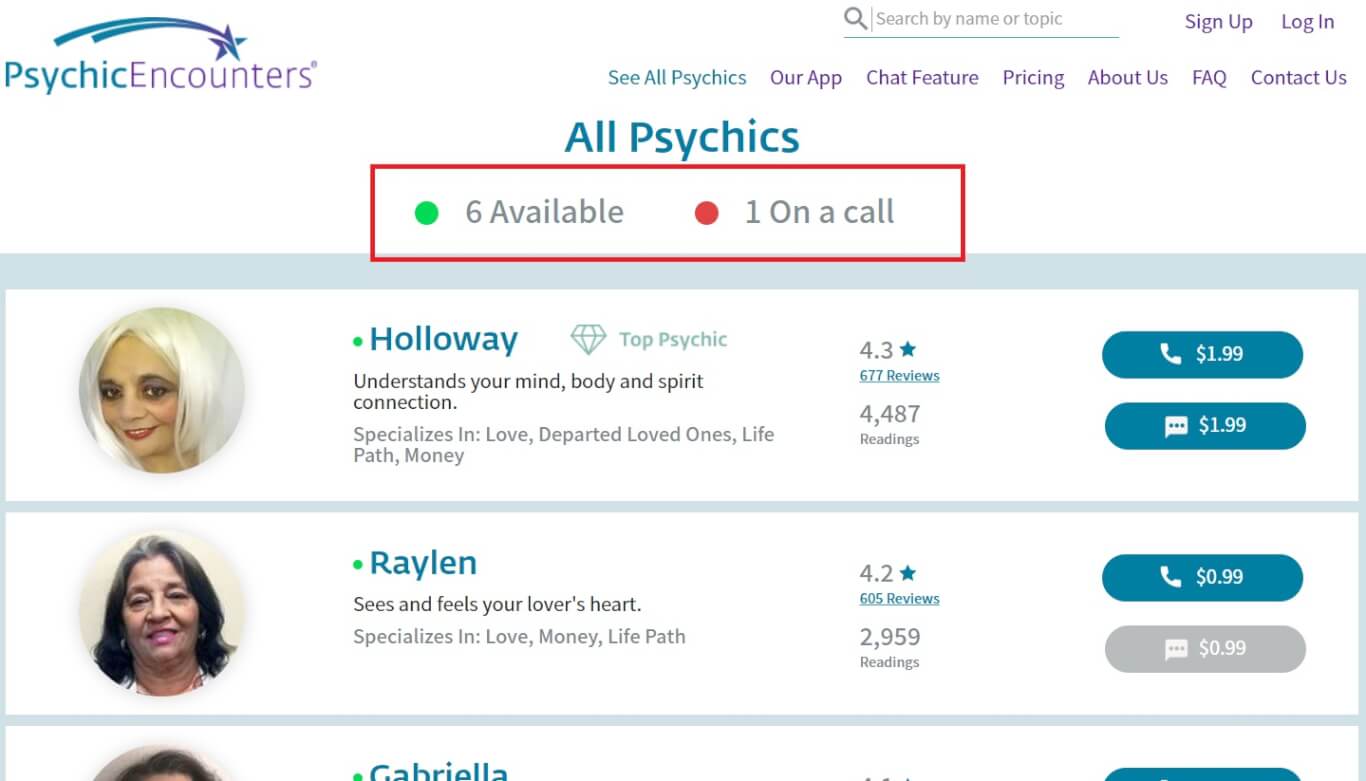 You can also see which psychics are offline or on a call, and ask to be notified by text when they're back online: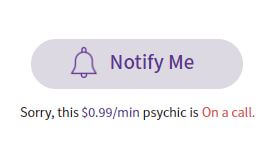 Psychic Encounters doesn't publish its advisors' schedules, so you can't arrange a call or chat in advance. This is not a problem if you like spontaneity or don't want to speak to a specific psychic, but could be irritating if you're like me and you like to plan things in advance, or want to stick with your favorite psychic.
Compared to some bigger sites like Keen and Kasamba, Psychic Encounters offers a compact range of readings:
Love.
Money.
Departed Loved Ones.
Life Path.
However, there are no filtering options, so it's basically impossible to filter out psychics based on the kind of reading you want. I would have appreciated some filters, like at California Psychics (which had some of the best filtering options I've ever seen), or a way to sort the psychics by specialism, popularity, or rating.
Psychic Encounters – Is It Trustworthy?
One of my biggest bugbears with any online service – and especially psychic reading services – is just how trustworthy the people at the other end of the keyboard are.
That's why I take time to go through the site I'm reviewing and find out everything I can about it, to figure out whether it's worth your time and money.
Disappointingly, Psychic Encounters is a little lax on the info it shares. There's more on what I discovered below.
Psychic Screening Process
All psychic reading sites have different methods when it comes to recruiting psychics. Some, like Keen and Kasamba, don't really test their psychics too much, leaving it up to the users to rate them as they see fit.
Others, like California Psychics and Psychic Source, really put applicants through their paces, with background checks and video interviews. Psychic Encounters provides no information about becoming a psychic at the site on the FAQ page, and no link to apply at the bottom of the page.
Instead, I found an option via the Contact Us page: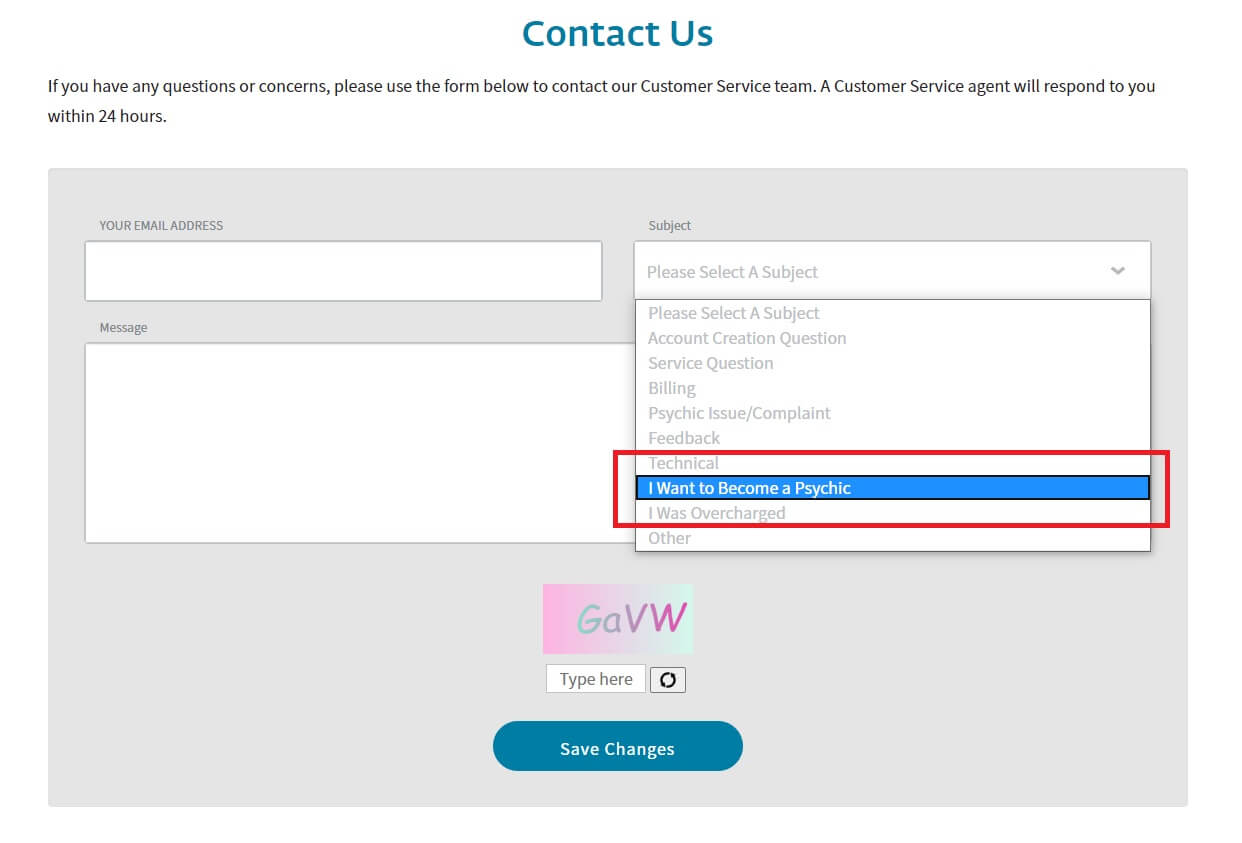 That's it – no bells or whistles. I suspect that Psychic Encounters asks potential psychics a few questions, and then guides them to create a listing on the site.
Psychic Bios
The bios on Psychic Encounters are easy to read and understand.

They clearly show how many readings the psychic has done, their rating and number of reviews, the psychic's areas of specialization, and whether or not they've earned the site's Top Psychic badge. There's a small amount of text displayed in the bio, along with a 'more' button if you want to read more about them.
I really like this format: it keeps the page clean and user friendly, but means the psychic can share lots about themselves. Reading bios is one of my favorite parts of choosing a psychic as it gives me an idea of who I'm going to be speaking to.
Adding the psychics' schedules would make these bio pages even better, but overall, I think these bios give all the information you need when choosing a psychic.
Customer Ratings
At Kasamba and Keen, there are thousands of reviews for every psychic. Psychic Encounter has a much more manageable number of reviews: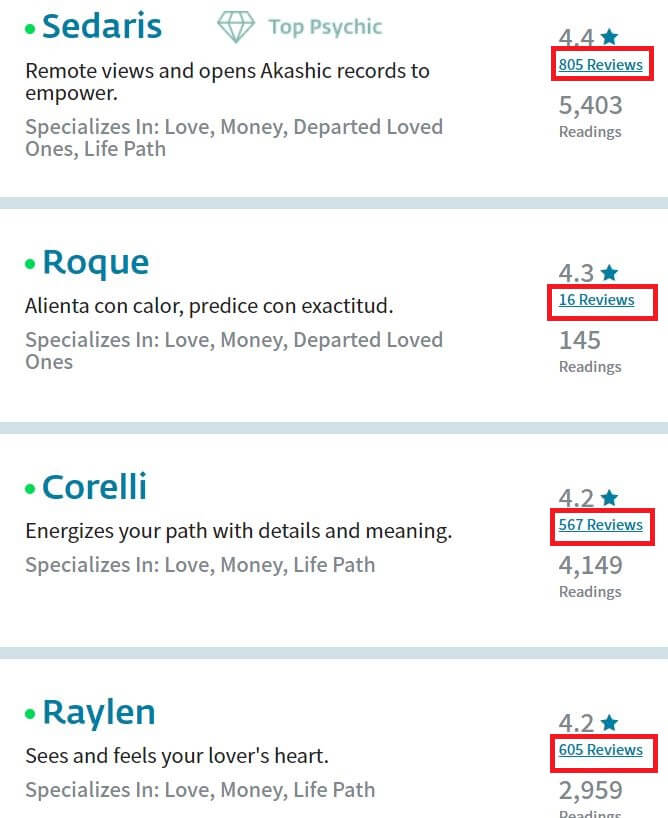 I really respect the honesty of the star ratings. I also really like that users really don't hold back and leave honest testimonials – and the site doesn't try and censor honest but negative reviews: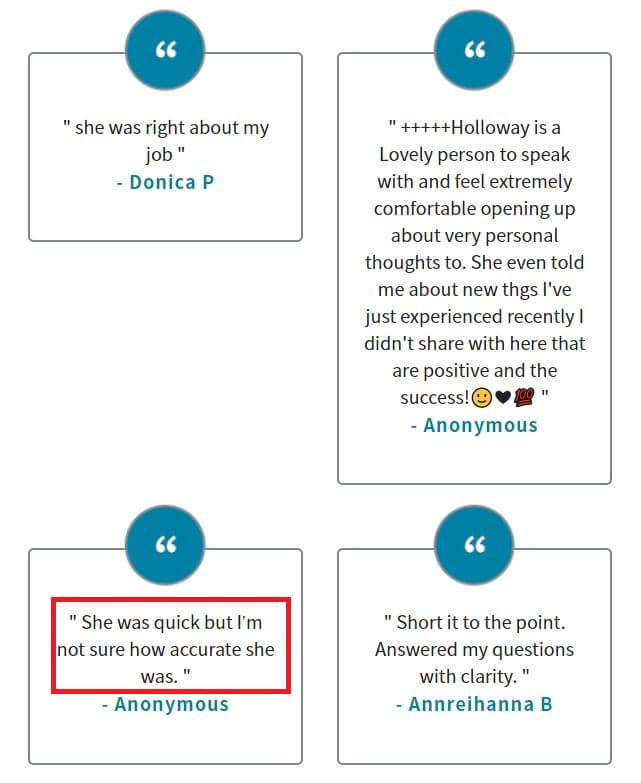 I always find it very interesting to see what customers think about their psychics and the site in general, and I wasn't disappointed here.
Money-Back Guarantee
While every other psychic site that I've reviewed has mentioned some kind of money-back guarantee or account credit in case you're not satisfied, I couldn't find anything about a refund policy at Psychic Encounters.
There was an option to contact the site in case I had a complaint, but I found the lack of a clear policy pretty confusing.
All in all, I'd still say that Psychic Encounters is a trustworthy site. After all, their customers seem to be happy and very honest. If you run into an issue, there's always the 'contact us' page to get you through it.
Psychic Encounters Pricing
Psychic Encounters is definitely the cheapest psychic reading website that I've seen.
Other sites, such as California Psychics and Psychic Source, have attractive introductory offers, such as 10 minutes for just $5. After you've used it, prices can skyrocket, with some psychics on some sites charging as much as $30 per minute. This can get really expensive, really fast.
Psychic Encounters definitely steps it up here. All phone and chat readings cost $0.99 per minute, unless you connect with a 'Top Psychic', in which case you'll be charged $1.99 per minute. This two-tier, flat-rate system is really impressive and much more affordable than other sites.
One thing to note, though: the first time you want a psychic to call you back, or want to link your credit card, you'll be pre-charged almost $30:

I really liked that Psychic Encounters was totally upfront about this, and the fact that there were no hidden charges either.
Psychic Encounters Customer Support
Unlike Psychic Source's super cool Live Chat function, or Keen's phone line, Psychic Encounters has just one method of contacting customer support – the email form.

As you can see in the screenshot above, there are a few different options to choose from, which is absolutely fine. I really don't like that there's no way for me to get in touch with someone more directly, even if the site does promise an answer within 24 hours.
The Bottom Line on Psychic Encounters
With stripped-back features and affordable pricing, Psychic Encounters does 'simple and straightforward' very well. While it doesn't have hundreds of psychic specialisms on offer, the 'less is more approach' is actually pretty effective.
I didn't like that I couldn't find any information about its satisfaction guarantee, and I think there should be more customer support options. That said, the honest feedback and the simple approach really impressed me.