The Psychic Power Network: Overview
The Psychic Power Network has been charging the same low rate since it launched in 2002, but is that enough to make them a great choice for your next reading?
I took a deep dive into their website so you don't have to. In this review, you can decide if this price-friendly psychic service can offer you more than just some great savings.
Types of Readings on The Psychic Power Network
The Psychic Power Network only has two categories, which is truly surprising. You are limited to Love, Romance and Relationships, and Money, Career, and Finance. The only real way to make your reading more specific is to rely on each psychic's talents and tools.
Love, Romance and Relationships
Every psychic reading site offers love and relationship readings and The Psychic Power Network is no different.
You'll find around 160 advisors in this category. By exploring each psychic's profile, you can find out more about their talents, specialties, and read what past clients have to say.
Money, Career, and Finance
As for the money and career category, Psychic Power Network has over 130 advisors to choose from. At a glance, it seems that most of the psychics in this category have at least a decade worth of experience, which is a major plus point.
Psychic Power Network's Talents and Tools
Psychic Power Network makes up for the limited reading categories with a wide variety of talents and tools.
While you can only choose between Love, Romance and Relationships, and Money Career, and Finance, you can choose from psychics with over 30 talents, including:
Astrologer
Angels
Dream Interpreter
Life Coach
Medium
Prophet
Spirit Guides, and so much more.
Advisors on The Psychic Source Network also use various tools to conduct readings:
Tarot Cards
Card Reader
Rune Stone Reader
Pendulum Reader
Oracle Cards, and more.
How to Use The Psychic Power Network
The vast majority of Psychic Power Network advisors only offer readings over the phone. You'll find a few with chat options, but this psychic service clearly favors phone readings.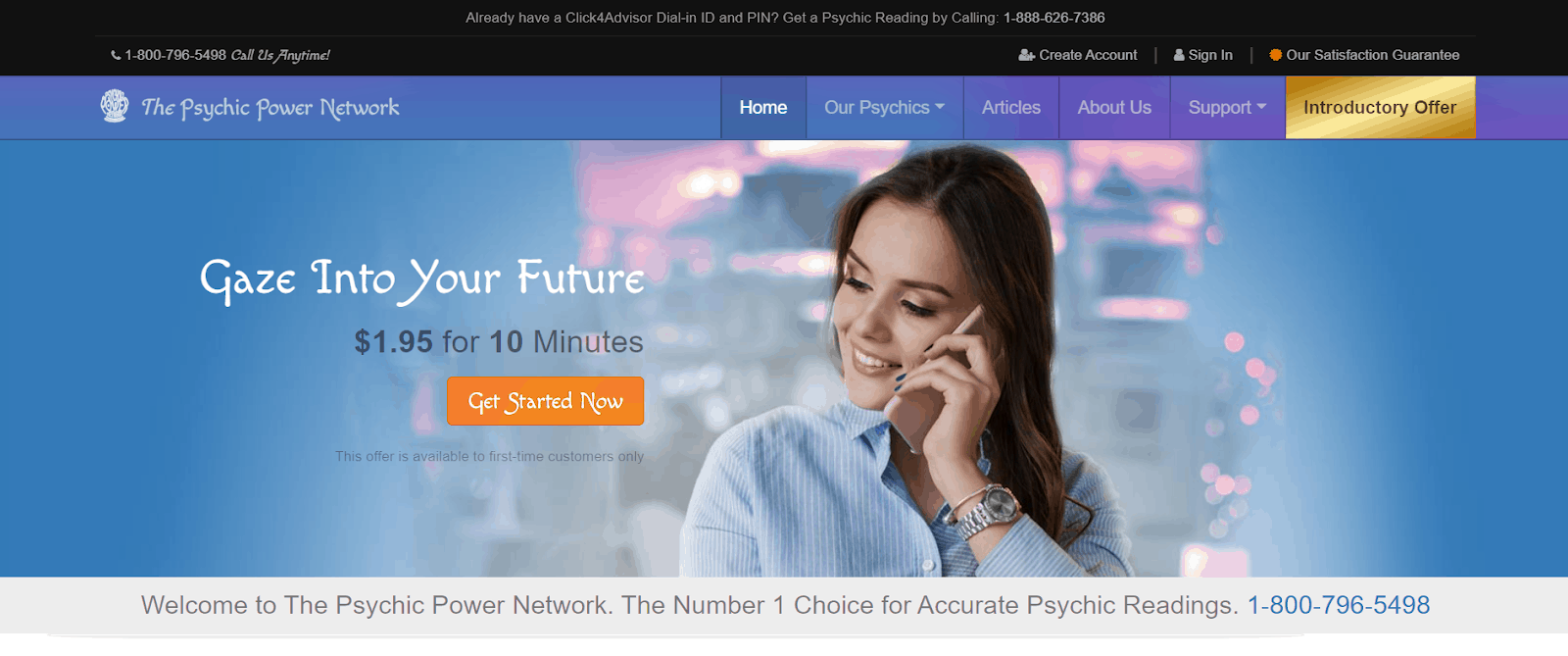 The website has a basic layout that makes searching for a psychic quite straightforward. You can start searching via the navigation bar at the top by selecting if you'd like to see all the psychics or specific types of psychics.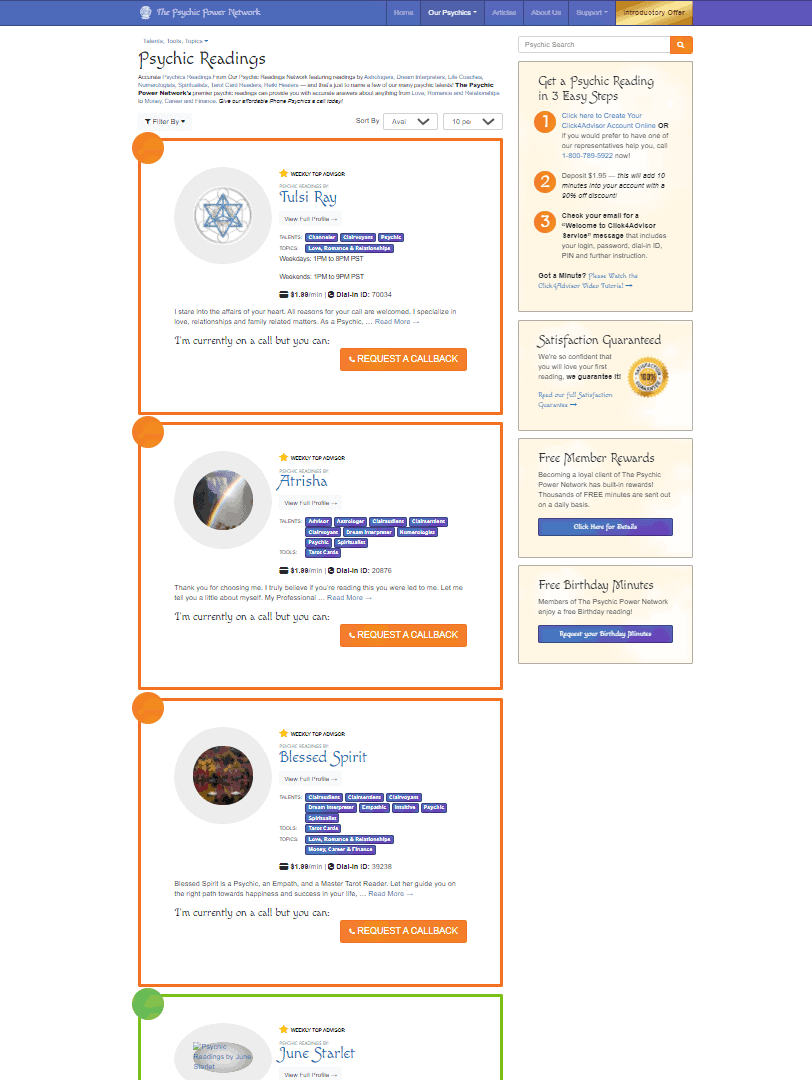 There's a decent filter that helps you narrow your search based on the advisors' Talents, your preferred Topics (reading category), and the Tools the advisors' use. You'll need this to sift through the nearly 300 psychics.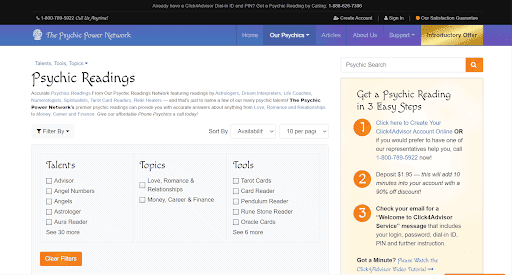 Each psychic has a profile with a message describing who they are and the services they offer – feedback from past clients is also available. Unfortunately, unlike other websites that use a rating scale based on client reviews (eg. 1 to 5 stars), Psychic Power Network only posts written reviews.
While this is still useful, it is nice to be able to see a rating at a glance.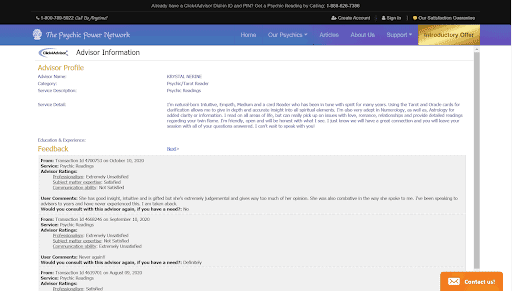 To get an actual reading, you'll need to create a Click4Advisor User Account. It's very easy – just enter your username, email, and password. After signing up, you'll get a confirmation email with your login details (password included), along with your dial-in ID and PIN. You can also contact their hotline to get help over the phone.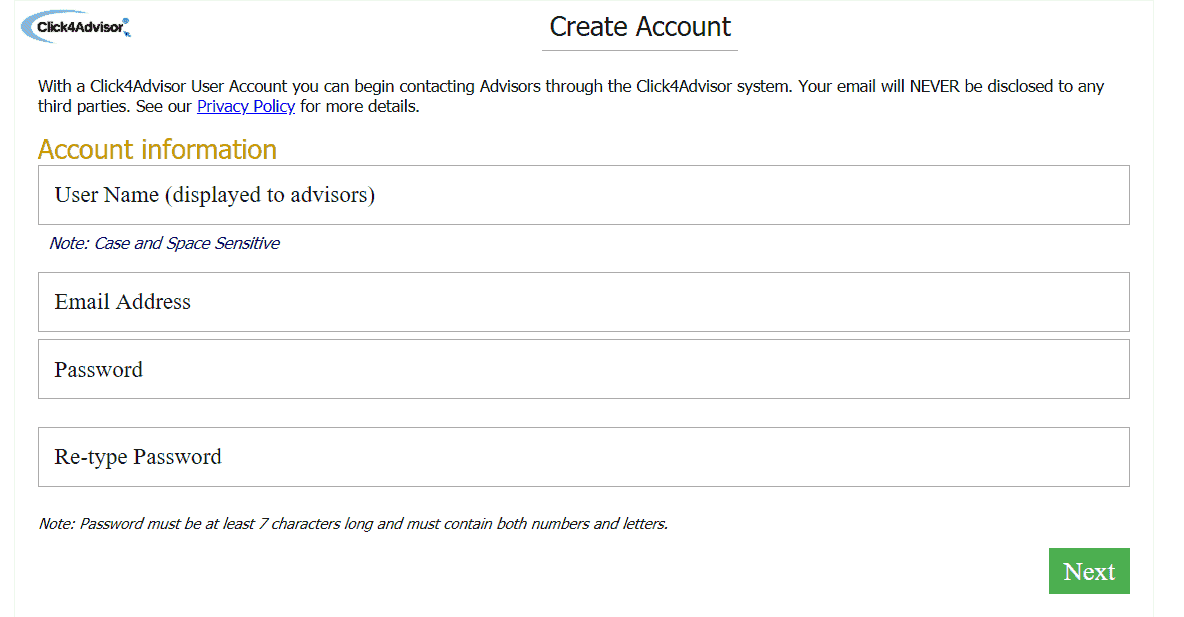 The Psychic Power Network is one of the cheaper services out there. First-time users get a nice discount, so you won't have to add too much credit to your account. And, if you start running out of minutes during a reading, there's an option to add funds before the call ends.
When you find your psychic, getting started is as easy as clicking "Talk" or "Chat". If a psychic is unavailable, you can request a call back (or "chat back" for the few advisors that also offer chat readings).

Overall, I found The Psychic Power Network very easy to use. The website itself is very straightforward, but there's also a very helpful video guide in case you get stuck.
You can even skip the website altogether. Simply dial their hotline to get a reading using your Dial-in ID and PIN.
Is The Psychic Power Network Trustworthy?
The Psychic Power Network has been around since 2002. Being around for almost two decades is definitely a confidence booster, but that is never enough.
Satisfaction Guarantee
The Psychic Power Network boasts a 100% satisfaction guarantee. This is always a plus for me, so I was excited to see it. But, a closer look at what the guarantee actually covers brought that excitement down a notch.
The Psychic Power Network offers a refund for your first reading if you don't find it entirely fulfilling. Note that this refund policy only applies to your first reading. Additionally, it is applicable solely to the minutes included in your introductory promotional offer and does not extend beyond that.
Nevertheless, having a satisfaction guarantee is always a good indicator of trustworthiness. So despite the restrictions, it shows they are confident enough in their services to allow you to try it out
Psychic Vetting Process
I have to admit that the Psychic Power Network isn't the most rigorous when it comes to vetting psychics. Unlike some platforms that ask for comprehensive resumes and even carry out background checks, Psychic Power Network simply requests basic contact information such as name, email, and phone number, along with a brief message from those who show interest in joining their ranks.
If Psychic Power Network is interested in a prospective advisor upon assessing the provided details, the platform will communicate directly via phone to arrange a reading. This approach seems to offer a deeper insight into a potential psychic's abilities compared to just examining their resume or conducting a background check.
Top Psychic Power Network Advisors
The Psychic Power Network are close to 300 advisors. Upon reviewing the feedback shared in the psychics' biographies, I couldn't help but notice numerous clients expressing how remarkable precision of their readings were.
Here are some weekly top advisors on Psychic Power Network:
Tulsi Ray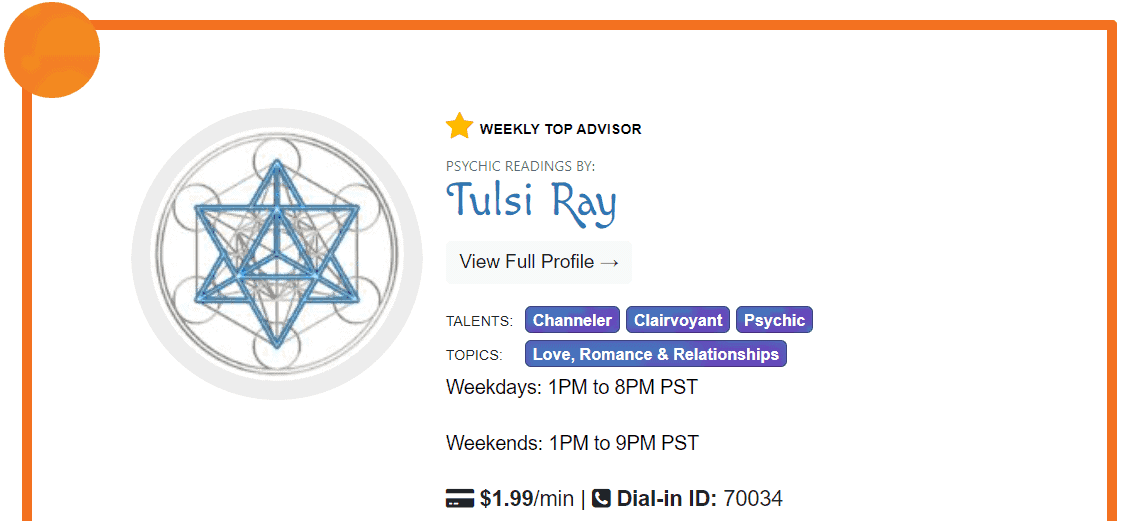 Tulsi Ray has over 29 years of experience. She is clairvoyant, a psychic, and a channeler specializing in love, relationships, and family-related matters. Many reviews describe her as accurate and comforting.
Ethereal Sanchez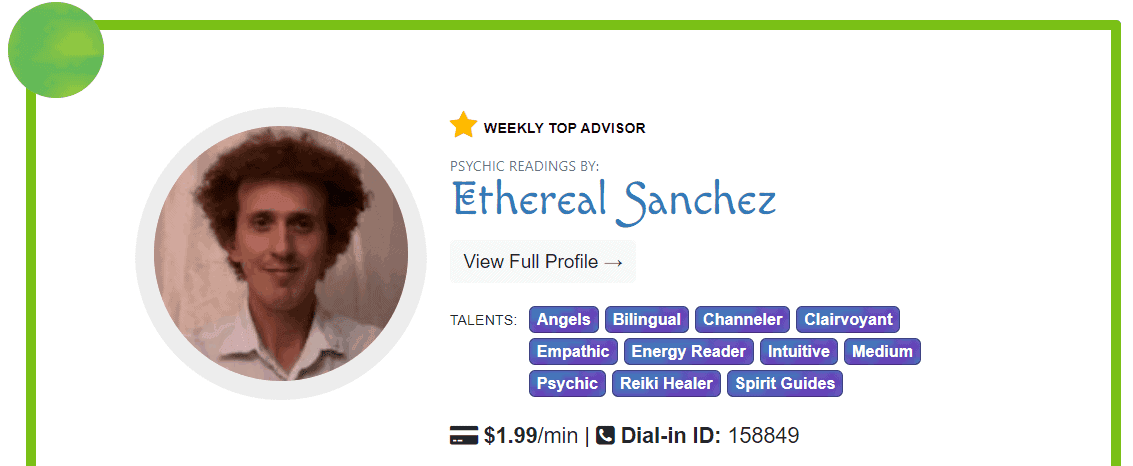 Ethereal Sanchez is an energy reader, intuitive, and medium with a range of other talents. He has over 18 years of experience and offers readings in English and Spanish. Many reviews rave about his positive energy and detailed readings.
Lex Lavoe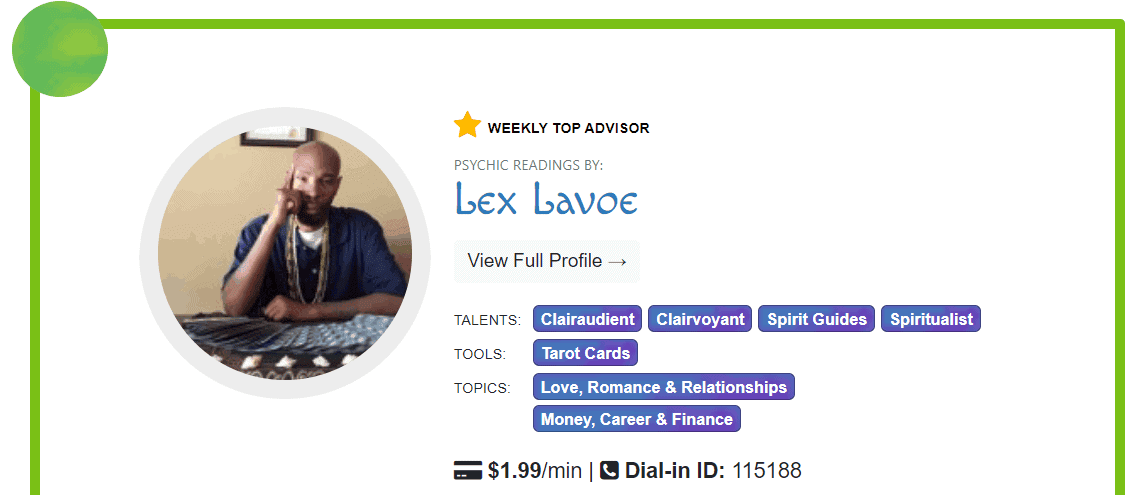 Lex Lavoe has 20 years experience as an initiated, traditional African Priest. He is clairaudient, clairvoyant, a spiritualist, and a spirit guide. He specializes in love, romance and relationships, as well as money, career, and finance. Past clients describe him as honest and accurate.
Bernadette_

Bernadette_ has been clairvoyant since childhood. She feels people's emotions and pain, and sees things before they happen. Her reviews indicate that she is caring and kind, as well as accurate.
Hera Regina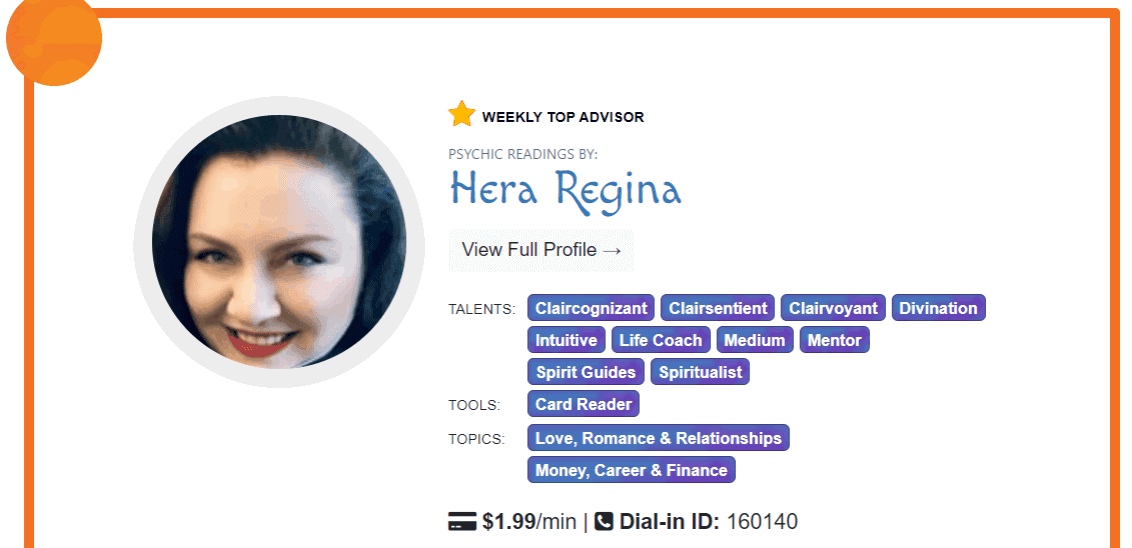 Hera Regina is clairvoyant, clairsentient, claircognizant, a spiritualist, life coach, medium, and much more. She specializes in love, romance, and relationships, but can provide readings on any other categories you're interested in. Reviews describe her as insightful and accurate with a great personality.
The Psychic Power Network Pricing
Psychic Power Network claims to be the most affordable phone psychic service in the world, and that's not far from the truth. They charge a flat rate of $1.99 per minute regardless of the psychic you choose. This compared to some other online psychic services like Keen and Kassamba that charge as high as $30 per minute for some psychics.
Psychic Power Network has a very attractive introductory offer – new users get their first 10 minutes for only $1.99.
Psychic Power Network's pricing is probably their strongest point. It is also impressive that Psychic Power Network has kept their $1.99 rate since they first launched in 2002.
Unique Features
The Psychic Power Network website is quite basic, so don't expect a ton of features. I do like that you can bypass the website and get your reading directly through their phone hotline.
You also get the first 60-seconds for free as a buffer while your first reading starts. Psychic Power Network sends out thousands of free minutes to loyal members everyday.
You can expect a free 10-minute reading on your birthday if you've accumulated at least 50 paid minutes within a month of your birthday.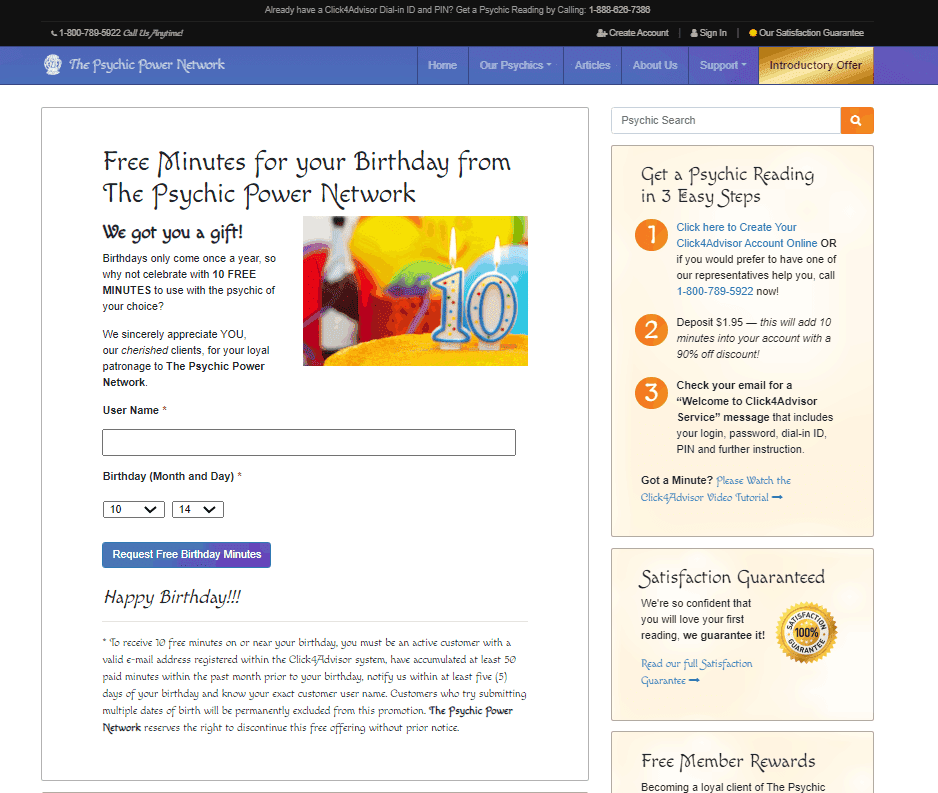 And, if you are a fan of astrology, spirituality, horoscopes, you will appreciate the interesting articles in their blog section.
Bottom Line
The Psychic Power Network is one of the most affordable ways to get a reading. If you are looking for guidance on a budget, give them a try.
Don't get discouraged by the fact that they only offer two reading categories. If you are looking for more, filter your search based on talents and tools.
If you want more reading categories or psychic options, try a site such as PathForward or Kasamba.