Psychic Power Network Overview
Psychic Power Network prides itself on being affordable, genuine and accurate – but then again, don't they all?
Having been online since 2002, and proudly declaring that it's never raised its prices from $1.99 per minute, there's definitely something to be said for the affordability. After all, only Psychic Encounters has cheaper calls per minute, at $0.99 – and at Kasamba and Keen, calls can get as expensive as $30 per minute.
Although Psychic Power Network only offers readings via phone, there is something to be said for a simplistic approach.
I've reviewed over 10 psychic reading websites. Here's what you need to know about the Psychic Power Network.
Psychic Power Network Psychics and Services on Offer
Psychic Power Network keeps things both simple and full of choice in its approach to the services on offer, and types of psychics.
As for services, you'll find a range of psychics giving you answers regarding Love, Romance and Relationships, as well as Career, Money and Finance. So far, so good – but I think this is definitely the smallest number of specialisms I've seen at any psychic reading website. For one thing, I would imagine that topics like 'Career' and Finance' are separate, and most psychic reading websites offer these as separate specialisms.
Even Psychic Encounters (which offers a $1 lower rate per minute) has a few extra specialisms on offer, but to be honest – 'if it ain't broke, don't fix it'.
Where Psychic Power Network trounces most psychic reading sites is in its range of psychics on offer:
Astrologers
Dream Interpreters
Life Coaches
Numerologists
Spiritualists
Tarot Card Readers
Reiki Healers
Empaths
Mediums
Clairvoyants
…and that's not even it – there are 35 psychic types on offer.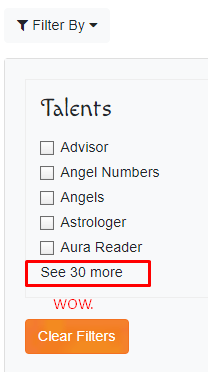 There's range in there, and anyone from even the most skeptical to the most hardcore believer can find a psychic reading type that they will enjoy, in my opinion.
There are also some fantastic filtering options – which is never a given, at psychic reading sites. The only other site I've reviewed that had anything close to the the fantastic filtering option was California Psychics, and even then, Psychic Power Network puts up some solid competition –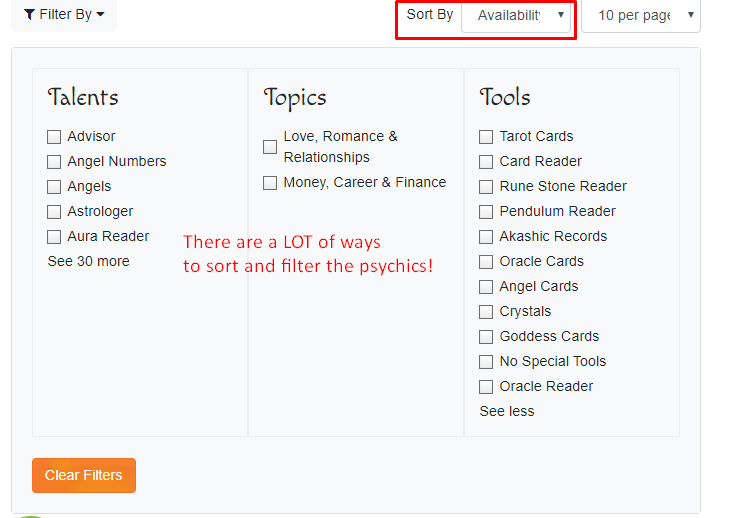 I was pretty impressed.
Psychic Power Network – Is it Trustworthy?
Some psychic reading sites can come off as, well, a little sketchy – after all, how can you tell that the person you're paying for psychic advice is real, and not just trying to make a quick buck?
I dedicate myself to discovering the trustworthiness of each psychic reading site I review, and doing the hard work so you can get the best out of your psychic reading experience. Here's what I discovered about Psychic Power Network's trustworthiness.
Psychic screening process
I've found a lot of variation in the way that psychic reading sites qualify their psychics – some, like Psychic Encounters and Keen, just ask for a potential psychic to submit their details and then post their profile online; others, like California Psychics and Kasamba, really really commit to it, sourcing background checks and conducting phone interviews.
Psychic Power Network finds a happy medium, asking for a bit of both: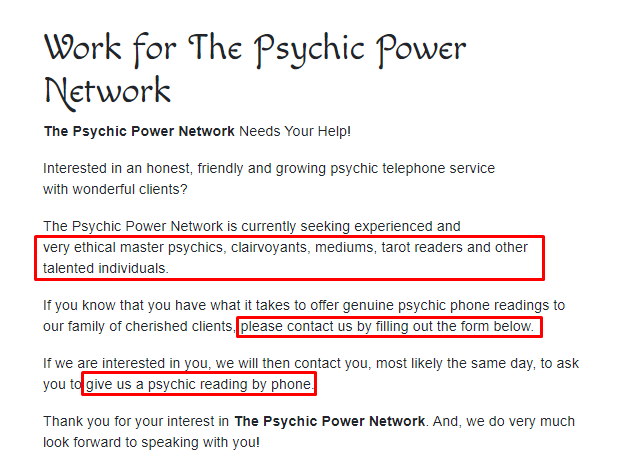 I really like the way it describes itself – 'honest, friendly' – and how specific the site is in asking for the types of psychics it wants to apply. I also feel reassured that the experts at Psychic Power Network require a psychic reading via phone, so it gets to really test out and experience the gifts of each psychic applicant before unleashing them to paying clients.
Psychic bios
Each psychic at Psychic Power Network has free reign over their own bio. What I really like is that there are filterable tags for each psychics' specialisms and tools, meaning you can easily click any tag you're interested in, and you'll be shown other psychics with the same tag.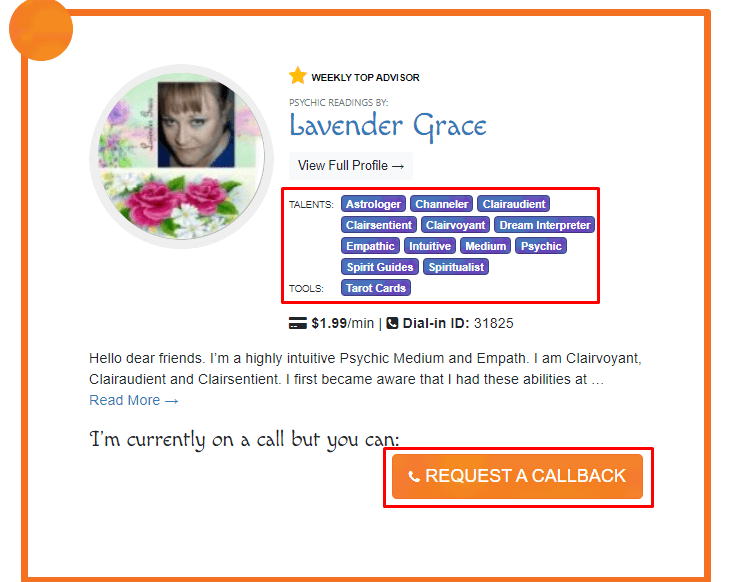 I also really like that there's a 'request a callback' button – as not all psychic reading sites have these (Psychic Encounters has a 'text me when this psychic is online service, which was good), and some (Kasamba, Psychic Source) even display psychic's schedules, and lets you schedule sessions ahead of time.
At Psychic Power Network, the 'schedule a callback' function is ok, but nothing special –

Obviously, you can edit your 'call me back in the next X hours' number, but even a callback isn't as specific as scheduling a call at a specific hour. Still, it's better than nothing.
Customer ratings
Weirdly, the one thing I found to be absent at Psychic Power Network's psychic bios, were the customer star ratings.
Yes, there were testimonials on each psychic, but these looked a little out of date –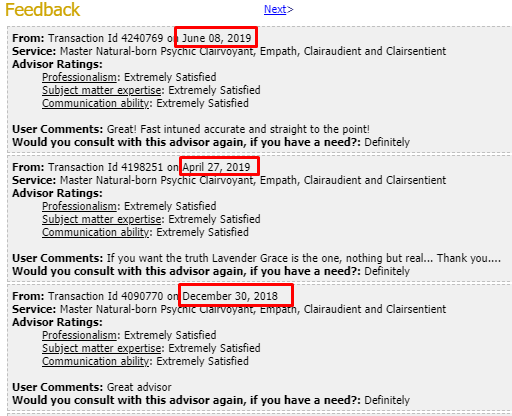 That and the lack of a star rating struck me as a little disingenuous. After all, at other sites – like Psychic Encounters – you could see the exact number of reviews left for each psychic, a very honest star rating and even (recent) unflattering feedback, which led me to think that it was honest.
Money-back guarantee
Psychic Power Network shouts loud and proud about this satisfaction guarantee, as I've come to expect from most psychic reading sites.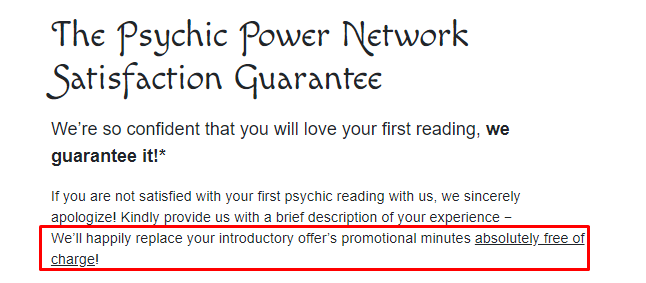 But – and it's a big 'but' – this offer is a little more strict than at first glance –

That's a little stingy, for my tastes. While Psychic Source had a very fair satisfaction guarantee policy (giving you up to 3 days to make a complaint), and even California Psychics' 'disconnect the call within your first 3 minutes to receive your money back' seemed more fair than this, this is still better than nothing.
All in all, I'd say that the Psychic Power Network is trustworthy and you can feel safe and secure in leaving your financial details here. Perhaps there were a few strange management choices to not display recent feedback or use ratings, but I can let that go, due to the proud satisfaction guarantee.
Psychic Power Network Pricing
One thing I really warmed to a Psychic Power Network was that each psychic charges $1.99 per minute – and that's all you can expect to pay.
In fact, there's more to the story here –

Psychic Power Network has kept its pricing the same for the past 15 years, ever since it was established in 2002, and even offers thousands of free minutes a day to loyal users. That left me with a very good impression.
After all, other psychic reading websites let their psychics charge whatever they like a minute, which can end up costing users ridiculous amounts of money. Sure, these are filterable, but the most popular psychics can end up taking up to $30 a minute (like at Kasamba and Keen), or even just $10 a minute (like at California Psychics and Psychic Source), which can still really break the bank.
That and, even though most psychic reading sites offer free minutes to users, these are usually only as an introductory offer (like at California Psychics), so I appreciate the ongoing offer of free minutes.
Psychic Power Network Customer Support
While some psychic reading websites had some really whizzy methods of contacting customer support (like Psychic Source's live chat), Psychic Power network keeps things nice, simple and communicative.
There's an orange 'Contact Us' box at the bottom of every page on the site, which opens to show you this –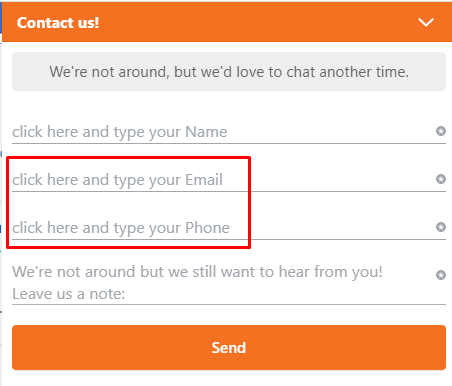 There's also the option of calling customer support directly, and even leaving a voicemail!

That's a very nice touch indeed, and a very far cry from Psychic Encounters' 'submit a form here – we'll contact you, don't contact us' approach.
Expert Bottom Line on Psychic Power Network
I really like Psychic Power Network, and I have a very good feeling about its trustworthiness and range of options on offer. From the low-cost pricing, the proud promotion of its satisfaction guarantee policy and the way it has to interview each psychic applicant definitely made me warm to it.
Sure there are no video calls available, and the lack of customer feedback was a little strange, but all in all, I would be confident using the Psychic Power Network for all of my psychic reading needs.
Psychic Power Network Bottom Line
A low-cost option with a full range of varied psychic specialisms that's worth your time and money.