Psychic Sofa: Overview
The moment you land on Psychic Sofa's site, you'll likely experience a sudden return to the 90s. But does that mean that this old-fashioned looking site isn't worth your time?
You might be surprised to discover that Psychic Sofa offers a huge selection of readers, at some of the most competitive rates you'll find anywhere nowadays. But make sure to read this entire review before jumping into the platform so that you'll know what to look out for depending on the type of reading you choose.
Types of Readings on Psychic Sofa
The truth is that Psychic Sofa's reading selection is a bit limited, especially compared to other competitor sites out there. There are seven categories to choose from that feel a bit random. They are:
Clairvoyant Readings
There are over 360 clairvoyants on Psychic Sofa. Among this group are readers who are also clairaudient and clairsentient.
Angel Card Readings
Psychic Sofa has over 200 angel card readers, many of whom specialize in oracle cards, runes, crystals, and more.
Tarot Readings
Tarot is the most popular category on Psychic Sofa with over 600 specialist readers, so you're sure to find the right reader for you.
Mediums
Psychic Sofa is home to over 250 mediums, many of which also specialize in angel and spirit guides and energy reading.
Numerology
Numerology is the smallest category on Psychic Sofa, with just under 40 readers specializing in this ability.
That being said, the readers you'll find on Psychic Sofa do not have only these abilities. When you click on a reader's profile, you'll find many of them mention additional gifts, tools, and topics they specialize in, including runes, astrology, remote viewing, crystal balls, past life readings, spiritual guides, and many more.
Overall, Psychic Sofa has a very respectable selection of psychics to choose from. The drawback is that they're difficult to find based on reading topic or type due to the site's limited number of categories.
Browse Readers on Psychic Sofa
How to Use Psychic Sofa
Creating your own account on Psychic Sofa is straightforward. You just need to enter your name, phone number, email address, and a password.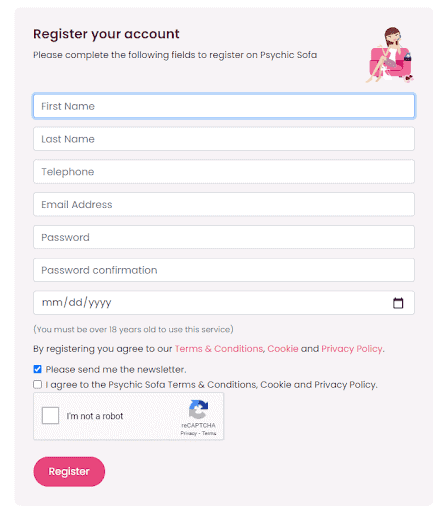 Psychic Sofa offers readings via phone call, text, and email. To receive a reading over the phone, first find which psychic you'd like to connect with and take note of their four digit pin that you see on their page. When you're ready to connect, click the "call now" button and dial the number provided to you in the pop up. You'll then be prompted to dial that four digit pin you took note of, and you'll be connected with your reader.
If you'd like to connect with a reader via text, all you have to do is text the word SOFA and then your question (in the same message) to 67755. You'll be charged for each reply message you receive from the psychic.
The most important thing to know about text readings is that you do not get to select the psychic who will respond to you. Your question is answered by the next available reader.
Email readings work similarly to text readings, as you don't get to choose a specific psychic to email. Your message will be replied to by the next available reader, and you're sure to get a response within 48 hours.
Is Psychic Sofa Trustworthy?
According to Psychic Sofa's About Us page, the site is a "family run business with over 25 years of delivering accurate readings over the telephone."
The site does say that they rigorously screen all of their psychics, but they don't offer any details about what that screening looks like.
The website mentions its objective of achieving 100% satisfaction, but it does not provide any money-back guarantees. However, if you find yourself dissatisfied with a reading, you do have the opportunity to seek a refund, but certain conditions must be met to be eligible. To be considered for a refund, you must submit your request within 48 hours of the reading, and the duration of the reading must not exceed five minutes. The rationale behind this policy is that if you do not establish a connection with your reader, it is advisable to end the session within the initial five minutes.
The positive thing that I'll give Psychic Sofa credit for is that they make it easy to contact their customer support. You can live chat with a representative from 9am – 6pm (GMT), or you can send them an email at any time.
When it comes to actual psychic reviews, the readers on Psychic Sofa don't have thousands of reviews the way you see on other psychic reading sites. In fact, it seems that the vast majority of readers featured on the platform have less than 50 client reviews on their bios. Only a few readers seem to have amassed hundreds of client reviews.
Whether this is because the platform doesn't push for users to review their readers, or because many readers don't have a lot of experience on the site is hard to say. Overall, my advice is to be a bit cautious and to do your best to find a reader with plenty of reviews. If you do end up going with one that doesn't have too many, remember to hang up within the first five minutes if you don't feel a connection with them.
Explore Readings on Psychic Sofa
Top Psychic Sofa Readers
If you spend some time browsing Psychic Sofa, you'll notice that the site does not show any ratings or scores for their readers. This is really unfortunate as it makes it hard to know which readers are top notch, and which ones are just okay. That's why I gathered this list of the top five readers I could find on the site. I based this list off of number of testimonials the psychic has received, and how positive the feedback that clients have left is:

Aylin is a psychic clairvoyant medium and has over 120 client reviews on her profile. She discovered her gifts when she was about four years old, and has been delivering readings to clients professionally for the last 15 years. Here is what one of her clients had to say:
"I have had three readings with Aylin and she is phenomenal. She picked up on people coming through from spirit. She was bang on with my current situation and has predicted what other top clairvoyants on this site have predicted."
Diana is a clairvoyant medium who specializes in tarot, and has received over 180 reviews on her profile. She considers herself to be a white witch, and has been working with tarot for over 20 years. She has been delivering professional readings for the last ten years, with many of her clients praising her abilities:
"As a psychic medium I have high standards when looking for a reading for myself, I can honestly say Diana is the real deal. Absolutely a natural connection with spirit. Jumps straight in with validation and truth. Diana will be my go to psychic from now on."

Paul is a psychic clairvoyant who specializes in tarot, angel cards, and rune readings with over 190 client reviews. He became fully aware of his gift at the age of 30 when he was visited by an angel himself, and now works as a medium in a spiritualist church. Many of his clients attest to his ability to reveal highly accurate details about them that he would have had no way of knowing:
"Paul gives amazing readings with truly valuable advice and absolutely stunning validations! He definitely is the real deal! He's an extremely gifted psychic and medium!"

Angie is a clairvoyant psychic medium with over 350 client reviews on Psychic Sofa. She has the ability to pick up voice vibrations, which allows her to effectively deliver readings over the phone. Her spirit guide is her grandmother who was also a psychic, and who helps her answer her clients' questions.
"Angie is definitely my number one. I've been using this site for about a year and from my top three readers, Angie is the best! She's shockingly accurate!"

Laura is a psychic medium who specializes in tarot, oracle, and romance cards, as well as pendulum. She is also a reiki healer and helps her clients using chakra, mindfulness, and meditation. Depending on the needs of her client, she also delivers readings using her Native American Indian and Egyptian Spirit guides. She has over 270 reviews on Psychic Sofa.
"Laura is the BEST reader I have ever had! Such a lovely reader and a really nice, warm person. Clear reading with good suggestions of how I can get things back on track."
Find a Top Reader on Psychic Sofa
Psychic Sofa Pricing
Psychic Sofa's pricing system works a bit differently than other psychic reading sites. The main difference is that they use a "wallet" system where you purchase a bundle of minutes ahead of time. As you connect with readers, the amount of time you used gets subtracted from your wallet at the end of the call.
This system implies that all psychics cost the same amount per minute — a nice pricing system that allows you to meet with any, and as many readers as you'd like, without paying extra for top rated ones. You don't get a lower per minute rate when you buy a bigger package.
The other good thing about the Psychic Sofa wallet system is that for each bundle of minutes that you buy, you get an additional 10% minutes free. The bundles offered are as follows:
120 minutes — £96 (approx. $130) + 12 free minutes
180 minutes — £144 (approx. $195) + 18 free minutes
240 minutes — £192 (approx. $260) + 24 free minutes
300 minutes — £240 (approx. $325) + 30 free minutes
360 minutes — £288 (approx. $390) + 36 free minutes
480 minutes — £384 (approx. $520) + 48 free minutes
However, text and email readings have their own rates. During text readings you pay for each reply you receive. (Don't worry, you'll only be charged for up to two reply messages for every one message you send). Each reply message costs £1.5 (approximately $2).
Email readers cost £15 each (approximately $20). You have the option to purchase a bundle of two email readings for £28 (approximately $38) or three email readings for £39 (approximately $53). Unfortunately, Psychic Sofa doesn't offer any discounts or introductory rates for new users.
Connect with a Reader for $0.99/min!
Unique Features
Unlike other psychic reading sites, Psychic Sofa has a whole section dedicated to the history of psychics. Here you can read about psychics in ancient times, the dark ages, different cultures, crime solving, and much more.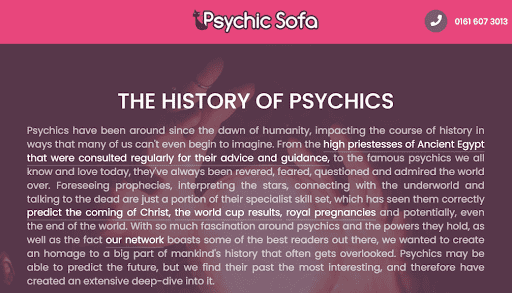 It also has a free daily horoscope section. And lastly, you can browse the site's blog which is actively maintained.
Bottom Line
Overall, Psychic Sofa is pretty evenly split between pros and cons. The cons of this site are that it's not easy to browse or sort psychics based on their customer reviews or gifts, you don't get to select the psychic you will connect with when using the chat or email option, and their vetting process is a bit vague.
However, Psychic Sofa has a huge benefit that trumps a lot of other sites out there: its pricing is pretty much unbeatable. No matter which bundle you choose to buy, the cost comes out to about $0.99 per minute. Many sites don't even offer a rate this low as an introductory offer to new users. So with a little time and research to find the right reader for you, Psychic Sofa could be the affordable psychic reading site you've been searching for.