PsychicCenter: Overview
PsychicCenter aims to help people make authentic connections with reputable psychics and they've been doing so since 1999.
However, are good intentions and many years in business enough to make them trustworthy and a good option for life's big questions?
In this tell-all review, I take a closer look at the types of readings offered by PsychicCenter, how they choose their psychics, and whether they can be trusted.
Types of Readings on PsychicCenter
PsychicCenter only has four categories to choose from, namely, love and relationships, tarot, mediumship, and astrology. When exploring these categories, you have a number of experienced psychics to choose from.
Love and Relationships
This is one of the most popular topics on all psychic guidance sites, including PsychicCenter. Whether you are single, in a new relationship or a long-term partnership, there's an advisor who can help.
Paying customers rarely lie about their first-hand experiences and when exploring this category, I found a number of reviews that indicate most PsychicCenter advisors have excellent experience in this area.
I was also very impressed with PsychicCenter's explanation of how love and relationship readings work and what you can expect.
Tarot
If you are specifically interested in a tarot card reading, PsychicCenter offers readings via phone. You cannot use the chat option with this type of reading – this isn't necessarily a drawback though.
It shows they understand that an actual conversation is needed in order to provide an accurate reading.
Mediums
As with tarot readings, PsychicCenter mediums also only connect with clients over the phone. It's important to understand that not all psychics are mediums. A psychic medium is a specialist mediator that serves as a connection between those on Earth and the spirit world.
Since these readings are so personal, it helps to connect with a medium that you resonate with and someone who has the necessary experience.
PsychicCenter has over 30 mediums and you can find your perfect match by reading through their profiles and reviews from past clients.
Astrologers
Astrology is a sacred practice dating back over 2000 years and it remains important to many people. Learning more about how the stars and planets are currently affecting your life can help you make better decisions.
Unfortunately, I could only find 11 advisors in this category. The fact that there weren't more options to choose from was disappointing.
How to Use PsychicCenter
PsychicCenter offers phone and chat readings and the process of connecting with a psychic is relatively easy.
Start your search by selecting the category you're interested in. You can now refine your search to only include the 'top rated advisors'.
Once you find a psychic you're interested in, you can arrange a reading. If your chosen psychic is offline or you don't have time right away, you can arrange a call back.
Some of the psychics include the times and days that they're available to make the process of scheduling a reading even easier.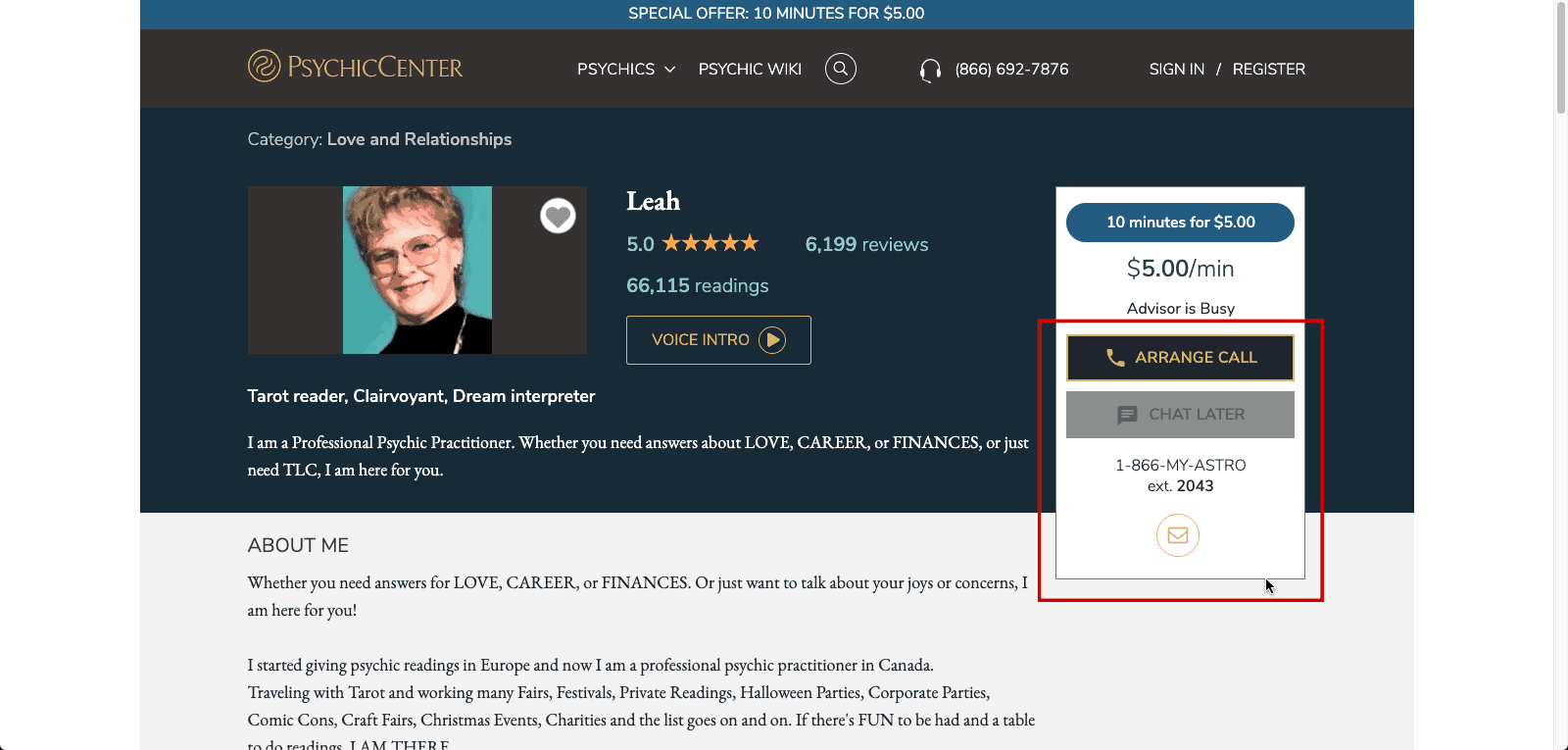 When reviewing psychic profiles, you will see their ratings, reviews, number of readings, and have access to information on their experience and abilities.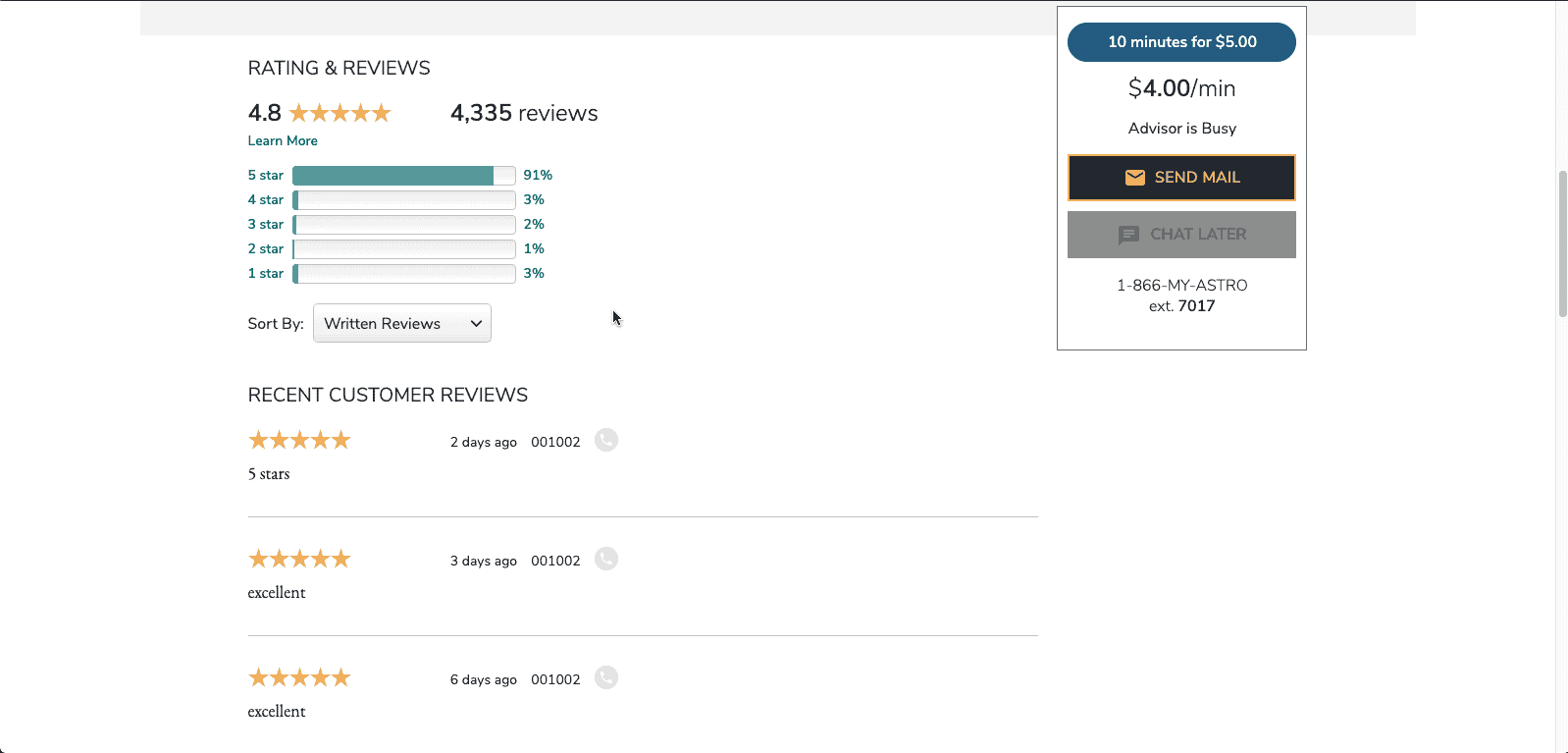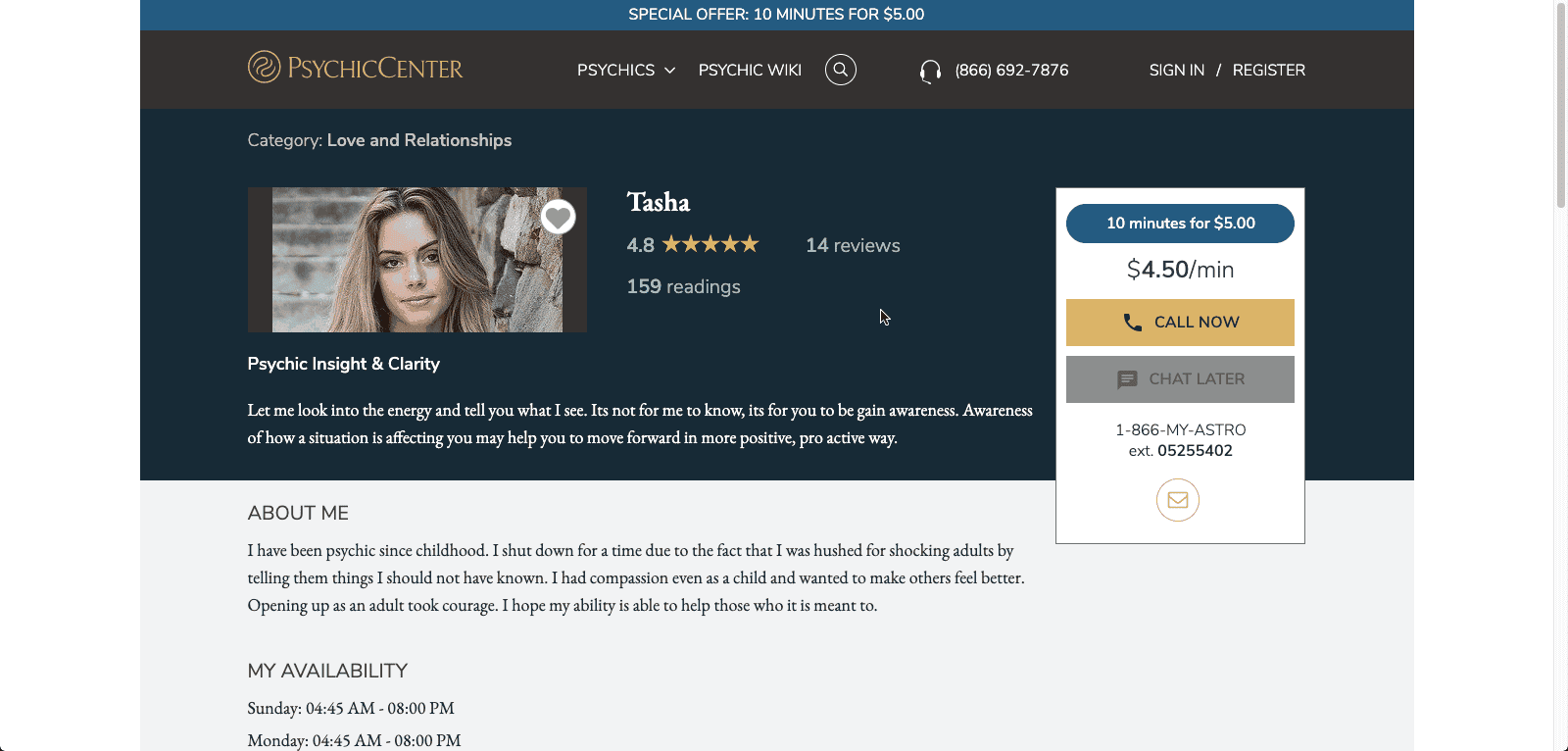 I love the fact that some profile pages also have a voice introduction. It's all good and well to read about a specific advisor, but hearing someone's voice makes all the difference – our senses play an integral part in how we make decisions. Hearing someone's voice allows your intuition to guide you in the process of choosing the right advisor.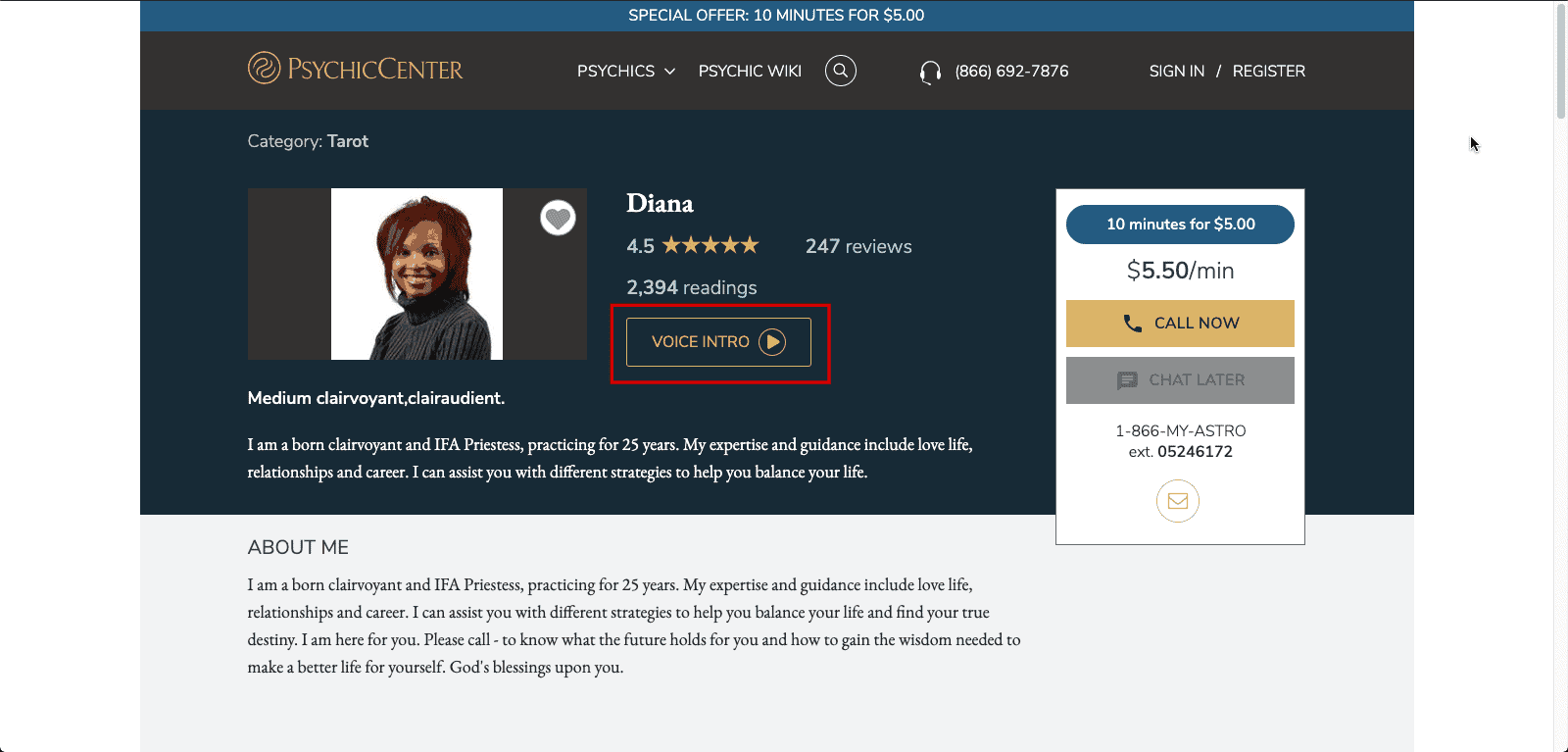 Another impressive feature is that many of the profiles include an interview with the psychic advisor. This gives you an extra layer of information.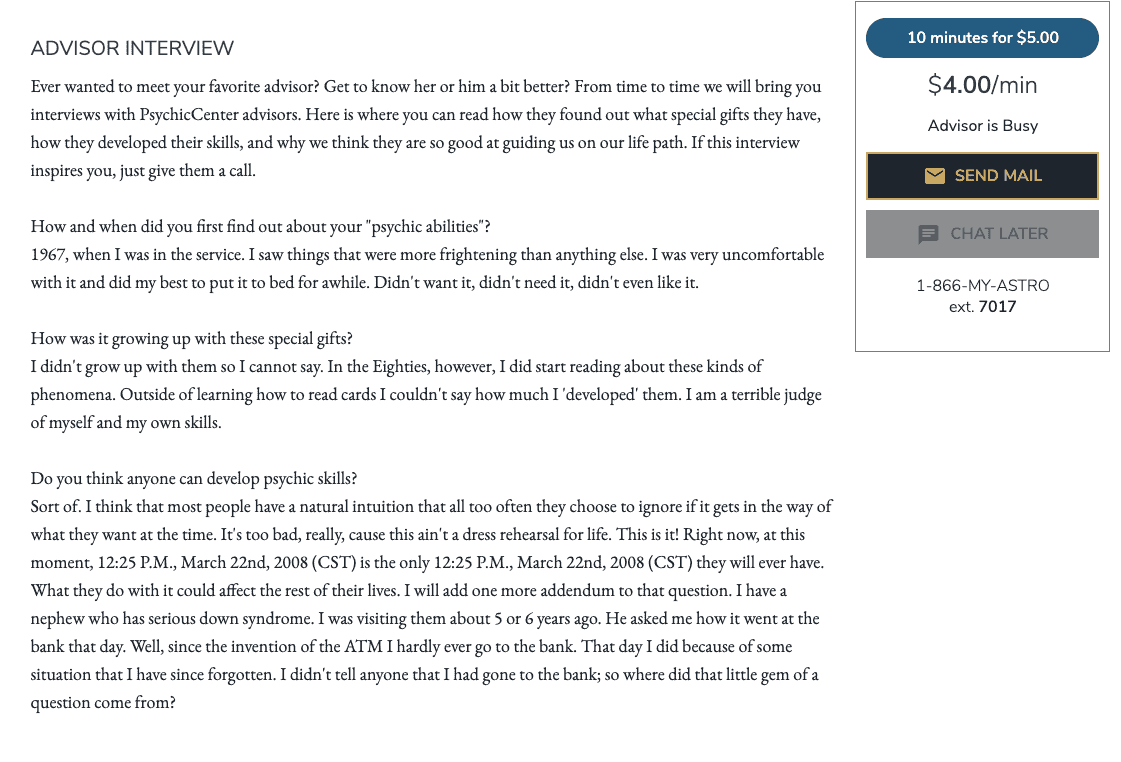 Is PsychicCenter Trustworthy?
PsychicCenter has a history dating back to 1999, positioning it as a well-established platform for psychic readings. While the number of years in operation is a significant gauge of trustworthiness, it's essential to consider other factors beyond this alone.
Satisfaction Guarantee
PsychicCenter provides a 100% Satisfaction Guarantee. They offer customers a maximum of three refunds if they're not satisfied with their readings. It is important to note that this doesn't mean you receive your money back – you receive PsychicCenter credits. You also have to report your dissatisfaction within 72 hours.
Psychic Vetting Process
PsychicCenter claims their psychics have years of experience and are third-party vetted.

In order to become a psychic, there are four steps you need to follow.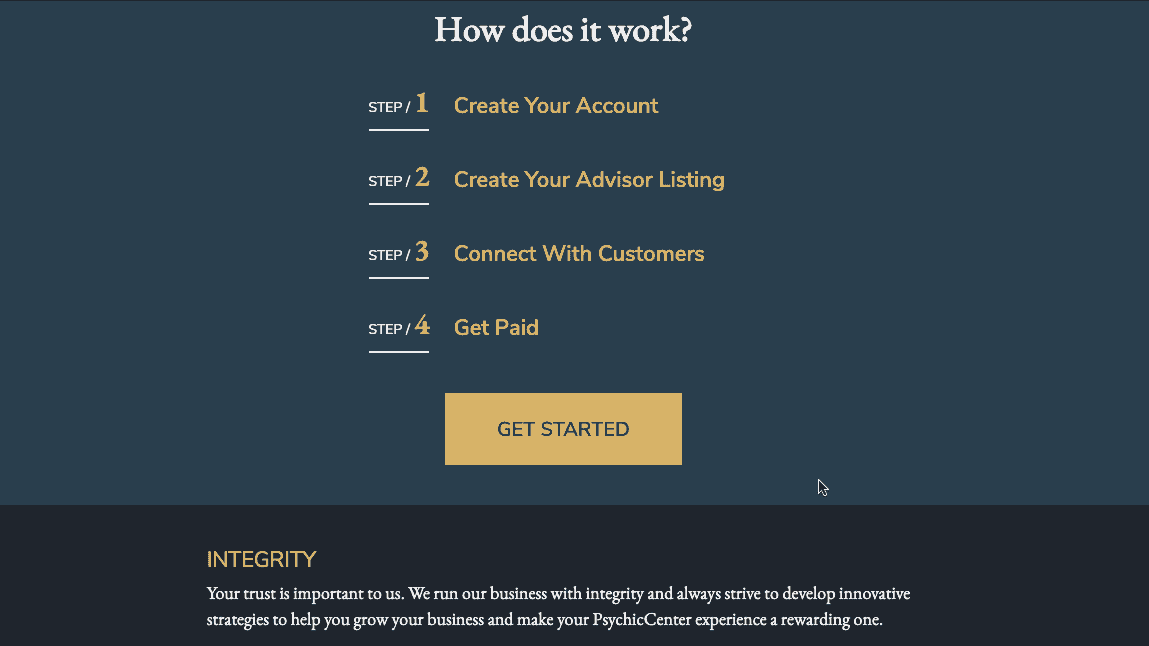 These steps make it unclear as to when the vetting process takes place. Still, there are many psychics on the site that have done hundreds, and even thousands of readings. This certainly indicates a degree of trustworthiness.
Top PsychicCenter Advisors
PsychicCenter has around 120 advisors, which is far less than sites like Keen, California Psychics and Kasamba.
This isn't necessarily a negative though. Having a smaller selection of advisors to choose from means you won't spend hours trying to find the right psychic. Having too many psychics to choose from can leave you feeling overwhelmed and unsure.
Here are some of PsychicCenter's top-rated psychic advisors:
Max

Max has done over 52,300 readings and has maintained a 4.8 rating. He is clairvoyant, clairaudient and specializes in tarot readings. Max takes a no-nonsense approach and strives to be accurate and to the point. Many reviews describe Max as pragmatic and straightforward.
Murdockian
Murdockian specializes in divorce and breakups, career, life path, love and relationships and grief. He uses various tools including tarot, runes and crystals to conduct readings and channel guidance. Many reviews describe him as fun and someone who instantly lifts your spirit.
Diana

This psychic medium has been practicing for over 25 years and her expertise includes love and relationships, career, and life path readings. Reviews indicate that her customers appreciate her professionalism and accuracy.
MODE of Cosmic Therapy

This psychic advisor has a 5-star rating and has performed just over 1900 readings. Her skills and methods are tarot, numerology, astrology, dream exploration and I-ching.
Diore – Master Psychic

Diore – Master Psychic has maintained a 5-star rating over 13,650 readings. She describes herself as a natural-born psychic and an advanced energy-clearing practitioner. She also has a degree in psychology and is an empath. Her reviews indicate that she is insightful, funny and gentle of spirit.
Discover More PsychicCenter Advisors
PsychicCenter Pricing
PsychicCenter has competitive pricing. The rate per minute ranges anywhere from $1.00 to $10.00 depending on the advisor. Most advisors charge around $5.00 per minute.
Your first 10 minutes will only cost you $5.00. This is a great introductory offer that allows you to try out PsychicCenter's services at a discounted rate.
They also offer a loyalty program. PsychicCenter clients receive 10% of their monthly spending back. This means that if you receive readings on a regular basis, you are getting great value for money.
PsychicCenter is not that cheap, but it is definitely not the most expensive option out there – some popular sites can charge up to $30.00 per minute.
Bottom Line
PsychicCenter keeps things simple, which is a major plus-point for beginners and those who don't want to spend hours searching for a psychic.
They have enough psychics to choose from to give you options, but not overwhelm you. What's more, the psychic profiles provide enough information to help users make an informed decision.
Striking a good balance between choice and simplicity isn't easy, but PsychicCenter gets it right. This is probably why their customers love them.