PsychicCenter Overview
PsychicCenter has been online since 1999. The long-standing site labels itself an industry leader. As 'industry-leading' as it claims to be, it is definitely a smaller, quieter site compared to others that I've reviewed. However, it does seem to be well-loved by its loyal customers.
Here's why.
PsychicCenter Psychics and Services on Offer
PsychicCenter offers both chat and call psychic readings, but there are no email readings (like at Kasamba) or video chats (like Keen offers). However, you can message the psychics to their on-site inbox to ask a question or arrange a session, which is a cool touch.
I get the feeling that PsychicCenter is a much more boutique, exclusive psychic reading website. Sure, it doesn't have thousands of psychics available (like Keen or Kasamba), but you can see from the services on offer that it provides a small, niche range of specializations. I found the massive range of tools and services on offer at other sites like California Psychics kind of overwhelming, so maybe there's something to be said for a smaller service.
Here's the service range that PsychicCenter has on offer:
Love & Relationships
Mediums
Tarot Readers
Astrologers
It's a concise, organized range of services. Customers know exactly what they're getting without any confusion. I really respected that.
PsychicCenter works with around 150 psychics, which feels like a decent selection without compromising on the range of skills available. I found the hundred of readers at Kasamba and Keen really overwhelming, so this felt much more comfortable and accessible.
My rule is, if there's a 'find me a psychic' tool, there's probably too much choice. At PsychicCenter, I felt like I could happily find the right psychic for me with just a few filtering options and by browsing the psychics' bios.
PsychicCenter – Is It Trustworthy?
Trustworthiness is always a big issue with online services, and especially so when it comes to someone claiming they're a psychic. If you're paying money for their expertise, you deserve to know that your money is going to an honest person providing a real service.
I carefully examined PsychicCenter to find out if it's truly trustworthy and deserving of your time and money. Here's what I found.
Psychic Screening Process
Some of the psychic reading websites that I've reviewed have very strict, rigorous screening processes – California Psychics and Psychic Source come to mind. Those sites demand several interviews and a criminal record check. PsychicCenter seems to share Keen's less intense application route: apply, create a listing, and get ready to accept customers.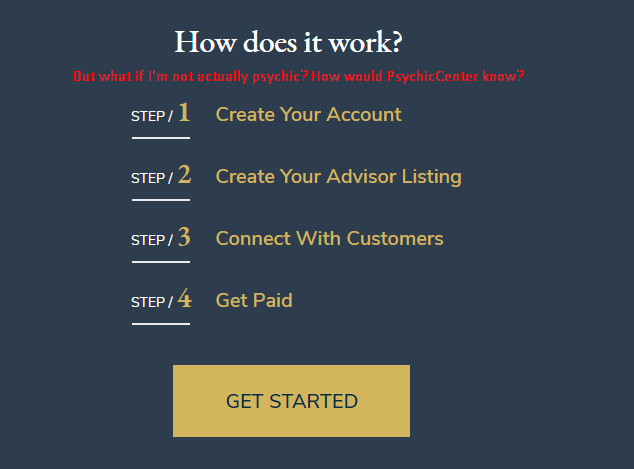 PsychicCenter does ask for some identification verification, which is a good thing. Still, I'd have liked to see some interview process or psychic skill assessment detailed here, as it helps me know that I'm going to speak to real, gifted psychics.
Interestingly, PsychicCenter publishes a psychic's interview answers on their listing. This is a nice way of holding each psychic accountable.
Psychic Bios
As with most psychic reading websites, there's a lot of useful information on the psychics' bios. There was also some information I felt was missing.
At PsychicCenter, you can see the psychic's specialisms, number of reviews, and a little about themselves. You can also see the number of readings they've given (just like at California Psychics), which I really appreciated. After all, not all customers leave reviews, so the actual number of readings a psychic has given is a good indication of how much people trust them.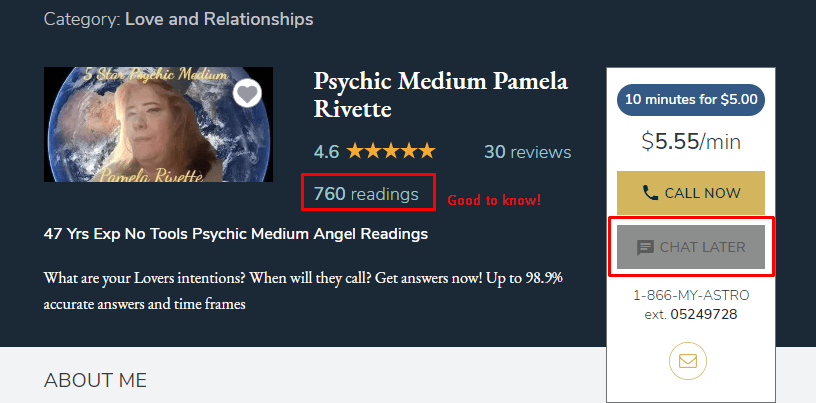 I also really like that each psychic has a 'chat later' button and an About Me section.
However, I noticed time and again that the most organized psychics manually pasted their schedules and availability into their bios. At sites like Psychic Source, California Psychics, and Keen, this information was readily available on a psychic's profile, making it easier to find a time slot for a psychic you really like. Still, I guess this approach worked too.
Customer Ratings
Maybe PsychicCenter isn't as well-known as other sites. Some psychics at bigger sites like Kasamba and Keen have thousands of reviews. Here, there were (at best) a few hundred reviews for popular psychics.
But – and it's a big but – the customers at PsychicCenter seem to really, really love their psychics. You can easily see how genuine their feedback is. At Kasamba, psychics are lucky to have received a few words of praise from their customers, but that's not the case here: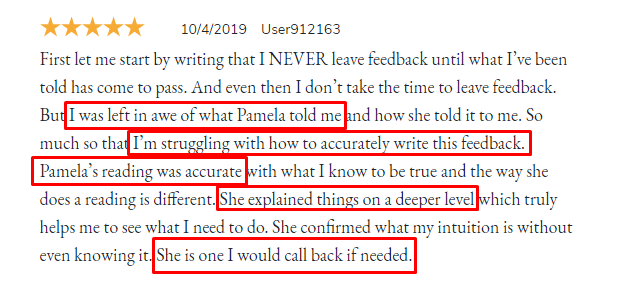 Of course, there were also a few one-liners here and there, but these longer, more detailed responses seemed to be the norm.
Money-Back Guarantee
Just like Psychic Source and Keen, PsychicCenter offers a Satisfaction Guarantee. If you're not satisfied, you can report your experience and receive credit for another reading.
Here's what PsychicCenter says about this:

You have to report your call within 72 hours. This is pretty standard, and even generous: Keen, Kasamba, and PsychicSource all have a similar policy, but California Psychics require you to decide if your reading is unsatisfactory within the first 2 minutes of your call.
I'd say that only being able to receive 3 credits during your entire time at PsychicCenter is a little stingy. I guess that 3 per account is probably an effective way to prevent abuse of this rule.
All in all, I would say that PsychicCenter is trustworthy. It has a Satisfaction Guarantee, and it publishes a psychic's interview answers on their bio. Both these things inspire a customer's trust. I think that 3 claims per account is a little tight, but I do understand why it's necessary to protect this policy against overuse.
PsychicCenter Pricing
PsychicCenter is one of the more reasonably priced psychic reading websites I've seen. Calls with psychic advisors start from $1.50 per minute, and go up to $10 per minute at the highest end. This is a very affordable range – at Kasamba, for example, you might end up paying up to $30 a minute for popular psychics, which is just ridiculous.
PsychicCenter also has a nice promotion for new customers. You can get the first 10 minutes for just $5. It's similar to Psychic Source's $1 per minute for 20 minutes promotion, and I appreciated it.
PsychicSource also operates an AstroRewards loyalty program, which is a generous cashback offer: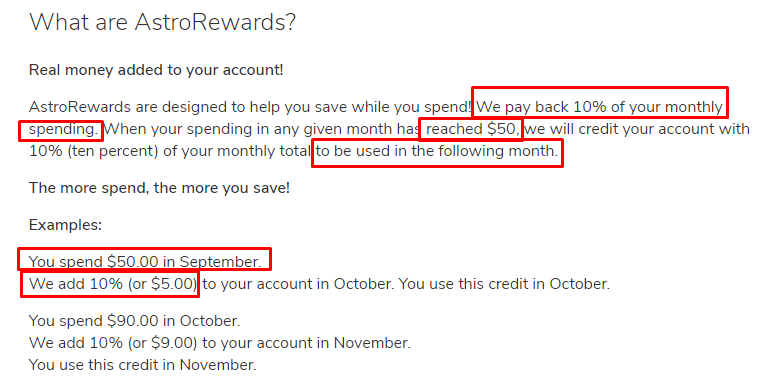 I really liked this. It's really generous and a great way to make sure your customers know that they are valued. Now I can see why customers at PsychicCenter are so loyal!
PsychicCenter Customer Support
PsychicCenter has both a US toll-free phone number, as well as a customer support online submission form.
When you call, you'll be greeted by a friendly pre-recorded message, asking you for your 4-digit customer PIN, or to press 0 if you don't have it. I pressed 0, and waited around 1 minute to speak with a customer service representative. They managed to sort out my issue quickly, helpfully, and with a friendly tone.
Overall, I can't fault PsychicCenter's customer support. I would have liked a live chat option, but all in all, I was happy with speaking to a human on the phone too.
The Bottom Line on PsychicCenter
I had a good feeling about PsychicCenter. I really liked how niche and specialized it seems to be. It offers a few types of reading done really well, instead of offering hundreds of topics and tools like some competitors.
I did think that the Satisfaction Guarantee policy was a little tough, but also understood why it was put in place. The overall impression that came through was just how dedicated the customers are to their favorite psychics, as their testimonials and reviews go to show. PsychicCenter is clearly doing something right.